How to Stay Motivated to Run this Winter
9
Published Jan 25, 2017, Updated May 01, 2019
It's dark and cold and you literally have zero motivation to lace up and get outside… check out these 8 tips for how to stay motivated to run this winter.
It's kind of funny that this post is going live today because it's the middle of winter and the high is supposed to be sunny and 64° here in Richmond?! The perfect running weather. That said, I know plenty of you up north are dealing with legit cold temps RN so this post is for you. I personally love warm weather and kind of despise running outside if it's cold (which is why I really want to buy a treadmill), but Maria, EBF intern extraordinaire, is a true runner and laces up to run outside even when conditions aren't ideal. I'm amazed by her dedication. Lucky for us, today she is going to share her top tips for how to stay motivated to run throughout the cold, winter months.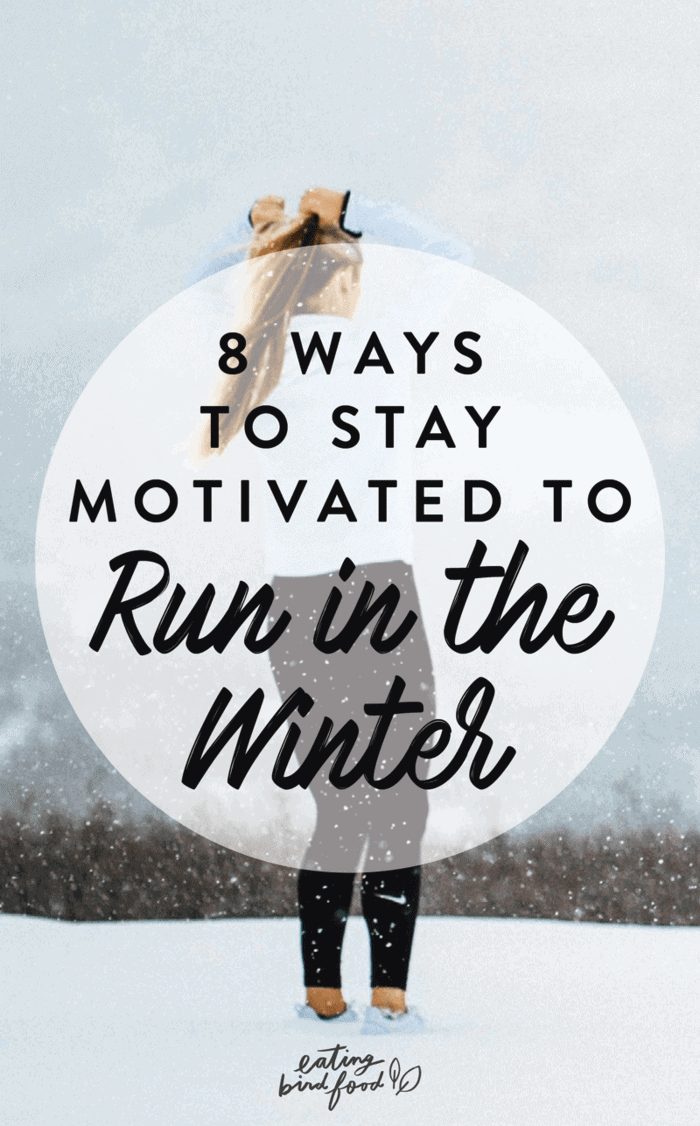 Switch up your routine.
Schedule a variety of different runs each week to keep yourself inspired.  For example, instead of having a nice and easy 3 mile run each day, incorporate a hard hill run here and there, as well as an interval run. Here's how I do it:

For hill runs, I like to pick a place with one giant hill.  I start off with a mile warm up, repeat the hill 5-10 times depending on how long the hill is (yes, sometimes the neighbors on that hill start to recognize you but that's part of the fun. Haha). Burst and really push yourself to run fast up the hill, the downhill is your cool down. Quick busts A.) Help you warm up, and B.) Help build your fast trigger muscles. Yay! End with a mile cool down jog.

For interval runs, I sometimes just call it a block run. Like my hill runs, begin with an easy mile warmup, then run intervals for however long you are comfortable (I like aiming for 2-3 miles). Sprint for one block, then jog for one block. This will help you become a faster runner, but also helps you warm up quicker than a relaxed jog. End with a mile cool down jog. Of course, these distances can be decreased or increased, but I like using this as a guide.

You can also switch up your surroundings by exploring new places to go for runs. I find that I usually run better in a new environment than a course I know like the back of my hand. Drive to a nearby park or even a different neighborhood to go for a run. It's refreshing and exciting to explore the new surroundings!

Have breakfast waiting.
Food! Let's be real, I run mostly because, food! After a morning run out in the cold, it's so nice coming home to a breakfast that's ready or at least planned out. Making overnight oats the night before is fun for me, and a great post run breakfast. Hot oatmeal is also an easy treat to make… and it's the perfect way to warm up! Here are a couple of my EBF favorites to keep in mind (and to keep me inspired to get out the door, run, and then really enjoy breakfast): Peanut Butter Banana Oatmeal and Chocolate Banana Overnight Oats.

Run with a buddy. 
Running is way more fun when you have a friend by your side, especially when you need a little extra motivation to get out there. Recruit your running friends to meet up with you or better yet, join a running group. It's much harder to skip a run when you know someone is waiting for you.

Treat yo self.
You just got out and ran in the cold, hooray!! Have a pot of coffee waiting for yourself, or your favorite hot tea set out for when you come back. My time to treat myself is after a destination run! On the car ride home, I'll stop for a warm cup of coffee or tea, a manicure or some other special treat. You deserve it!

Sleep in your running tights.
Yes, literally do this. I like to sleep in what I will wear for my run the next day. Leggings are comfy anyway, and so are long sleeve running layers. If you're not a morning person, it gives you that much extra sleep, cause you can just roll out of bed and hit the road. Plus, waking up in the running clothes is awesome because then you have no excuse to skip out on running, you're already dressed for it! 🙂

Gear to feel great in!
This winter I bought a few pairs of running leggings that made me smile, with bright, colorful patterns. Wear what you love and feel comfortable in! Also wear layers so you can shed as you warm up on your runs.  I usually wear a running zip up layer that I can tie around my waist if needed. Must-have winter running gear:  warm socks, leggings, gloves and warm headbands.

Set a spring goal.

Find a race in the spring and sign up for it! Whether it's a 5k, or a half marathon, just knowing you have a race coming up will help keep you motivated during the winter. By springtime your legs will feel so free. Britt and I are both running the Monument Ave 10K, which is April 1, so we've got this one covered.

Enjoy the perks of being a winter warrior.
You did it! You ran in the cold and that's so much more hardcore than running inside on a treadmill. You embraced the crisp and cold fresh air and not too many people braved it like you did. That's something to feel good about. Post a selfie or share a quick blurb about your run with friends… you knows who you might inspire!
So there ya have it — my best tips for staying motivated throughout the winter. What motivates you to workout throughout the winter?