Yesterday morning I did a cooking demo at the St. Stephen's Farmers Market!! And, by "did" I mean I actually performed the demo rather than watching someone else perform it. So cool!!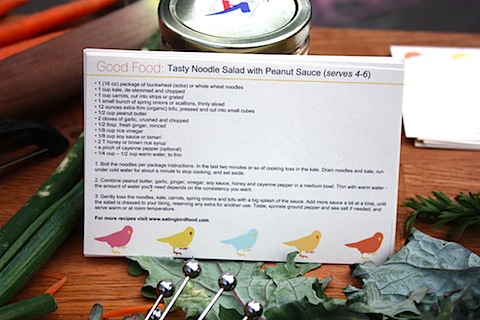 Aren't the recipe cards cute?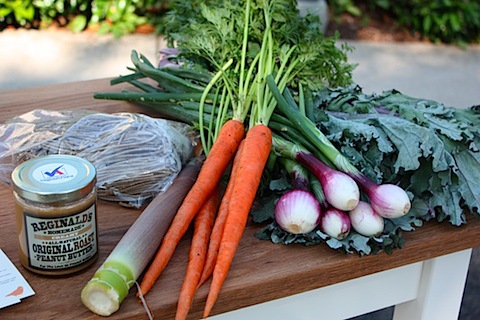 The recipe I came up with was for a noodle salad with peanut sauce that used several products from the market's vendors – lots of fresh veggies, homemade buckwheat pasta noodles and peanut butter.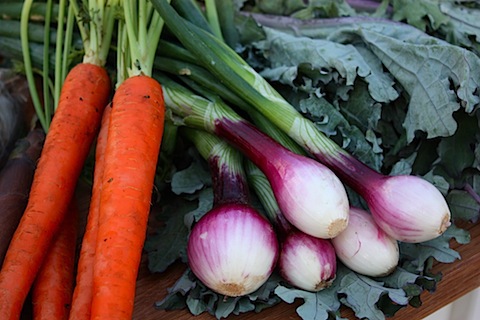 First up, Reginald's Homemade peanut butter, which btw is a-MA-zing! A few weeks ago I purchased a jar of the white chocolate macadamia nut and fell in love so I knew the creamy original roast was going to be heavenly as well.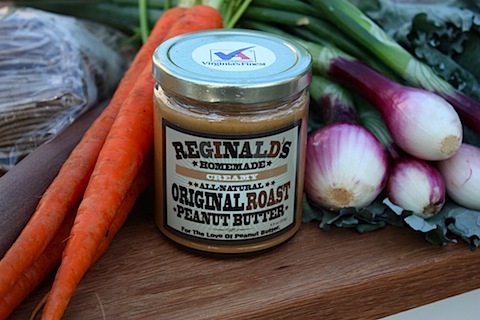 The buckwheat noodles came from Bombolini Pasta. They're a local company that makes fresh pasta of all different shapes, sizes and flavors. From penne to mostaccioli to lasagna shells – you name it, they have it. Some of their flavors are really unique like chocolate, beet, squid ink and even black bean. Isaac and I have tried their pastas before, but this was my first experience with their buckwheat noodles so I was excited to try them.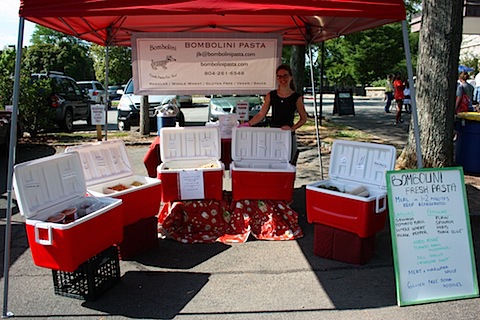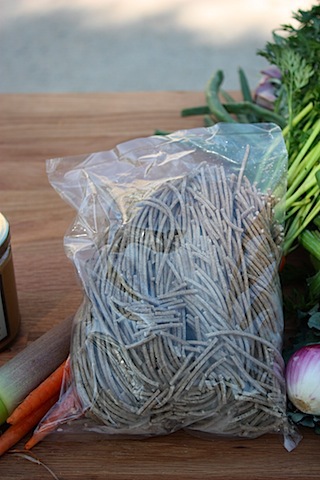 The Russian Red kale was donated by Warsaw Plants and Produce.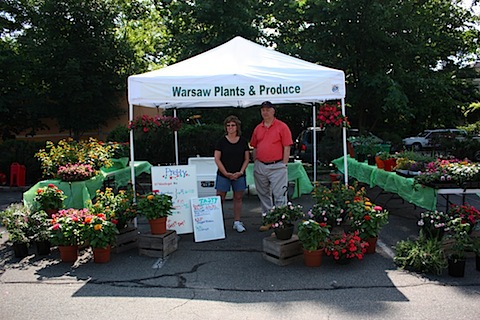 And the carrots and spring onions came from De Flores Farm, who just so happened to have amazing looking produce.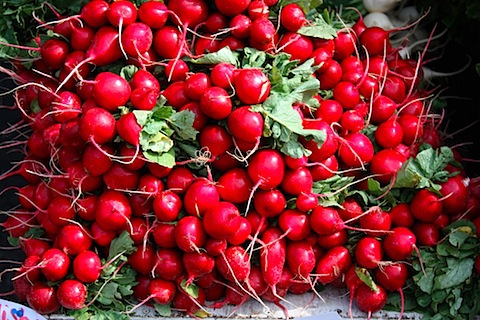 Although the recipe didn't call for bamboo shoot, Epic Gardens donated one so I included it as well. It was a fun little addition. 🙂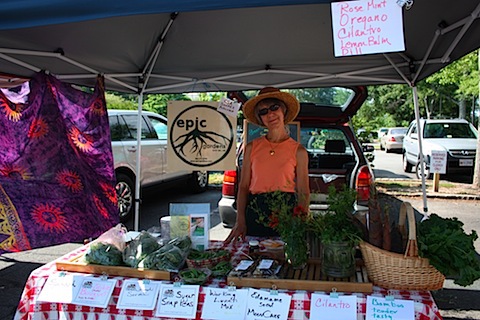 After going around to chat with the vendors and grab the donated products, I started the demo. The nervous energy was following, just because I haven't done a cooking demo since back in November when I prepared my veggie hummus sandwich for the Foodbuzz Festival attendees. But once I got started everything just sort of flowed.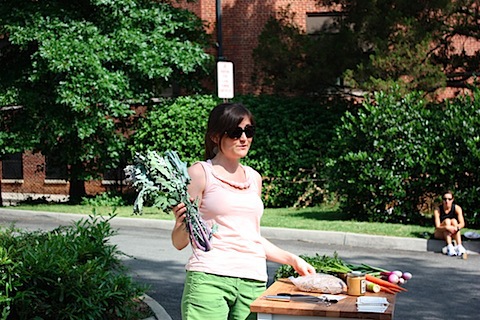 And, my amazing boss and her husband came out to watch the demo so I had them there to cheer me on. 🙂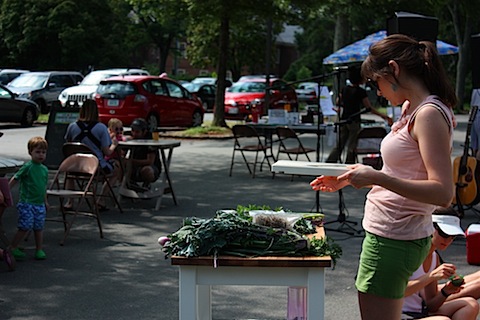 The cooking demo is a new component of the St. Stephen's Market and currently there's not a way to actually cook the recipes, but I did my best to explain how the recipe would be prepared.
I showed how to de-stem kale the easy way by holding the stem in your left hand at the bottom and sliding your right hand/fingers up the stem so that the leaf will pull off. It works like a charm and is much easier than de-stemming by using a knife.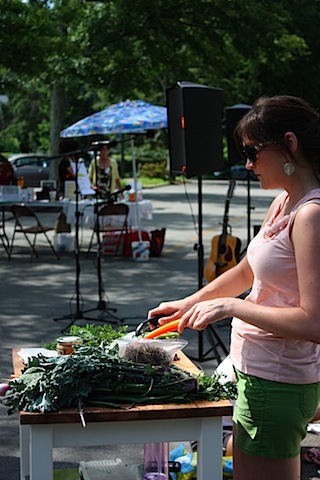 Peeled the carrots and highlighted the bamboo shoot. I've had shoots out at restaurants or canned but never seen the actual shoot. It's actually easy to prepare. You just peel the outer layer of skin off and boil it for about 20 minutes.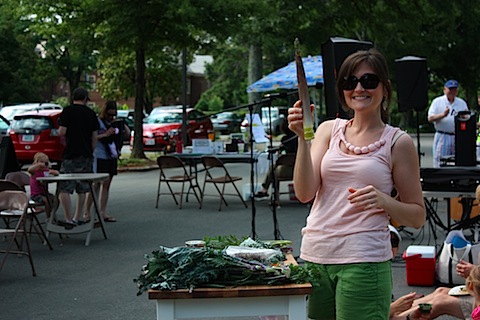 I thought it would be a good idea to get the audience involved a little so I brought a stainless steel ball whisk to giveaway to someone who asked a question. Ernie was the lucky winner.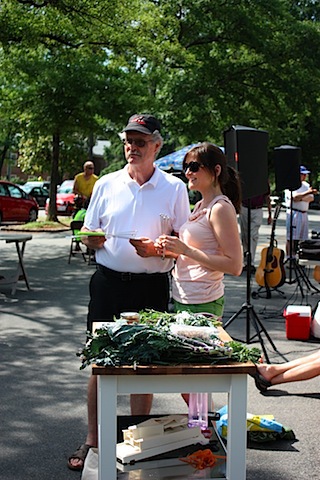 Overall, the demo was a great experience. Although I will say that one of my favorite parts of cooking demos is getting to try the food that is being prepared and sadly due to health code reasons we weren't allowed to pass samples. Perhaps in the future, if the cooking demos at St. Stephen's grow, the demoers will be able to cook and pass samples. 🙂
Here's the featured recipe…
Tasty Noodle Salad with Peanut Sauce
Inspired by 101 Cookbooks Peanut Noodle Salad
Ingredients:
1 (16 oz) package of buckwheat (soba) or whole wheat noodles
1 cup kale, de-stemmed and chopped
1 cup carrots, cut into strips or grated
1 small bunch of spring onions or scallions, thinly sliced
12 ounces extra-firm (organic) tofu, pressed and cut into small cubes
1/2 cup peanut butter
2 cloves of garlic, crushed and chopped
1/2 tbsp. fresh ginger, minced
1/8 cup rice vinegar
1/8 cup soy sauce or tamari
2 T honey or brown rice syrup
a pinch of cayenne pepper (optional)
1/4 cup – 1/2 cup warm water, to thin
Preparation:
Boil the noodles per package instructions. In the last two minutes or so of cooking toss in the kale. Drain noodles and kale, run under cold water for about a minute to stop cooking, and set aside.
Combine peanut butter, garlic, ginger, vinegar, soy sauce, honey and cayenne pepper in a medium bowl. Thin with warm water – the amount of water you'll need depends on the consistency you want.
Gently toss the noodles, kale, carrots, spring onions and tofu with a big splash of the sauce. Add more sauce a bit at a time, until the salad is dressed to your liking, reserving any extra for another use. Taste, sprinkle ground pepper and sea salt if needed, and serve warm or at room temperature.
I was a lucky duck and got to take home the products I used as part of the demo so for dinner I made the noodle salad and included the bamboo shoots. I subbed edamame for the tofu just because I didn't have any on hand. The meal tasted wonderful and was so fresh. I love that it included so many products from the market.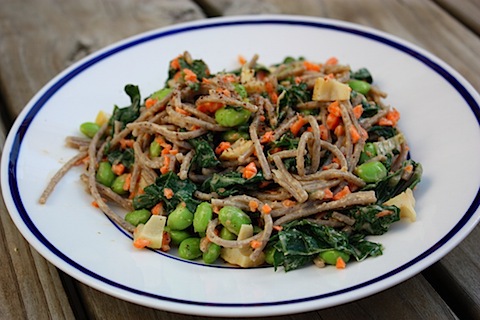 Quality and freshness of my food is really important to me and farmers markets always tend to have such high quality products, which is why I love shopping at them. Think about eating veggies that were picked 1 day ago and traveled 20 minutes to get to the market or kale that was picked a week ago, traveled thousands of miles and sat in the grocery store for days being sprayed with water – which would taste better and be more nutritious? We all know the answer, right?
Okay friends, I'm off to enjoy this beautiful Sunday. I hope you are doing the same.