Hi from Vegas! I'm here for the week on business, but the cool part is that Isaac is here too! He was in Vegas for a bachelor party this weekend and extended his stay so they he could stay and help me play while I work. But before I get into all that jazz, let me tell you about my fun morning yesterday…
I had the pleasure of meeting up with Maddy and Becca of Love Grown Foods, an awesome granola company based in Denver! They are touring the nation spreading the word about Love Grown – doing product demos, attending events, making love drops, meeting with mom groups and even teaching nutrition to kids!
I fell in love with their granola a few months ago after seeing it over on Ashely's blog, the edible perspective. As soon as I heard that they were bringing the Love Tour through Richmond I knew I needed to find a way to meet up with them. Luckily Maddy and Becca were free on Saturday so we met at Ellwood's Coffee, one of my favorite local cafes.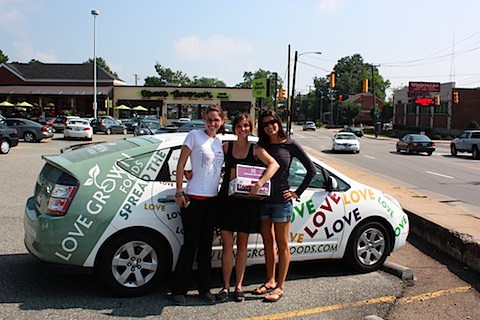 How cute is the LOVE Prius? I didn't get to see elby a.k.a LB or Love Bus because they weren't sure of the parking situation at Ellwood's. But I did see on their website that the elby and I have the same b-day. It's true, valentines babies are always full of love. 🙂
We all ordered something to sip on and the biscuits were calling out to Maddy so she got one for the three of us to share… with butta and jam. It has been oh so long since I've had a biscuit and this one was delish. I think I need more biscuits in my life.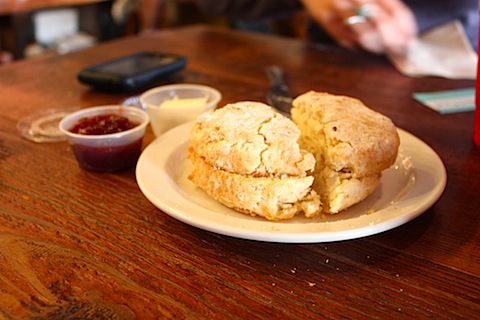 We ladies enjoyed our treats while chatting. Of course, I had a ton of questions – where Maddy and Becca had been on the Love Tour and where they planned to go, what they went to school for and when I could join the company (j/k, sort of ;)). I also found out that how the company got started and that Maddy is younger than me! It's amazing to think that she and her boyfriend, Alex, started Love Grown Foods as college students, during an economic recession and are doing this well. Their granola is in 1,300 of 2,400 Kroger stores across the country and sold in Whole Foods stores out in Colorado. At this rate, I'm sure the number of stores will be increasing very soon. Their granola is too good for that not to happen.
Maybe it's just the marketer in me but I adore hearing how companies and products got their start. It's so interesting!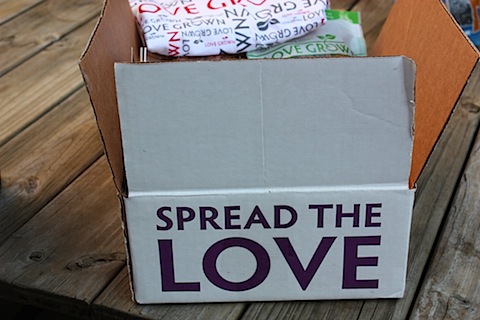 Check out the box full of LOVE they brought for me..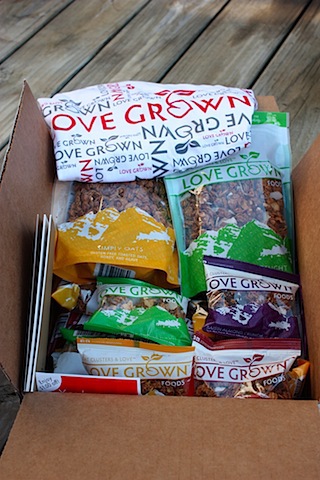 One of the things I like in granola is dried fruit – Love Grown definitely delivers there. The second thing is pieces of granola that have been baked into large chunks. Although Love Grown granola isn't all large chunks there are plenty in each bag – it's like hitting the jackpot when you find them! (Can you tell Vegas is on my mind ;))The Simply Oats, Raisin Almond Crunch and Cocoa Goodness are my favorite flavors, but honestly I like every flavor. I don't discriminate. 🙂
Inside the box there were also two super cute magnets – they already made it on the fridge.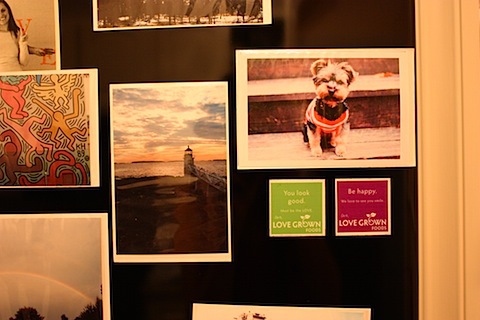 I packed plenty of the snack size packages, which are perfect for traveling! And, I also brought my Love Grown shirt to Vegas so I'll be sportin' that soon!
Apparently Isaac and the guys didn't get into bed until after 4AM so I'm thinking we might rest up a bit, do some shopping and then head out for dinner. We made reservations at Mesa Grill, Bobby Flay's restaurant. We've heard rave reviews from some of our friends so I'm super excited to eat there. We'll be staying at the Bellagio tonight and then moving to the Venetian where my conference is for the rest of the week.
I'm going to be pretty busy all week. I'll probably get a chance to pop in at some point but I also have some fun guest posts for your entertainment.
Have you ever been to Vegas? I've only been once before and it was a work trip as well, but with a different job. Definitely let me know if you have any recommendations of places we should check out!