I've been wanting to try my hand at pickling for a while now, but for some reason I've been a little intimated of the process. This weekend we ended up with a surplus of cucumbers and I knew it was time to get over my fear.
Rather than go all out the first time around, I decided to start small with a recipe from The Joy of Pickling that was recommended from one of Isaac's co-workers. I had almost everything on the ingredient list (score!), there were only 3 steps in the recipe instructions and the "pickling" time was short – overall a great recipe for a first time pickler.
I'm a huge fan of ethnic food so the Asian flavor profile of the recipe was a major plus as well.
Spicy Pickled Cucumbers with Sesame Oil
8
adjust servings
Ingredients
1

pound pickling cucumbers, about 3/4 inch in diameter

1

teaspoon sea salt

1/4

cup onion, sliced

One 1-inch piece fresh ginger, peeled and minced

1

jalapeño pepper, seeded and slivered

2

Tablespoon rice vinegar

5

Tablespoon reduced sodium soy sauce

1

Tablespoon mirin

1

Tablespoon sesame oil
Instructions
Halve the cucumbers lengthwise and then chop them into ½-inch-long pieces. In a bowl, sprinkle the chopped cucumbers with the sea salt and mix. Let them stand at room temperature for 1 hour.
Drain the cucumbers in a colander and then return them to the bowl. Mix in the onion, ginger, and jalapeño pepper. In a separate bowl, stir together the rice vinegar, soy sauce, mirin and sesame oil. Then pour the mixture over the cucumbers. Cover the bowl with plastic wrap. Let the mixture stand at room temperature for 2 to 3 hours, or in the refrigerator for 24 hours, turning the cucumbers occasionally.
Transfer the pickled cucumbers into a container with a tight fitting lid. They will keep in the refrigerator, well covered, for about 1 week.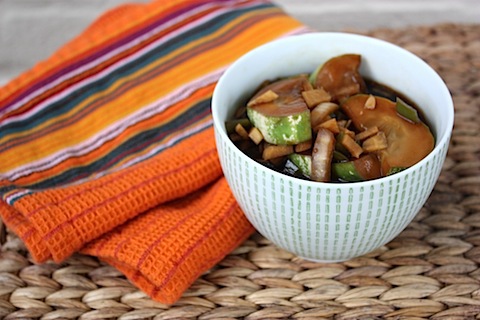 Overall, my first pickling experience was a success! Isaac and I have already eaten a ton of the pickled cucumbers. They're a little spicy from the fresh ginger and jalapeño but not too spicy and I love the nutty flavor of the sesame oil. I've been eating the cukes plain, as a side with whatever I'm having for lunch or as a topping for salad. I'm sure it would be delish served with brown rice as well!
Now I want to make another batch and/or try another type of pickling or fermenting. And, just in case you're curious like me – here's the difference between pickling cucumbers and regular cucumbers:
Pickling cucumbers are typically shorter and smaller than regular cukes and have a bumpy outer skin. They're hard to find at grocery stores, but they're abundant at produce stands and farmers markets. You don't HAVE to have pickling cucumbers to pickle-you can pickle just about any type of cucumber, but their size is preferable and the skins are a little thicker, which helps in processing.
Have you ever tried pickling vegetables or canning fruits/veggies? I'd love to hear about your experience. The closest I've come to canning is making apple butter that is preserved in freezer safe cans so I hope to try shelf stable canning sometime soon.
PS- Have a great day… I seriously can't believe it's already AUGUST!!