Next month there is a super cool, city-wide event happening in Richmond called Shape Soirée. It's being hosted by two local female entrepreneurs in the wellness space, Kelly Kostecki of Om On Yoga and AnnMaire Grohs of Boho Cycle and it's going to be three days of beautiful conversations, workshops and events centered on mindfulness, self-care, nutrition and more.
I'm thrilled to be leading a session focused on nutrition and fueling your body for a vibrant state. Tickets are on sale now — you can grab one for the full event or for specific sessions that look interesting to you. My session is Friday morning at 7:30AM. I know it's early, but at least you'll be able to attend before work. Added bonus: I'll be providing coffee/tea and a breakfast treat.
With my upcoming session at Shape Soirée in mind, I teamed up with the founders, Kelly and AnnMarie, for a special What I Ate Wednesday to share a small glimpse into their daily eats. These ladies are health-minded, active entrepreneurs, who (as you'll see) eat similarly, but have their own unique style as well.
I'm passionate about bio-individuality when it comes to healthy eating and preach that there's no "perfect" diet or a one-size-fits-all approach. It's so fun to see about how others fuel their bodies and perhaps get inspired to try something new, but it's important to remember that you have to eat what works for your body and lifestyle.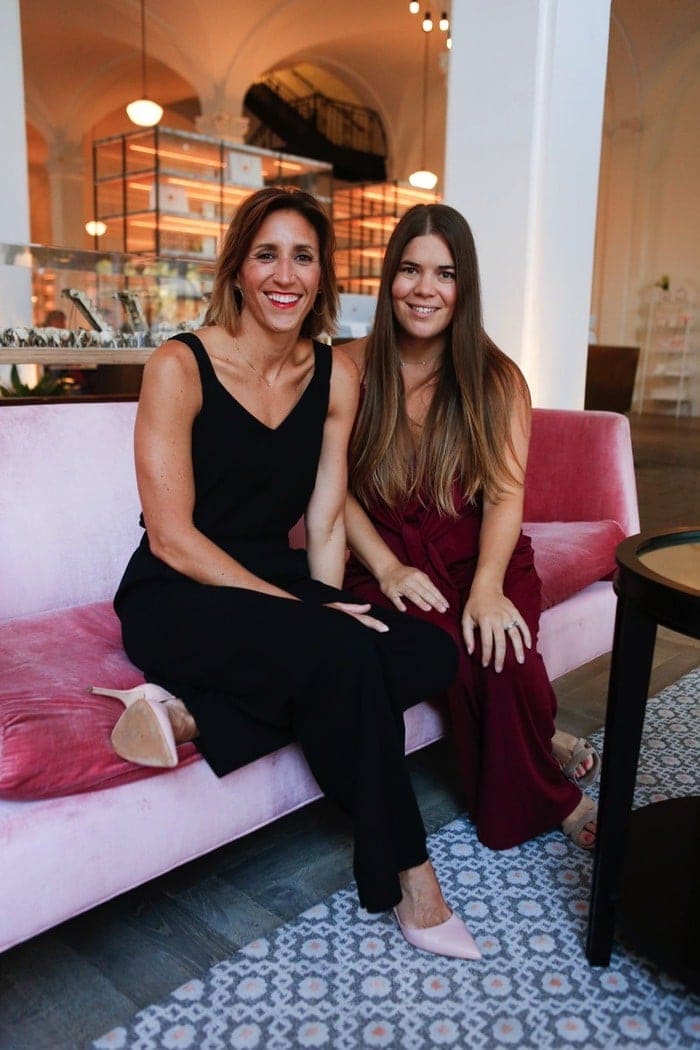 AnnMaire (left) + Kelly (right) 
One thing I simply have to note is that both Kelly and AnnMaire had a salad for lunch and this was totally unprompted. Hooray for the #saladeveryday movement. Speaking of which, if you're interested in learning more about why I'm such a huge advocate of eating at least one salad a day and how you can make healthy habits over dieting work for your life, check out my Salad Slim Down program that starts next Monday, September 18th.
Without further ado, here are their eats.
AnnMaire, Owner of Boho Cycle 
I move, a lot. I need food to help me move. However, my body does not love all the foods. I don't eat dairy and little to no grains — if any I go gluten free. It sounds like my eating life could be tough — no way! It's an adjustment but once you figure out ways to modify the use of butter the world is your oyster. I do miss some of the things I can't eat, but at the end of the day I need my body to work with me so I help it out by watching what I take in.
I am a product of the 80's, grew up in the middle of the US (Nebraska) and lived a meat and potatoes, casserole, soda and dessert life. It was amazing! My mom will tell everyone, "She loved Oreos and a Coke." Yep, yep I did. The older you get, the wiser you get — nowadays sodas and cookies aren't around as much. More than a decade ago I wanted to run a 1/2 marathon, so I hired a trainer. All I wanted to do was run, but he wanted to know what I was eating after my runs, before my runs and all the food in between. I learned how to fuel my body to make it work with me. From then on I just began trying new things out — races, fitness, different diets — basically anything I could with the goal of learning what works for my body.
All of this being said I live life in moderation — I love chips (all things crunchy) and I've got a big sweet tooth so I work in some sweets each week. Oh, and I love breakfast with all my heart so it's hard for me not to eat it for 3 square meals a day. 🙂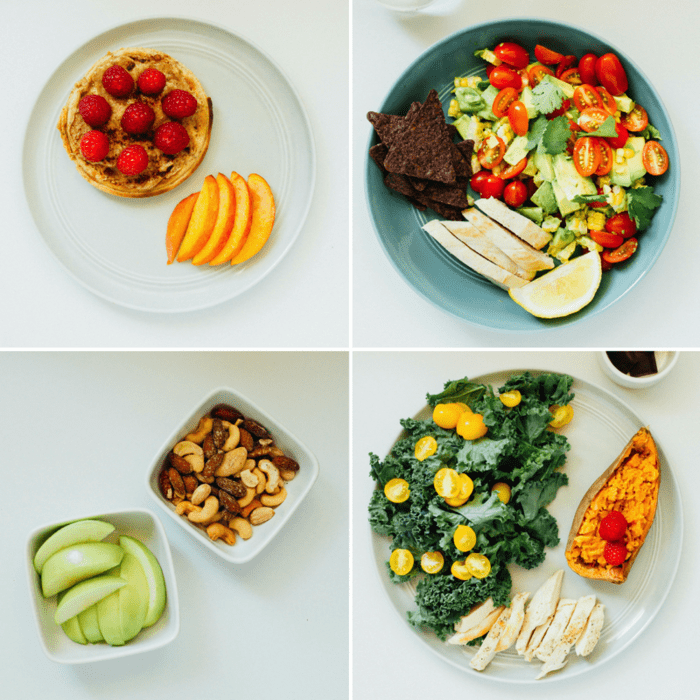 Breakfast: GF Waffle with Almond Butter, Raspberries and a Peach
I'm a die hard eggs girl, but once a week I buck eggs and mix it up. This is a vegan, gluten free waffle with almond butter, cinnamon, raspberries and a 1/2 of a peach. Not pictured is the cup of steamy black coffee — Wednesday's can get crazy and sometimes you miss things so early in the morning.
Morning Snack: Granny Smith Apple and Mixed Nuts
You know that meal when you aren't ready to make a full meal but you need something until you get that next meal? My go to snack is a Granny Smith apple with salted mixed nuts. This is just the right amount to tide me over until I can get lunch together.
Lunch: Corn, Tomato and Avocado Salad with Chips + Sparkling Water
I'm already missing summertime and knowing that my all-time favorite meal is going away is almost too much for this girl to handle. I will eat this meal every single day! The deliciousness consist of cherry tomatoes, one avocado, one ear of fresh corn cut from the cob, fresh lemon juice, salt/pepper, (maybe a little red wine vinegar), cilantro with grilled chicken breast and my crunch (chips!). This meal is light, fresh and filling and I cannot get enough of it. It's always a bummer when I have to trade out this for things more pumpkiny.
Dinner: Grilled Chicken with Smashed Sweet Potato and a Kale Salad
This is my version of 1987 meat and potatoes meal. Grilled chicken breast, 1/2 mashed sweet potato (raspberry for fun!), and a kale salad. It's been tested by the parental units and received a lukewarm reception. I, on the other hand, love this meal. It's easy, hits all the food groups I need, and it is free of diary and gluten. Oh, and tasty!
Dessert: Dark Chocolate
See the 3 squares? I don't always put them in a petite bowl but they look more divine with this presentation. Dark chocolate, 88% cocoa, no dairy, no gluten. This is the bar.
Kelly, Chief Instigator + Creator of Om On Yoga & ShopOmOn.com 
I eat to fuel my body and try to focus mainly on clean protein, veggies and fruits. I don't eat meat except for fish so I'm constantly trying to get enough protein in my diet and sometimes fall prey to carbo loading. That being said, I've found some cool eating hacks and swaps that sneak in extra protein, like spaghetti squash marinara, one of my faves.
I also have a very simple palette and prefer foods in their natural state, so when I eat at home which is 90% of the time, basic is the way I go. That being said, I do travel a lot, and you will always find me with a bag of snacks, which usually consists of Clif Z Bars, raw almonds and dried fruit. Also, when I arrive at my destination I always try and grab fresh fruit, yogurt and some protein. This way I'm covered for at least breakfast and lunch, which keeps me feeling light and energetic. I find if I consume most meals out while traveling my body just feels bogged down and on overload. I also will sometimes make a lunch out of a fresh baguette, slice of cheese, nuts and fruit.
All and all I try not to get too wrapped up in what I'm eating and prefer to make conscious choices that allow me to experience food and most importantly connect with who I'm sharing my meal with. I think this is the coolest thing about food — the way it connects us with nature and others!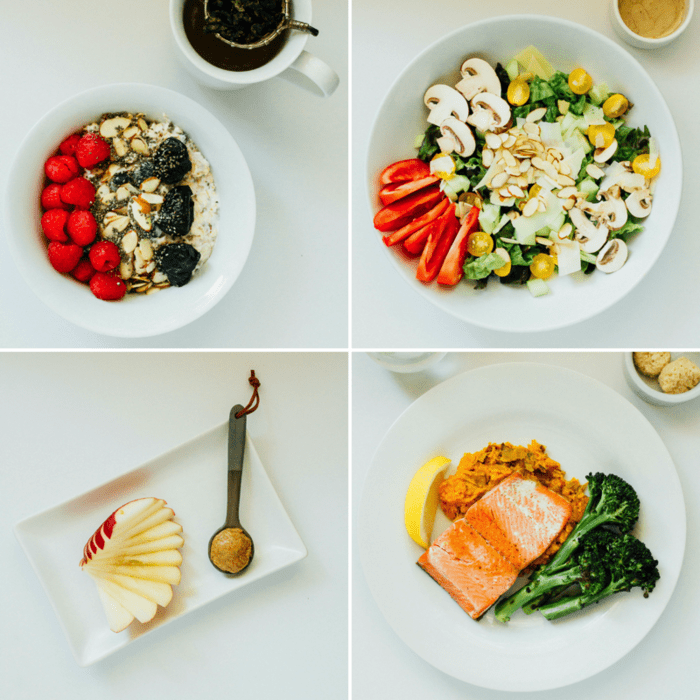 Breakfast: Oatmeal Chia Bircher Muesli + Herbal Tea
After traveling to Australia I became slightly obsessed with having a Bircher Bowl for breakfast and they are so easy to prep the night before so if it's spring/ summertime this is my go-to. I prep it the night before by combining steel cut oats soaked in almond milk with whatever berries, nuts, and seeds I have stocked in the pantry. Today it was raisins, blueberries, raspberries, chia seeds, slivered almonds, and french prunes. I refrigerate it overnight and in the morning add some greek yogurt (sometimes honey) and voila! Quite often I start my morning with herbal tea and love peppermint, Vanilla Roobios, and Moroccan Mint.
Lunch: Chopped Salad with Parmesan Vinaigrette + Lime Spritzer
Since I'm on the go most of the day, I always reserve an hour to stop home for lunch. Typically lunch is a big salad, using whatever fresh veggies I have found that week. Today it was the sweetest yellow cherry tomatoes, cremini mushrooms, red heirloom tomatoes grown locally in Hanover, VA, diced cucumbers, sliced almonds and shaved parmesan. The vinaigrette is very easy to blend with champagne vinegar, fresh parmesan and olive oil.  Usually I just drink good ole H2O, but I'm just back from Europe and I've been having a taste for mineral water. Today I mixed fresh squeezed lime with a few sprigs of mint.
Snack: Honeycrisp Apple with Vanilla Almond Butter
I'm a sucker for fruit and so my snacks usually involve a berry bowl, banana, or my favorite, apples! I also try and sneak a bit of protein in too!
Dinner: Salmon with Smashed Sweet Potatoes and Brocollini
My go-to dinner a few times a week is a fresh piece of fish from Yellow Umbrella and veggies. In the wintertime I'll switch that to a fresh made soup.
Dessert: Coconut Macaroons
I'm not a huge sweets person, and don't like chocolate (though I do have a slight obsession with Nutella), so something small is the route I go if I want a nibble. These cookies use coconut for sweetener and so they deliver just the right amount of sweet to end the night on.
I hoped you enjoyed seeing these two ladies' daily meals as much I enjoyed putting this post together. If you're local to Richmond, I can't recommend attending the Shape Soirée event enough. It's going to be pretty epic! I hope to see you at my session on healthy eating (it's only $30 to attend) and some of the other awesome events taking place Thursday, October 19th – Saturday, October 21st.