Sparkling Elderflower Apple Lime Vinegar Mocktail
11
Published Dec 30, 2014, Updated Jun 18, 2023
A sparkling elderflower apple lime vinegar mocktail made with sparkling water and vinegar. A great non-alcoholic drink option for New Year's Eve.
In light of New Year's Eve quickly approaching (can you believe it's tomorrow!?!?) I'm finally spilling the beans on a sparkling water drink that I've been addicted to over the past few months. I hadn't really planned on sharing it since it's not really a recipe, but after drinking it on several occasions I thought it would be good to share. Especially before NYE as it's a great mocktail for designated drivers or those who don't partake in alcohol.
Before I tell you all about it, I have to share a little story of how I found out about this idea.
A few months ago I was browsing at Oil & Vinegar – sampling all their different vinegars. I probably tried over ten different varieties, but I ended up falling in love with the Elderflower Apple Lime vinegar. It has a sweet finish with notes of citrus and the saleswoman had me intrigued by saying that it could be used in a variety of ways — added to yogurt, as a marinade, drizzled over salad, etc.
The saleswoman quickly excused herself from the convo for a minute and came back with a sparkling water mixed with the elderflower apple lime vinegar for me to taste. (Apparently they have a soda stream in the back of the store and they make vinegar drinks throughout the day.) One taste and I was completely sold. I love sparkling water — even when it's plain — but the sparkling water infused with vinegar was sooo amazing. I could definitely taste the vinegar, but it was sweet and flavorful too. It had a more intensely sweet flavor than the store-bought flavored sparkling waters I've tried — almost more like soda. Although, I haven't had soda in years so I'm probably not a good judge of what soda tastes like. 🙂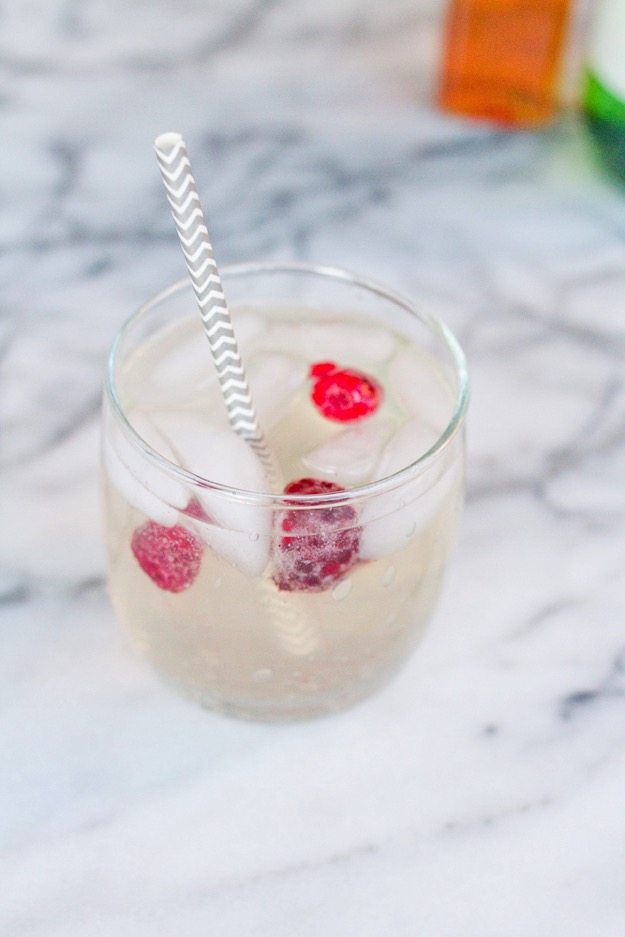 Sooo, I bought the vinegar and immediately came home and whipped up a vinegar sparkling concoction for Isaac. He was apprehensive at first, but LOVED it as well. So much so that the next night we were both craving the drink again and we made a special late-night trip to the store for more sparkling water. Yup, it's like that.
The best part is that this drink is so easy to make, requires only a few ingredients and you can use whatever type of vinegar you'd like. Although, if you're serving it as a mocktail, I highly recommend going for a sweeter vinegar — something fruit based like a pineapple white balsamic (one of my favorites!), peach, raspberry, strawberry, etc. As I mentioned I got the Elderflower Apple Lime Vinegar from our local Oil & Vinegar store, but you can find flavored vinegars all over the place. I've even seen some at Home Goods!
I have tried it with my beloved apple cider vinegar as well and it's good, but ACV isn't as sweet so the drink tastes more pungent. Great as a daily detox drink, just not something I would serve to guests as a mocktail. But don't worry, you're not missing out on the health benefits entirely by using sweeter vinegars — most all vinegars offer some sort of health benefit.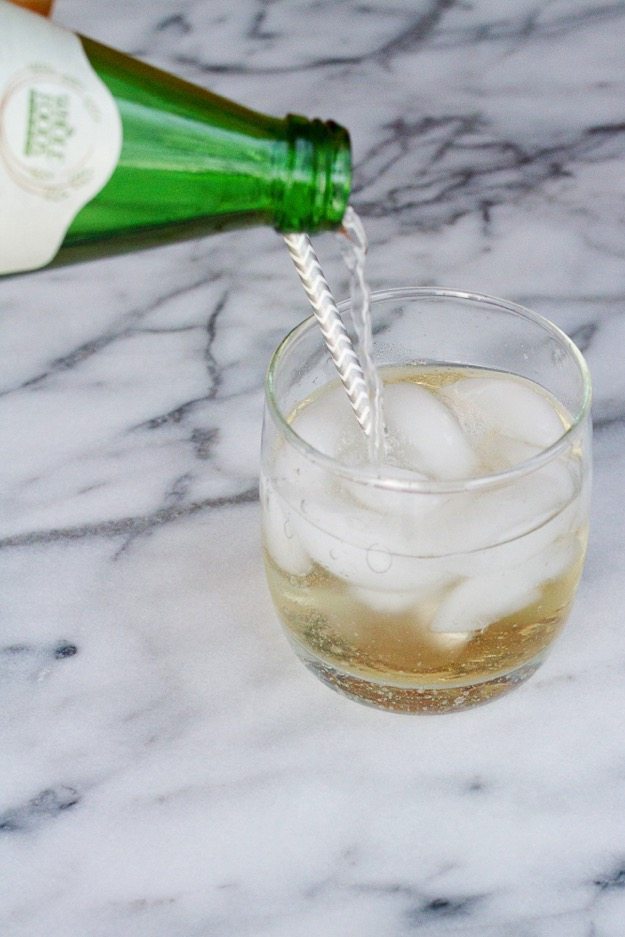 Once you combine the vinegar and sparkling water in a glass, you can spruce up the drink by adding a spring of fresh mint or rosemary, a few berries or fresh lemon and lime. I used berries but seriously, whatever you have on hand will work.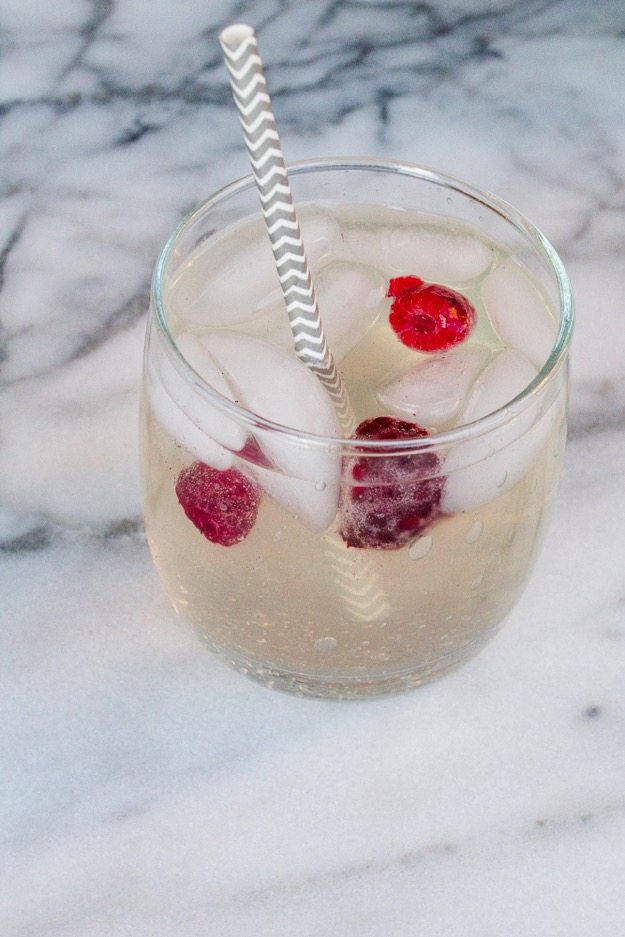 So there you have it, a refreshing little non-alcoholic drink to serve at parties or if you're like us, whenever the craving hits you.
If you make this sparkling elderflower apple lime vinegar mocktail, please be sure to leave a comment and star rating below. Your feedback is super helpful for the EBF team and other readers who are thinking about making the recipe.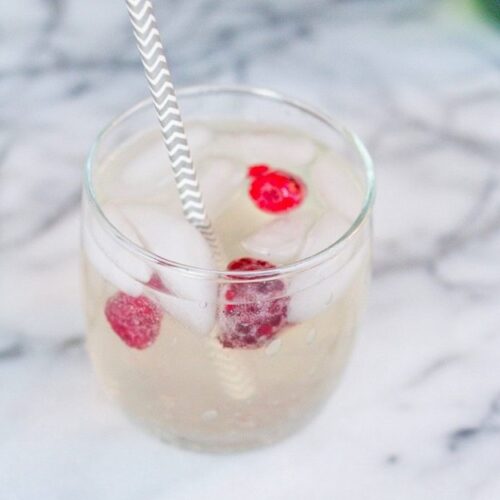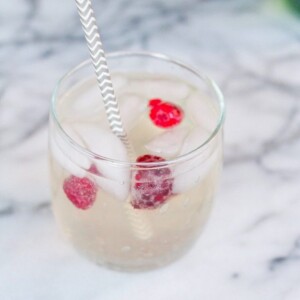 Sparkling Elderflower Apple Lime Vinegar Mocktail
A sparkling elderflower apple lime vinegar mocktail made with sparkling water and vinegar. A great non-alcoholic drink option for New Year's Eve.
Ingredients
Instructions
Place ice in a glass. Add vinegar and sparkling water. Give the mixture a good stir. Taste and add more vinegar if needed.

Garnish with berries, fresh herbs or place a slice of citrus on the rim of the glass and serve.
Notes
Other vinegar options: Pineapple White Balsamic, Passionfruit Balsamic Vinegar, Lemon Sicilian White Balsamic
Nutrition
Serving:
8
oz
|
Calories:
24
kcal
|
Carbohydrates:
6
g
|
Sugar:
6
g
Nutrition information is automatically calculated, so should only be used as an approximation.