Southern Living at Keswick Hall
4
Published Feb 22, 2016, Updated Jun 18, 2023
February has been busy and full of fun travel adventures — we literally haven't spent a single weekend at home! We went to Northern Virginia for a baby shower, New York for birthday celebrations and Charlottesville this past weekend. I love to travel so it's been really fun and I'm actually traveling again this week, back to NOVA for the IDEA East PTI.
This past weekend's travel to Charlottesville was for a blogging event hosted by Southern Living at Keswick Hall, a luxury hotel and spa less than 10 miles from downtown Charlottesville.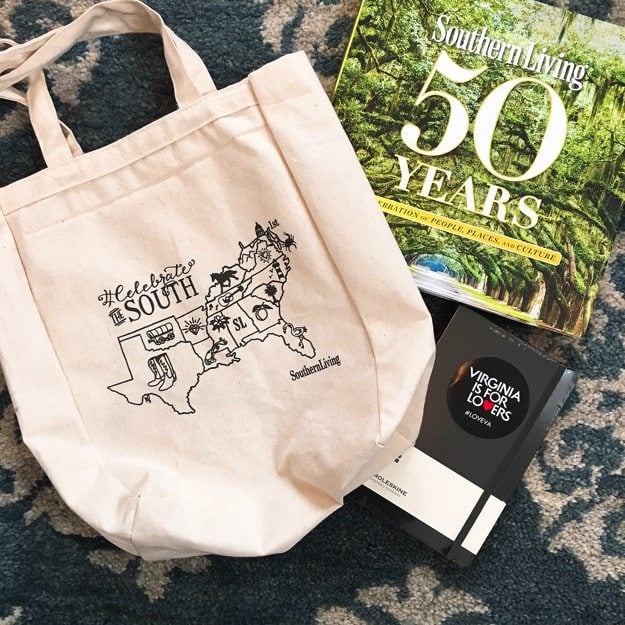 To celebrate the magazine's 50th Anniversary, Southern Living is partnering the Virginia Tourism Corporation to develop a Virginia-based blogger network to contribute to their blog, The Daily South. This event brought everyone together to kick off the collaboration.
The celebration got started with with a group trip to Blenheim Vineyards, a winery just outside of Charlottesville that's owned by Dave Matthews. We've done a bunch of winery/brewery tours around the area so we'd been to Blenheim before, but hadn't ever taken the tour.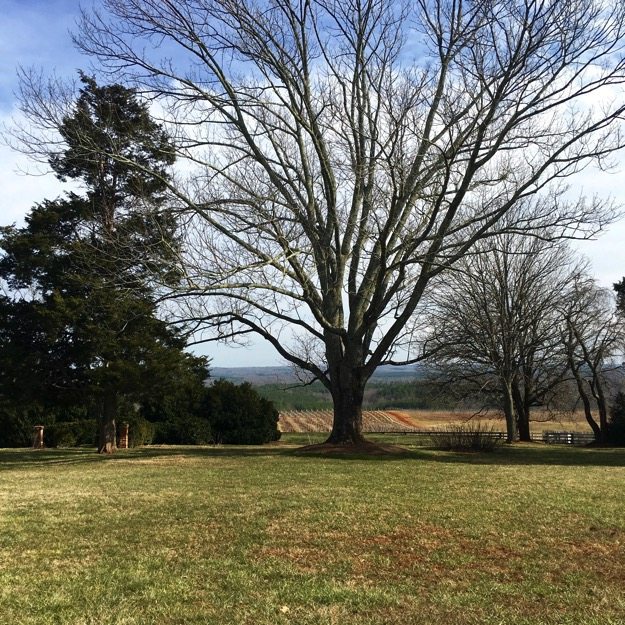 This time we had a private tour led by the winemaker, Kirsty and learned a lot about the wine and the history of the property.
We did the full tasting in a historic building on site, which used to be a chapel and is now used to private events and workshops. It's also where Dave Matthews got married!!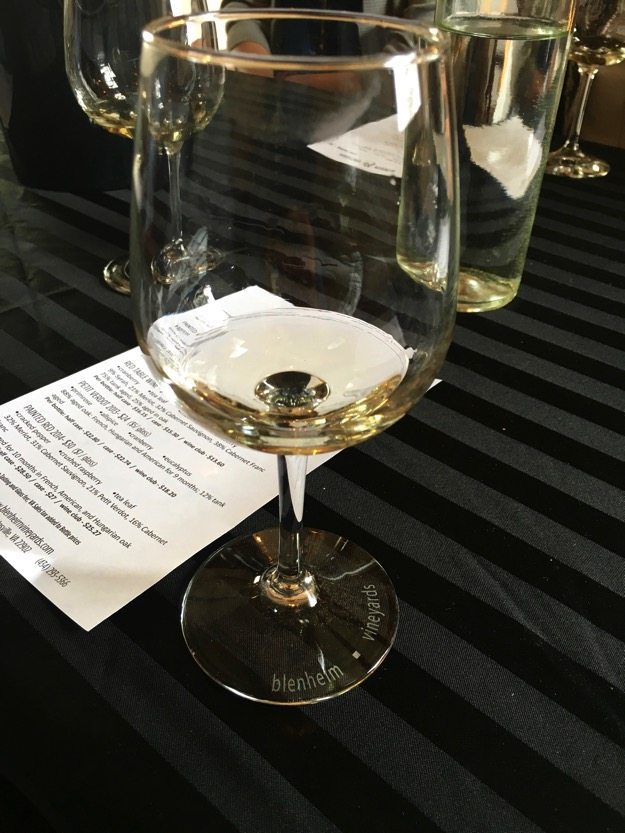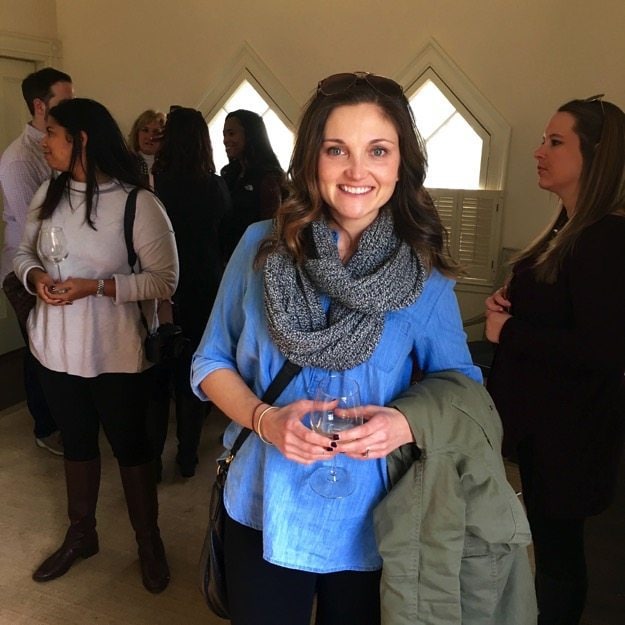 I've always thought of myself as more of red wine gal, but my Blenheim favorites are the Chardonnay and the Painted White. We ended up buying a bottle of the Chardonnay to bring home.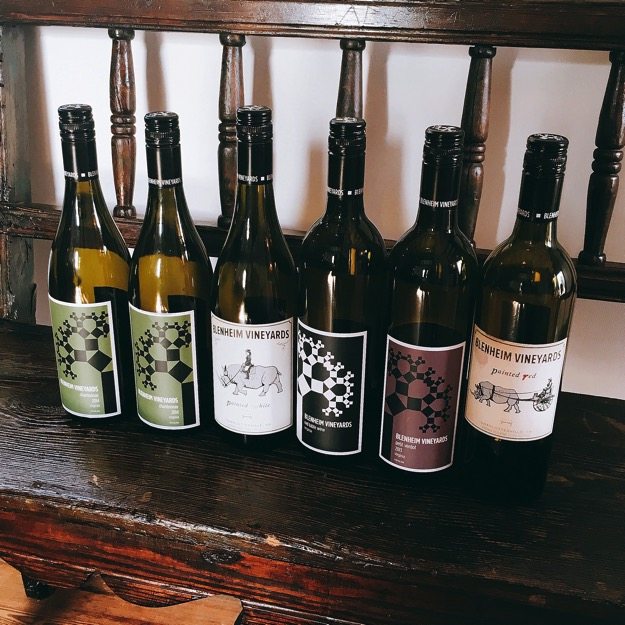 After the tour we headed back to Keswick Hall to relax and explore before dinner. The hotel itself is absolutely gorgeous and super fancy so we had a great time checking out the property.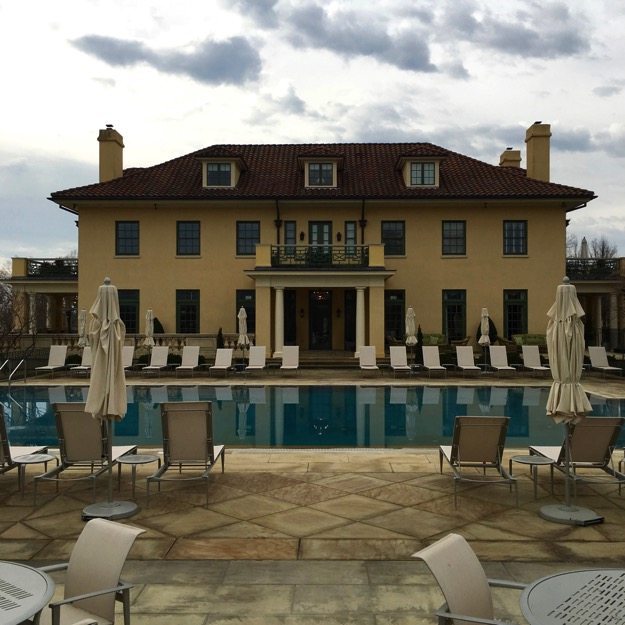 The horizon pool was a definite highlight. I've actually never been swimming in an infinity pool before so I was seriously tempted to take a dip, but ultimately chickened out.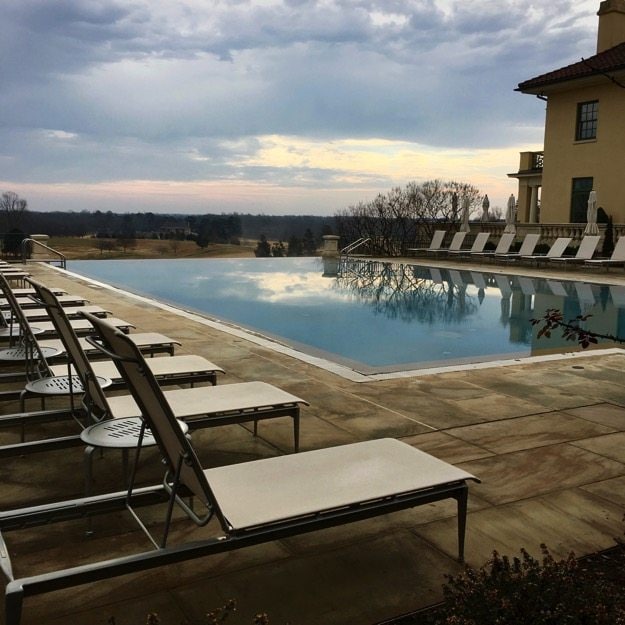 The pool is heated, but I'm such a baby when it comes to being cold I thought I would freeze getting in and out. Plus, I didn't want to get my hair wet before dinner (ladies, you know what I mean). So I convinced Isaac to take picture with me BY the pool instead. 🙂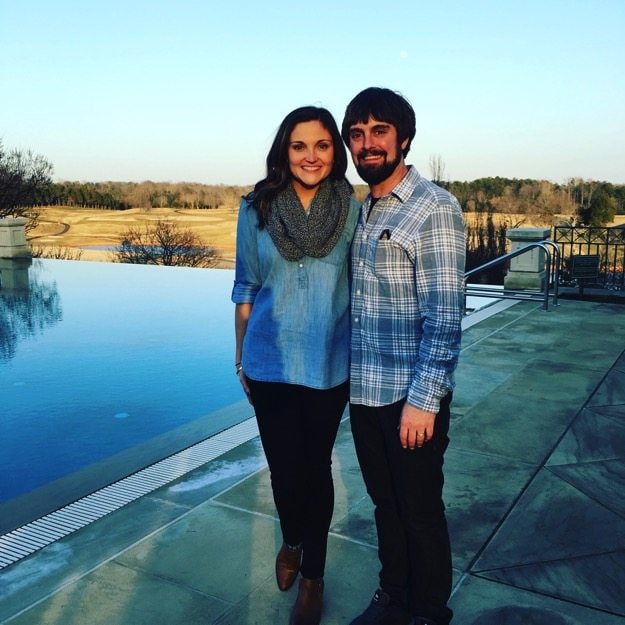 The evening event started with a cocktail hour and then a seated dinner prepared by the Fossett's chef. During the reception and dinner I mingled with the other bloggers, as well as the folks from Southern Living, the Virginia Tourism Board and their agency, BCF. This collaboration is something new for all the groups involved so there was a lot of excitement expressed about working with bloggers and getting the project underway. It was fun to chat about all things Virginia while reconnecting with blogging friends I'd met before (Kath and Christin) and getting to know everyone else involved in the collaboration.
I didn't take photos of everything at dinner, BUT I did share the whole meal on Snapchat so if you follow me there (username: eatingbirdfood) you got to see all the deliciousness. It was a four-course meal paired with Virginia wines. Here were my choices for the meal:
Pear and Arugula Salad with Spiced Pecan Crumble, Pt. Reyes Blue Cheese and an Aged Balsamic Pear Vinaigrette
Lobster Cassoulet with Pistachio, Bacon, Flageolet and Mirepoix
Pan Seared Striped Bass with King Crab Vinaigrette, Savoy Cabbage, Turnips and Fingerling Potatoes
Upside-Down Chocolate Souffle with Chocolate Sauce, Poached Forelle Pear, Chantilly and Pear Ginger Sorbet
The one thing I did get a shot of was dessert. So pretty!
After dinner Isaac and I joined up with the late-night crowd for a round of cocktails at the Villa Crawford Bar before calling it a night and heading back to our room. If you ever visit Keswick, I highly recommend trying the Keswick Kick. 🙂
The next morning we took advantage of the free bike rentals offered by the hotel and explored the grounds via bike before the rain started.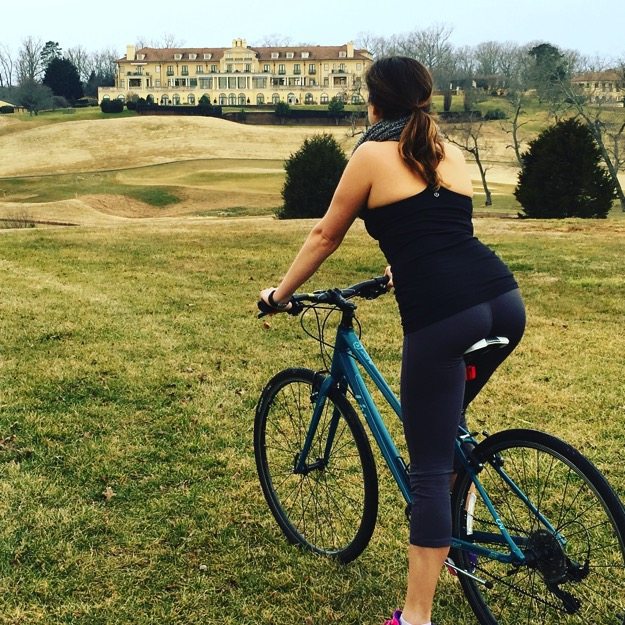 The property has a beautiful golf course, huge privately-owned homes to ogle and lots of wildlife to admire.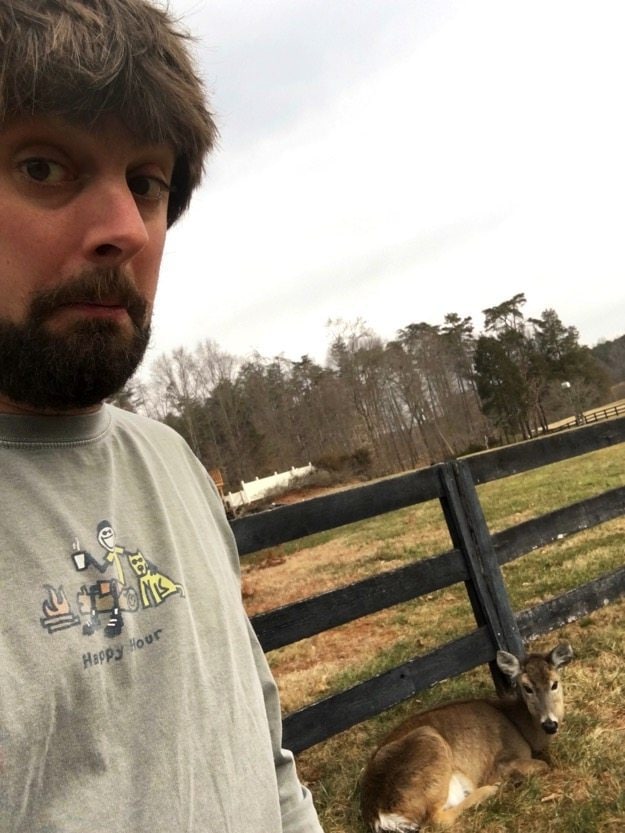 We even stumbled upon this little guy who let Isaac get super close to him for a picture.
After biking we grabbed coffee and then headed to Fossett's for brunch.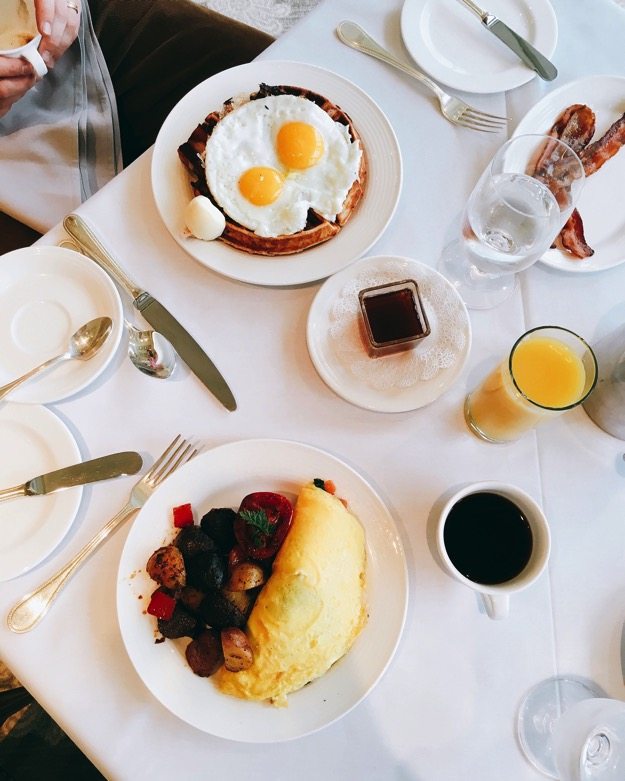 Omelette for me. Waffles and bacon for Isaac. Everything was delicious and the view of the golf course from the restaurant is absolutely stunning.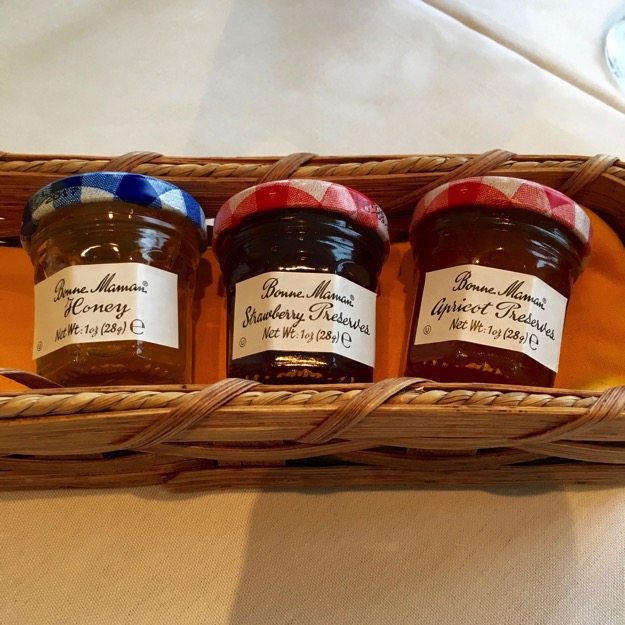 They also have mini jars of jam and mini glass containers of Tabasco sauce!! I can't handle the cuteness of small food items so I had to get a picture.
If you're local to the area (or ever visiting) I highly recommend dining at one of the Keswick Hall restaurants — you don't have to be staying as a guest and the food is delightful. It'd be the perfect spot for a celebratory meal!
We had planned to do some exploring around Charlottesville after breakfast, but the rain put a damper on those plans we just headed back to Richmond. It actually worked out okay because we ended up stopping by Strange's on the way home and they were having a huge orchid show with award-winning orchids on display. We stayed well over an hour looking at all the orchids and buying a few house-plants. Not a bad way to spend a rainy Sunday.
I hope your weekend was just as lovely!