Has anyone else noticed that with the cold weather settling in all they want to eat is soup? I know I have. To satisfy my craving for all things warm I recently made a big pot of Cannellini and Cabbage Soup using a recipe from the October issue of Fitness Magazine.
It turned out to be very easy to make and only took a total of 20 minutes- perfect for an quick weeknight meal. However, just because it was easy didn't mean it was lacking in the flavor department. Both Isaac and I throughly enjoyed it. This one definitely has a star next to in my recipe binder! I've become a huge fan of Fitness Magazine recipes as I've tried two recently (this soup and a quinoa dish) that are now my favorites.
Cannellini and Cabbage Soup
Makes: 6 servings
Prep time: 20 minutes
Cook time: 10 minutes
Ingredients
1 tablespoon olive oil
3 cups thinly sliced cabbage
2 carrots, sliced
6 garlic cloves, minced
1 teaspoon dried thyme
1/4 teaspoon black pepper
2 cans (14 ounces each) low-sodium chicken broth
1 can (14 1/2 ounces) no-salt-added diced tomatoes
1 cup water
1/4 cup tomato paste
2 cans (15 ounces each) cannellini beans, rinsed and drained
Directions
1. In a large pot, heat olive oil over high heat. Add cabbage, carrots, garlic, thyme, and pepper; cook 2 to 3 minutes.
2. Stir in broth, undrained tomatoes, water, and tomato paste. Bring to a boil, then reduce heat. Simmer, covered, for 8 minutes, or until vegetables are tender, stirring occasionally.
3. Mash half the beans with a fork. Add all the beans to the pot. Heat through and serve.
Nutrition facts per serving: 164 calories, 11g protein, 30g carbohydrate, 4g fat (1g saturated), 9g fiber
In light of this healthy and quick meal I think I'll do a series with quick, easy and delicious weeknight meals. This soup being the first of that installment. More details to come soon. If you have a recipe that would fall under this category and would like to share it, please let me know!
So I've been eating the cabbage and bean soup for many of my lunches and dinners, but today I switched things up and had some roasted butternut squash soup that Isaac's (30 year vegetarian) friend made.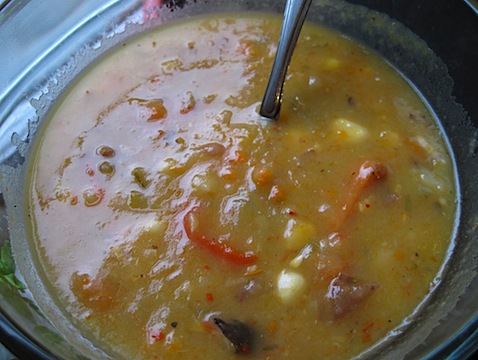 It was yummy- with butternut squash, red skinned potatoes, corn, onion, red peppers, and mushrooms.
Isaac is having a bunch of guys over for the football game tonight so I helped him make guacamole. I ate plenty of chips and then decided to have arugula salad with guacamole, hearts of palm, yellow peppers, bean sprouts, and red onions while I waited for my Amy's Texas veggie burger to cook.
In other news, I recently found out that my co-worker's daughter was diagnosed with H1N1. Thankfully, her daughter is older (in high school) and is doing okay, but my co-worker has not been coming in to work just in case. Since I heard the news, I've been trying to be proactive. Like I said, I've been eating lots of soup, but I've also been drinking tea, hot water, and chugging Emergen-C like it's my J-O-B. My boss actually forwarded an email I thought was handy for ways to prevent catching H1N1 so I thought I would share that you information with you all:
The precautions for H1N1 were credited to Dr. Vinay Goyal in the email. He suggests that the only portals of entry for the virus are the nostrils and mouth/throat. In a global epidemic of this nature, it's almost impossible not coming into contact with H1N1 in spite of all precautions. Contact with H1N1 is not so much of a problem as proliferation is.
While you are still healthy and not showing any symptoms of H1N1 infection, in order to prevent proliferation, aggravation of symptoms and development of secondary infections, some very simple steps, not fully highlighted in most official communications, can be practiced:
My two cents is italicized
1. Frequent hand-washing. This one's a given.
2. "Hands-off-the-face" approach. Resist all temptations to touch any part of face (unless you're eating or bathing).
3. Gargle twice a day with warm salt water (use Listerine if you don't want to use salt). *H1N1 takes 2-3 days after initial infection in the throat/nasal cavity to proliferate and show characteristic symptoms. Simple gargling prevents proliferation. In a way, gargling with salt water has the same effect on a healthy individual that Tamiflu has on an infected one. Don't underestimate this simple, inexpensive and powerful preventative method.
4. Similar to 3 above, clean your nostrils at least once every day with warm salt water. Not everybody may be good at using a Neti pot, but blowing the nose hard once a day and swabbing both nostrils with cotton swabs dipped in warm salt water is very effective in bringing down viral population. I love using my Neti pot when I'm sick, but never thought to use it as a preventative method.
5. Boost your natural immunity with foods that are rich in Vitamin C. Good sources of Vitamin C include broccoli, tomato, papaya, mango, peppers (red, yellow, and orange have more than green), kiwi, kohlrabi, jicama, potatoes, kiwi, and of course citrus fruits. Also, if you're taking a Vitamin C tablets, make sure that it also has Zinc to boost absorption.
6. Drink as much of warm liquids (tea, coffee, hot water, soup etc) as you can. Drinking warm liquids has the same effect as gargling, but in the reverse direction. They wash off proliferating viruses from the throat into the stomach where they cannot survive, proliferate or do any harm.

Does anyone you know have H1N1? Are you doing anything special to try to prevent getting it?

Alright enough flu chat. I'm off to be supportive of man night- football game watching and more importantly, guacamole eating. 🙂

– Brittany

PS. Don't forget about my Rachael Ray Giveaway!