Hey friends. I hope you had a great weekend. Ours was busy and fun — starting on Thursday with Isaac's sisters' college graduation in NOVA and ending on Sunday with a long drive home from a wedding in Long Island.
Traveling and events always make it a little more difficult to stay on track with healthy eating and workout routines, but I tried my best. I have a few tips and tricks I use when traveling. Here's my normal routine:
Pack my workout gear: one or two workout outfits, shoes, socks, head phones and my heart rate monitor
Pack healthy snacks. Y'all are probably going to think I'm crazy but as soon as I know I'm going on a trip, the first thing I usually start packing are my snacks. It's kind of comical, but I've found that being prepared is way better than being hangry. And unless you're going to a big city with lots of healthy options, it can often be a challenge to find nutritious options.
Research. I always check out the place I'll be staying to see if there's a gym and then look at a map to see what's nearby — cool workout studios, healthy restaurants, etc. I always look to see if there's a Whole Foods nearby as well. 🙂
This weekend we were driving so I packed lots of snacks including hardboiled eggs, mini protein muffins, a grapefruit, apples, a baked sweet potato, a couple KIND Bars, protein powder, almond butter, almonds and sunflower seeds.
Before our trip I emailed Erica and Adam (our lovely hosts that live in Brooklyn) to see if Erica would want to go to a SoulCycle, Bar Method or Physique 57 class with me. NYC has the best workout classes and I wanted to try at least one of them! Erica loves SoulCycle and was totally game so we made plans to attend a class at 7:30AM on Saturday morning.
We went to the NoHo location on Lafayette and the class was, in one word, amazing!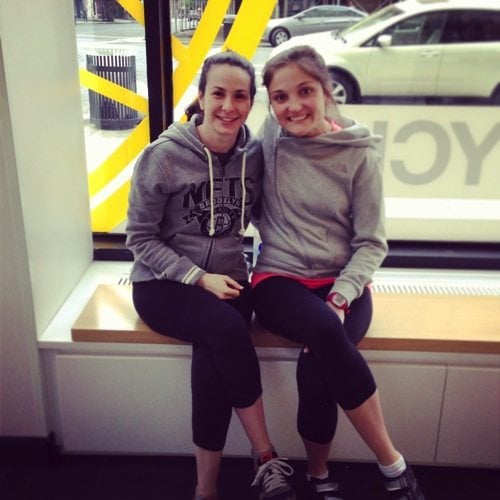 I'm not sure if the bikes are nicer than the spin bikes at my gym or if wearing actual spin shoes made all the difference, but the ride seemed to be smoother and overall more comfortable and enjoyable than a regular spin class experience at my gym. The environment was awesome — around 50 bikes in a dimly lit room, the instructor's bike on a little stage in the center with a few candles around it. Throughout the class upbeat music pumped through the speakers while the instructor energeticly led us in what we should be doing by calling out different positions and demonstrating. The rhythm of the music was timed perfectly with what were doing on the bike. And we weren't just riding…oh no, we were working our whole body by turning up the bike's resistance, jumping in and out of the saddle and doing pushups and crunches while pedaling.
At one point we even pulled out small weights for a track full of arm exercises. This part reminded me a lot of the arm exercises I'm used to doing in a barre class. Let me be the first to tell you that the 2 lb weights are quite deceiving. By the time the track was over, my biceps and triceps were on fire! Definitely feeling the bun.
Another aspect I loved is that I could feel my core working the entire time. Because we were doing so many other things on the bike, I really had to focus on keeping my core engaged to make sure I stayed balanced. The class was 45 minutes and I burned around 460 calories, only a tiny bit less than what I would burn in a normal spin class, which is an additional 15 minutes long.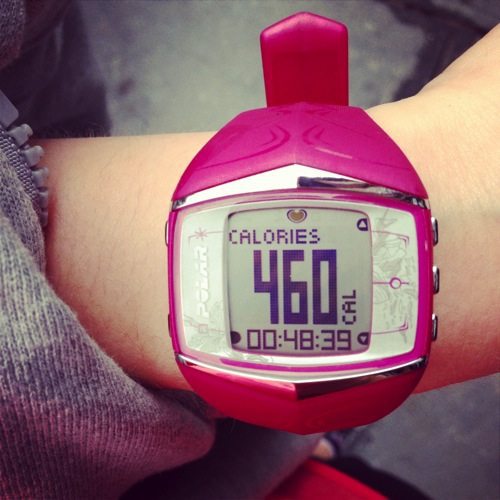 SoulCycle is definitely an effective cardio workout and it's SUPER fun. I could easily see myself wanting to go a few times a week if I lived in New York. Alas, I guess I just have to wait for BoHo Cycle Studio to open in Richmond later this year.
After class I convinced Erica we needed to swing by NoHo Juice Bar. I got their signature green juice sans the celery…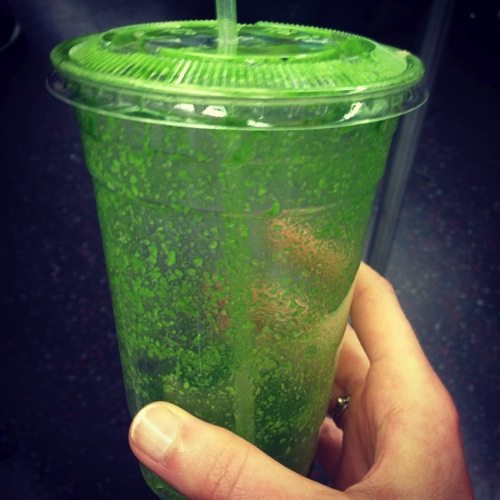 Obviously I hated it. 😉
I also convinced Erica we should go to Whole Foods… because I needed more snacks. Obviously.
No but really, I do like to explore Whole Foods in different areas. They always have unique setups and fun local flair. The New York locations are always awesome and tend to have things we don't have yet in Richmond (like the black label Classic GT Synergy Kombucha). I also found some tasty chili mango trail mix that I've never seen at our Whole Foods before. It's already gone and I'm wishing I would have bought more.
After that little adventure, we headed back to Brooklyn, woke up the boys and had breakfast at Maybelle's Cafe before heading to Long Island for our friends' wedding.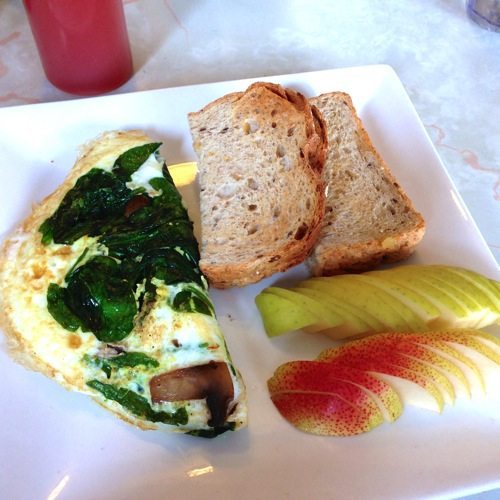 My egg white omelette with spinach and mushrooms.
By the time the ceremony was about to begin the weather was a little rainy and cold so it had to be moved indoors Of course, everything was still beautiful and perfect. We had a great time celebrating our friends, Meghann and Rob. We drank a little, ate a little and danced a lot — as it should be.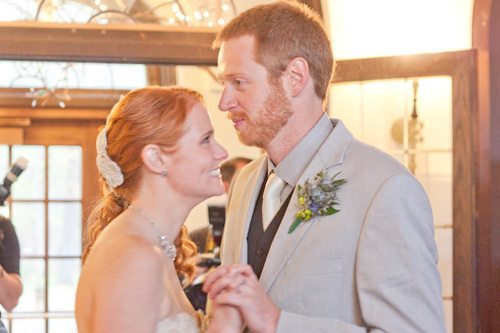 The lovely couple!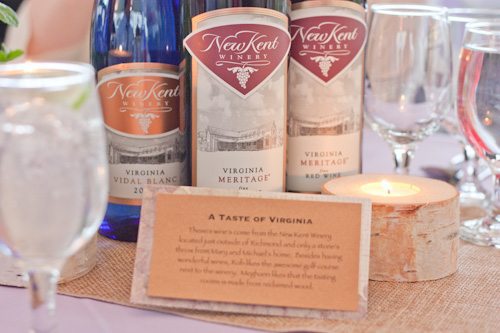 Some fun details…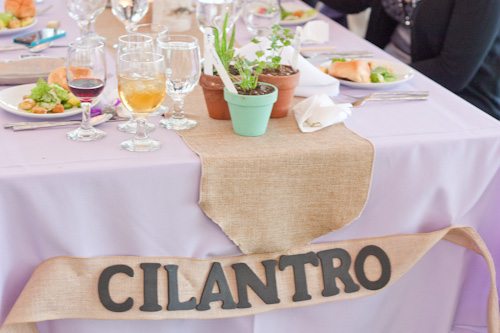 This was the last wedding we'll be attending before our wedding, which is now less than four weeks away! So much to do and so much excitement!!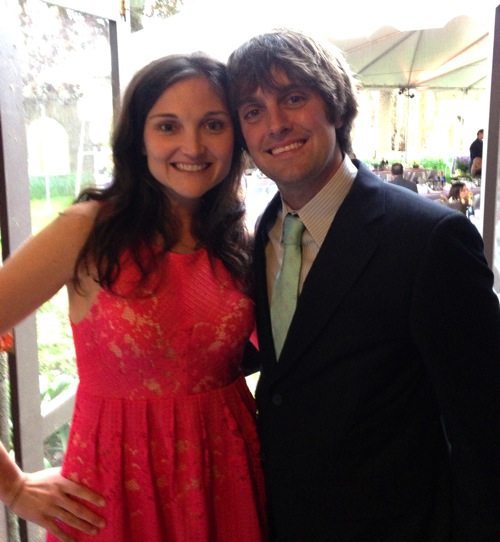 Question for you: Have you ever taken a SoulCycle class or something similar? What did you think?