I love having a gym membership and taking classes at local fitness studios but sometimes squeezing in a workout is so much easier if I can do it from home. This is why I love having a few fitness DVDs on hand. They're so easy to pop into the DVD player and they've definitely been a life saver when I don't have the extra time to make a trip to the gym. They're also great during the winter months when it's too icy or snowy to drive (or just too darn cold to step foot outside).
That said, my collection of fitness DVDs is pretty small. They're not pictured here but I also have P90x and Insanity.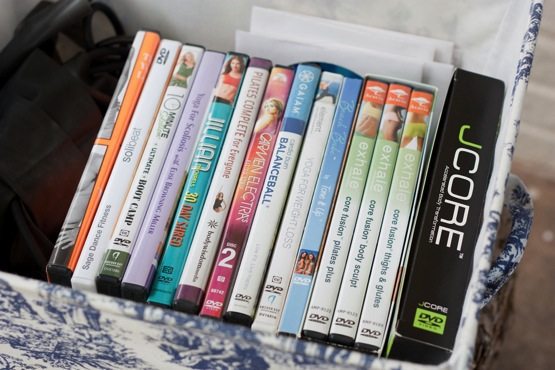 Most of these I bought, but there are a few that I received for free at fitness conferences or was sent for review. Don't worry, the Carmen Electra's Aerobic Striptease was one that I bought. I'm still not quite sure what I was thinking when I purchased it, but I tried it once before quickly realizing it was a complete joke and it hasn't graced my DVD player since. I'm saving it because who knows, maybe it will be a collector's item one day. Ha!
So obviously the Carmen Electra isn't one of my favorites, but here are a few that I do like and would recommend.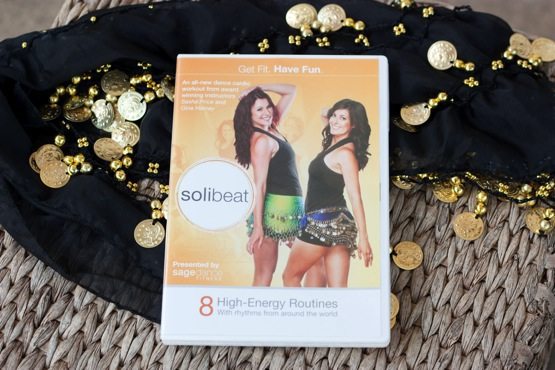 Soli Beat
This is the newest in my collection. Gina (The Fitnessista) teamed up with Sasha Price to create a high-energy cardio dance class designed to have you moving to the beat of the drums!  Literally. The DVD features 8 dance routines and each is accompanied by live drummers who deliver energizing beats and rhythms that make you want to shake it.
What I love about it: I've always wanted to take one of Gina's Zumba classes and from what I can tell this DVD is just like being in one of her classes, only you're at home in your living room instead of having to dance in front of people. I don't know about you, but I'm the uncoordinated type when it comes to dance fitness (i.e. it takes me a few times to get the moves right and I always feel like I'm making a fool out of myself) so being able to do this DVD at home is awesome. I love that there are "new-to-class" tutorials — I went through them several times before attempting to do the actual dances. I still wasn't as graceful as Sasha and Gina (they're awesome!) but at least I knew the basics. Once I got into the actual routines I felt like I was just having fun dancing rather than doing a fitness DVD. I quickly realized how hard I was working after seeing how sweaty I was after just a few minutes. I always forget just how great a workout dancing can be. My favorite dances from the video are the Samba Dromme (click over to see a preview) and belly dance cool down! If you like to dance (or are interested in learning) I highly recommend checking this DVD out. I think you'll love it.
Where to find it: You can order the DVD online through the Soli Beat website.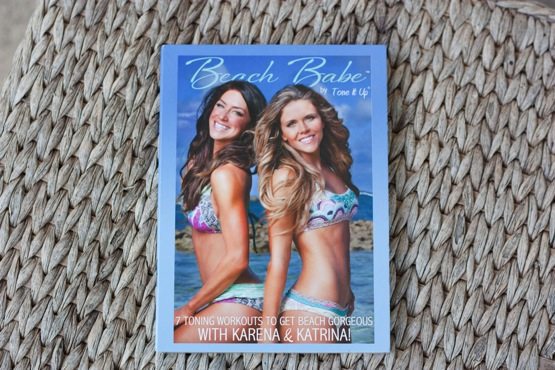 Tone It Up Beach Babe DVD
Description: This one features exclusive toning workouts designed by Karena & Katrina of Tone It Up using their Fine Toning Method for the woman's body. The results are a long, lean tight and toned body. It's a 2 disc series with 7 full workout routines.
What I love about it: After doing (and loving) the workout videos from Tone It Up on YouTube, I decided to get the DVD. I really like the Fine Toning component, which targets whatever area you are working to really burn out the muscle and the HIIT the beach routine, which is only 20 minutes long and awesome. This is one of my favorite HIIT workouts to do at home. The Tone It Up ladies now have a Beach Babe 2 DVD with 9 workouts, but I don't have that one — yet. 🙂
Where to find it: Amazon.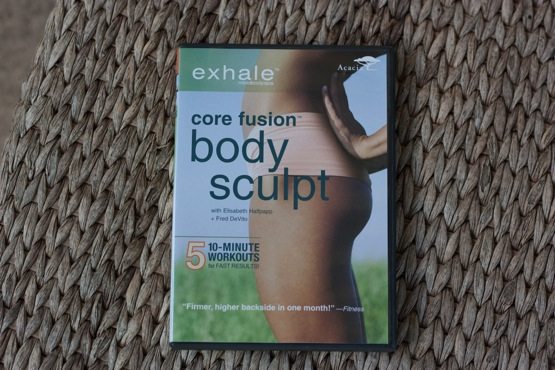 Exhale Core Fusion
Description: A total-body program that employs exercises to tone and sculpt your deepest, hard-to-reach muscles. You use your own body weight as resistance and small hand weights to really challenge and build your muscles. Segmented into five focused workouts of just 10 minutes each, the exercises target the whole body, from arms and shoulders to glutes, hips, thighs, and abs. Core Fusion creators Fred DeVito and Elisabeth Halfpapp have over 50 years combined experience teaching Pilates, yoga, dance, and Tai Chi, disciplines that inform the Body Sculpt workout. They are founding team members of Exhale, a leading mind/body spa with locations around the country.
What I love about it: I bought this DVD before we had any Barre studios in Richmond and it's awesome because you get the same burn that you get from a barre class, but in the comfort of your home! You don't have to have a ballet barre either — the back of a chair works great for the moves they do. I like Fred and Elisabeth as instructors — they're very calm, explain the exercises well and focus on form. I also like that the five workouts are just 10 minutes each. If I'm crunched for time, I can do one or two right before work or even before bed. Oh, and the ab section is killer!
Where to find it: Amazon.
JCORE
Description: 6-Set DVD video series that includes six 20 minute workouts: Rev-Up, Cardio Core 4×4, Fire Fit, Hardcore, Release & Intro. It also comes with a meal plan, recipes and a 40 day challenge/guide with details about when to do the workouts.
What I love about it: It's similar to P90x but you don't need any equipment at all and the workouts are only 20 minutes (but still really challenging). You do each move for 30-60 seconds, then switch to another move so you're never bored and you're continuously moving. My favorite video of the series is the Cardio Core 4 x 4. Fun fact: My friend Sarah of Sarah Fit is actually in a couple of the videos. 🙂
Where to find it: You can order the DVD online through the JCORE website or Amazon.
Do you like working out at home with fitness DVDs? What are some of your favs?