I know it's only been 2 days since I wrote down my goals but so far so good and that makes me smile. It's always good to acknowledge small accomplishments as you work towards your goals so go ahead and pat yourself on the back if you've been making strides toward your goals over the past few days!
I was running low on oats this morning so I made a blended grain bowl with a mix of rolled oats, quinoa flakes and oat bran. It turned out fabulously – creamier than a bowl of plain oats but still voluminous. The quinoa flakes and oat bran can be a little dense on their own, but the combo still had a good bit of volume, which is one thing I really like about oatmeal.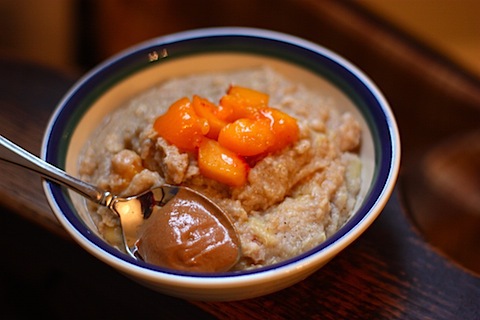 Combination Grain Breakfast Bowl
1/4 cup rolled oatmeal
1/8 cup oat bran
1/8 cup quinoa flakes
1/2 cup unsweetened vanilla almond milk (or other milk)
1/2 cup water
1/2 of a ripe banana, sliced
dash of vanilla, cinnamon, sea salt (to taste)
Preparation
Put the oatmeal, oat bran, quinoa flakes, almond milk, water, banana, and cinnamon into a small/medium pot and cook by stove top on medium – high for about 5 minutes. I like to stay near the pot to stir the oats to make sure they don't start sticking. Once the oats have absorbed the liquid and are at the consistency you like, turn off the heat. Transfer the oats into a bowl and top with your favorite toppings.
Today I topped mine with partially thawed peaches I froze last summer and a spoonful of Better n' PB. The peaches totally made me think it was summer- then I had to walk outside. Not fun!
Lunch was simple. Leftover 13 bean soup, carrots, hummus and homemade tortilla chips.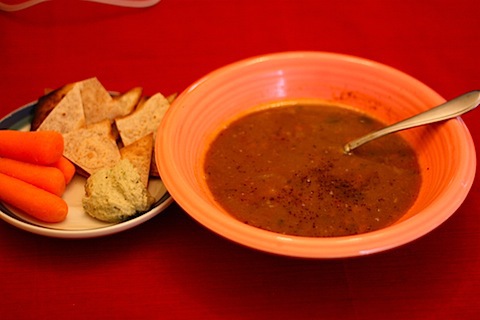 The chips were made by cutting a small tortilla into triangles and putting the pieces in the toaster oven on 400°. It worked for me. 🙂
After work I ran a few errands then stopped by Whole Foods for a few items. I'd had a TLC cereal bar and some tamari roasted almonds as an afternoon snack but I was hungry for dinner by the time I got to WF so I picked up some brown rice veggie sushi.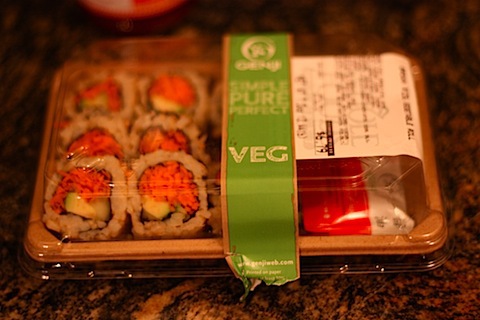 I ate a piece before leaving the store and then come home to eat the rest. I was hung (word we use for hungry in Casa de EBF).
Now I'm sipping tea and eating a few dried figs. I'll be heading to bed sooner rather than later considering both Isaac and I overslept today. I guess we're still in vacay mode.
Overall, I met most of my goals today – stretched (at work), didn't have a sweet snack right after lunch or dinner and ate whole, real foods (ehh.. the TLC bar doesn't count). I took the day off from exercise because I was sore from the past few workouts I've done, but I plan to hit the gym tomorrow morning. And, I started the training plan Lindsey made for the Blogger Charity Contest last night by doing the upper body workout. I'm loving the plan because I can do all the workouts at home and skip the crowded gym after work. But I'm also feeling like plank ups might be the death of me! 🙂
How's your week going?