The Christmas snow made for pretty pictures…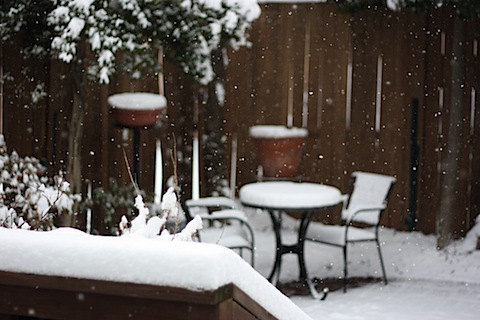 and lots of fun for miss Olive.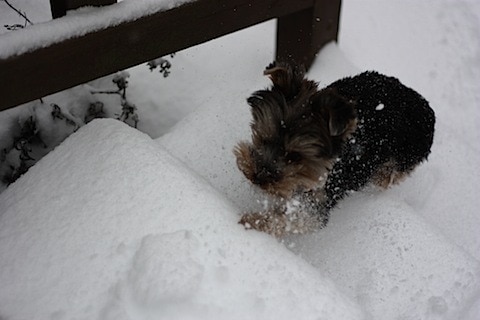 She loved the snow this year and was running all around the back yard. Typically she zooms around once she's in the house to get the cold, wetness off of her but this time she was having the zoomies outside.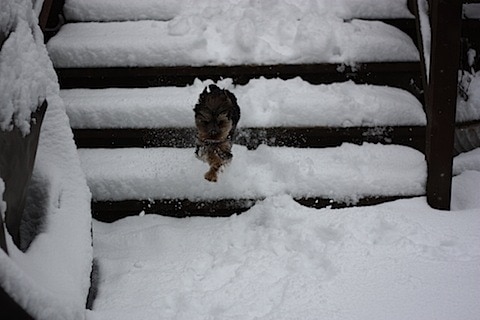 Every time I see this picture all I can think of is Jingle Bells and "dashing through the snow…"
Today is my Dad's birthday and he was feeling much better so he decided to come down for a visit.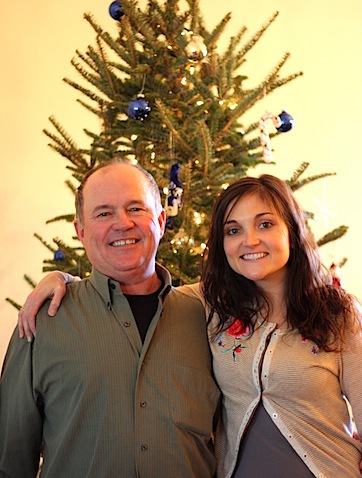 He turned 57 today but doesn't look a day over 40!
I wanted an easy birthday lunch that would keep us warm so I put together a pot of 13 Bean Soup last night. When we woke up this morning to a wonderful soup smell filling the house. I couldn't resist and ended up having a taste of it before breakfast. 🙂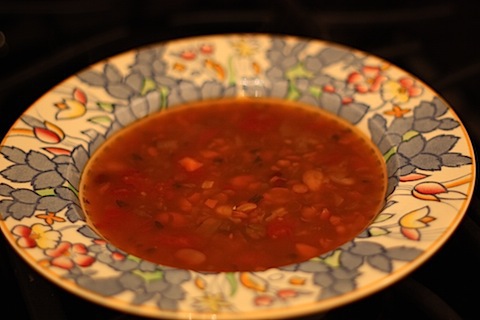 Here's what I used:
EBF 13 Bean Soup
2 cups of Bob's Red Mill 13 Bean Soup mix (that had already been soaked overnight)
1 onion, chopped
4 cups veggie broth
4 cups water
1 can (14.5 oz) diced tomatoes
1/2 cup carrots, diced
2 cloves of garlic, minced
1 1/2 tbsp fresh oregano
1 tsp chipotle powder
sea salt and pepper
Put all of the ingredients into the crock pot and let it cook on low overnight. You could easily put it on low and cook for 4-5 hours or until the beans are soft I just decided to do it overnight.
The soup was really tasty and perfect for cold, winter day. My dad doesn't like spicy foods so I left the spice out, but I think it could use a little spice – maybe some crushed red pepper or cayenne pepper. I'll probably add some to the left overs. 🙂
We all enjoyed the soup and then for dessert Isaac brought out Zabar's Babka, which he got from his mom for Hanukkah.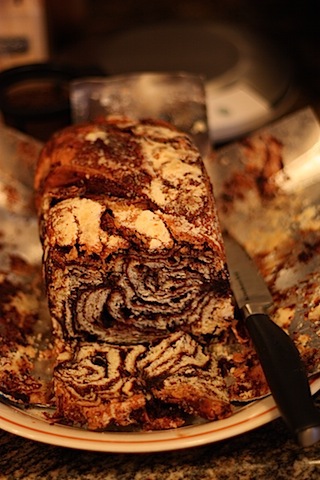 Babka is associated with the Eastern European Jewish tradition and is made from a doubled and twisted length of yeast dough and is typically baked in a high loaf pan. The dough contains cinnamon or chocolate- this version was chocolate and it was topped with streusel.
Holy yum – it's amazing and highly addictive. I really hope Isaac finishes off the loaf soon because otherwise I'll be snacking on it every chance I get. And, that wouldn't be good because like a lot of other people I know, I'm trying hard to cut back on sugar after the holiday season. I hate to admit it but all my jeans are tight. Definitely time for me to hop back on the healthy wagon. 🙂
Have a lovely evening friends…