Skincare Products I'm Loving Right Now
6
Published Jan 21, 2019, Updated Oct 26, 2021
Holy moly, this post has been a long time coming! My last skin care post was in July of 2017 and since that post, I've probably been asked a hundred times to share my skincare routine. It took a little longer than expected, but I'm finally sharing my full skincare routine and go-to skincare products at the moment.
And I say at the moment, because, although I have some favorite skincare brands, I'm not super duper brand loyal. I know some ladies who have their favorite brand(s), they buy the full line of products and continue to buy those same products for years. But that's just not me. I will continue to buy something if I absolutely LOVE it, but I'm always changing up my routine and finding new products to try, and by the time I run out of something I'm usually ready for a change. And sometimes, I feel like my skin gets used to a product and I no longer see the same benefits I saw when I first started using it.
I also have to mention that skincare starts with genetics and what you're putting into your body. One of those things we can't really change, but you can control what foods you eat! A whole foods diet is the best place to start – for example, eliminating inflammatory foods (like dairy) can do wonders for your skin. Also, I find that drinking lots of water keeps my skin feeling hydrated and full. Brb, gotta go chug another glass of water!
My Morning Skin Care Routine:
I'll be the first to admit that my morning skin care routine is pretty basic and not super involved. Most days I just wake up and apply moisturizer. Some days I will give my skin a quick rinse before applying anything, but most of the time I don't feel the need to fully wash my face.
Lately, I've been using The Ordinary's Buffet, Natural Moisturizing Factors + HA and the MyMatcha Stick under my eyes and on my lips before putting on anything else. After this, I put on makeup if I'm planning to wear any. I'm thinking perhaps another post will focus just on my makeup routine and favorite makeup products. Yay or nay?
My Evening Skin Care Routine:
My evening routine is a bit more involved than my morning routine, but not by much. To start, I take off my makeup and then wash my face with a facial cleanser. Sometimes I use the Foreo Luna for a deep clean, but that's usually once or twice a week. Once my face is clean, I'll apply a toner (I haven't been using one lately) and then my serums and moisturizers. Most days, I don't wear a ton of makeup so it's a pretty quick process to wash my face and apply moisturizer.
Which products I apply totally depends on how dry my skin is and if I have any breakouts, but lately my normal routine is just to use all three products from The Ordinary No Brainer Set along with one additional moisturizer and my eye cream. If I'm feeling ambitious I'll use the jade roller, but definitely not every night. Once I have all my moisturizers on, I'm ready for bed.
Skin Care Products:
Okay. now let's talk specific products. Overall, I'm a huge fan of natural, cruelty-free, eco-friendly beauty and skincare products so you'll notice that many of the products I use fit these criteria. There are a few that don't, but just like anything else, it's a work in progress.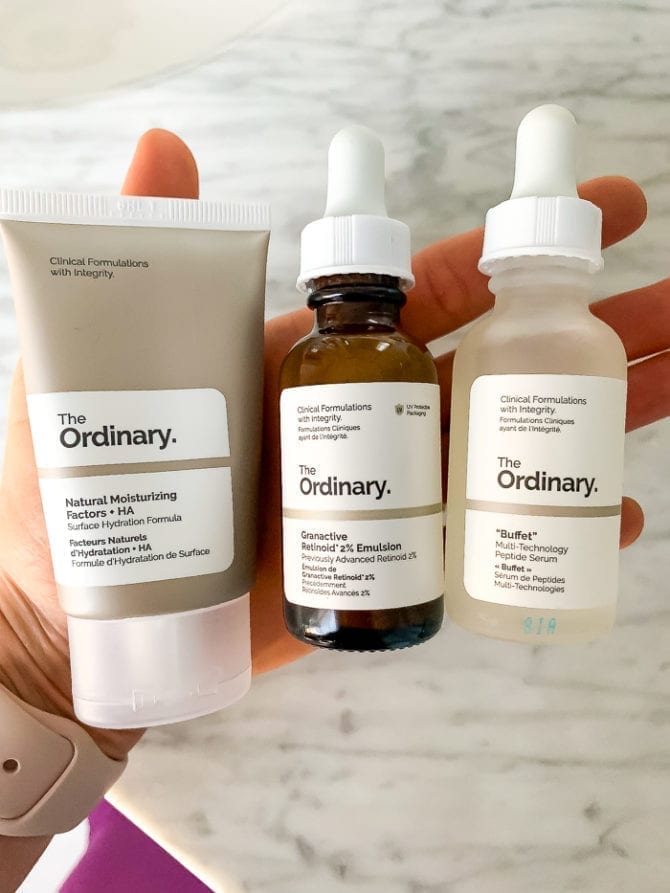 The Ordinary No Brainer Set – This is one of my new found favorites and I'm obsessed! I've been using all three products – the Retinoid 2% Emulsion, the "Buffet" and the Natural Moisturizing Factors – HA – in combination over the past few months and I've seen such a difference in my skin. I've struggled with small flesh colored bumps on the sides of my face for years and always attributed them to keratosis pilaris, which I have on the back of my arms and thighs as well. I swear this combo, especially the Retinoid 2% Emulsion, has been helping to soften and even out my skin tone better than any other products I've ever tried. And I love that The Ordinary's products are cruelty-free, fragrance-free and made without parabens, sulfates, phthalates. Plus they're super affordable!
The Seaweed Bath Co. Purifying Micro Scrub – I keep this exfoliating scrub in the shower and use it on my face once or twice a week. It's not super abrasive and it has a nice, cooling effect. Cruelty-free and made without parabens.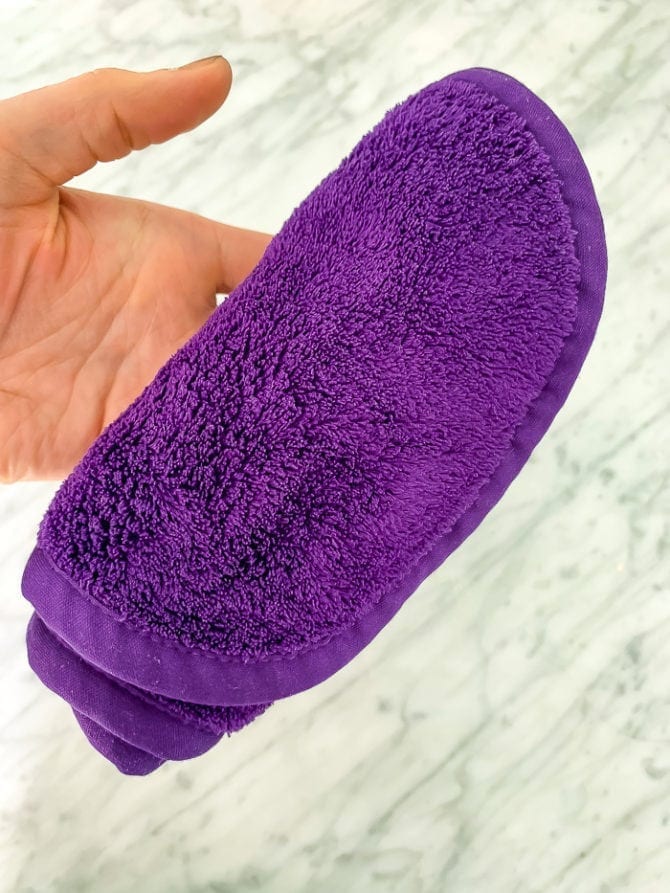 Makeup Eraser – I talked about this amazing makeup removing cloth in my last skincare post and I'm still hooked on it. I actually left my old (pink) one at an Airbnb and I couldn't live without one so I purchased this purple one recently. I've also gifted these to friends because it's such a handy little towel and really does help to get all your makeup off at the end of the day.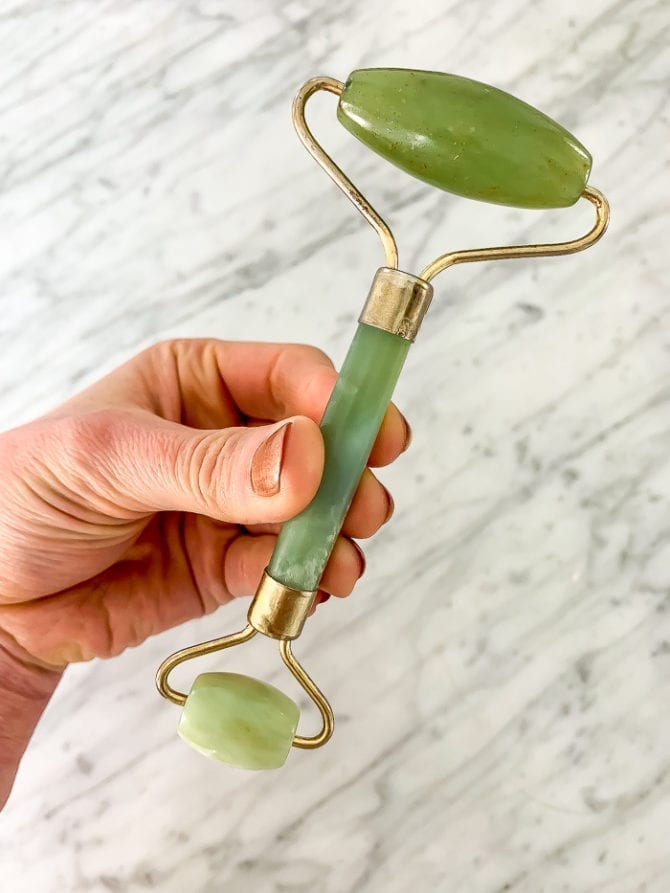 Jade Roller – Another item I mentioned in my last skincare post. I love this little tool for de-puffing my face. Jade rollers are great for promoting lymphatic drainage, stimulating collagen, improving circulation, skin tone and elasticity as well as reducing puffiness, wrinkles and under-eye circles. Jade stones are cool on their own, but I like keeping my roller in the fridge or freezer so it's extra cold when I roll it over my face, which helps increase its effectiveness. I use it right after putting on my moisturizer and eye cream to help it absorb, but you can also use the roller on clean, dry skin.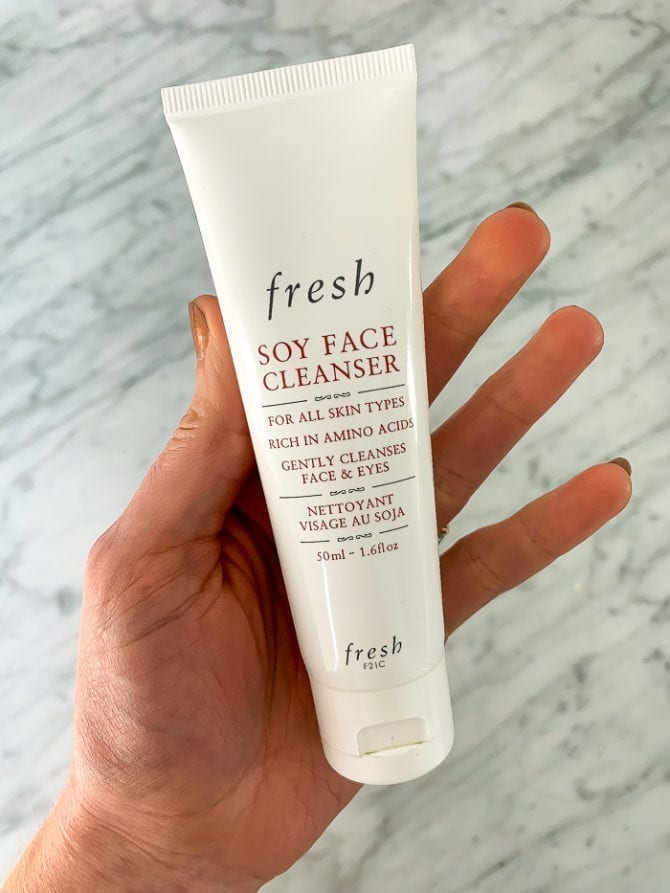 Fresh Soy Face Cleanser – Lately I've been loving this gentle face cleanser. It's great for removing makeup and I love using it with my Foreo Luna.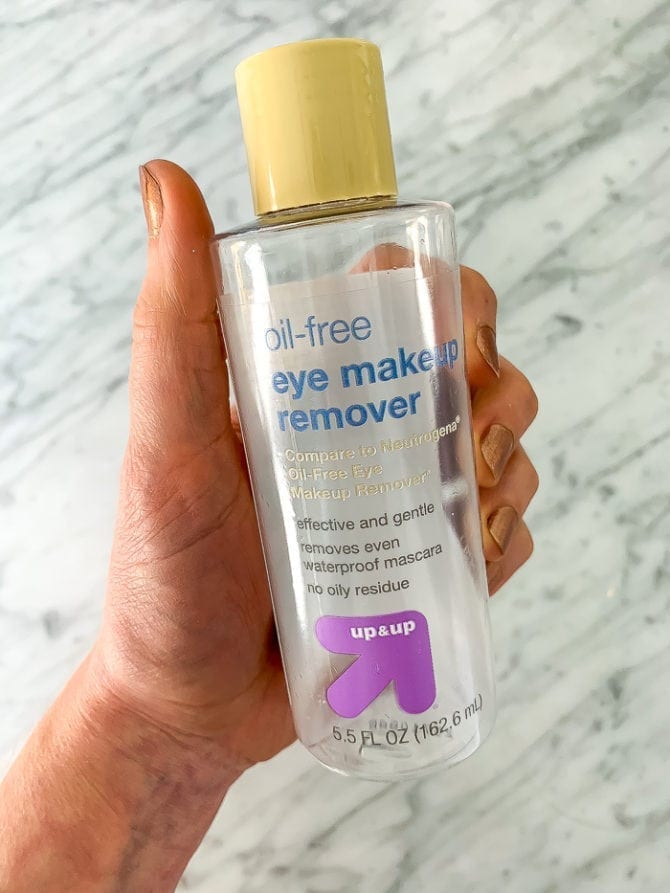 Target's Up & Up Oil-Free Eye Makeup Remover – I've been using this stuff (or the Neutrogena version) for years and I haven't found anything better at taking off mascara. I use the Makeup Eraser first, but sometimes it can't get all of it off.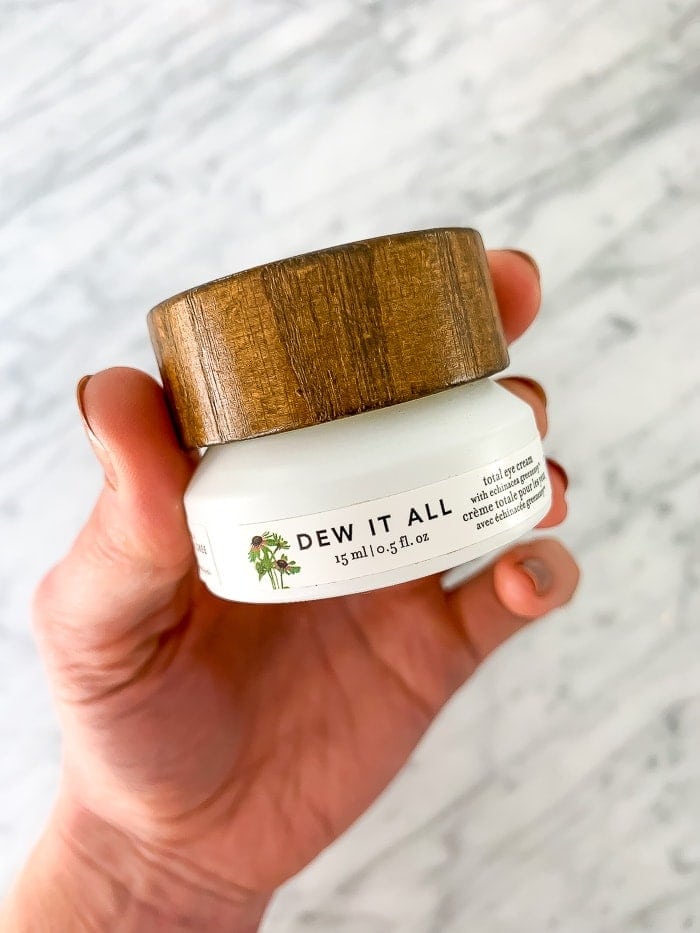 Farmacy Dew It All – This is my go-to eye cream at the moment. I love it! It's great for brightening dark circles, as well as fine lines and wrinkles.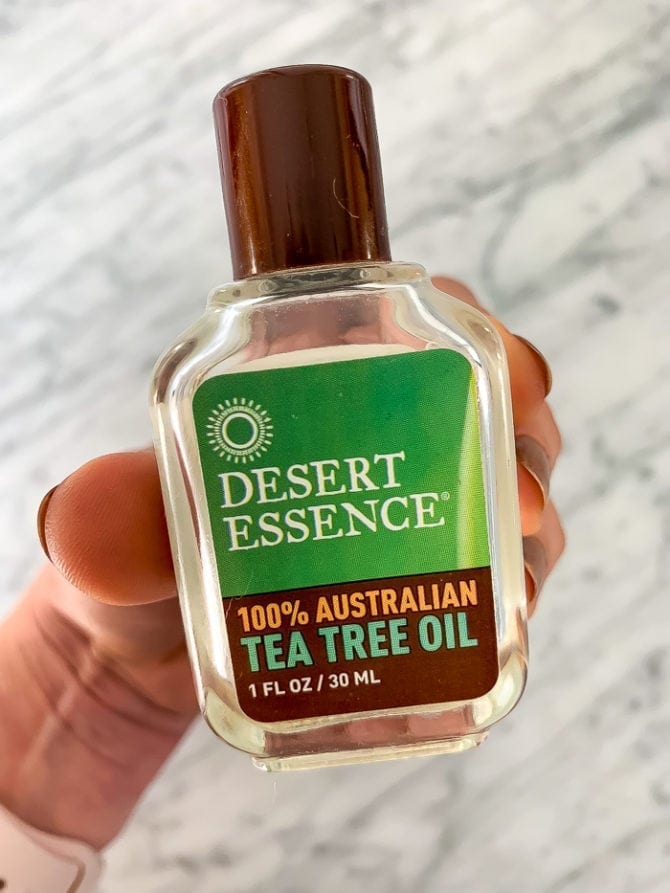 Tea Tree Oil – This stuff works like magic for drying up blemishes and breakouts. If I ever get a pimple, I put this on it every night and morning and it's gone in no time.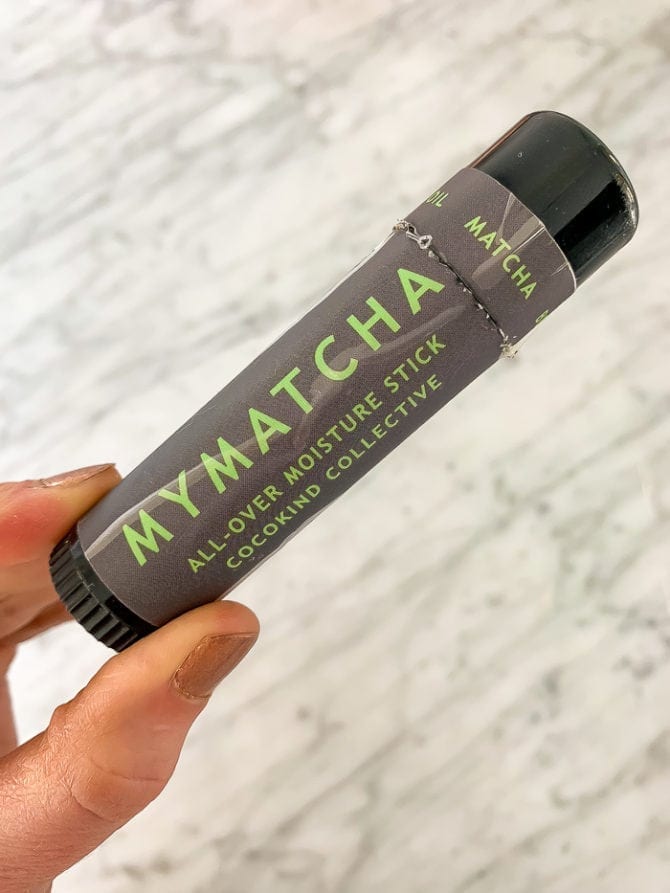 Cocokind Mymatcha All-Over Moisture Stick – I love this stick and use it almost daily to brighten the area under my eyes and moisturize my lips. It's super moisturizing, but not greasy or sticky. I love the simple ingredient list too.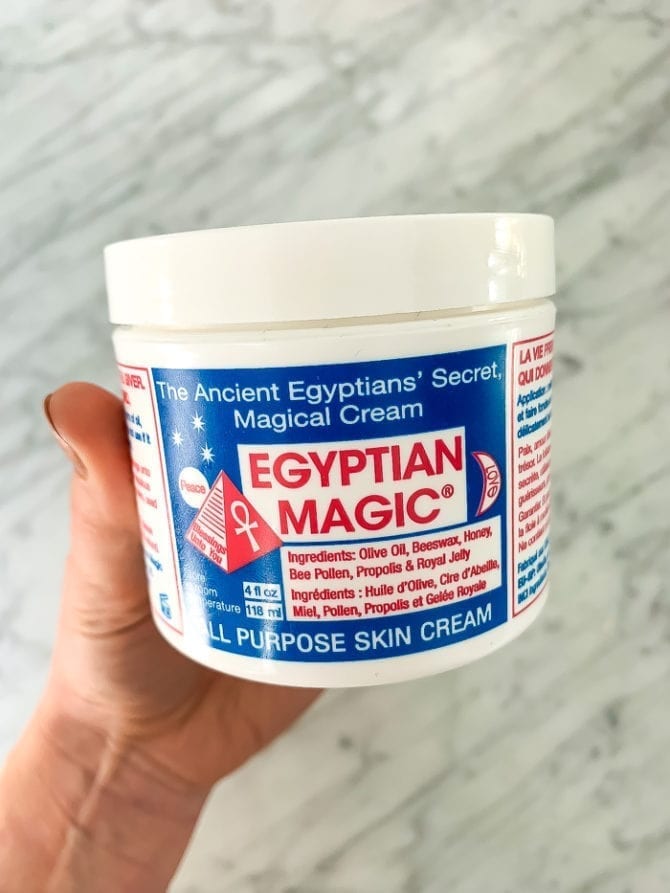 Egyptian Magic – Winter weather makes my skin crazy dry so I'm always looking to combat dry skin with lots of moisture. If things get really bad, I break out this cream and it works wonders. So moisturizing and works for anywhere on your body. I use it for my face, hands, and feet all the time. I also just recently purchased this Ultra Repair Cream from First Aid Beauty that I've been loving for extra hydration too.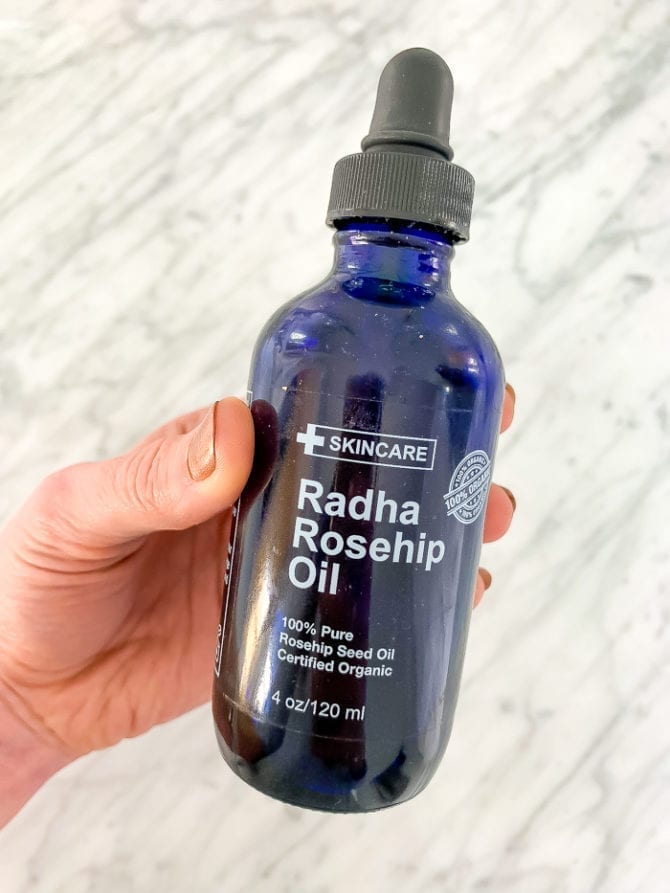 Rosehip Oil – Rosehip oil is my go-to morning facial moisturizer and I love that it has an orange tint. It's almost like tinter moisturizer!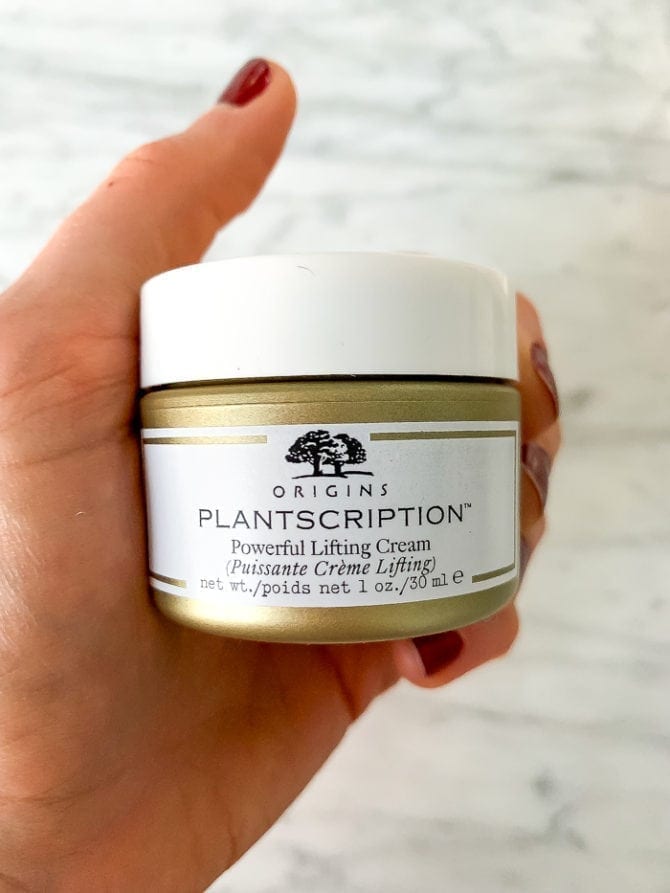 Origins Powerful Lifting Cream – Isaac bought me an Origins gift set for the holidays and I've been loving the products I've tried so far, including this powerful lifting cream. It's so lightweight but amazingly hydrating. It's also great for marionette lines around the mouth.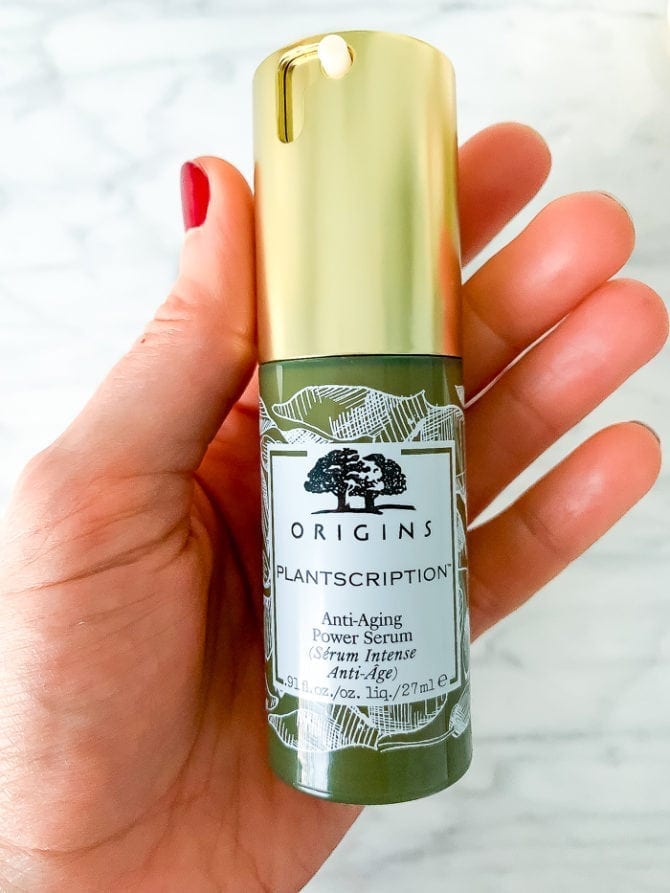 Origins Planscription Anti-aging Power Serum – Another product from the Origins gift set! This serum feels so smooth and creamy, and it's great for fighting visible signs of aging, including lines and wrinkles. Do you think Isaac was trying to tell me something with this gift set?!?
So there you have it – all the skin care products I've been using lately to keep my skin looking fresh and firm.
Have you tried any of these products or do you have a product you've been loving lately? Please share below in the comments!