Skin Care Essentials I'm Loving RN
15
Published Jul 12, 2017, Updated Jan 13, 2022
The top six skin care essentials I can't live without right now. Everything from castor oil for growing out my eyebrows to jade rolling and a magical nylon beauty towel.
Last year around this same time I posted a roundup with some of my favorite natural beauty products for summer. Many of the products I still have and use or have purchased again — specifically the TJ's shave cream and the Coola sunscreen as I'm still hooked on both of those. I actually ended up buying the Coola Makeup Setting Spray just before Isaac's sister's wedding last week. It worked great for keeping my makeup looking fresh and my skin protected throughout the ceremony.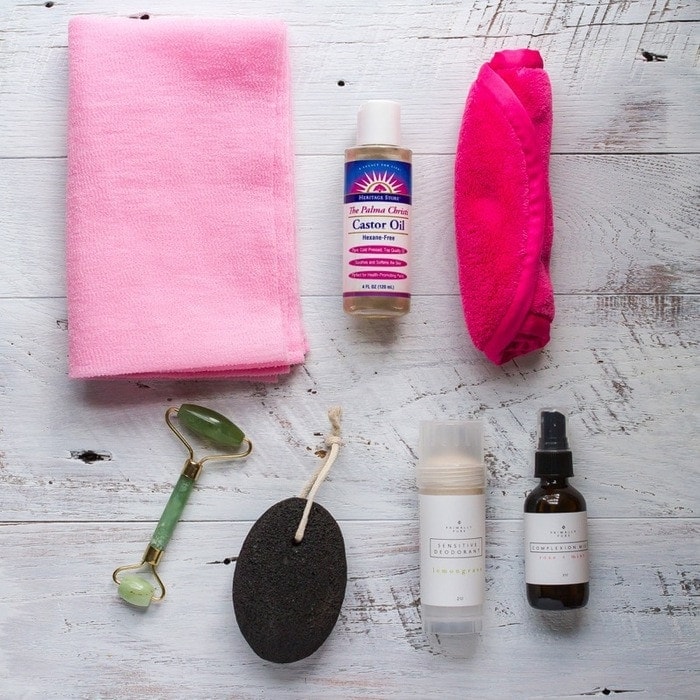 This year I have a few new products to share that I know you are going to L-O-V-E. Not all of these are summer specific so I'm just calling this post skin care essentials. I know many of you come to EBF for food and fitness related content, but healthy living goes beyond the food we put in our mouths and the movement we do. Plus, as much as I love food, I really enjoy sharing this lifestyle content as it comes up. Hopefully you get some value from it as well. Let me know in the comment section!
Okay, let's get down to the nitty gritty details… here are my latest skin care obsessions.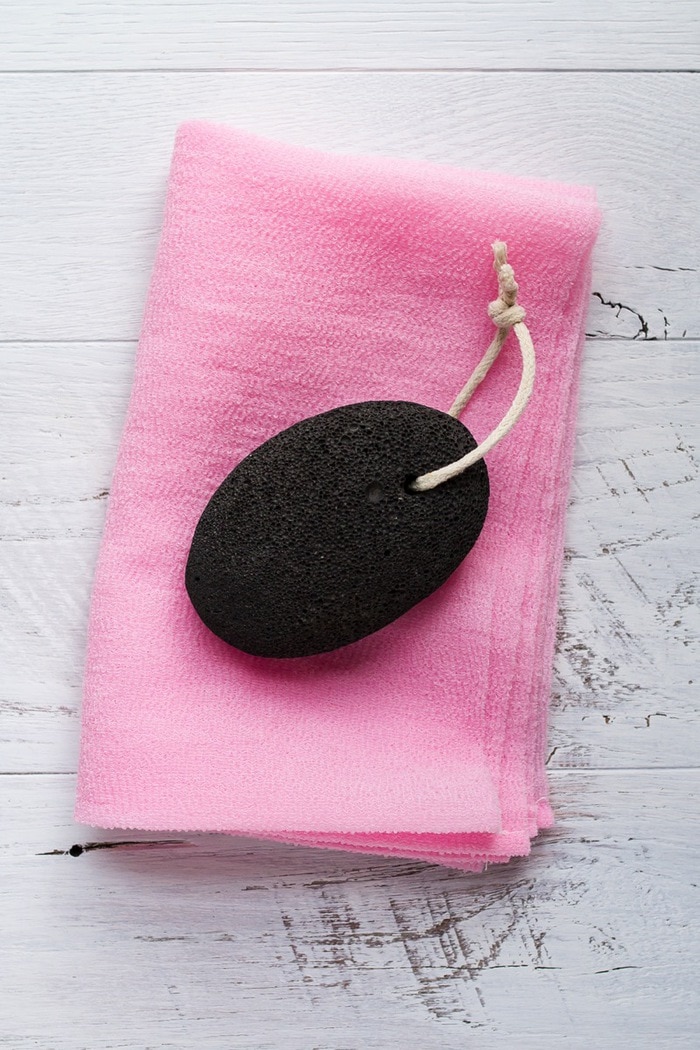 Salux Nylon Beauty Towel — OMG! I can't stop raving about this magical exfoliating towel. I first learned about it from a friend a couple months ago (thanks Megan!) and it's been the most amazing thing I've done for my skin in a long time. You see, I've struggled with sensitive skin since I was young and I've pretty much always had small (red or flesh colored) bumps on the back of my legs. They usually get better during the summer months, but never fully go away. I have a mild case of keratosis pilaris (KP) on my arms so I figured it was some form of KP on my legs too. At some points I thought it was workout/sweat related, but I'm pretty good about removing sweaty clothes and I shower often. I also thought it might be triggered by my diet (perhaps a reaction to gluten or diary?). I'm still not 100% sure the cause of these bumps BUT the whole point is that I've been using this magic towel for about 3 weeks and the bumps are almost completely gone. Like legit the back of my legs and butt are the smoothest and softest they've ever been in my whole life. For the first couple weeks I was only using the towel on my legs because I wasn't sure about it, but now that I know it works I've started using it all over my body and on my arms. I can't wait to see if it helps with the KP on my arms too! I will say, it's a bit abrasive and it can kind of sting if you rub hard, but my skin is feeling so amazing after using it and moisturizing. Over the past few weeks I keep asking Isaac to feel my legs because I'm in shock that they're this smooth.
Pumice Stone — Apparently I'm behind the times when it comes to exfoliating. I know that most of you probably already own a pumice stone, but this little guy has been a game changer for me this summer. My heels are constantly dry. Not usually peeling, just super dry and kind of cracking. I get a pedicure and they're soft for like two days and immediately get dry and start cracking again. I tried Baby Foot once (and that was quite an experience) but it still didn't solve my issue. My feet were soft for two days (after a week of crazy peeling) and then they were dry again. Not worth it! I've tried creams, sleeping in socks… all the normal things you hear to do, but using a pumice stone 2-3 times a week is the only thing that's really helped.
I ordered the stone off Amazon the same day I ordered the nylon beauty towel and it's like my whole world changed. Hooray for exfoliating!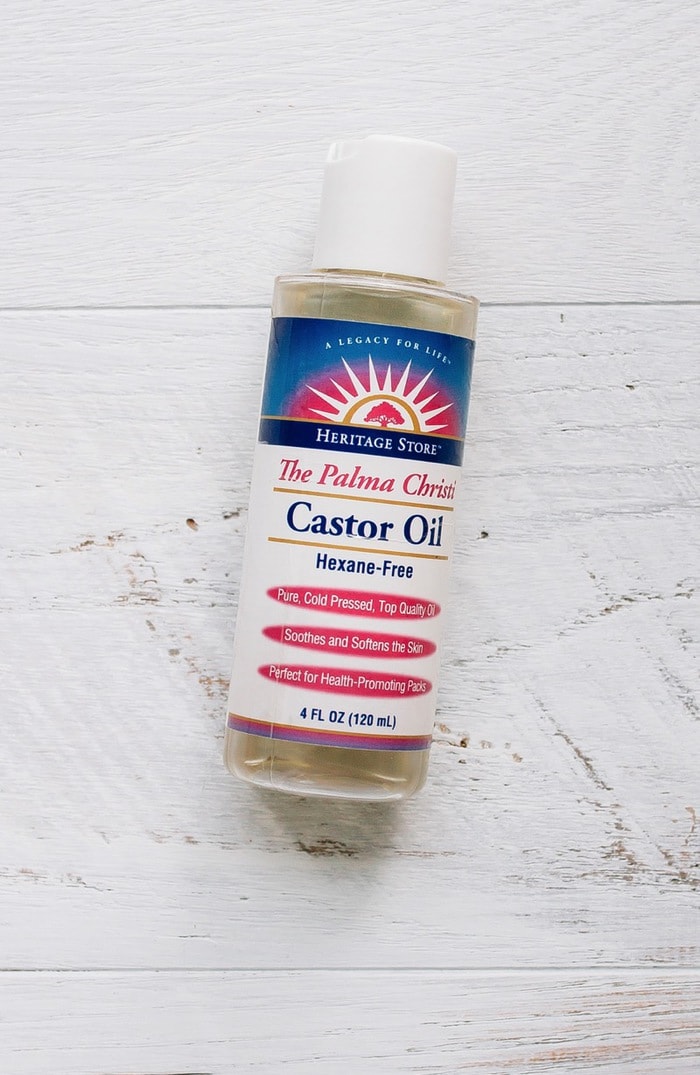 Castor Oil — This stuff is hot right now because it's been shown to help with hair growth, specifically for eyebrows. I'm working with my eyebrow lady to grow mine out. She recommended I try castor oil so I've been adding a small dab to my eyebrows as part of my bedtime skin care routine. It's been about six or seven weeks now and my eyebrows are growing, but not really at the same pace. One is looking pretty good while the other is basically just chilling with a few stray hairs. I'm going to continue the growing out process throughout the summer and see where I'm at with it. In the meantime, I've been using some Benefit products to help keep my brows looking decent. I use Gimme Brow to give them structure and volume while holding them in place and then the Precisely, My Brow Pencil to fill in the gaps where hair isn't growing just yet.
Added bonus, castor oil apparently helps with growing thicker eyelashes too. I haven't tried it on my lashes (only brows), but apparently you can use a mascara wand to apply the castor oil to your lashes as night and it helps prevent breakage and helps them grow faster. I'm going to get a mascara wand and try it.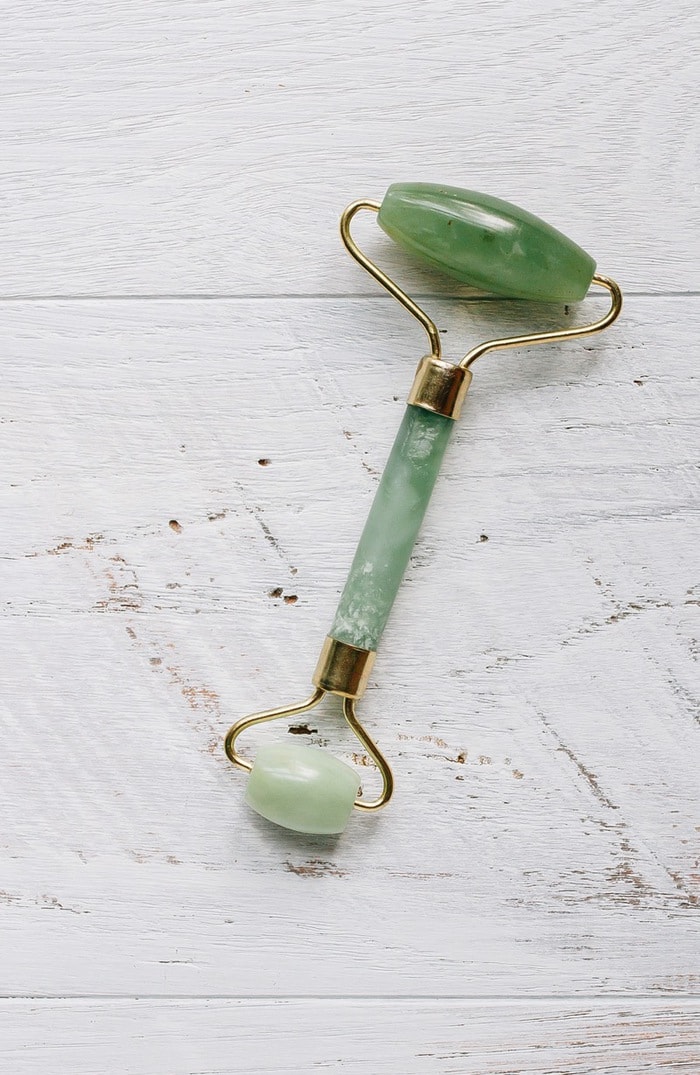 Jade Roller — I recently bought this little guy from a local shop here in Richmond called Boketto Wellness after hearing so much about it. Basically it's a skincare tool made of jade stone that you roll over your face. The jade stone itself has healing energy that helps to balance your qi, or energy. And using the jade roller on your face is said to promote lymphatic drainage, stimulate collagen, improve circulation, skin tone and elasticity as well as reduce puffiness, wrinkles and under-eye circles. Jade stones are cool on their own, but I've been keeping my roller in the fridge or freezer so it's extra cold when I roll it over my face, which helps increase it's effectiveness. I use it right after putting on my moisturizer and eye cream to help it absorb, but you can use the roller on clean, dry skin too. From everything I've read about jade rolling, you want to roll in an upward or outward motion, never down your face and never back and fourth. I found this video helpful.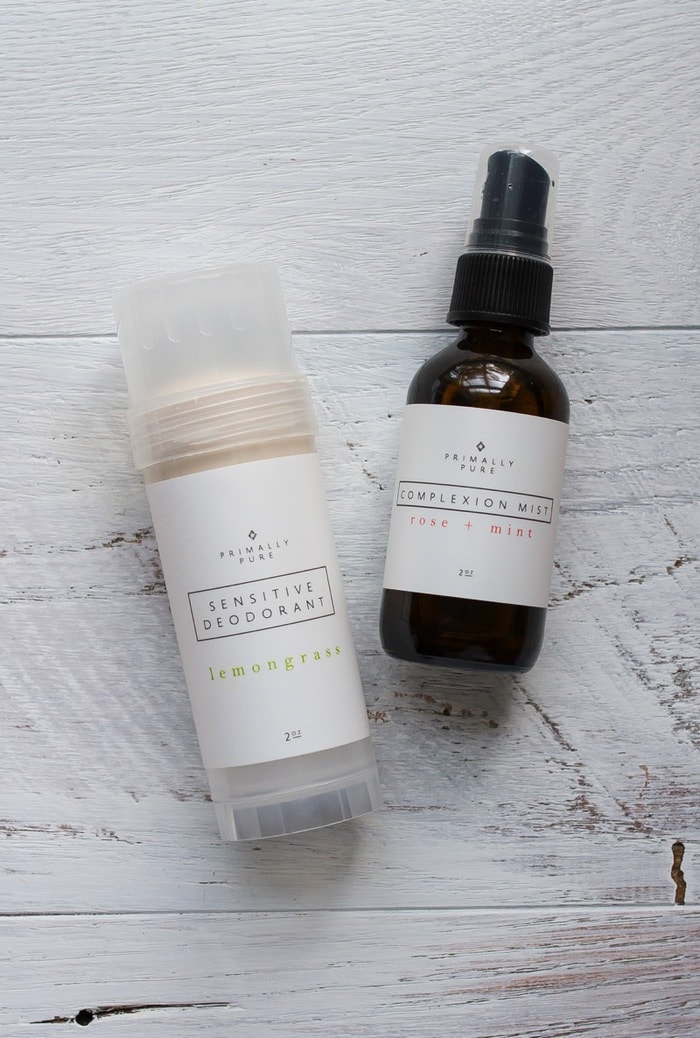 Primally Pure — I've been on the hunt for a natural deodorant that I love and recently stumbled upon Primally Pure's Sensitive Skin Lemongrass deodorant. I've been testing it out for about a month now and have been super impressed. The lemongrass scent smells lovely and I feel like it really works at combating sweat and stink. The white paste is thick so a little goes a long way and it lasts through my toughest workouts. Primally Pure sent me a little care package so I've been testing out some of their other products as well. Two of my favorites so far are the Geranium Complexion Mist (super hydrating and cooling for summer) and the Almond Vanilla Body Butter (makes my hands baby soft and vanilla is my favorite scent so I love the way it smells).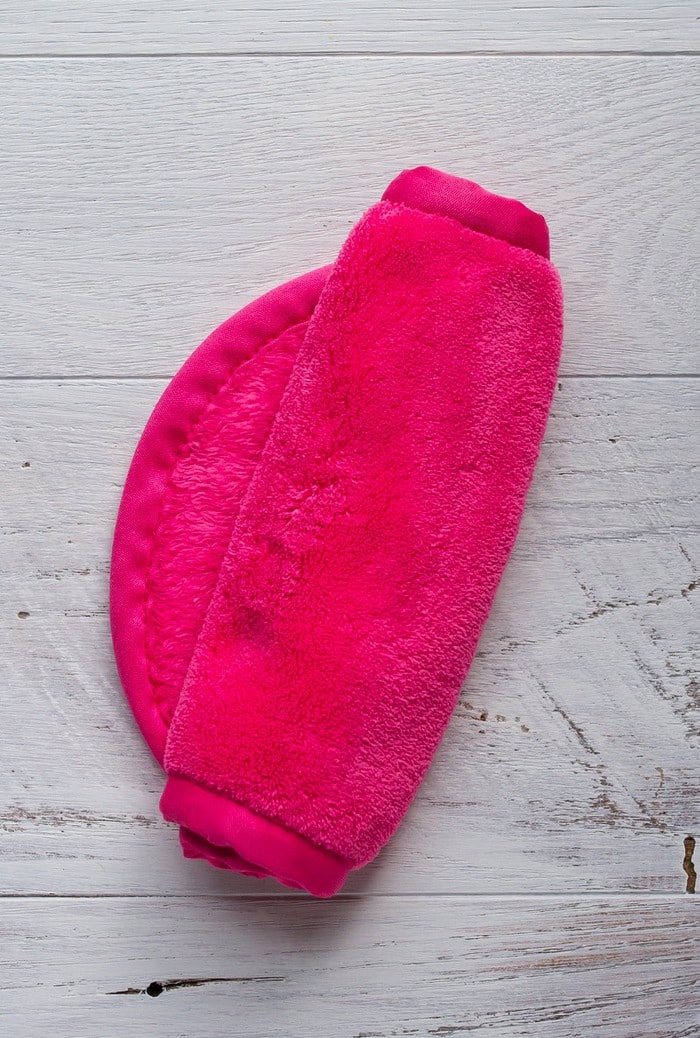 The Make-up Eraser — This towel is awesome for the first round of removing make-up with water alone and totally saves my normal wash cloths and towels from mascara stains. I usually have a little bit of eye make-up left so I still use eye make-up remover, but overall I'm impressed with it's ability to remove almost all my make-up with water alone. It's really soft and doesn't dry out my skin! This makes a great gift too.
None of these products are sponsored, although I was sent complimentary Primally Pure products to test out. There are some affiliate links included in the post.