Hey and happy Friday to you! I hope your week is ending on a good note.
Yesterday was day 18 of the Body for Life program and I did that intense stair master HIIT workout again. Whew – it's a doozy! I'm happy to say that after a little rest last weekend, my left quad is feeling much better and I was able to do a complete lower body workout on Wednesday pain free. Hooray!
As a little update, I'm about 2.5 weeks into following the BFL training program. Overall I'm really liking it – the workout schedule is keeping me motivated and I'm doing well with increasing my protein. There is one hang up happening though – the scale is going UP. I didn't start the plan to lose weight – I just wanted to be stronger and to "get abs" (oh yea!), however, since I've started the program I've seen some of the highest numbers on the scale I've seen in a looooong time. This obviously isn't very fun and was quite discouraging at first. I almost wanted to give up last week but I've been researching BFL and weight gain and I've found that often times you can gain the first couple weeks due to water retention and that many women don't tend to see major results until they're about 8 weeks into the program.
I also realize that by the end of the program, I might gain weight due to the fact that I'm building muscle and muscle weighs more than fat. The most important indicators that the program is working are going to be changes in my body, fat loss and the fit of my clothing. Just gotta keep my eyes on the prize (abs!) and not the scale!!!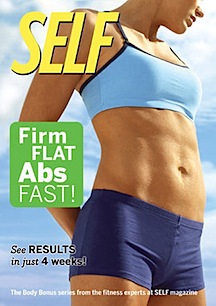 Magazine worthy abs are definitely worth a few gains on the scale. 🙂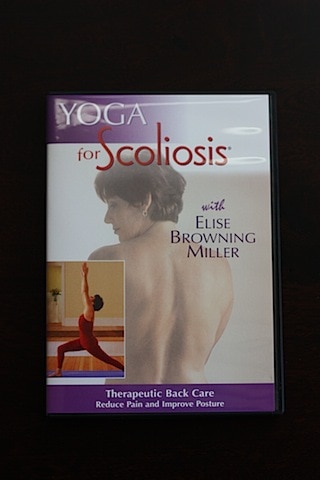 In the spirit of updates, I also want to talk a little bit about my yoga for scoliosis journey. I'm stilling doing the yoga for scoliosis DVD (aff link to my amazon store) from time-to-time but not as often as I would like. The BFL training plan has pretty much taken over my morning routine so my time for yoga was being phased out a little bit. Luckily I had an appointment yesterday evening for a one-hour private yoga session with Nancy, the owner of Glenmore Yoga Studio. Nancy is in her 60's, has been doing yoga for years and has the same type of scoliosis curvature as me – an "S" curve. It was so helpful to have a one-on-one session with her, as she's extremely knowledgeable and could relate to how I am feeling. Despite the age difference, our bodies are very similar so I was able to look at her back and think of it as a mirror image. She was able to show me poses, stretches and exercises that would be helpful for lengthening and de-rotating the spine. She also corrected my positioning and offered advice for ways to improve my alignment during specific poses. I've never done a private yoga session prior to this and I must say, it was wonderful to have all the attention focused on my needs. Most yoga classes are geared to the average person and teachers don't have a ton of time to make personal recommendations so when you have a specific issue it's helpful to meet personally with your instructor – even if it's just hanging out after class to ask a few questions.
This session was just the motivation I needed to kick myself back into the swing of things. Even if I don't do the whole DVD everyday, I can incorporate different therapeutic poses into my daily stretching routine that will help to off-set the muscular imbalances that are being caused by the scoliosis.
Alright, I think that's enough updates for the day. It's both my mom and niece's birthday today so Happy Birthday to two special ladies in my life! I'll be headed "back home" this weekend for a family birthday/graduation celebration. Lots of celebrating to do!
I also have a special post coming up that might involve a fun giveaway (hint, hint) so stayed tuned for that!