Earlier this week, I had the pleasure of touring of Sabra hummus factory! Sabra has always been my favorite hummus company so needless to say, I was super excited when I found out they were opening a factory in Chesterfield, VA (about 25 minutes outside of Richmond). The factory has been open since 2010 and my dream of visiting finally came true this year.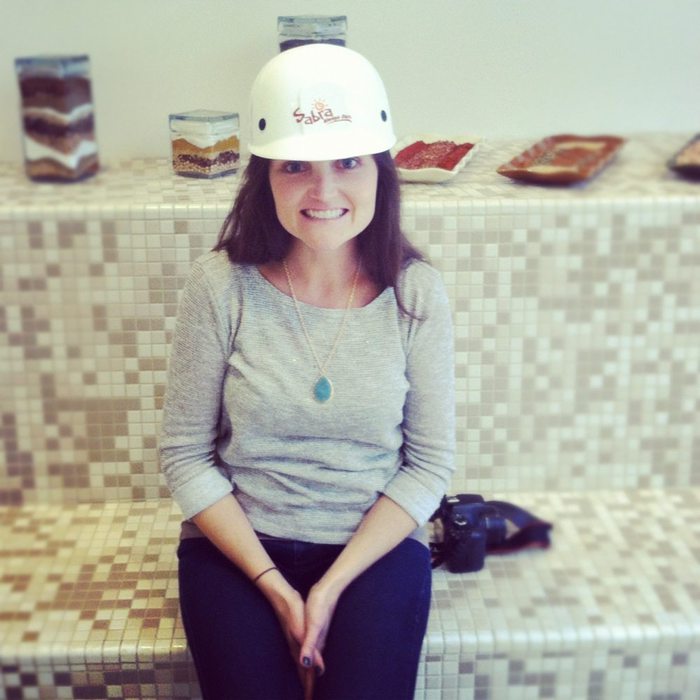 As I got out of my car at the factory I was greeted by the smell of cooking chickpeas and garlic – this was a sure sign that I was in hummus heaven!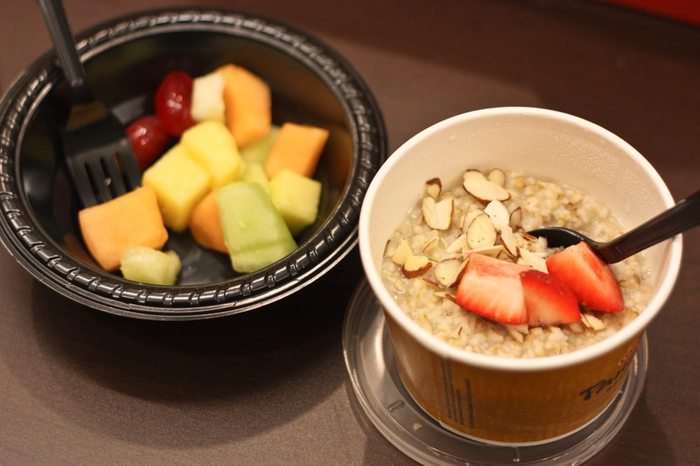 The day started with Panera for breakfast while two Sabra employees gave an overview of Sabra's marketing strategy and nutrition. A couple cool facts I learned during this presentation included that Sabra is the #1 national brand of hummus and that the brand started small in 1986 when a Rabbi (Rabbi Yehuda Pearl) started making and selling hummus in New York City. One fact that really surprised me was that many people haven't tried and/or don't purchase hummus – if I remember correctly about 75% of households in the US don't buy hummus! Hummus is one of our weekly staples so I can't imagine a world without it but apparently quite a few people have never even tried it before.
If you're reading this blog post and you haven't tried hummus yet, there's nothing to be afraid of. It's made of blended chickpeas, sesame paste (also known as tahini), and a variety of herbs and spices. It's a tasty and healthy snack to have on hand.
Please do yourself a big favor and run to your local grocery store and grab a container of Sabra. (It will be in the refrigerated section, near the produce). I might be a tad biased but I'm pretty certain your life will be changed!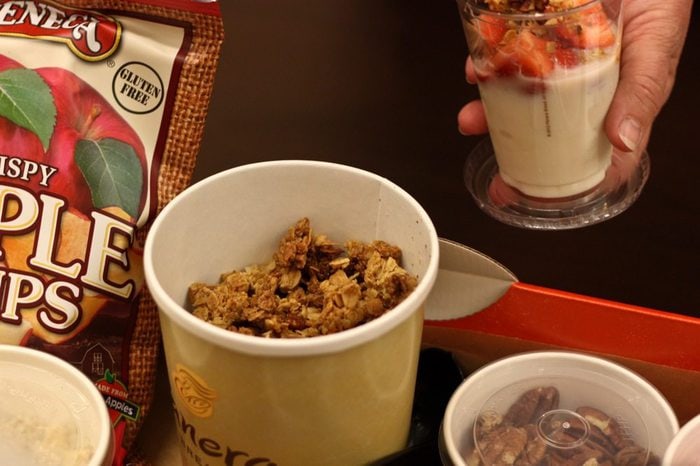 Side note – I didn't know that Panera now sold steel cut oats and granola. Maybe it's a new thing?!? But let me tell you – both are really good! Definitely have to remember that next time I'm traveling or on the road for breakfast.
Later in the morning, we learned a few food photography tips from the Debra and Rod from Smith Bites.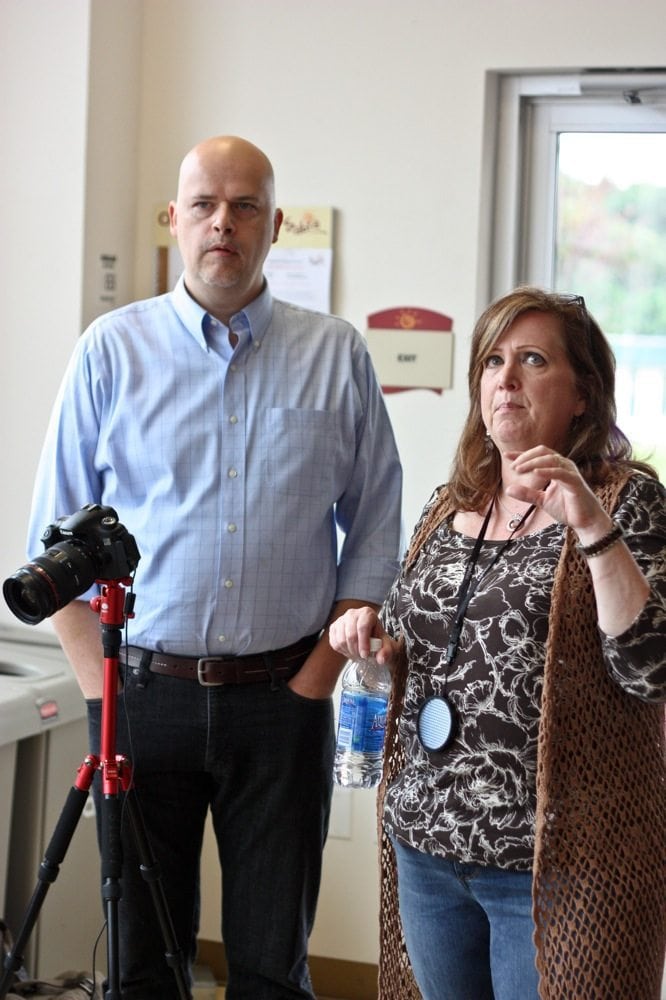 They gave a ton of practical tips for better food photography. Here are a few that I jotted down:
Food loves light but usually light only comes into your space on one side. You can use white foam to make a bounce board to help fill in shadows.
Use a reflector or diffuser to diffuse the light on a sunny day.
Tripods are recommend for food photography – start with a cheap tripod.
Using camera tethering can be a great way to learn the settings on your DSLR and enhance photos before snapping the shot.
Use small plates and bowls because food looks better in them for photos. Naturally toned dishes usually work better than busy patterns. Ridges or muted patterns on dishes can add some additional texture to the photo, especially when the food is rather dull.
Tell the story of the food with ingredients. Save elements of your recipe's ingredients for food styling. Put them on top of your food or behind it to add a pop in your photos.
Great books for food photography – Plate to Pixel and Focus on Food Photography for Bloggers.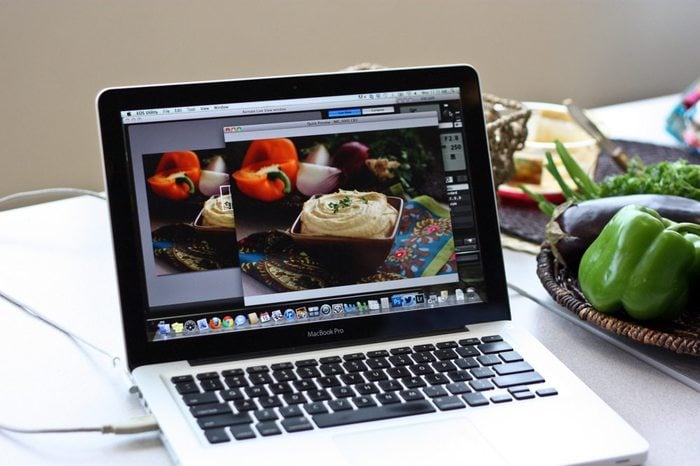 Next up, Sabra's Executive Chef, MaryDawn Wright, shared information about what goes into Sabra's hummus and how they get the smooth and creamy texture that everyone loves. As executive chef, she gets to taste each batch of Sabra hummus to check for consistency, develops new flavors and works on create recipes. Basically she gets to eat hummus all day. <– I want this job!!
MaryDawn also let us taste a container of Classic hummus that was "right off the line" (only about 15 minutes old) and compare it to another container that was about two weeks old, which is what we normally buy at the store. It tasted very fresh but I think I preferred the "older" one as the flavors were more pronounced.
When noon rolled around, it was officially tasting time… what we'd all been waiting for!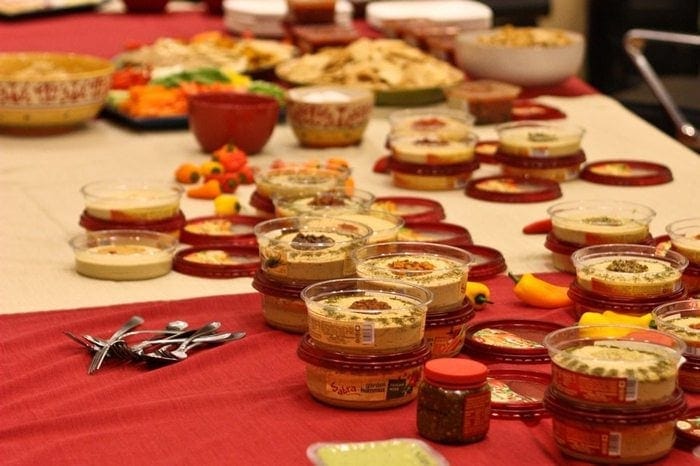 Obviously this called for two plates. One wasn't enough for all the different items I needed to taste – hummus, guacamole, salsa, and veggie dips. Oh my!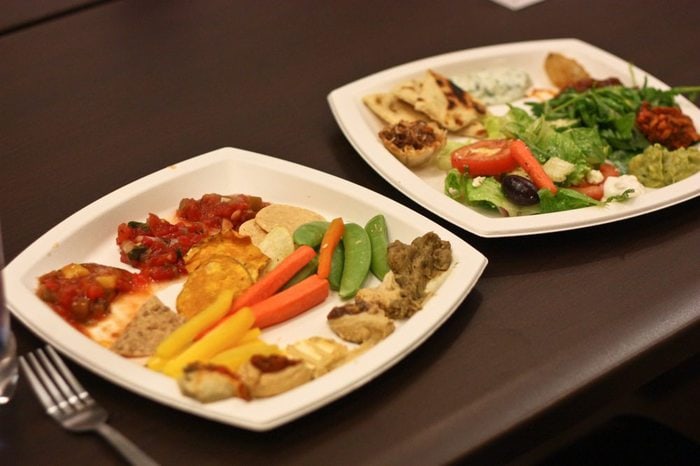 My favorite new Sabra products included:
Asian Fusion Garden Hummus – I love Asian cuisine so naturally I gravitated to this hummus. It's got a bold ginger and sesame flavor that just works! I'm excited to use it in recipes. My first thought was to put it in fresh spring rolls so I'll have to try that out asap.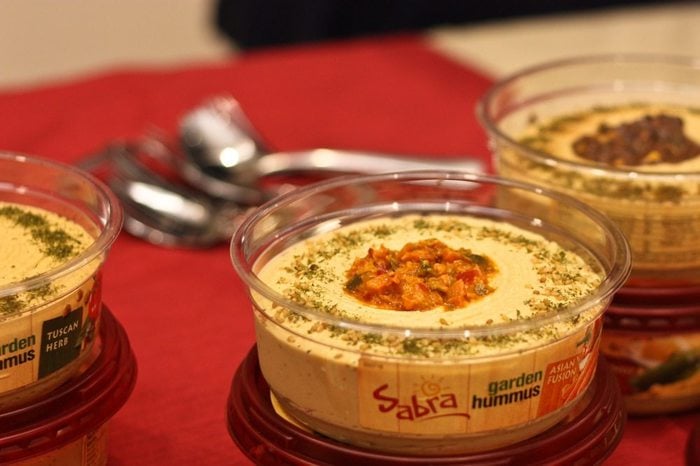 Rosemary, Olive Oil and Sea Salt Hummus – an amazing new seasonal flavor that should be in stores soon!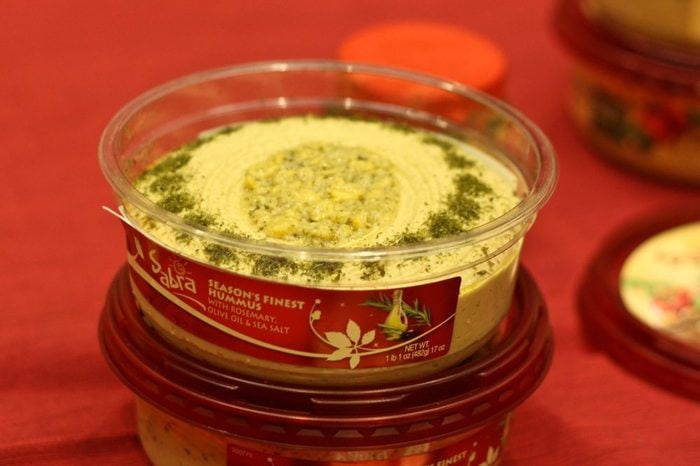 Spanish Eggplant – eggplant, onion and garlic simmered in a tangy tomato sauce. It's awesome!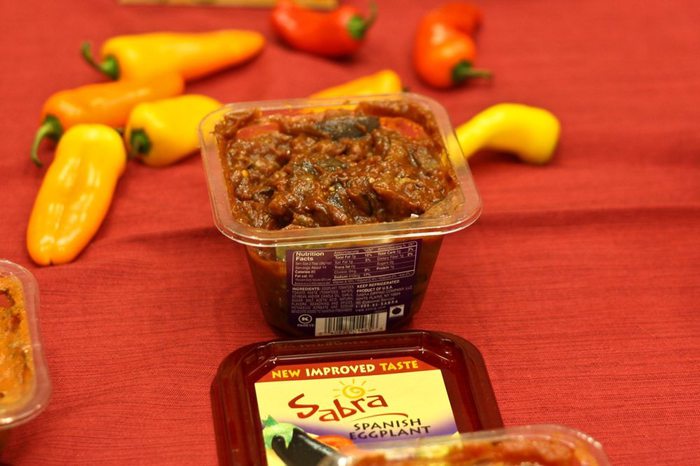 I was stuffed from all the tastings but I couldn't resist trying the desserts that MaryDawn had made with the Classic hummus. I loved the Chocolate, Coconut and Caramel Hummus Pastries.  You couldn't even tell that there was hummus in the recipe. Of course, now I want to try my hand at making some desserts with the Classic hummus. Get excited!
After our bellies were full with hummus, it was time to gear up and get a behind the scenes look at how Sabra hummus is made.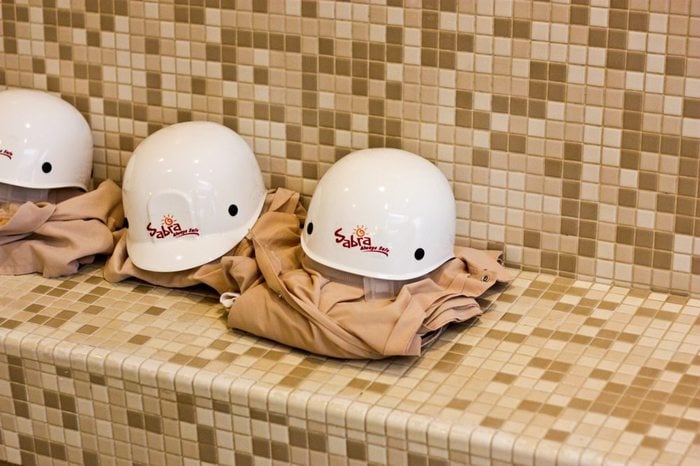 Unfortunately we were't able to take cameras into the factory, however don't you worry, I have this lovely picture of us in our factory touring outfits for your viewing pleasure.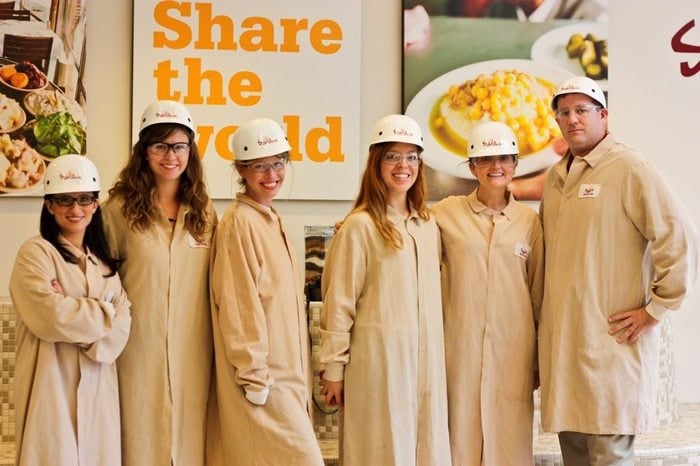 So hot right now!
The Sabra factory is the largest hummus factory in the world at 110,000-square-feet! Their factory is one of the only full food processing factories in the United States with Silver LEED certification and Sabra's packaging is made from 30-45% post consumer recycled plastic. One of the things that really resinated with me was that being eco-friendly is part of Sabra's basic values. They even had green spoons for us to use when tasting the different hummus flavors.
To be honest, the whole time we were on the tour I felt like I was Mark Summers on Unwrapped… and it was awesome! We learned about every procedure that goes into making the hummus, saw 2,000 pound bags of dried chickpeas, massive machines, pipes and pumps and then got to watch the hummus being packaged. This was my first time ever getting a behind the scenes look at how food is manufactured and it was such a cool experience. It was awesome to see how clean the factory was and how much energy went into making sure the end result was perfect.
The spice and herb room was definitely my favorite part – not only did it smell amazing but it was really cool to see the huge bags of spices measured out to go into the different hummus flavors.
Speaking of spices, after the tour Heather of Spice Station did a quick demo of different spices and gave us samples of unique spices to take home.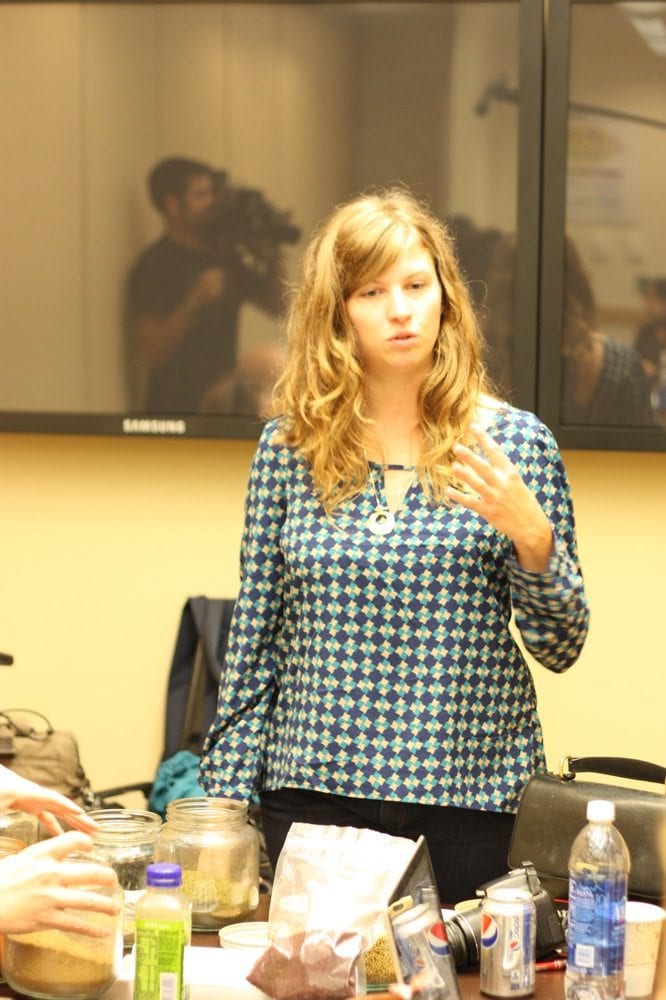 Things got spicy!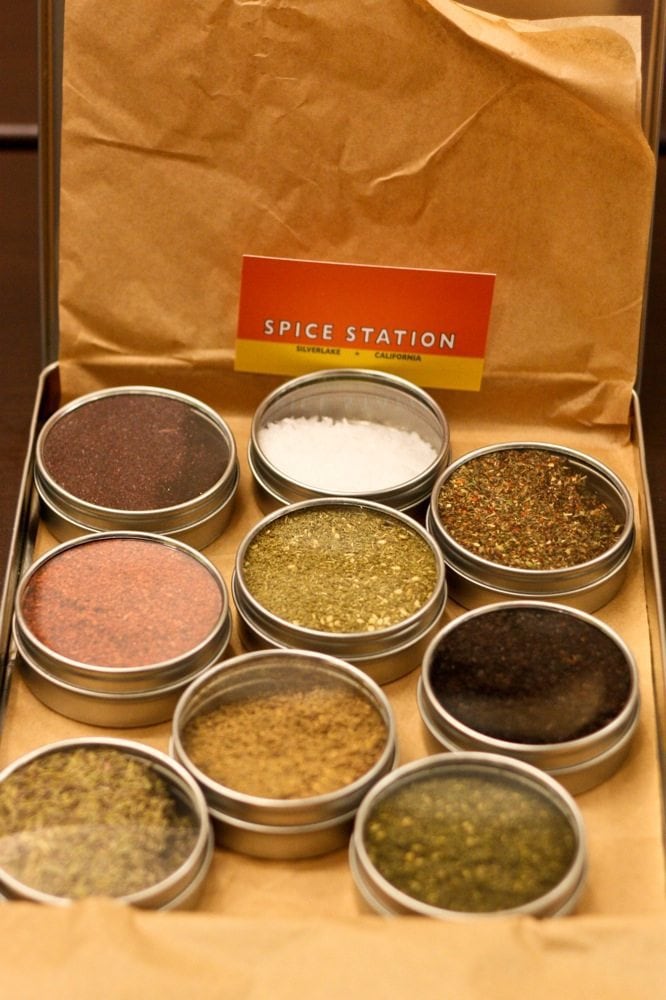 One new-to-me spice that we learned about was Sumac – a ground reddish berry has a pleasant melange of sour, sweet and bitter flavors. Added to yogurt for a dip, dusted on grilled fish or mixed in with rice, sumac will give a fruit and sour flavor similar to lemon. Sprinkle liberally on a bowl of hummus for authentic color and taste. The description doesn't mention it, but Sumac also tasted really salty to me. It would be perfect for people who like a salty flavor but are watching their sodium intake.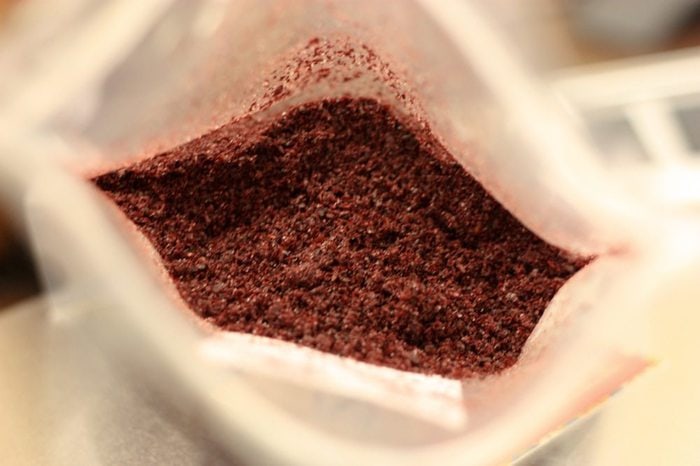 My current spice collection is pretty basic so I'm super excited to add some of the new ones I learn about from Heather, including Sumac and Zahtar.
Once the spice presentation was over, our day at the factory was done. I headed home with lots of new ideas about hummus running through my head and a nice garlicky smell on my clothes. I feel very lucky to have been given the opportunity to tour the Sabra factory and learn more about the brand. It was truly an awesome experience!
Questions for you:
Is there anyone out there that hasn't tried hummus before? Say it ain't so!
What's your favorite hummus flavor? If you don't like hummus, I'm pretty sure we can't be friends anymore. 
What hummus flavor would you love to see Sabra bring to the market? I'm hoping for a dessert hummus like pumpkin pie or cinnamon sugar!
What's your favorite recipe with hummus? I love using hummus as a topping for pizza but I'm also a huge fan of this tuna sandwich with hummus.