Have you ever wished there was a restaurant dedicated to hummus? Yeah, me too!
Well, the wonderful folks of Sabra Dipping Co. are making our wildest dreams come true by opening their first-ever pop up restaurant in Washington DC — Sabra Hummus House.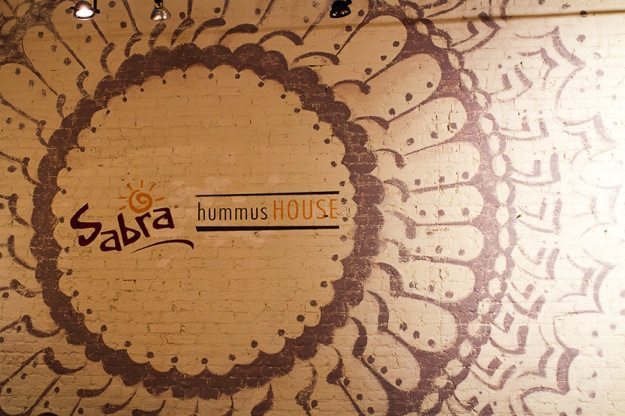 I'm sure you've heard of pop up restaurants before, but basically Sabra found a vacant space in Georgetown DC  to create a beautiful restaurant with a unique menu. They'll be open for just four weeks and then the restaurant will be closed.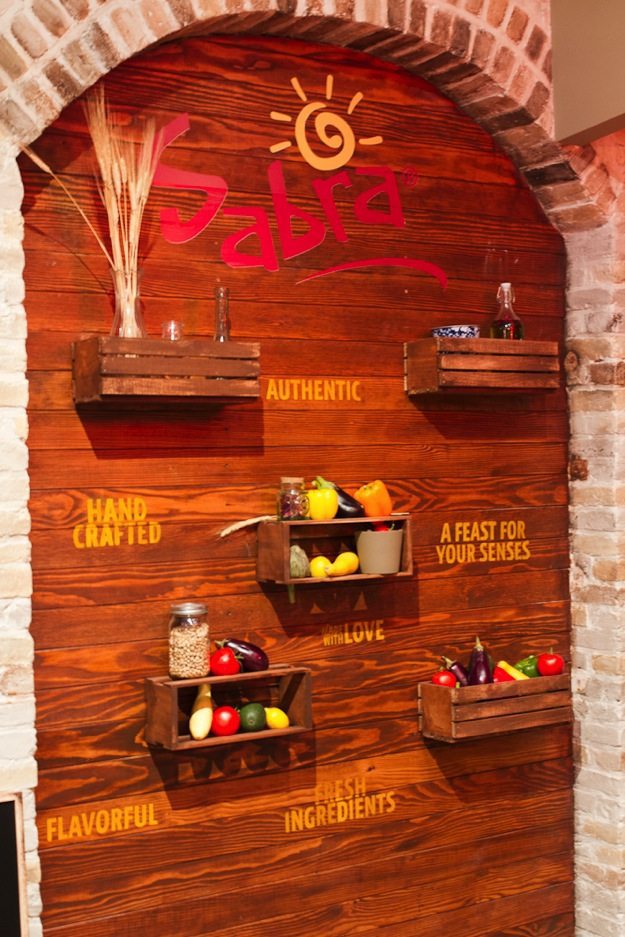 The space was completely empty when the project started so the design team had their work cut out for them. A kitchen had to be created and everything from the lighting to the murals on the walls were designed specifically for Sabra Hummus House. Pretty cool!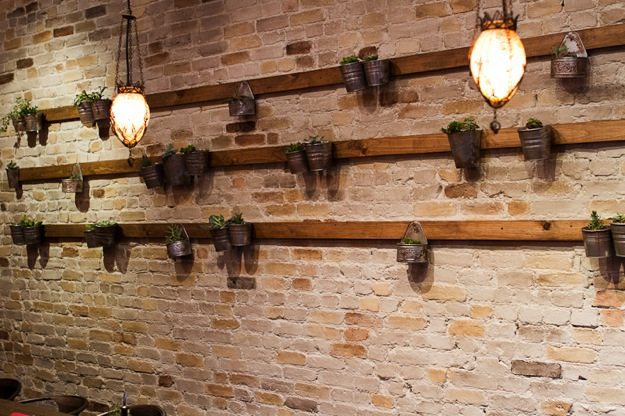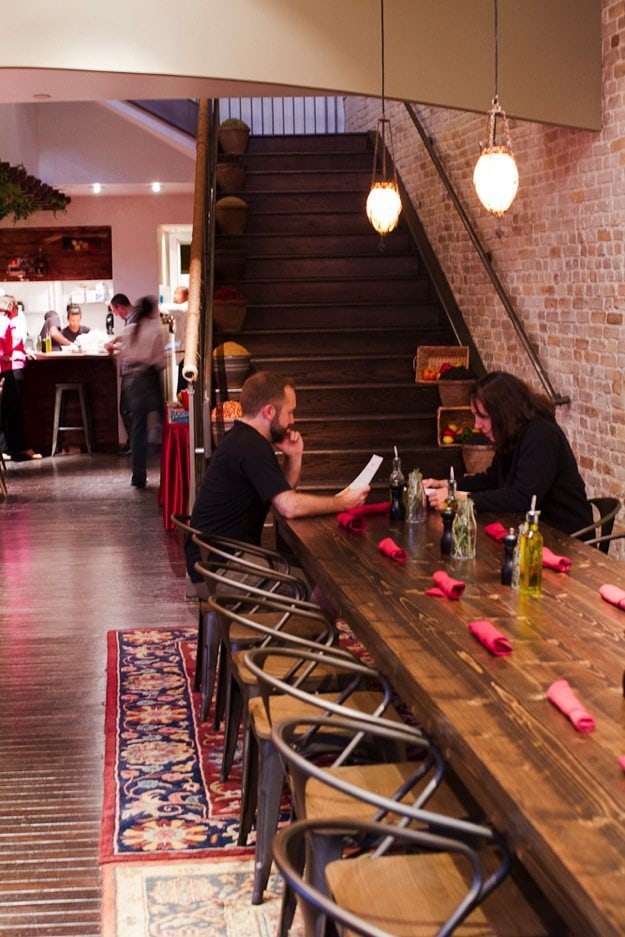 Wednesday night Sabra hosted an intimate foodie event with Sabra executives, the head chef and a group of local bloggers, including myself. I loved the upstairs space where we hung out for the evening.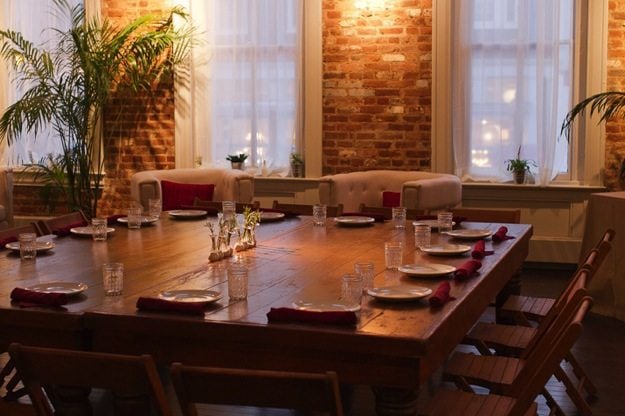 Not only did we get to try a bunch of different items from the menu but we got to hear first-hand from Chef Mary Beth Albright about how she came up with the menu and where she sources the food from — she tries to get as much as possible from local farmers and actually goes to the farmers markets herself to pick the items several times a week!
I was really excited to meet Mary Beth because Isaac and I watched Season 7 of the Next Food Network Star and were rooting for her to win. She's just as outgoing, funny and vibrant in person as she was on the show and her passion and love for food is very apparent. I adore meeting people who absolutely LOVE what they do for a living and Mary Beth seems like one of those people. I'm so bummed I forgot to get a photo with her!
Okay, so on to the menu — it's the same for lunch and dinner with entrées, Sabra signatures and sides. As I mentioned, Chef Albright works hard to source ingredients from local vendors when possible and all the local items are in bold on the menu.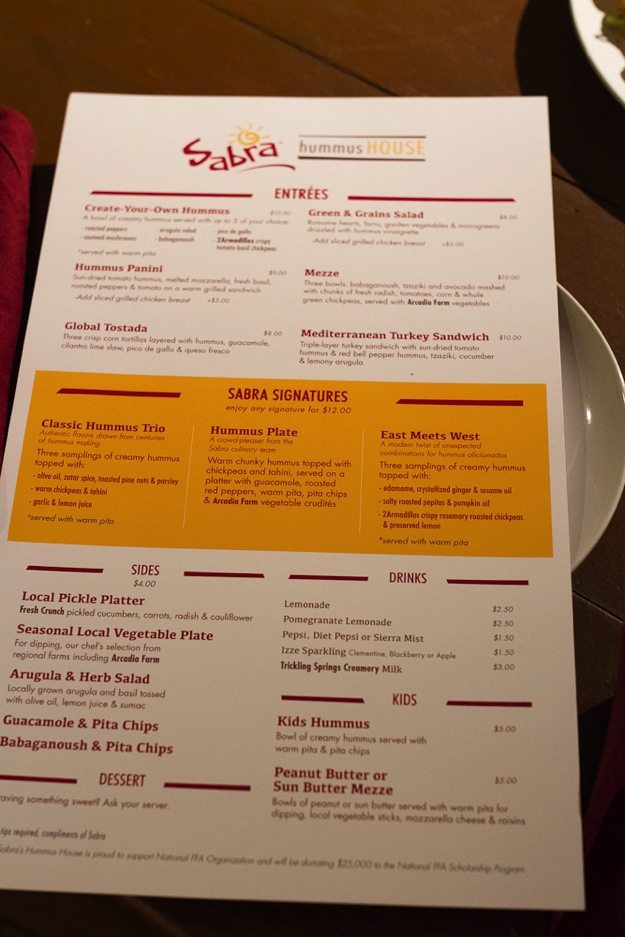 We were served a variety of items from the menu throughout the evening. We started with a few sides — the seasonal local vegetable plate with a house-made garlicky tzatziki, the local pickle platter and the locally grown arugula and basil salad with a hummus dressing.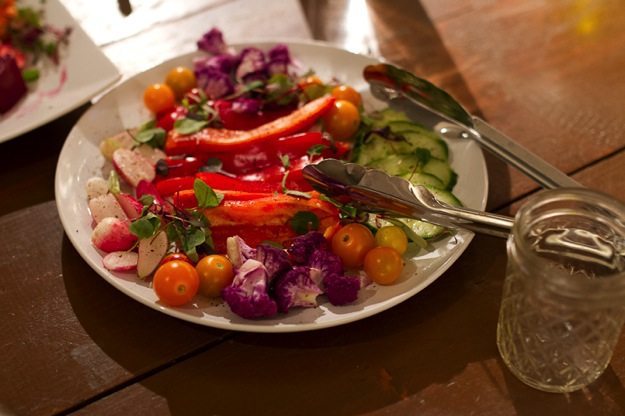 The veggies were picked up from the farmers market just a few hours earlier so everything was so fresh and flavorful. Everyone at the table was raving about how delicious the cherry tomatoes tasted.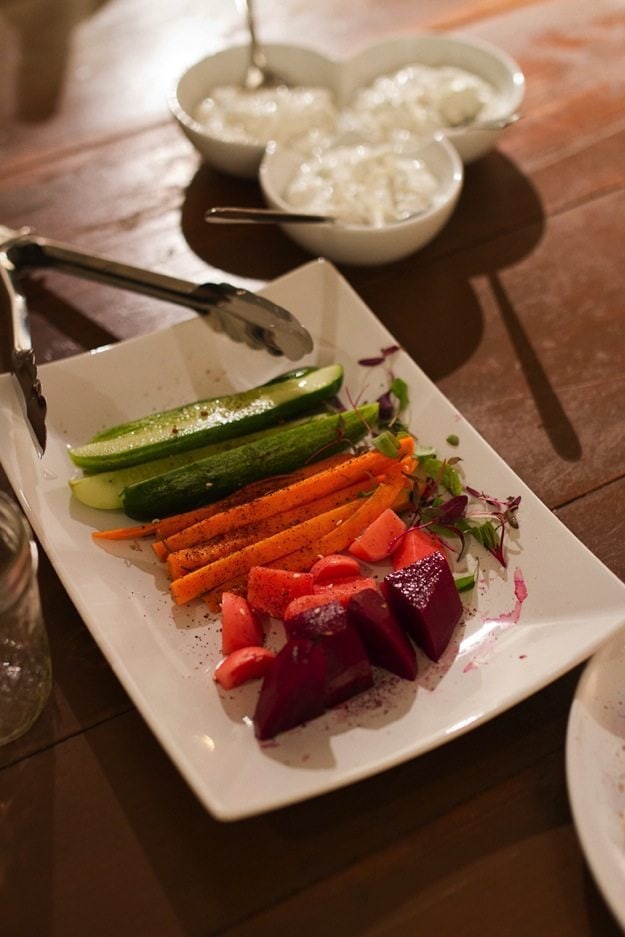 The Fresh Crunch pickle platter was definitely one of my favorites of the evening! Everything was pickled perfectly and the veggies were still super crunchy. I guess that's where the company name comes from. 🙂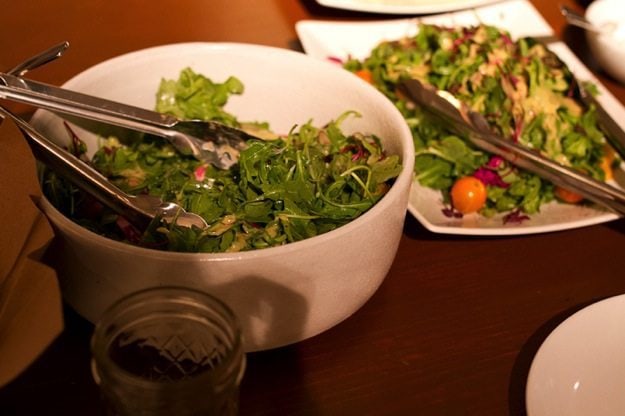 The arugula and basil salad was tossed with olive oil, lemon juice and sumac but also had a delicious hummus dressing. You guys know how I feel about hummus dressing… yum!
Next up we tried the east meets west hummus platter with warm pita bread.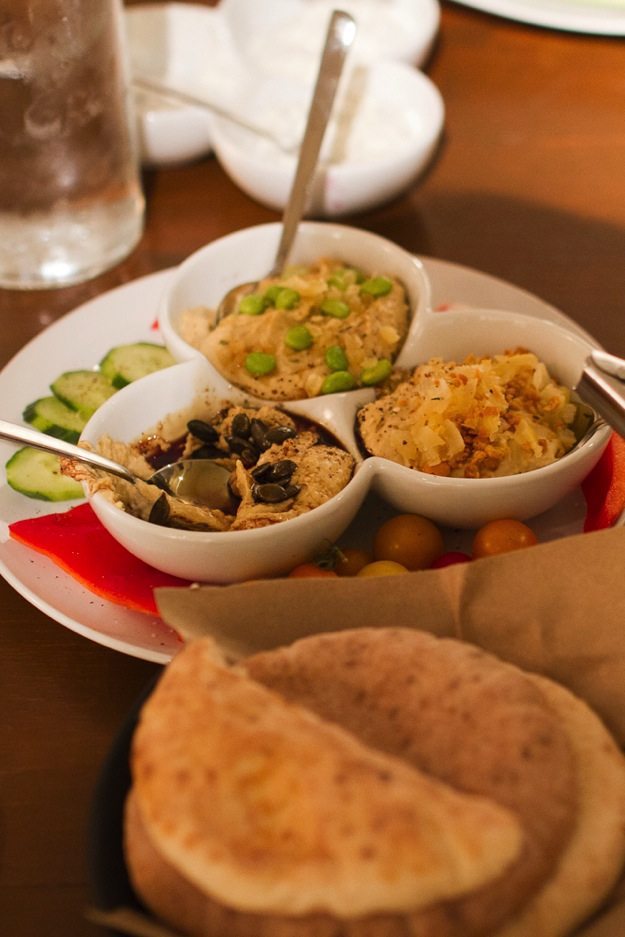 This dish was another highlight for me. It included three samplings of creamy hummus each with unique toppings:
edamame, crystallized ginger and sesame oil
salty roasted pepitas and pumpkin oil
2Armadillos crispy rosemary roasted chickpeas and preserved lemon
While I liked all the combos, the edamame, ginger and sesame oil topped hummus was my absolute favorite. I love Asian flavors and sweet and savory combos get me every time. I can't to make a version of this at home for Isaac soon. He's going to love it.
Oh and the warm pita bread… it was on point. Chef Albright mentioned that deciding which pita bread to use was a really important decision and they tried a bunch of different pita breads before choosing this particular version. I'd say  they did a good job choosing — it was some of the best pita bread I've had.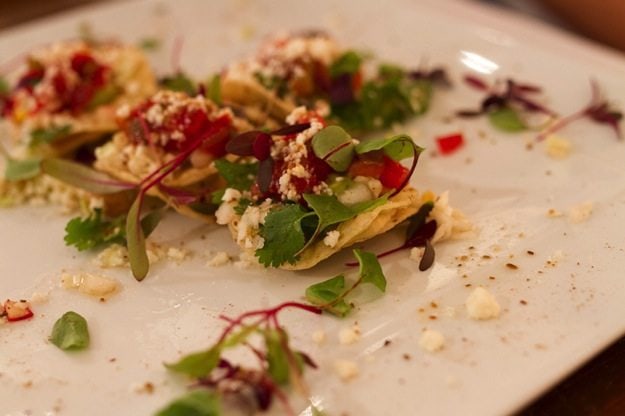 Lastly we tried the global tostada — three crisp corn tortillas layered with hummus, guacamole, cilantro lime slaw, pico de gallo and queso fresco. I'm horrible at pacing myself during foodie events like this so by the time these came out I was pretty full. But then I tried one… and made room for two more. 🙂 They were really good. I loved the crunch from the tortilla chips and all the different flavors. Delish!
Upon finishing the meal, a couple of us bloggers agreed that Sabra Hummus House can't possibly only be a 4 week pop up — they need to be a mainstay! Although, I think since Sabra hummus is made right outside Richmond, we need a Sabra restaurant here as well. <– Just my two cents.
Then maybe my blog friend Brandi would have a good reason to come visit me in Richmond and we'd get to see one another more than once every 5 years. 🙂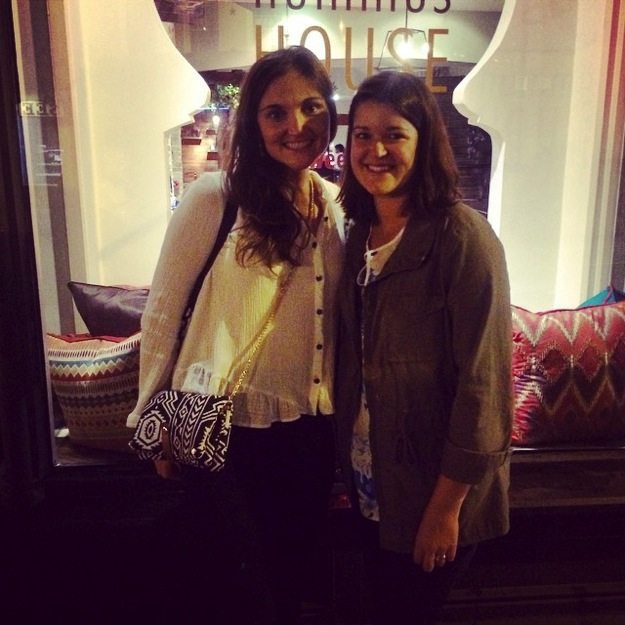 In DC or traveling there this month? Definitely check out Sabra's Hummus House! It's located in Georgetown at 1254 Wisconsin Ave, between N and Prospect Streets. It's only open for 4 weeks (from September 29th to October 26th). They serve both lunch and dinner — you can check out the menu here. Being the fitness nerd that I am, I also noticed a sign in the Sabra Hummus House foyer with info about free fitness classes that they're hosting as well. Could be something fun to attend if you're local!
Oh and one more thing — while eating dinner we had a discussion about what people call the action of putting hummus onto their edible utensil (pita, veggie, chip, etc). Some people call it dipping, but sometimes you're not really dipping the item into the hummus on your plate — you're more like swooshing it through the hummus to pick some up. So my question for you today — what do you call the act of getting hummus onto your pita, veggie, chip, etc? Swooshing, dipping, spreading or something else?
A huge thank you to Sabra for hosting my trip to Georgetown for the event and sponsoring this post. As most of you know I've been a Sabra hummus fan for years. And as always, all opinions are my own.