After weeks of brainstorming and numerous practice sessions, Lauren and I (a.k.a Team VegBird) officially conquered the challenge of competing in the Food Fight Vegan Cooking Challenge at the RVA Vegetarian Food Festival this past weekend.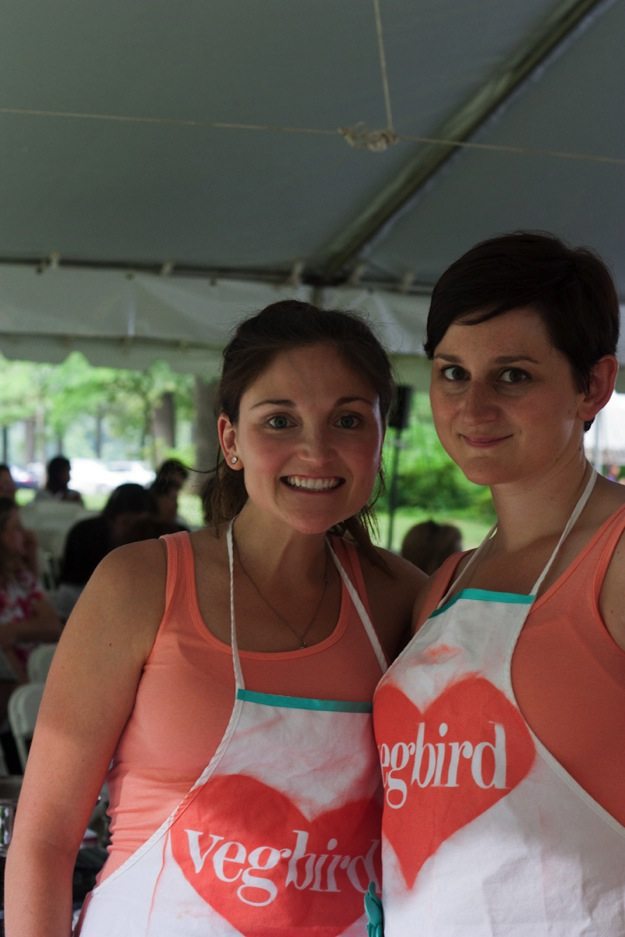 When I say challenge. I mean challenge — especially for two self-taught home cooks.
For starters, we were up against stiff competition:
Kate Koyiades from 821 Cafe and her sous chef, Mackenzie Monday.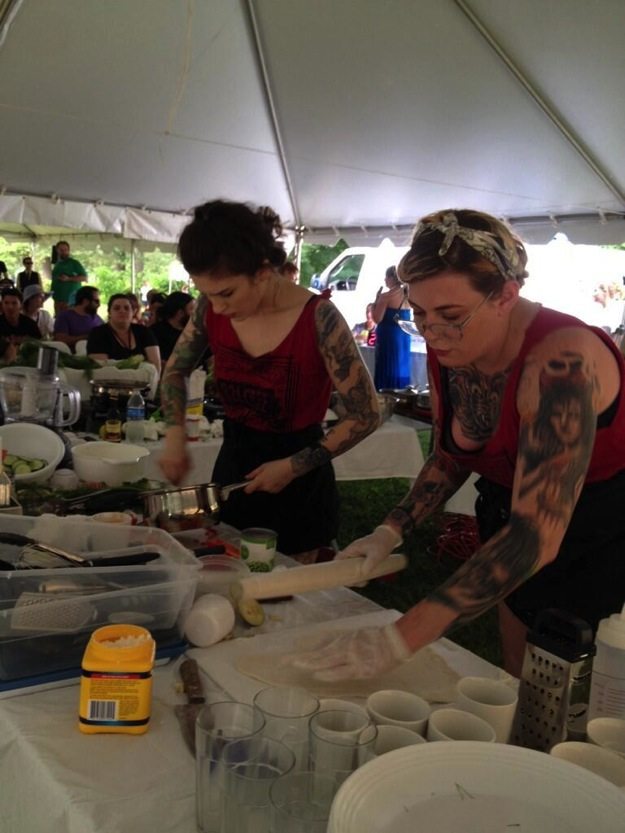 (source)
Christine Newell, a raw food expert and nutritionist, and her sous chef, Jason Aldrich.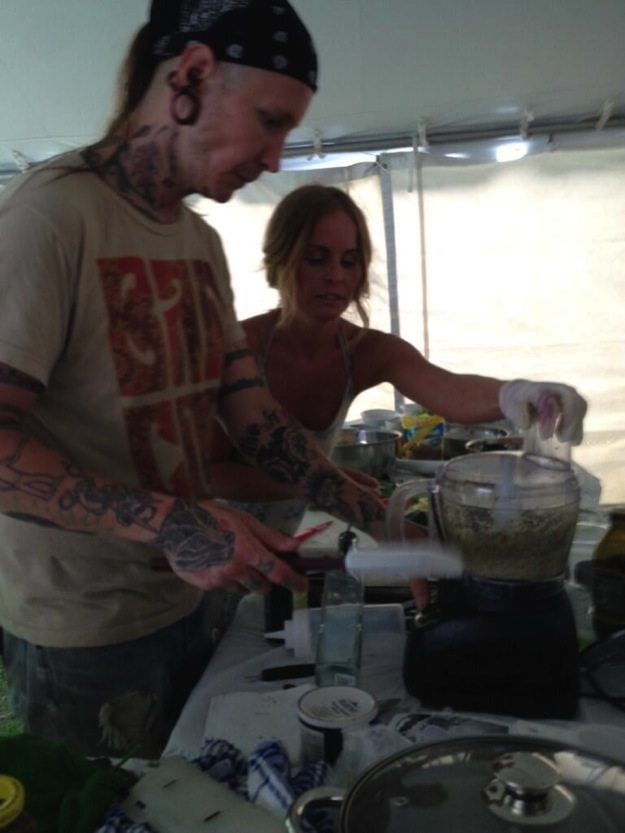 (source)
Our dishes were being judged by Michelle Johnson, Nicole Lang, Joe Yonan and a randomly selected audience member (which happened to be Dawn Anderson).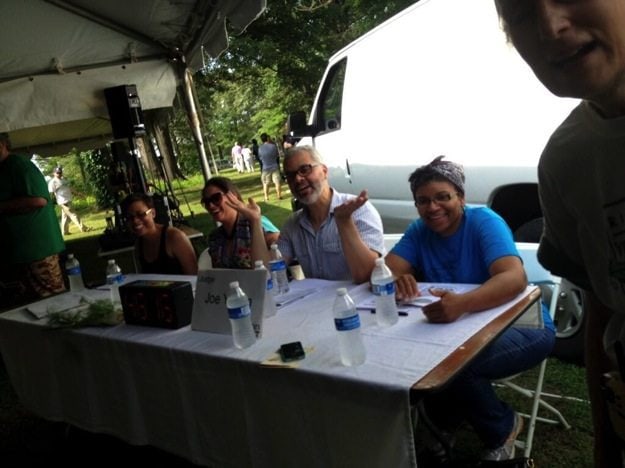 (source)
Just a tad bit intimating. Just a tad…
We were also cooking in front of a large audience.
(source)
In addition, we weren't able to bring any electric appliances, recipes, notes or food items. The hosts supplied us with appliances (a toaster oven, three burners and a food processor (affiliate link)) and pantry items (produce, canned and boxed food, dry beans and grains, spices and water).
And as if that weren't enough — there was also a secret ingredient involved.
Here's Karri Peifer, the announcer, revealing the secret ingredient. FENNEL!!!!!!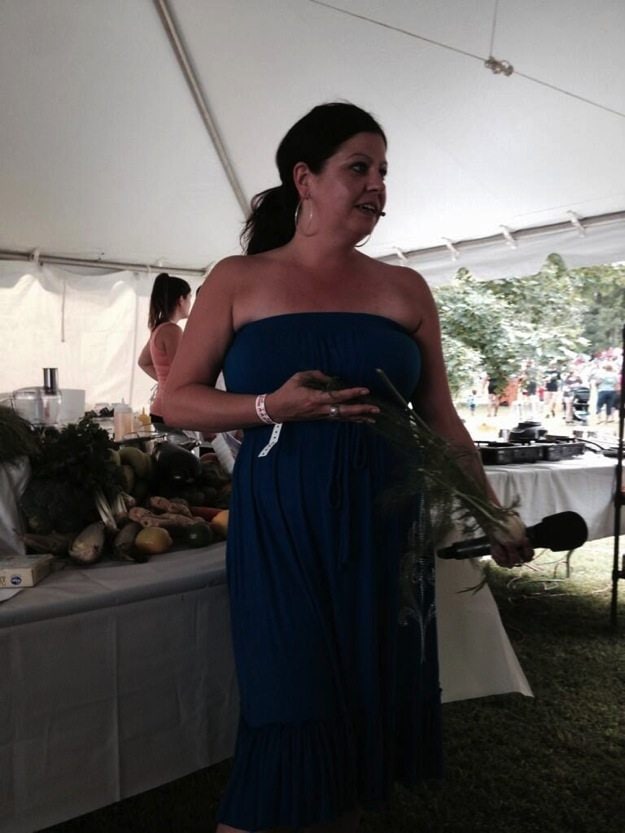 (source)
The whole fennel thing definitely threw us for a loop. The secret ingredient from previous years were things like corn, sweet potatoes and tomatoes so I thought for sure we'd get something easy like zucchini. But no, we got fennel!
I cook with veggies all day every day but unfortunately fennel is not one that I cook with often (or at all) or know much about. I think the last time I had fennel was back in 2009 when Isaac's mom made us Orange Tofu with Basil and Fennel. Too bad I didn't remember that recipe on Saturday.
Luckily Lauren knew a bit about fennel and had cooked with it before so we were fine.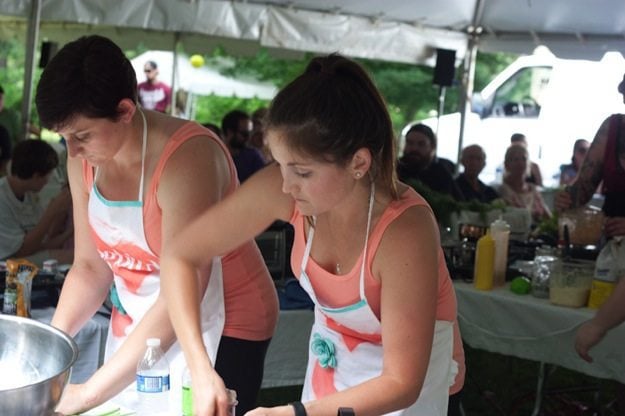 One of the most challenging things was working with the pantry items provided. It was lacking a lot of things I'm used to working with when preparing vegan dishes like fresh garlic and onions, zucchini, kale, spinach, avocado, quinoa, nutritional yeast, flaxseed, bragg's liquid aminos, nuts (they did have blanched almond slices and canned boiled and salted cashews).
It was definitely a little stressful, but Lauren and I made wonderful teammates and rocked it out. I'm not sure about Lauren but I pretty much blocked out everyone and everything going on around us and just focused on communicating with her and the cooking.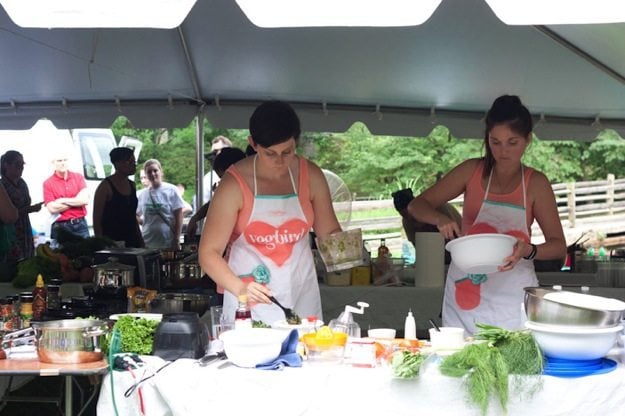 We ended up making three savory dishes and overall, I think they were pretty darn good — especially considering we only had one hour to make and plate all three dishes.
We stuck with things we know how to make and kept it pretty healthy. No processed foods, no frying. Just fresh and flavorful foods. Here are the three dishes:
1) Raw squash noodles with a basil fennel pesto and roasted red peppers.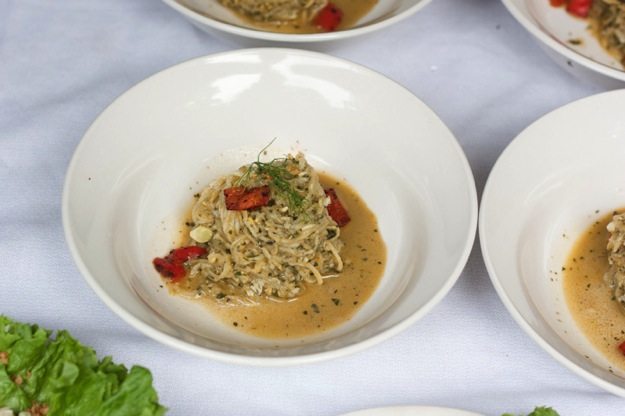 2) Raw "nut-meat" tacos with a corn and fennel salsa <— Nut meat was definitely a buzzword during the competition. Everyone had fun joking about it.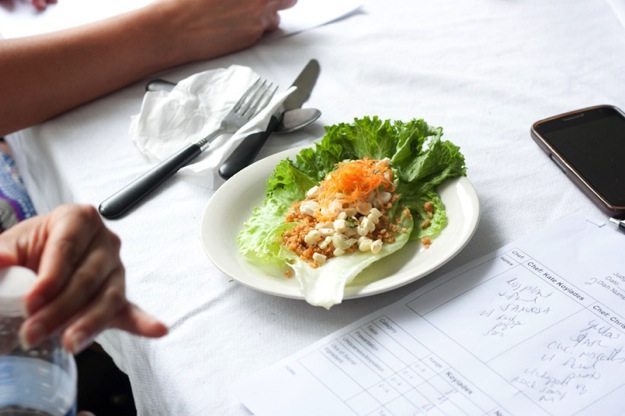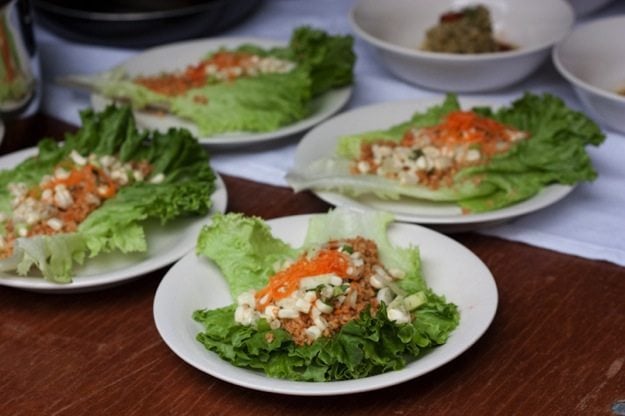 3) Nourish Bowl with rice, black beans, roasted fennel and sweet potatoes, and roasted red peppers topped off with a peanut sauce.
After 60 minutes, our time was up and we presented our food to the four judges.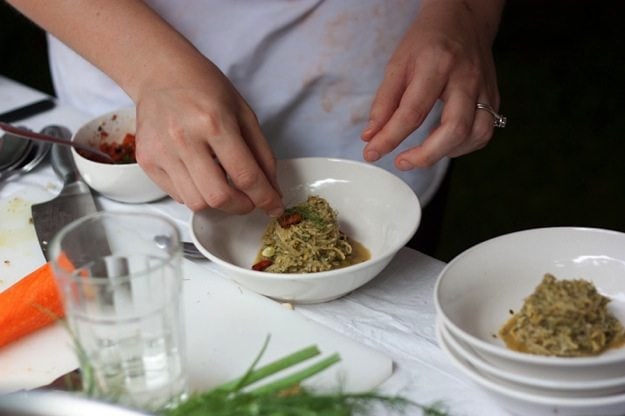 This was the scariest part. Watching the judges eat and waiting to hear their reaction.
They gave us their initial thoughts while eating each dish. For instance, Joe said that our nourish bowl tasted "homey" and Nicole said she felt nourished eating it. Michelle and Dawn mentioned liking the seasoning on a couple of the dishes.
The judges didn't have anything bad to say about our three dishes (unless of course, they kept it to themselves) but I think the overall consensus was that they would have liked to have seen the fennel featured more prominently in the dishes by all of the chefs.
Once the judging was finished, the scores were tallied up and the winners were announced.
Drumroll….
Lauren and I came in 2nd place, by a mere 2 points.
Here's the winning team with their trophy — Chef Kate and Chef Mackenzie!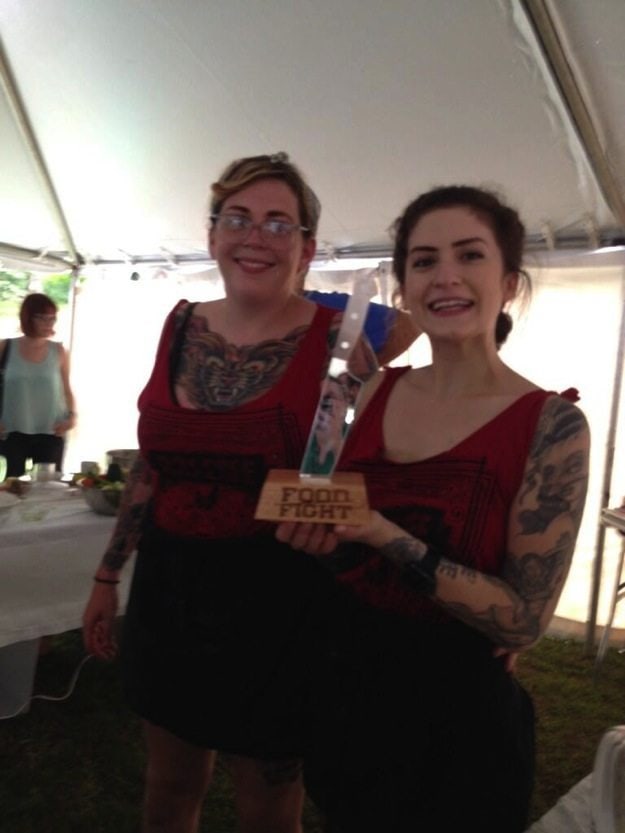 (source)
To be completely honest, I was so happy to come in second place. Sure, it would have been amazing to win but Lauren and I gave it our all and the fact that we were even close to winning against a professional restaurant chef is a win in my book.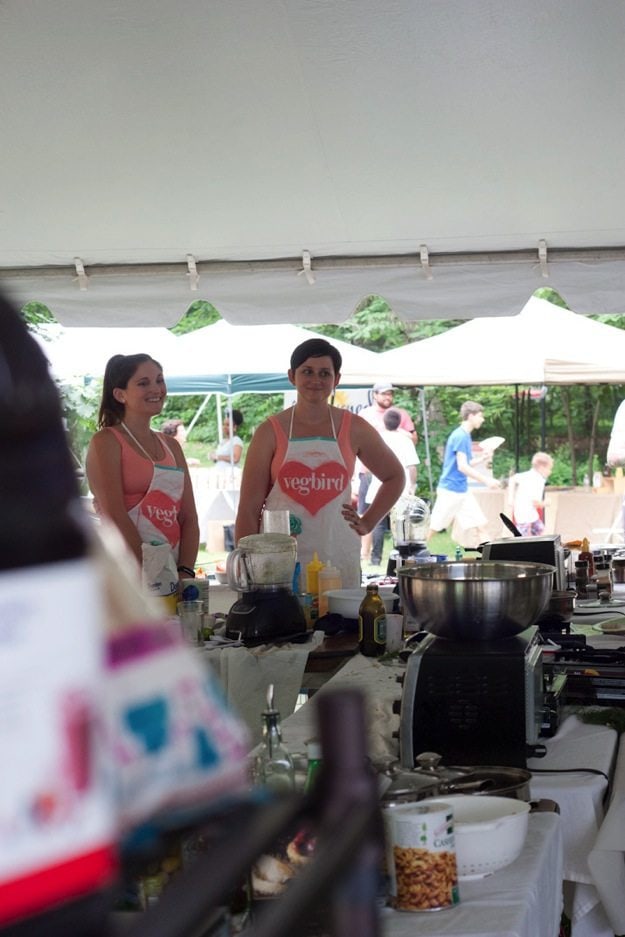 Much thanks to Lauren for being an amazing partner in this competition (and for making our snazzy aprons)! I couldn't have done it without her and although I was listed as chef and she was listed as sous chef, we were truly teammates!
Also, a big thanks to Lauren and Greg of Citizen for putting this event on. It was a really fun to be part of the Food Fight competition again this year. After judging the same competition back in 2011 I said I could never compete because it seemed so intimidating. Never say never! Sometimes you just gotta step out of your comfort zone. Usually it feels pretty good afterward.
Reminds me of a great quote: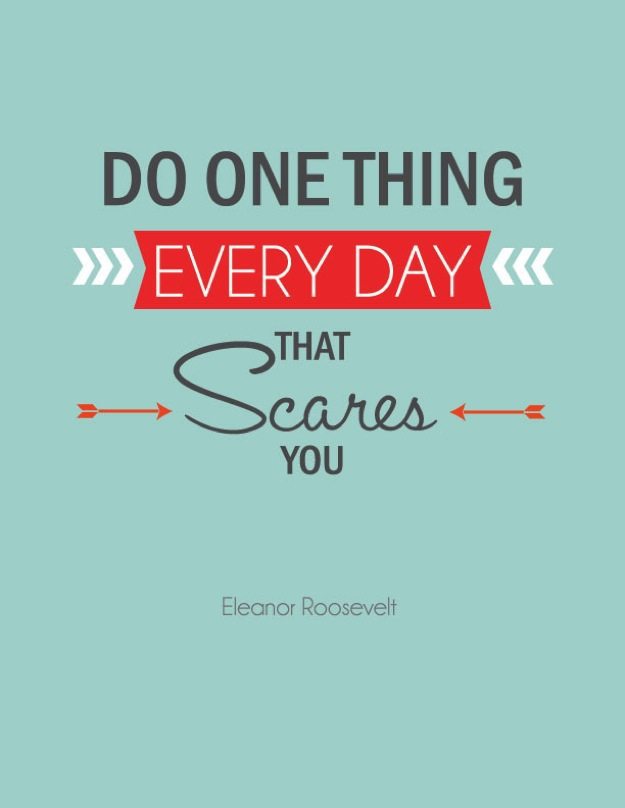 (source)
What's one thing that you did recently that scared you? How'd did it go?