Run/Walk Treadmill Interval Workout
20
Published May 02, 2014, Updated Jun 18, 2023
The following post is sponsored by FitFluential LLC on behalf of Reebok. As always, opinions are my own.
Get pumped because Fridays are becoming "Fit Fridays" here on EBF! each week I'll bring you something fitness related. Whether it's a new workout, a review of workout gear, a great post-workout smoothie recipe or my experience with naked yoga (kidding). Basically if there's a post on Friday, you can be sure that it will be fitness related. I think this will help remind me to consistently post new workouts for you, which is something I'm excited to do more now that I'm NASM certified. Yippee!
So today's post has two fitness components. First up — the new Reebok ONE Series Cushion running shoes.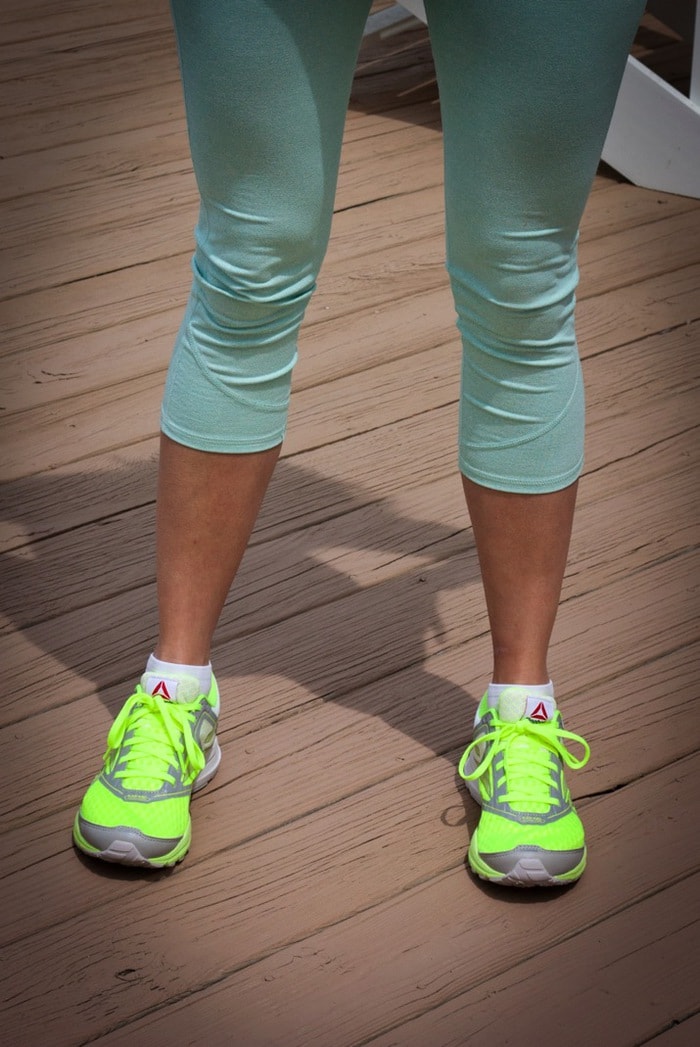 I've been testing these bad boys out over the past few weeks and I'm pretty excited to say that I think they're now my favorite pair of Reebok shoes. They're designed for maximum comfort and performance for runners with a neutral gait and a strong arch. I have narrow feet, a pretty high arch and I like to have support for my knees when I run — so basically the ONE Cushions were made for me.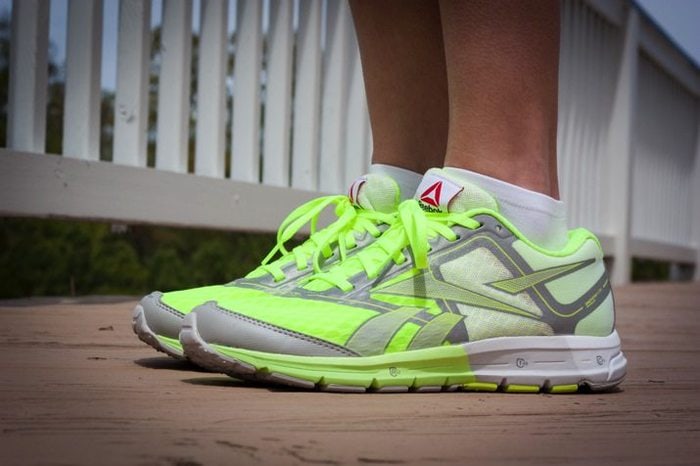 The soles of the ONE Cushion shoes have built-in zones: a three-foam midsole, decoupled outsole and a stable lateral arch area.
The midsole has an ultra soft layer for shock attenuation, a responsive layer to help with propulsion forward, and a lightweight layer for foot guidance
Stable and flat lateral arch area for maximum ground contact
The outsole release zone helps with pronation control and stride integrity
The high abrasion rubber heel with decoupled outsole durably isolates shock absorption at the heel strike
If you check out the photo above you can easily see each area of the sole as they're different colors.
Unsure about all this terminology? Check out this article about running shoe terms. I found it pretty helpful.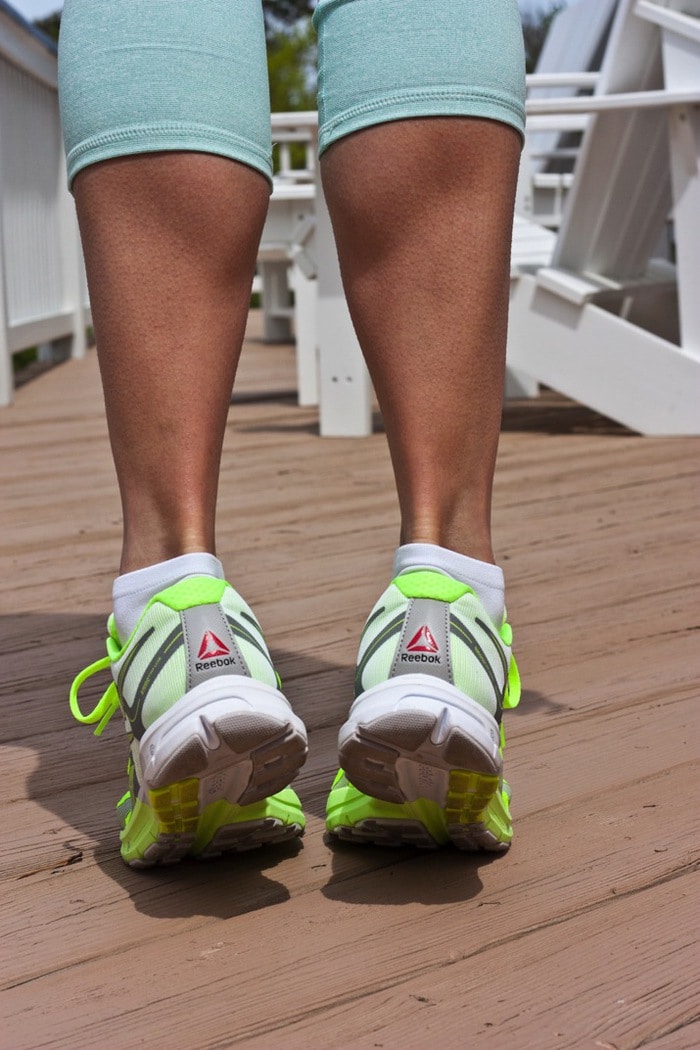 Don't mind my goose bumps. It was cold!
The first thing I noticed when trying on the ONEs for the first time (besides the awesome neon color!) is that they were really light for a cushioned shoe. I tend to run longer distances (and by longer, I mean 3-5 miles) so I'm used to wearing cushioned shoes and often times this style can get a little heavy. These aren't.
After one run I knew I was going to like them. They felt great — giving me the perfect amount of support and comfort throughout the run with no pain during or after. They have a low-cut design so they didn't bother my heels at all. I'm prone to getting blisters on my heels so this was a big deal for me.
I like the ONEs so much I've been wearing them for all my runs and interval training. Which segways nicely into part two of this post — a new run/walk treadmill interval workout! It's been really rainy here so most of my workouts have been pushed inside. I like running on the treadmill, but it can get a bit boring so I came up with a quick treadmill interval routine that involves 20 minutes of work, a 5 minute warm-up and a 5 minute cool-down.
Because you're switching from running to walking throughout the workout, the times goes by quickly. Before you know it you're sweaty and finished with the workout! Love it when that happens. 🙂
These are the inclines and speeds that I used, please use this as a guide and modify the speed and incline variables to meet your needs!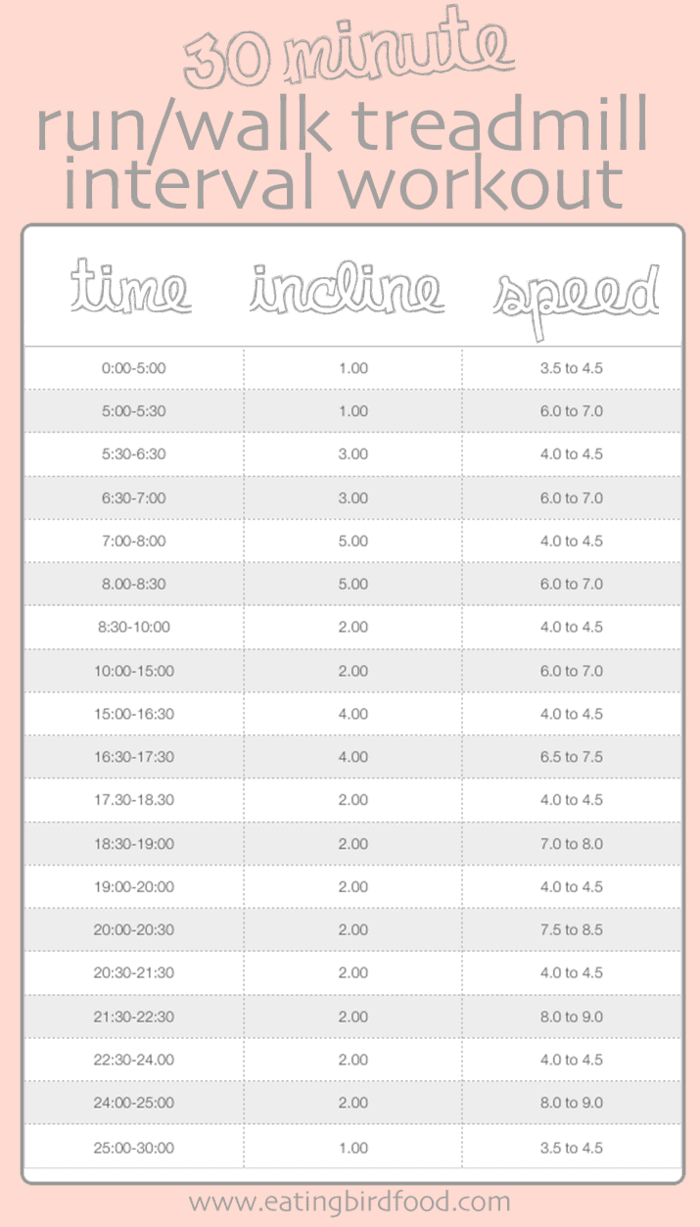 Want to learn more about Reebok ONE Series Cushion shoes? Check them out online here. If you're interested in buying a pair, check out Reebok's FitHub — Men's/Women's or find a store near you.
HAPPY FRIDAY!