Running HIIT Workout on a Track
0
Published Sep 06, 2018, Updated Oct 26, 2021
A quick and effective running HIIT workout that you can do on a track, on the road or on a treadmill + a look at Athleta's Run Free system, a line of workout gear made for running. This post is sponsored by Athleta. 
As many of you may have noticed, I really enjoy running as part of my normal workout routine. I usually sign up for at least 1-2 races throughout the year (this year I ran a local 10K in March) and I've been going on runs outside this summer on my own or as part of my strength training workouts at Rio Fitness.
If you know anything about me, you'll know that I'm always on the hunt for the best workout gear because I see the value in looking good and feeling good while moving my body. I recently I had the chance to try out Athleta's Run Free system, a new line of products specifically designed for running, and I was seriously impressed.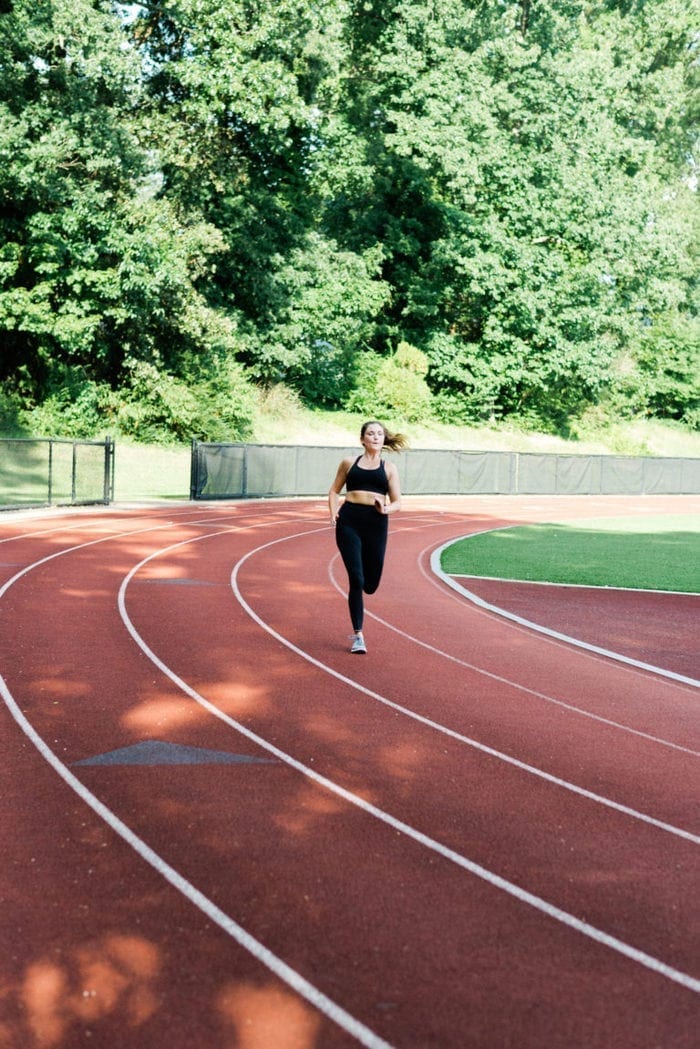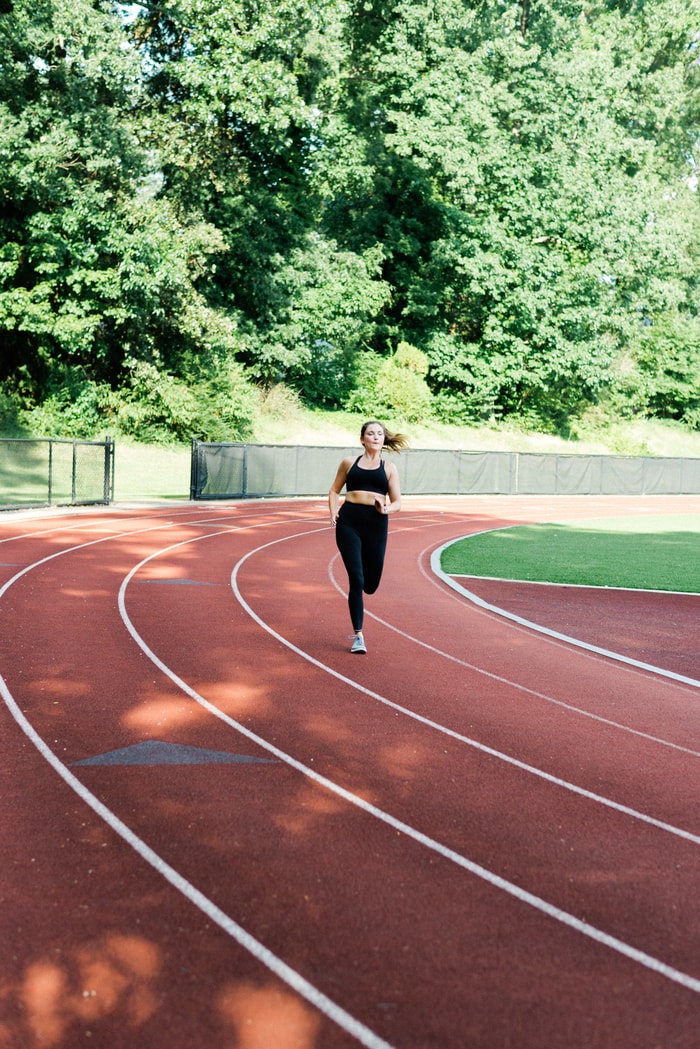 This new gear inspired me to step up my running workouts, so I hit up our local track and created a running HIIT workout that is great for improving running speed and endurance. Added bonus: HIIT is awesome for burning calories + fat quickly and efficiently.
Before sharing the workout, let me share some of the items I'm loving from the Athleta Run Free system: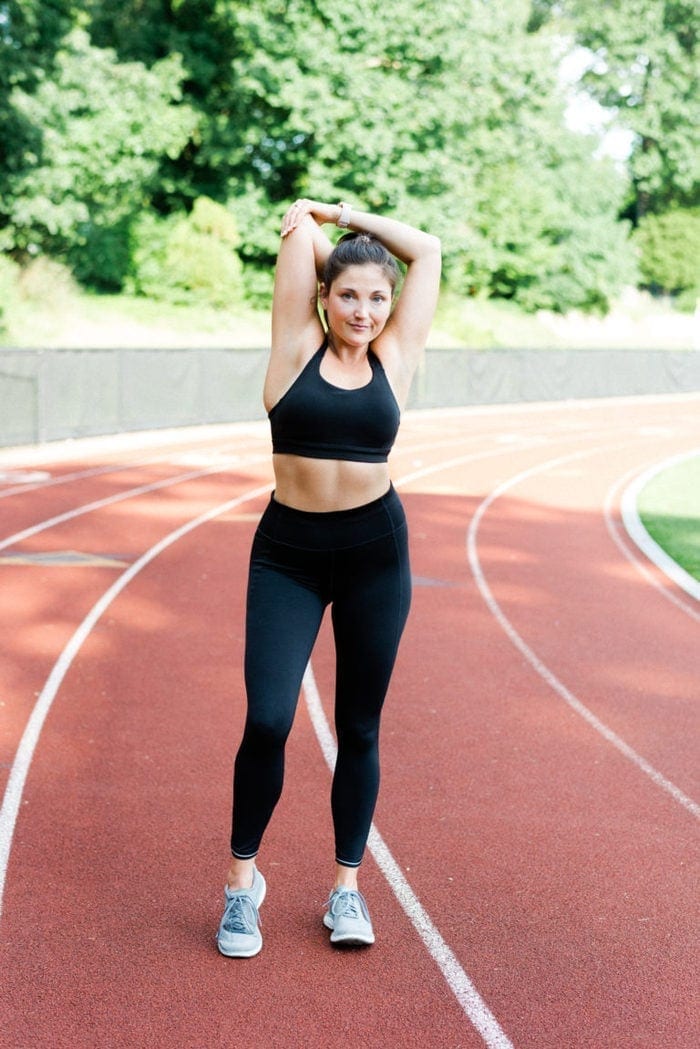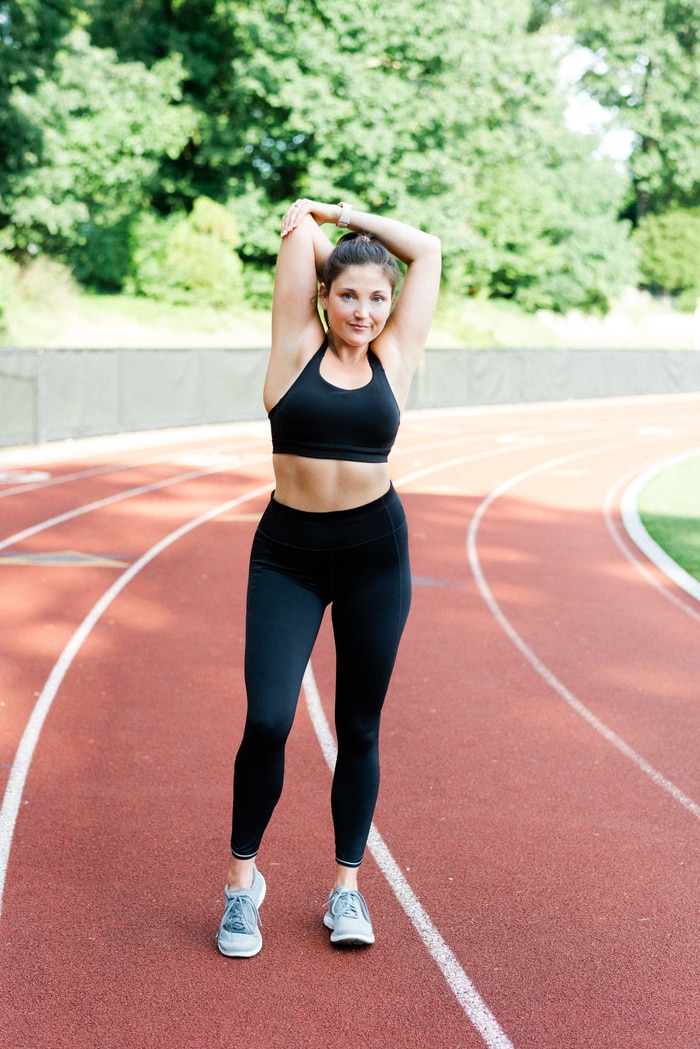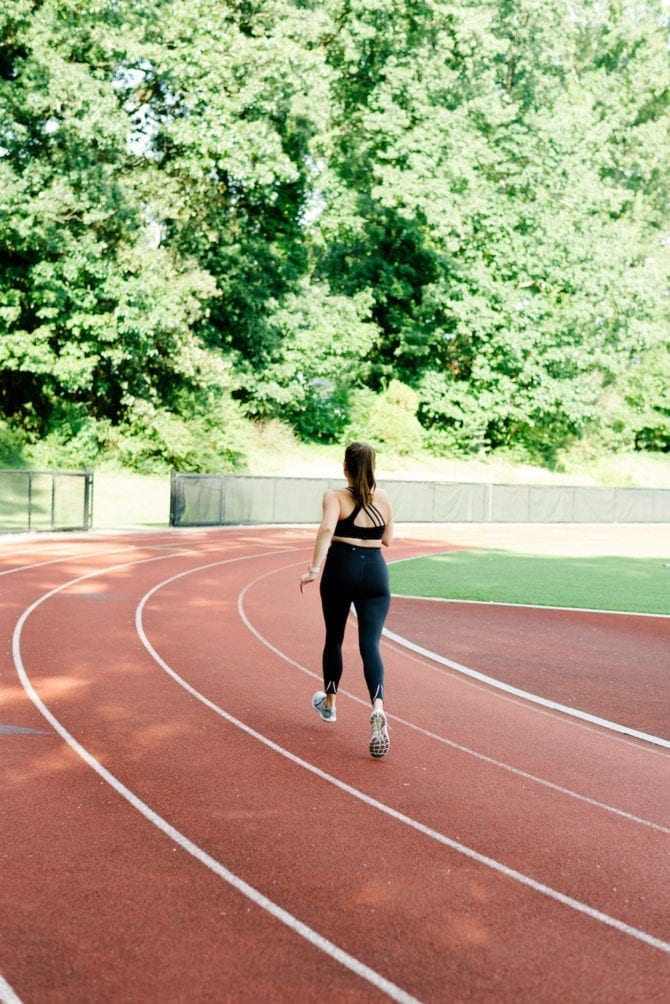 Great for short and middle distance running, training and medium-impact workouts. The fabric is smooth, sleek and slightly compressive, and the asymmetrical straps make for a fun look popping out from under a tank. Comes in a bunch of different colors including black, white, silver grey, olive camo and lilac. I have the black!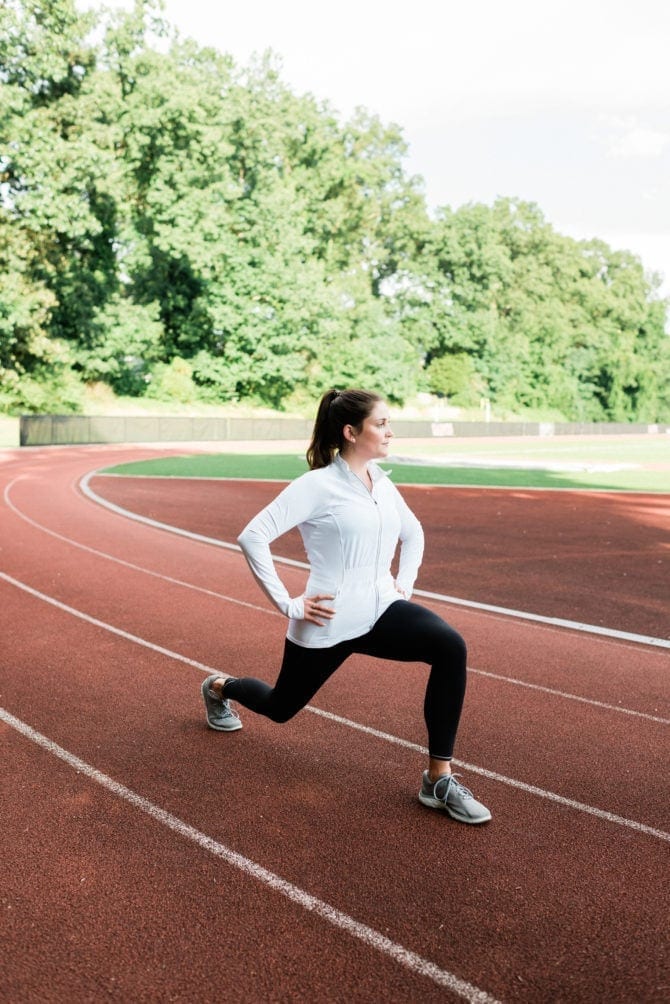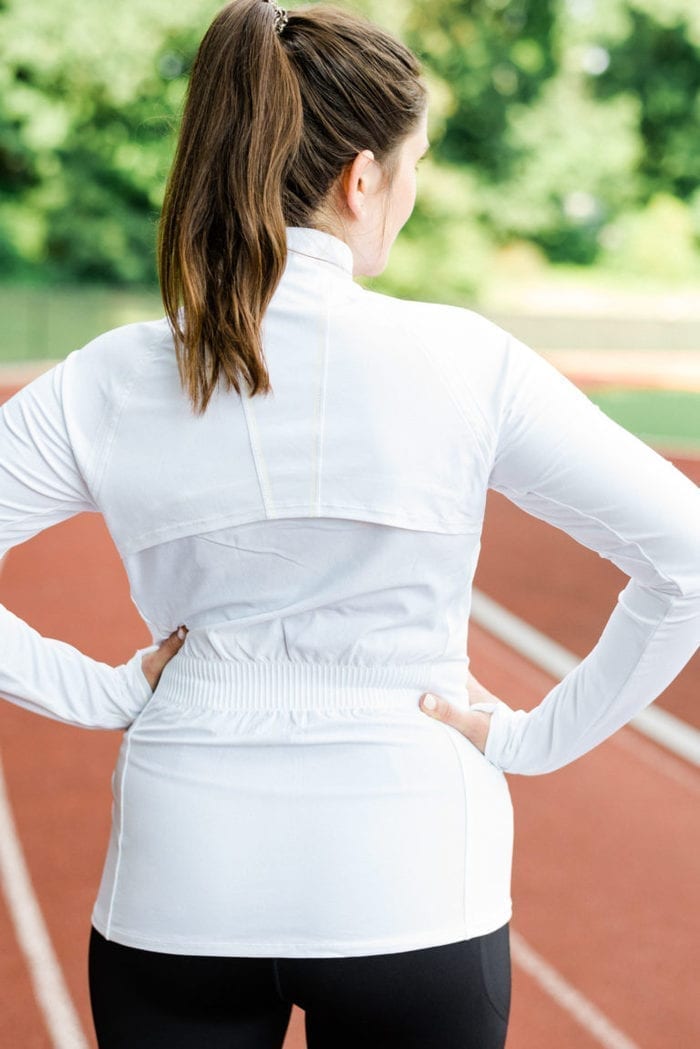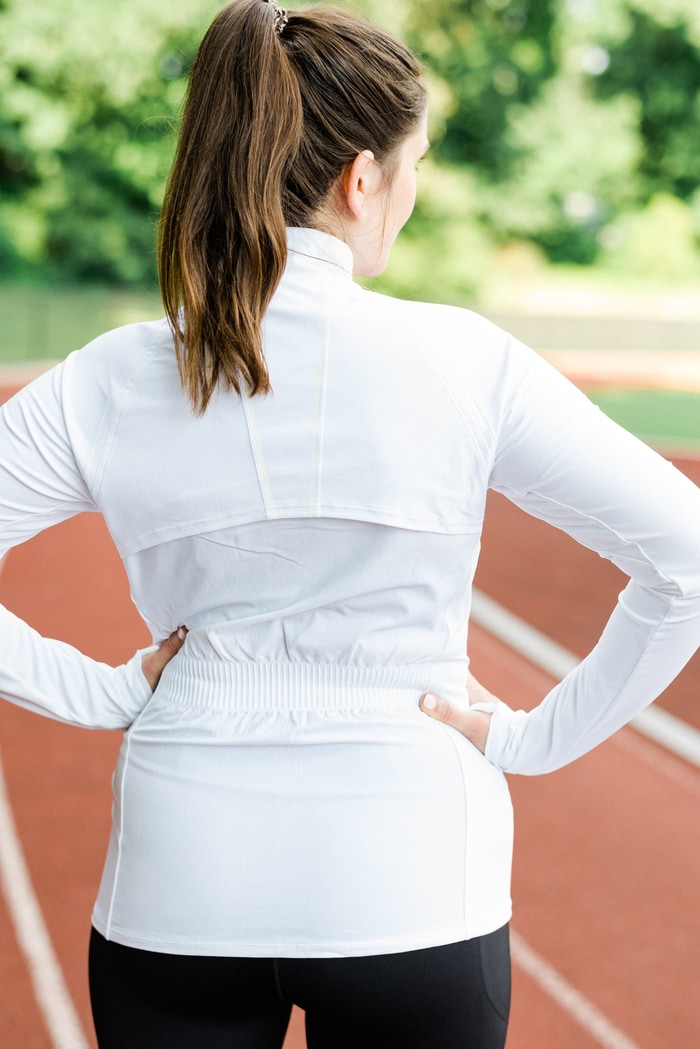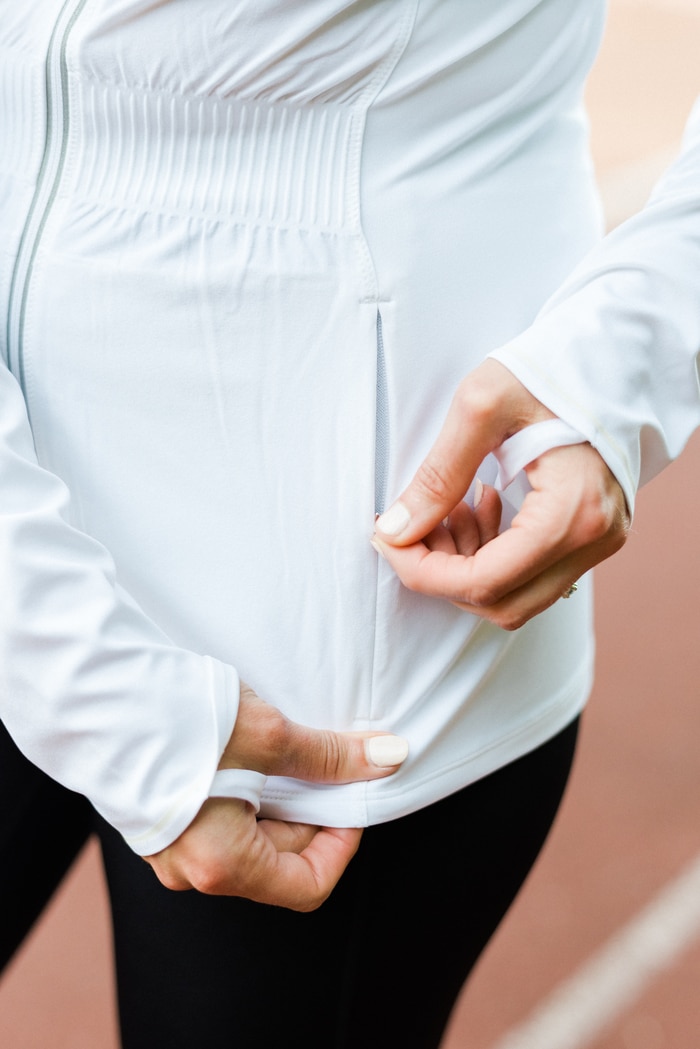 Great for long distance, short distance and trail running. The fabric is slightly compressive with sleek detailing at the waist to create a flattering cinched effect without the bulk. It's been so hard for me to find an athletic jacket that I feel comfortable running in because most are too bulky or have extra fabric that's flopping in the wind. But the Run Free jacket is lightweight and stretchy, which makes it an awesome jacket that you can actually run in. It also has pockets (great for keys) and reflective details for early morning or after-dusk runs. I love the white color, but it also comes in black and red.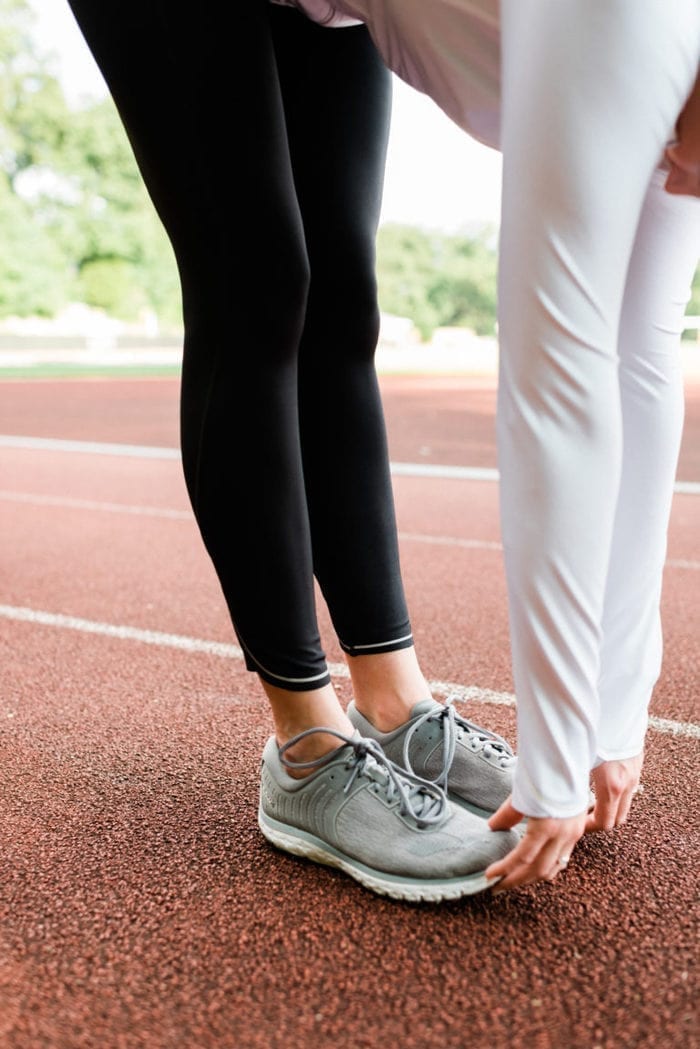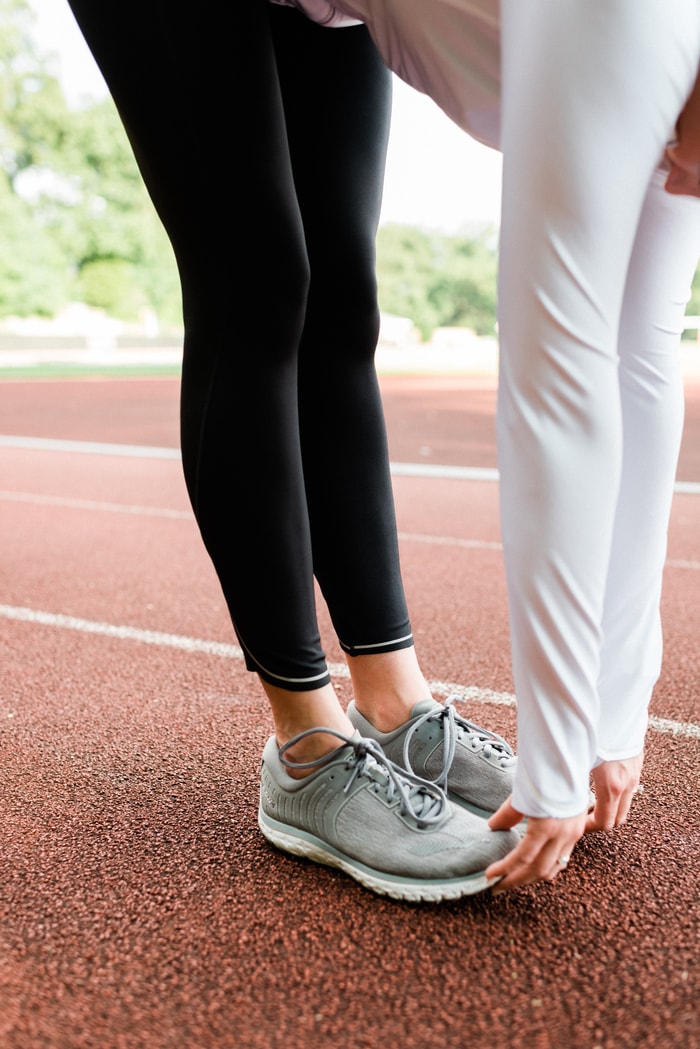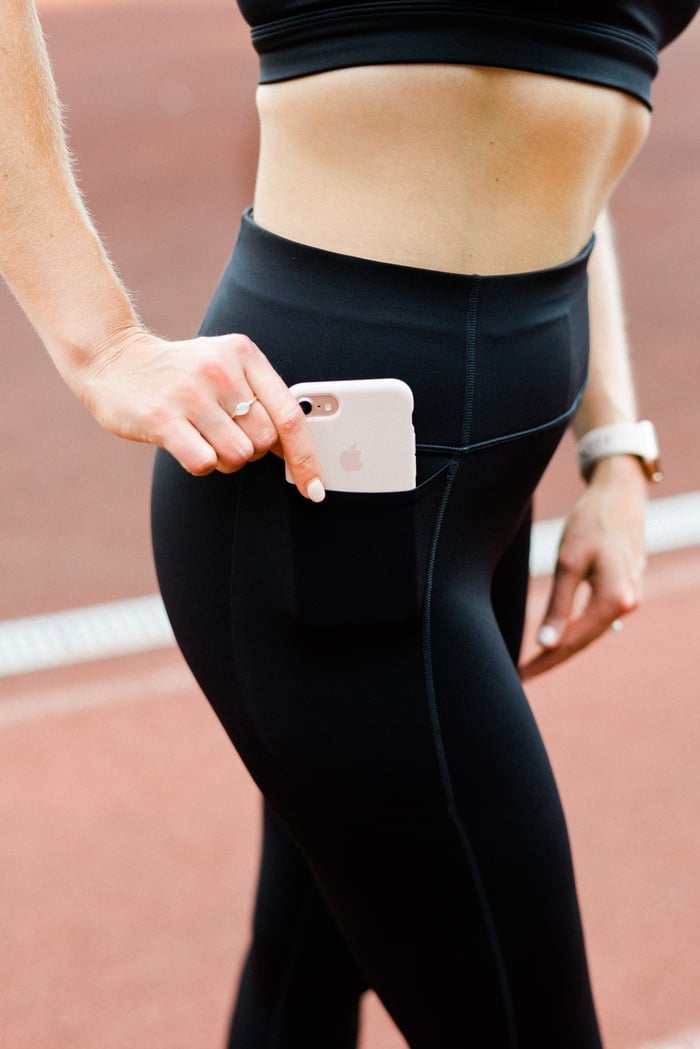 My new favorite running tights! These babies fit like a glove and are great for long distance, short distance and trail running. The fabric is smooth, sleek and slightly compressive with a no-slip waistband that stays put during runs. The tights have reflective details at the hem (again, great for early morning or dusk runs), there's a hidden pocket in waistband for small things like keys or credit cards, and a side stash pocket that fits a smartphone. The tights are offered in the same colors as the Run Free bra.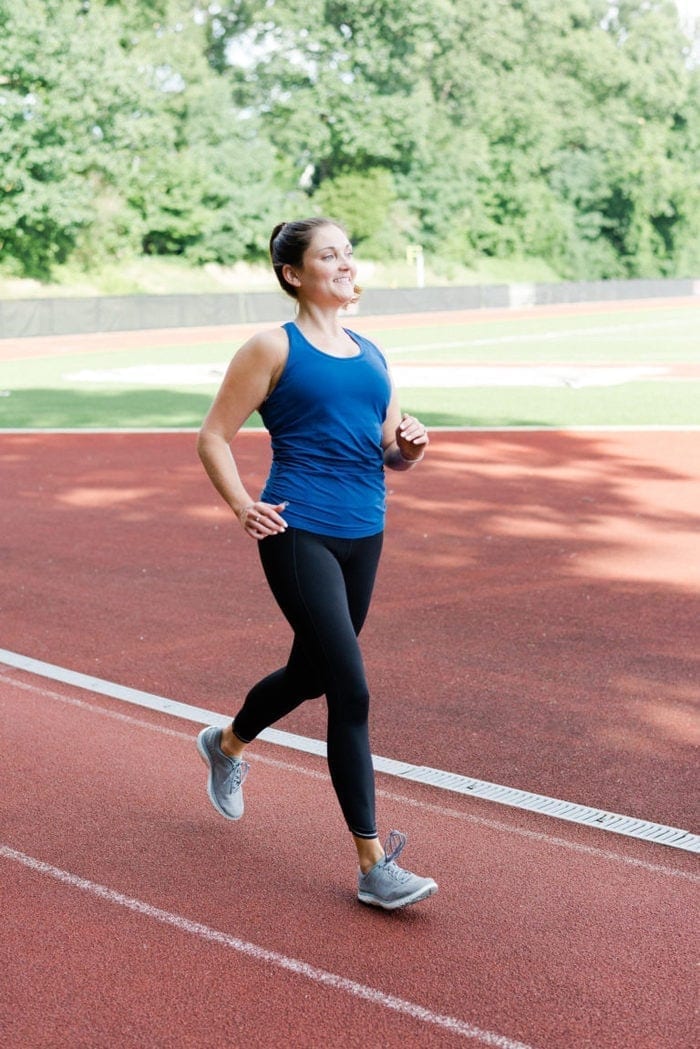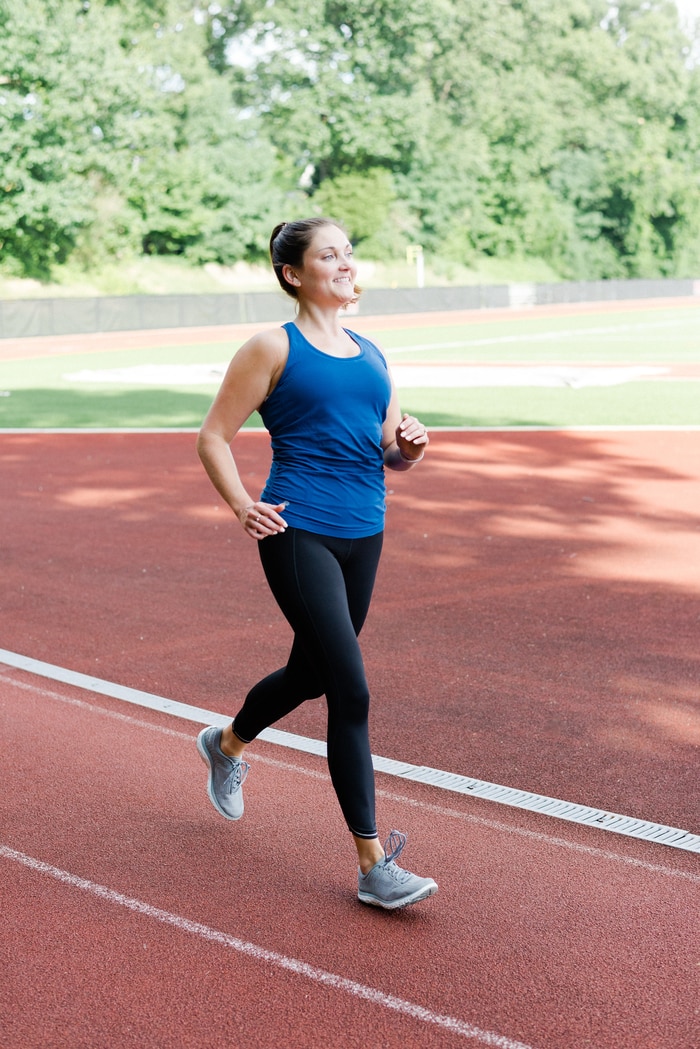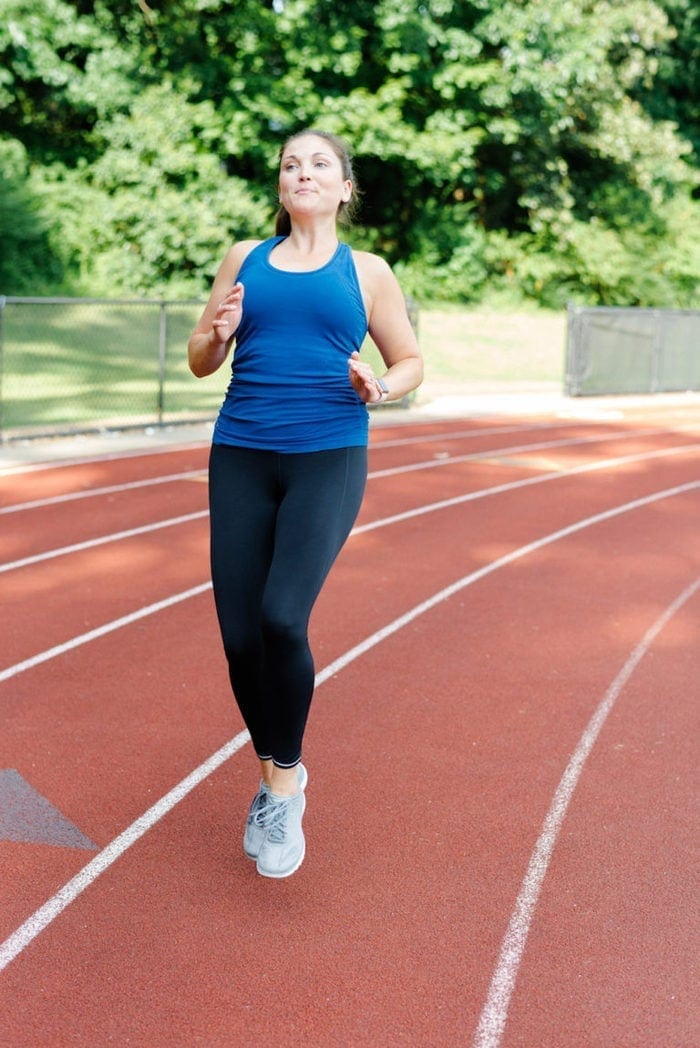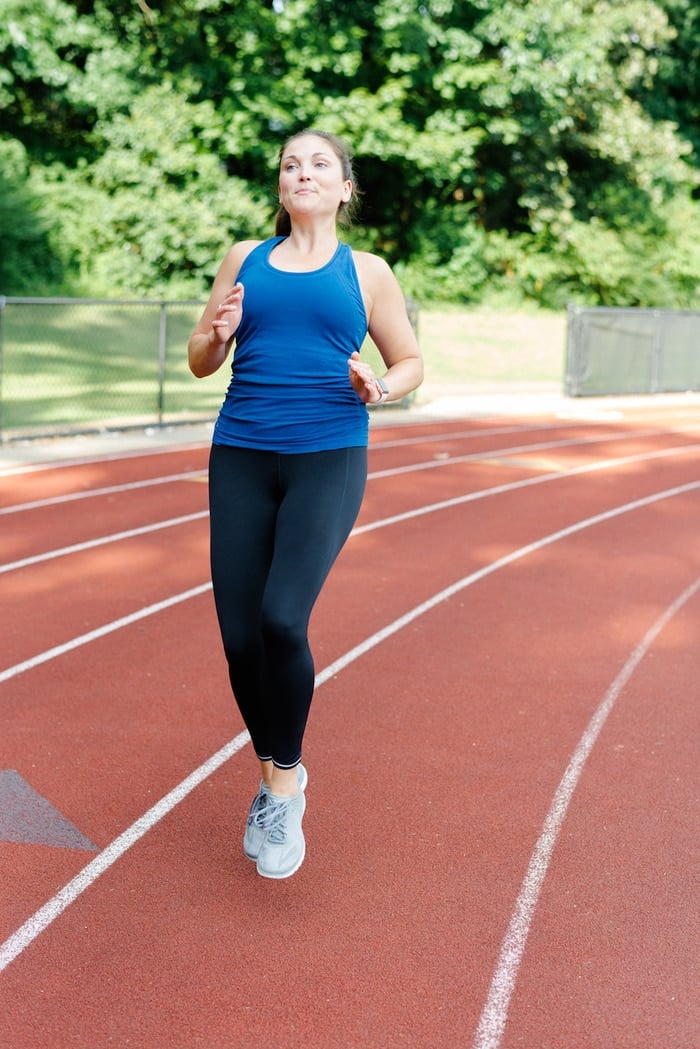 A seamless scoop-neck tank with built-in Unstinkable technology that wicks away sweat. Great for running or gym workouts. I love that there are little grippers on the hem that keep the tank in place because tanks that ride up are a serious pet-peeve of mine. If I wanted a crop top, I would have purchased a crop top! 😉 This tank comes in so many fun colors. I'm wearing the Atlantis Blue.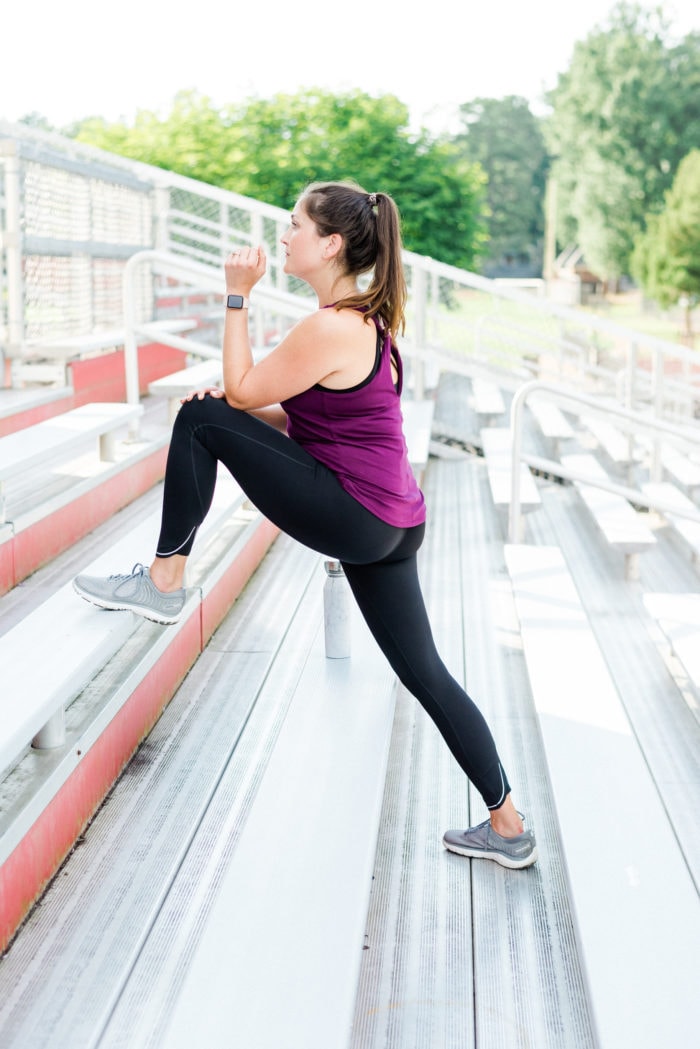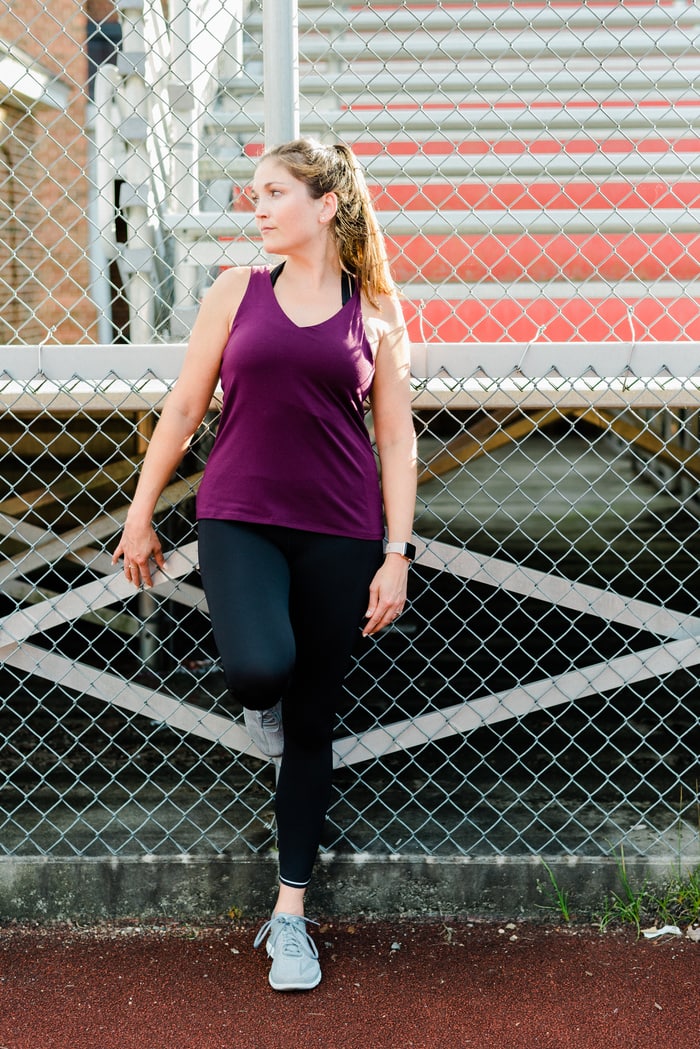 A tank with super-soft Unstinkable fabric, a flattering fit and a cutout back detail that allows you to show off your favorite strappy bra. Comes in a bunch of fun colors. I'm wearing Wild Bloom, which is perfect for fall.
Alright, now that I've covered all the workout gear, let's hop into this workout, shall we?
RUNNING HIIT WORKOUT
HIIT stands for high-intensity interval training, where you alternate between intense, short periods of work and more moderate recovery periods. Because you're really going all out during the periods of work, your heart rate stays high and you're able to burn a lot of calories and get in an awesome workout in a short period of time. If you've ever done a tabata workout, you'll know exactly what I'm talking about here.
With the HIIT running track workout I created, you'll be alternating between an all-out sprint and a recovery jog.
Warm up: jog for 1-2 laps around the track.
Start a timer for 10 minutes and begin the workout by sprinting the straightaways of the track (100 meters) at an intensity/exertion level of about 9 to 10, and jogging/walk walking the curves (100 meters) at a level 3 to 4 or lower. Do this for a total of 10 minutes. See how you feel and how far you can go. If you feel like you still have energy in your tank after 10 minutes, do another 5-10 minutes!
If you don't have access to a track, you can do a similar running HIIT workout like this on a treadmill or the road. For the treadmill, just sprint for 30 seconds and jog for 30-60 seconds to recover. Repeat. For the road, just use different landmarks to mark your sprinting intervals. Sprint to a specific tree, mailbox, telephone pole or stop sign. Then jog for 30 to 60 seconds to recover. Once you've had time to catch your breath, pick another landmark to sprint to and repeat.
Are you a runner? If so you'll have to try this running HIIT workout and let me know what you think!
photos: Michelle Chu Photography