I know brussels sprouts tend to have a bad reputation – they're bitter, mushy and they stink. Sure, when you prepare them incorrectly all those things are true but they can actually be really good. Like really, really good.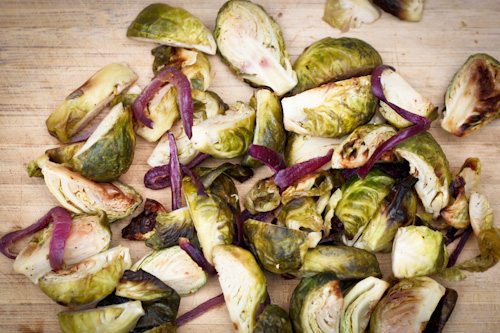 Here are Casa de EBF, we love brussels sprouts! They're like mini cabbages and taste amazing when grilled or roasted. Even if you think you hate them, I highly recommend trying this recipe (or another roasted sprouts recipe).
Roasted sprouts might just change your life. I'm serious.
In a nut shell, roasting is my favorite way to prepare vegetables – especially veggies that are available in the fall, like hard squashes, sweet potatoes, carrots, parsnips, and beets. They're awesome roasted because of their higher sugar content. The process of roasting brings out the natural sweetness and intensifies their natural flavors. Sometimes there's even a little crisping action. I love the crispy bits!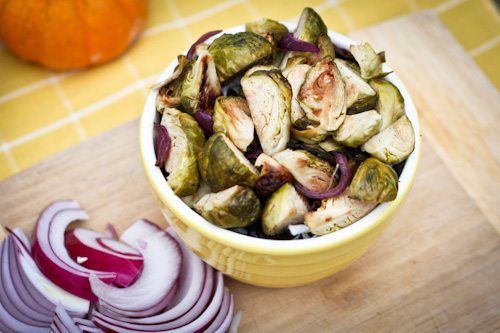 With most vegetables, I use my standard roasting procedure:
 Pre-heat oven to 400°. Clean and chop vegetables into small chunks or bite-sized pieces.
Place the vegetables in a single layer on a pan (I use a baking stone) and spray them with a little cooking spray. Sometimes I toss them with a 1-2 tablespoons of coconut oil for a little more healthy fat. One hint: Don't try to pack too many veggies on your sheet – they will steam instead of roasting.
Sprinkle on any desired seasonings – this changes depending on my mood but I pretty much always use sea salt and pepper.
Bake vegetables for 40-60 minutes or until they are lightly browned and tender. Different vegetables take more or less time so be sure to check after 25-30 minutes, flip over with a spatula, then cook until they're tender and nicely browned – about 15-30 minutes more.
For this brussels sprouts recipe, I just threw a few ingredients for the roasting sauce together after making a tasty salad dressing with similar ingredients the night before… it worked like charm.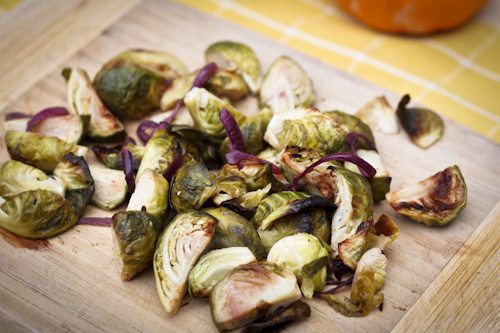 Apple Cider Vinegar Roasted Brussels Sprouts
3
adjust servings
Ingredients
1

lb brussels sprouts; rinsed, trimmed and cut into quarters

1/4

cup sliced red onion

2

Tablespoons apple cider vinegar (or balsamic)

1 1/2

Tablespoons coconut oil, in a liquid state

1

teaspoon maple syrup

1

teaspoon Dijon mustard

sea salt and pepper, to taste
Instructions
Pre-heat oven to 400°.
Rinse, trim and cut brussels sprouts into quarters.
In a

medium sized

bowl mix together vinegar, maple syrup, mustard and slowly add the coconut oil to the sauce. Place sprouts in the bowl and toss to coat.
Spread the brussels sprouts

on

a baking pan and bake for about 20 minutes
Stir sprouts and cook for another 15-20 minutes or until sprouts are tender on the inside with a golden brown and crisp outer layer.
Remove from oven and serve.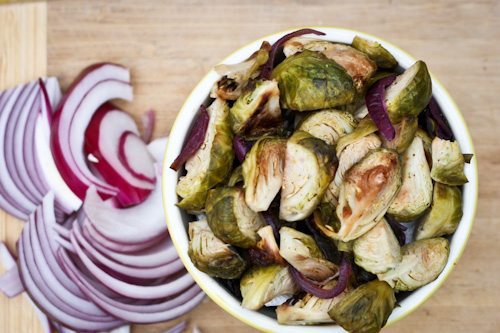 These sprouts are roasted to perfection and have a sweetness from the maple syrup that couples wonderfully with the other flavors. They make a great side dish for any meal – even a Thanksgiving feast! Leftover roasted veggies are also awesome for making salads and sandwiches! They bring an average salad or sandwich to a whole other level. So, so, so good!
Speaking of good food, Isaac and I are still exploring our options for wedding caterers. Wednesday night we had a meeting with Olio, one of our favorite restaurants in Richmond that happens to do wedding catering. After a great meeting, they sent us home with a couple tasty treats for dinner:
Isaac loved the mac and cheese made with artisan cheeses.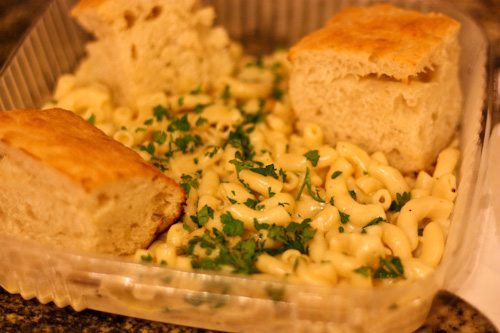 I had a few bites and it was really good but I was too involved with this pumpkin quinoa burger to help out much with the mac and cheese.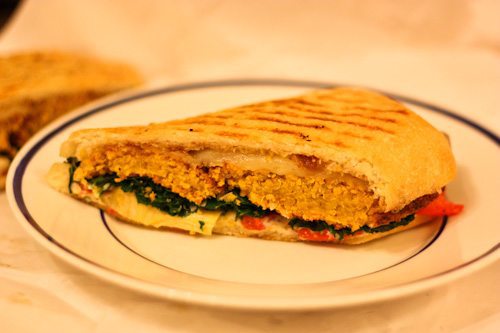 OMG – The pumpkin quinoa burger was nestled between two toasty pieces of the bread with roasted red peppers, artichokes, cheese (I can't remember what type), kale and a fruit spread. The fruit spread gave it a lovely sweet and savory flavor, which I absolutely love. I want to eat this sandwich every day. It's THAT good! Hopefully it becomes a mainstay on Olio's fall menu. 🙂
Alright, I'm off to work – I'm doing an operations tour today so I'll be out and about learning how we fulfill our grocery orders and get them to our customers! It's going to be a lot of fun. I hope you have a lovely Friday!
PS – The giveaway winner is up for the Clean Food revised cookbook. Head over to the post to see who won.