This past weekend, Courtney, Heather and Julie and I spoke a panel at the Healthy Living Summit. Our panel was called Rising Above the Negativity and we discussed the darker side of blogging: negative comments, mean-spirited emails and snarky tweets. Even in a community filled with positive messages and supportive readers, a negative comment can deeply affect bloggers and it's not something to take lightly.
Since many of you were interested in hearing what we touched on during the presentation, here's a little preview: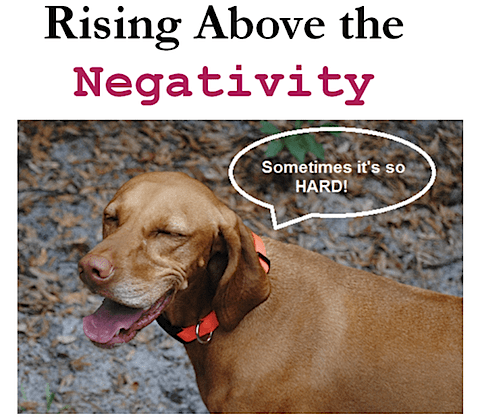 Cute Sadie photo courtesy of Julie.
Where is negativity present?
Although it's mainly in blog comments, it can occur elsewhere as well – Twitter, Facebook
In real life, you may encounter people who don't support your decision to blog. When I first started blogging I didn't tell many people about EBF because several times when I did, I got negative reactions like, "Oh, taking photos of your food is really weird and kind of disordered eating." I decided to change the way I described my blog to people by suggesting it was a way for me to share tips for living a healthy life, post recipes and inspire others. Using this description rather than saying. "I take pictures of what I eat and put them online," helped immensely and I've received nothing but positive feedback from my close friends and family. And now, I tell everyone about EBF. It's something I'm really proud of!
Remember: NO ONE is immune, no matter what the size of your blog.
What constitutes a negative comment?
Difference between constructive criticism and just plain meanness: Almost all bloggers are fine with receiving constructive criticism or hearing the point of view of others, even if it may differ from there own. It's the comments that are mean and attacking in nature that are just unnecessary. Heather brought up a great point by saying that before you leave a comment think to yourself – is what I am about to say true, kind and necessary? If not, don't comment. Another great guide of advice with commenting is to think to yourself if you would go up and say the same thing to a friend, if not than don't say it on someone's blog!
How do you handle a truly negative comment?
Options:
Ignore
Delete
Respond
Let your readers handle it
Etc.
Everyone is different and what works for one person won't be the best option for another person. I typically don't delete comments but I can definitely see a point where that might be necessary.
Also, know that you don't HAVE to do anything. You don't have to respond at all if you don't want to! Most negative commenters are anonymous and are looking for reaction. They didn't give you the decency of leaving their real name/contact info and you don't have to give them the satisfaction of responding. If you do choose to respond to a negative comment, give yourself some time to think about what you want to say before responding. Maybe even email the comment and your planned response planning to respond to a close friend to get their input.
One particular case where I was being criticized for a certain photo I posted on EBF, I ended up writing a whole post to make sure everyone knew the truth. Often times if one commenter is saying something aloud a few other readers might be thinking it as well so it may help things to address all your readers. Although, I will say I've only had to do once in my 3 years of blogging.
How to delete/moderate/block comments?
Julie did a great job explaining how to be your own inspector gadget and find out who an anonymous commenter is by tracking their IP address. Check out this post over on Healthy Living Blogs to see a step-by-step guide on how to find IP addresses and how to delete, moderate and block comments in WordPress.
Staying Positive After a Negative Comment
Remind yourself that for every mean/negative comment, there's 10, 20, 50+ positive ones. Don't get caught up on the one naysayer.
Often times it's the readers/commenters internal issues, not you!
If you find yourself feeling defensive, maybe there's some truth behind it? If not, then you know the comment is purely ludicrous and you can move on.
The best words of advice
Be you. Do you. The right people will support it.
Your blog is your castle. You can decide what happens there. – quoted from Caitlin of Healthy Tipping Point
Here's my castle. Each of you is welcome inside. 🙂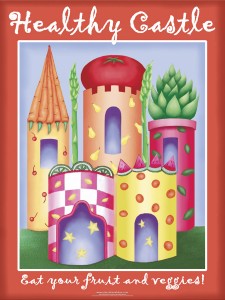 At the end of our panel we had a good amount of time for the audience to share their stories and this was by far, my favorite part. Please feel free to share your stories or helpful tips for dealing with negativity, both in blog world and in real life, in the comment section.