Good morning from sunny California! I'm here visiting as part of a blogger event with Nature Made vitamins. Yesterday I got to tour the corporate headquarters and the packaging facility, learn about the Nature Made brand and their new product line called VitaMelts. More on all this soon…
For now, I want to do something a little different and share some advice I received from a friend of mine, Monica Nelson. She's a fitness expert, personal trainer and the lady behind Moni's Meals, a recipe site where she shares healthy comfort food recipes.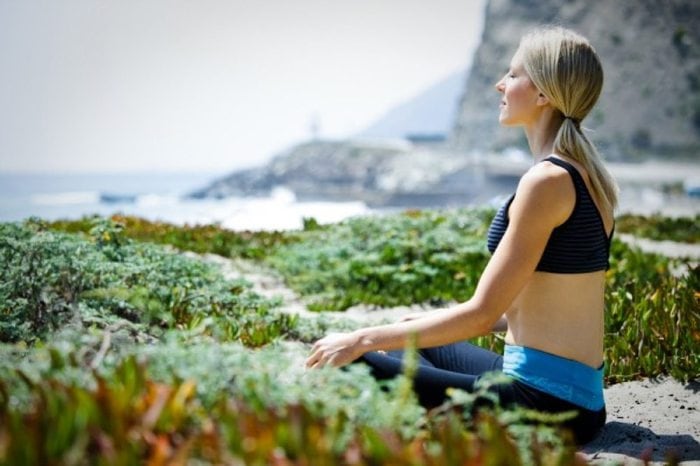 So jealous of her beautiful surroundings in California. How awesome would it be to do yoga here everyday?
In only a few short months I'm going to be walking down the aisle and like most brides, I want to look and feel amazing in my dress (and in my bathing suit on our honeymoon!). With this goal in mind, I reached out to Moni, told her about everything going on in my life and asked her expert opinion. As a health coach I know a ton about nutrition, eating natural whole foods and weight loss, but sometimes I feel like I'm lacking in the knowledge of what workouts I should be doing to reach my goals. It's also nice to get tips from other health and fitness gurus…. you never know what ideas they might have that you never thought of.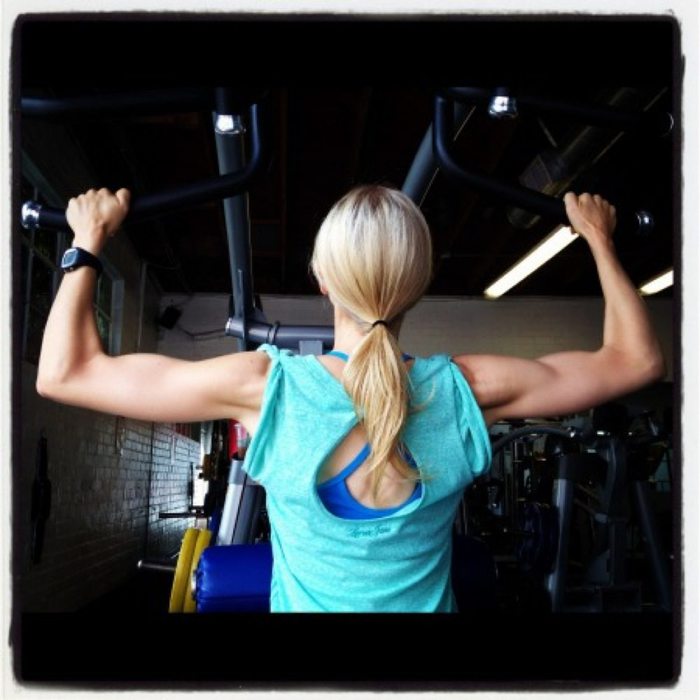 See why I wanted her advice? 😉
Moni shared lots of great information with me! I thought her tips were super useful and asked her if I could share them with you all and she said yes! (She also kindly let me use her photos.)
Here's what I sent over to Moni when asking for her advice:
I want to look and feel my best for my wedding. The two areas I would really like to focus on is my stomach and arms. I'm at a healthy weight for my frame so I don't want to lose weight, but I wouldn't mind losing body fat. What would you recommend for this? I want to make sure I'm doing the correct amount of training — both cardio and strength wise for my goals.
Do you have any tips for help with mindless snacking or boredom eating? I eat really healthfully but find myself having issues with portion control.
Moni's response:
Give yourself more time to reach your goals and you treat getting toned as a new longer approach, more realistic, lifestyle change that sticks with you rather, than a short, quick fix.
To help with mindless snacking, you should keep a food journal. Check out this post: Top 5 Tips to keeping A Food Journal <– This is something I recommend to all my clients as well. I already do this, but I'm going to keep it up!
Workouts: No matter what the activity, you have to be consistent every week with it.  <– I love this tip! I enjoying working out and do it almost every day but I don't normally stick with a consistent routine of doing the same things each day of the week for consecutive weeks. I'm definitely game for trying it to see how it works for me. Below I've posted a sample week of workouts that Moni suggested.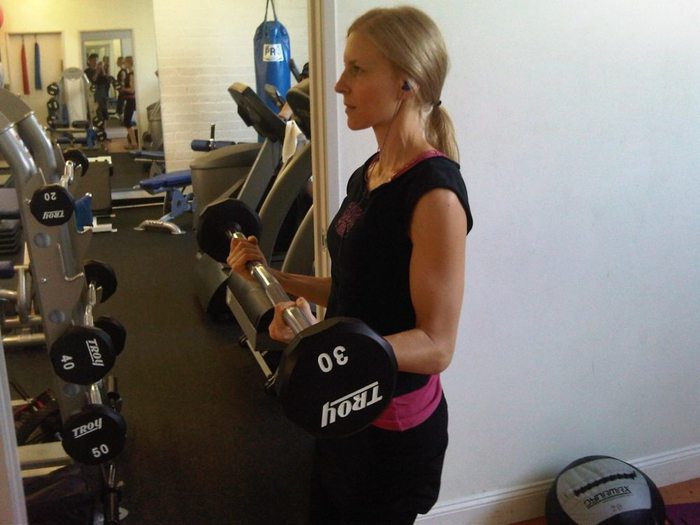 Sample Workout Schedule
DAY 1– CARDIO: 25-45 mins, HIIT IF YOU CAN but see how you feel, is it a hard intensity day or just a light-moderate day?
DAY 2– BODY PUMP CLASS, or body weight movements say from a DVD OR Incorporate 20-30 mins of pretty strenuous WEIGHT TRAINING
DAY 3– REST DAY or if you want you can have a light active recovery day; walking, light bike ride, light stretch and foam rolling
DAY 4-YOGA or if you want to do cardio and feel good, then go for it. 20-30 is great.
DAY 5-CARDIO: 25-45 mins, see how you feel, is it a hard intensity day or just a light-moderate day?
DAY 6– WEIGHT TRAINING Or another Body Pump or Circuit Class. The goal is to try to keep your muscles growing and getting worked. The more muscle, the more calories the body needs so it will use stored fat to replenish!
DAY 7– REST DAY or a light active recovery day; walking the dog, light bike ride, light stretch and foam rolling
Workout notes from Moni:
It is best if you can do hard cardio but let's get real, not every day we have that in us. So it is better to get rid of the all or nothing mentality. So that is why I say do 25-45 of cardio. This is so if you have the energy to go hard for a shorter amount of time-then do. For those days that you do not though, you can still get a great exercise in and let go of how hard it has to be. Something is better than nothing and often times when we know something is hard and we are tired, then we will skip it all together when you could just do something lighter. A great example of something mellow is the elliptical, treadmill, or a hike. You can do these and just bring down the intensity but just go for a longer duration. This way you do not skip and you still get that movement for the body.
WEIGHTS: I am all for heavier weight rather than light.You must have good form when lifting heavy. I don't mean crazy heavy either, just enough to get the muscles working and changing. You really will not get stronger or see results with light light weights. Body weight movements are great but you still need to lift weights as well. Here's a refresher on how important weight training is: 8 Reasons to Hit the Weights
In my own personal workout routine, I go hard but I really know when to rest and back down– where many people think more, more, more is better. REST is so important and I think it is the most underestimated tool! Remember LESS is MORE.
I really value Moni's advice and now that my knee is feeling a bit better, I'm going to try to start a consistent workout routine following Moni's guidelines in the sample workout schedule above. I'm excited! I hope you all liked hearing Moni's tips — definitely check out her site if you're interested in learning more. And check out her recipes as well — she just posted a quinoa mac and cheese that looks delish.
Here's to reaching my goals in 2013! Do you have any specific fitness goals you're hoping to reach this year?