Sharing what kind of food you'll eat while staying at Rancho La Puerta with lots of pictures!
After spending a week at the amazing Rancho La Puerta I find myself drawing a blank when trying to come up with words to describe my experience. The Ranch offered everything I could have wanted out of a health and wellness vacation and more. It really was the ultimate retreat — an opportunity to unplug and focus on fitness, health and wellbeing.
If you were sitting beside me this afternoon sipping iced coffee or cradling a mug of hot tea, I'd chat your ear off about my experience and it would likely take me hours to fill you in on everything. Since you probably don't have hours to spare, I'm just going to scratch the surface and talk about one of the things I loved most about my stay at The Ranch — the FOOD!
I'm all about healthy, seasonal food and The Ranch's lacto-ovo vegetarian/pescatarian cuisine was right up my alley. Almost all the produce served is grown with love on at Rancho Tres Estrellas, their 6-acre organic farm, and everything else is locally sourced whenever possible. I enjoyed some of the best produce I've ever eaten while on this trip!
I think many people come to the Ranch for a detox and end up losing weight due to all the fresh fare and light dishes. I, on the other hand, saw this trip as a vacation and took it as an opportunity to enjoy all the food that the Ranch had to offer and didn't limit myself in any way.
The food was healthy and I wanted to try everything… as evidenced by the spread of foods you'll see in all my photos. 🙂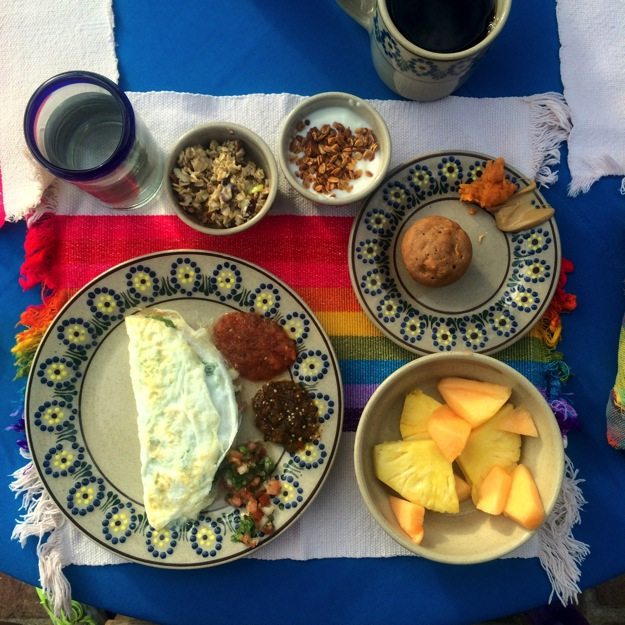 Breakfast and lunch are served buffet style in the dining hall and a couple days a week you can grab breakfast by one of the pools. I loved the option of having a poolside breakfast with made-to-order omelets. I did this twice!
Dinner is a sit-down affair with waitstaff and you're served a four course meal — soup, salad, the choice of two entrées, and dessert.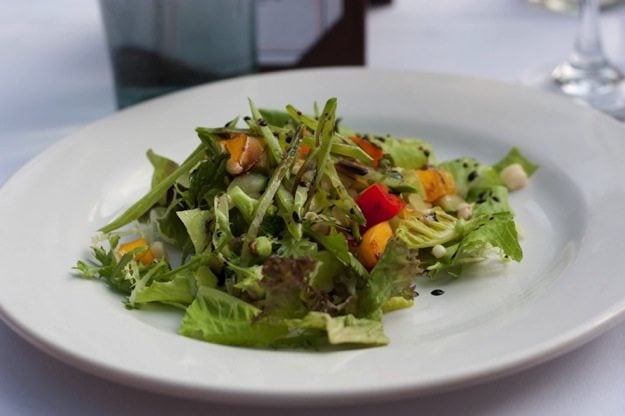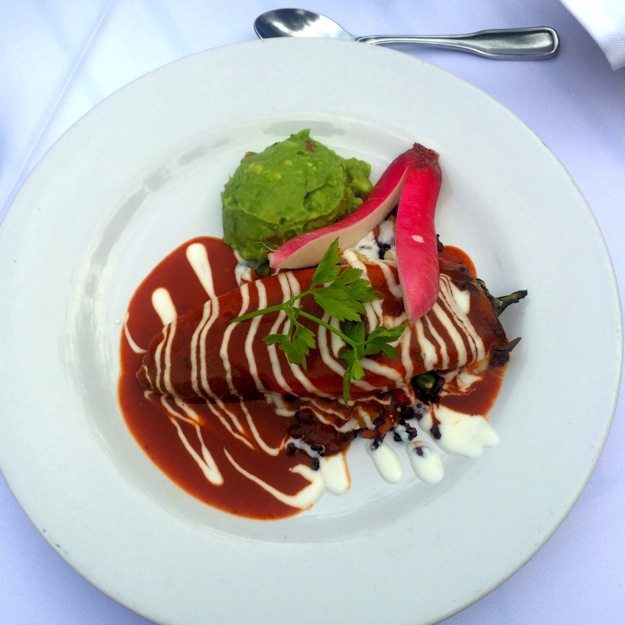 Insider tip: If you're torn between the two entree options at dinner you can ask for "a combo" and receive both options. I did this every night just so I could try both. Oh, and you can also ask for bread and butter. I highly recommend this — the little herbed rolls are amazing!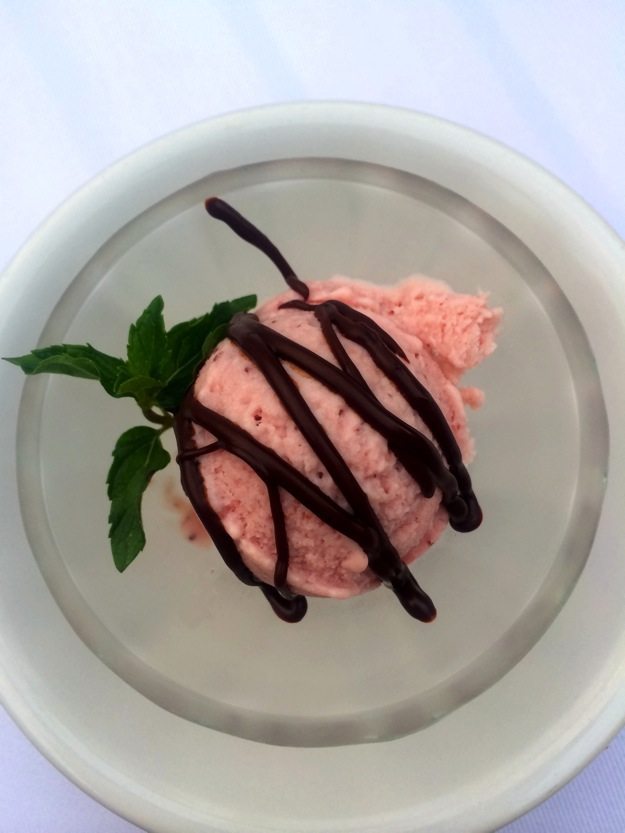 Everything I had from the dining hall was delicious, but some of my favorite food was served at La Cocina Que Canta, the Ranch's Cooking School, which is nestled right next to the organic farm.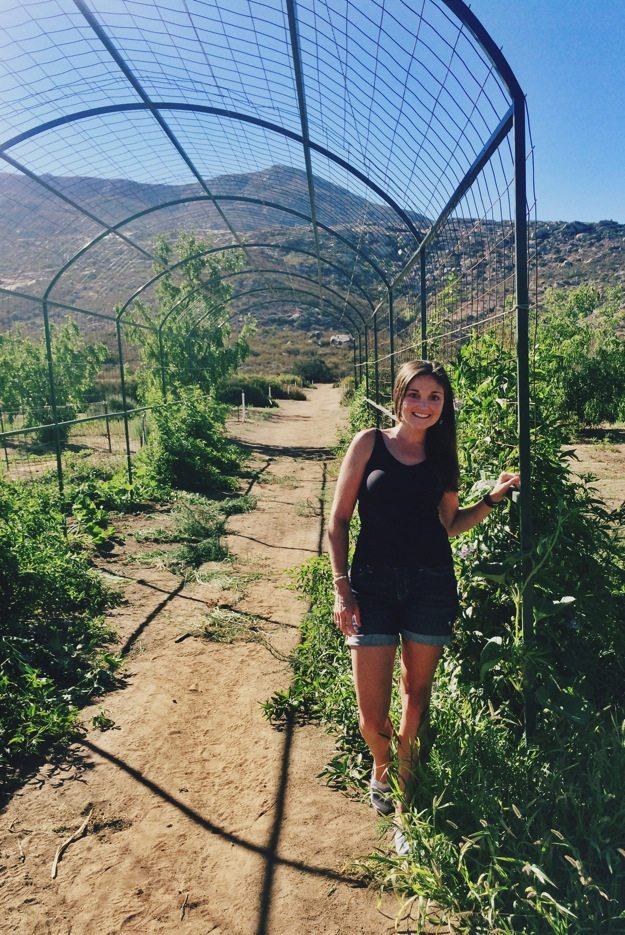 I loved this place so much that I visited as many times as possible during my stay. I did the organic breakfast hike + garden tour twice, attended one of the cooking classes, and went to the Salsa y Salsa event. If you visit the Ranch and are a food lover like me, I highly recommend doing all three!
Organic Breakfast Hike + Garden Tour
Let's just say that the breakfast served during this hike is well worth waking up before the sunrise and hiking 4 miles.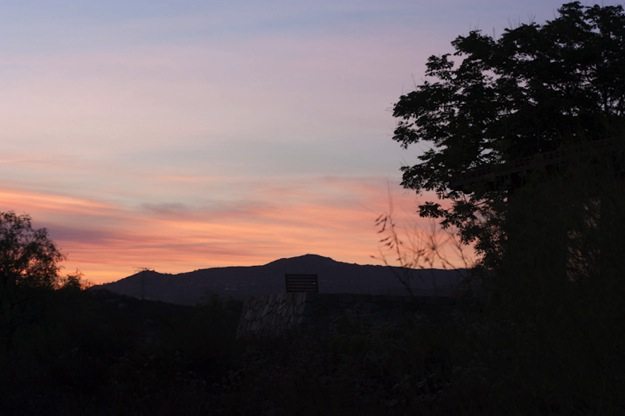 Here's my breakfast spread with just a few of the options: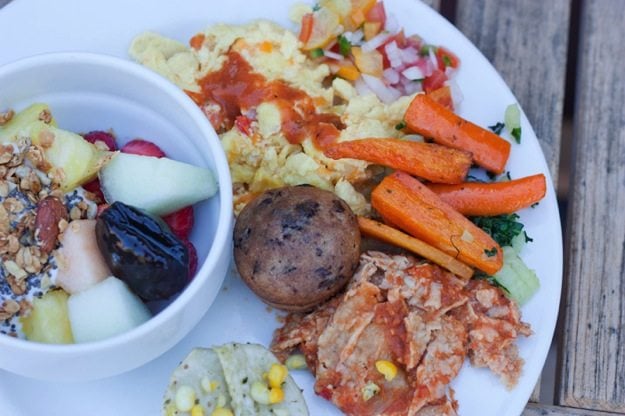 This was my first time having Chilaquiles. Delish! And that little chocolate chip muffin in the middle — it was to die for! I'm going to ask for the recipe and if I'm able, I'll share it with you.
After eating an amazing breakfast, you get a tour of the garden with Salvador, the passionate resident horticulturist. Once you meet Salvador you realize why the food at The Ranch tastes so good. His positive energy and excitement about organic gardening is amazing.
Hands-On Cooking Class at La Cocina Que Canta
One evening mid-week we attended the hands on cooking class with Chef "Nani" Romney Steele, the guest chef for the week.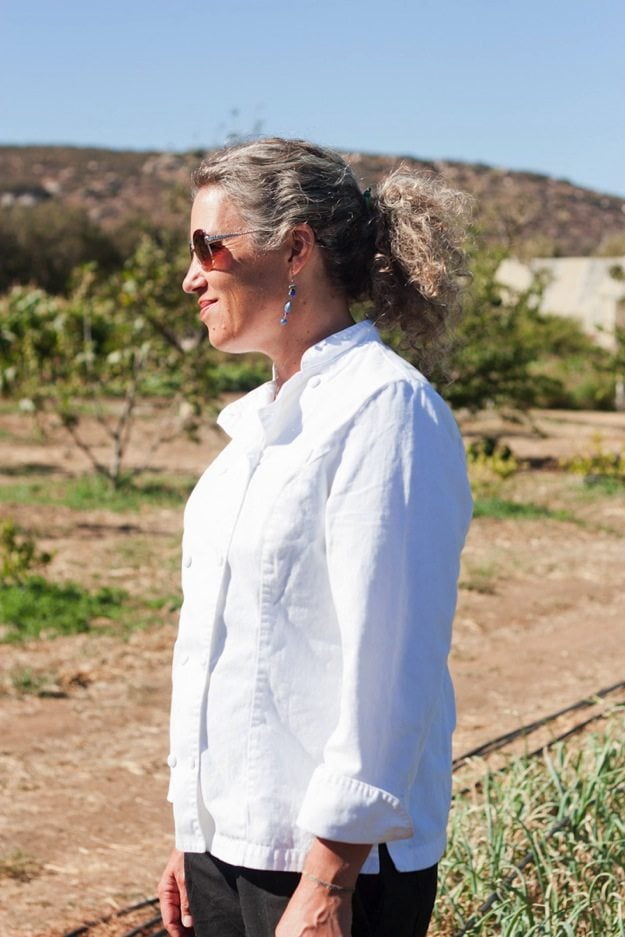 She lead us through the garden to pick some last minute produce for dinner and then we split up into groups and got to work preparing the recipes.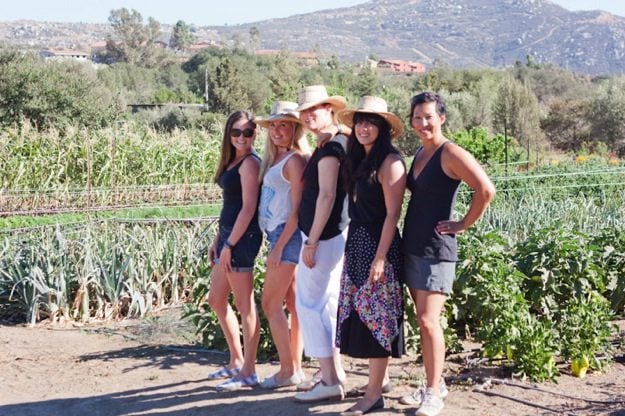 I teamed up with Rachel of Handmade Charlotte to make the fig and blackberry tarts for dessert.
Pre baking! Isn't it pretty?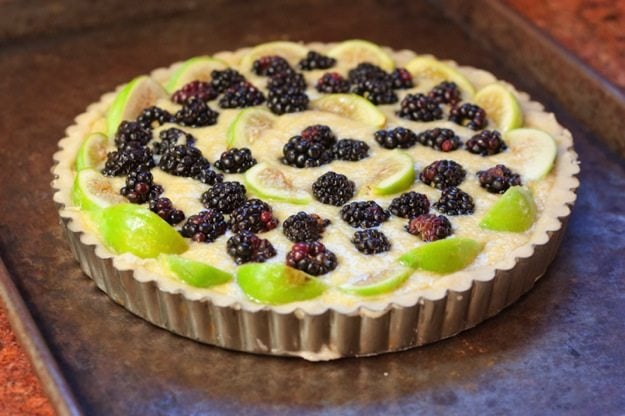 On the menu:
Chilled Summer Squash Soup with Mint
Grilled Prawns with Chile and Citrus
Grilled Nectarine Salad
Summer Risotto with Strawberries and Lemon Thyme
Lavender Carrots with Toasted Almonds
Pickled Beets with Star Anise
Savory Flat Bread with Figs
Fig and Blackberry Tart
Here's my plate minus the soup and tart.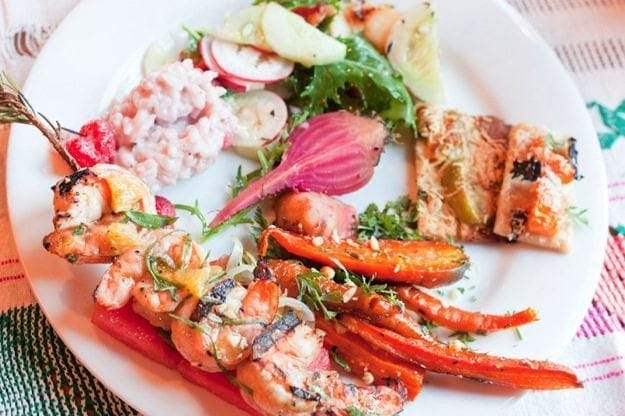 Everything was so delicious! My favorites from the dinner were the soup, carrots, beets and the shrimp. I loved the way we used rosemary as the skewers for the shrimp — such a fun idea! I'm definitely going to buy Chef Romney's cookbook, My Nephenthe, very soon and hopefully one day I'll get to visit her new restaurant, A Cook and Her Farmer.
Salsa y Salsa
Last but not least, we attended Salsa y Salsa at La Cocina Que Canta. This is a fairly new event for The Ranch that combines both food and fitness. <— My kind of event!
We had a salsa and taco making demonstration from Executive Chef Denise Roa and then enjoyed a huge family style dinner.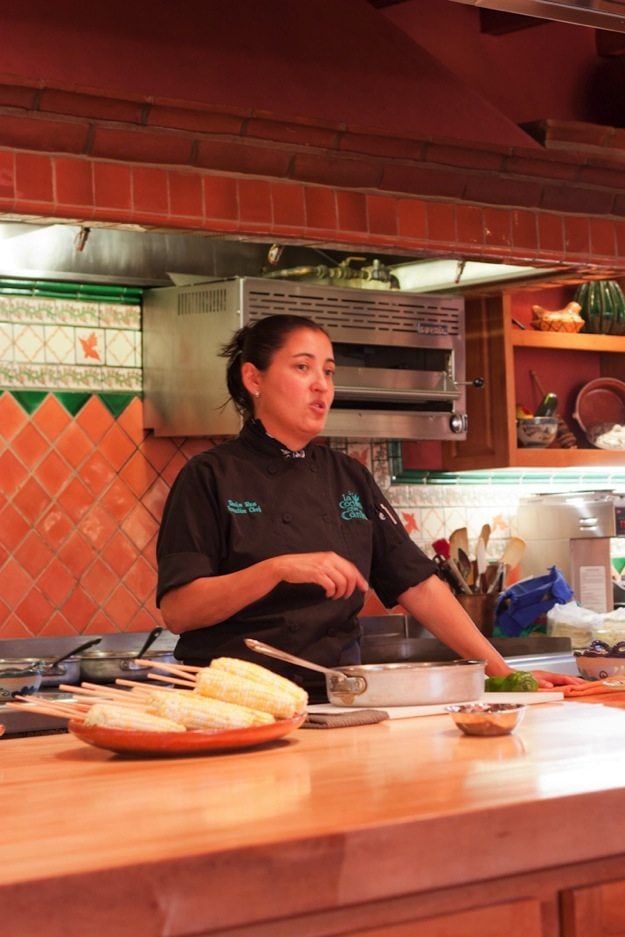 While watching the demo we snacked on some "street corn" — fresh corn grilled and topped with mayo, spices, parmesan cheese and lime.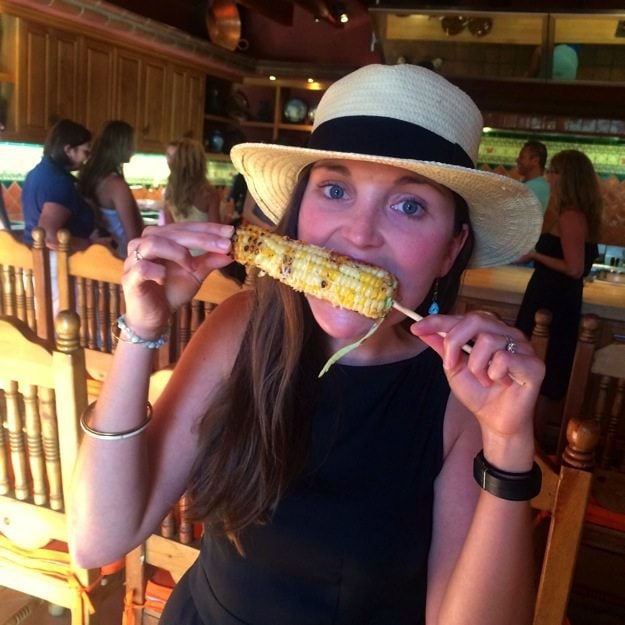 Random tidbit: Growing up most kids loved pizza, not me, corn on the cob was my favorite food. I also used to eat butter plain! Don't ask me why my parents allowed that.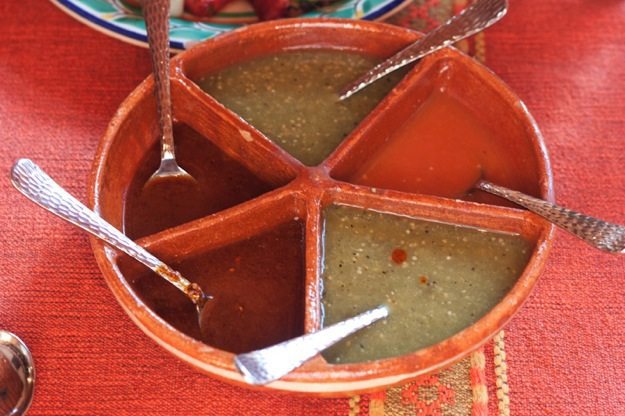 There was plenty of salsa at the salsa y salsa event, obviously. Some of it was mild and some of it was crazy spicy, which I liked!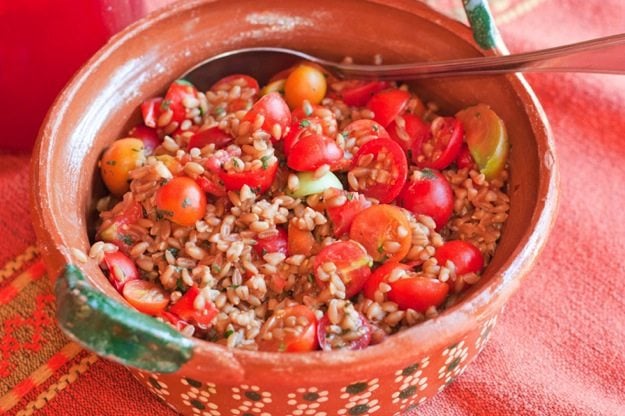 I didn't get a chance to photograph all of the deliciousness but here are a few of the side dishes.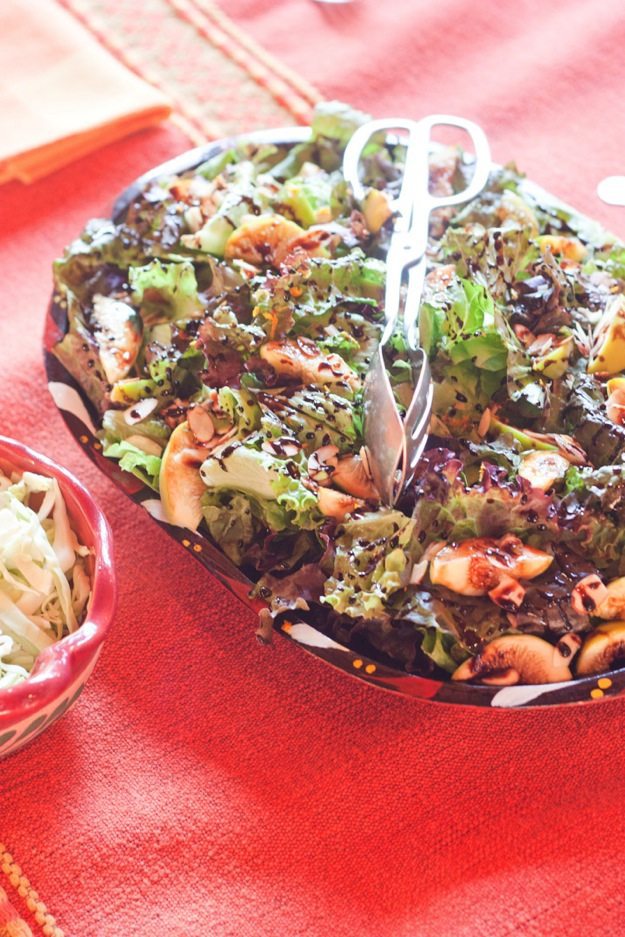 After an epic dinner Manuel joined us to lead a high-energy salsa class that had us all moving, grooving and breaking a sweat.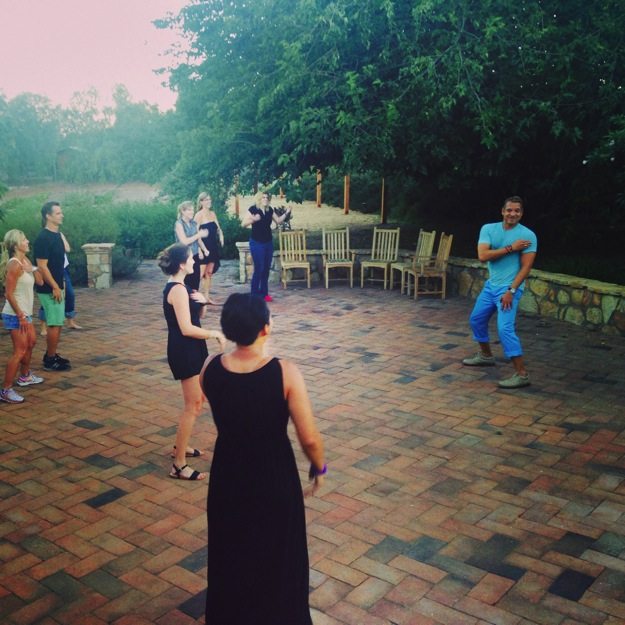 I had a blast learning the salsa moves — it was the perfect way to end the evening and get rid of my Mexican food baby. 😉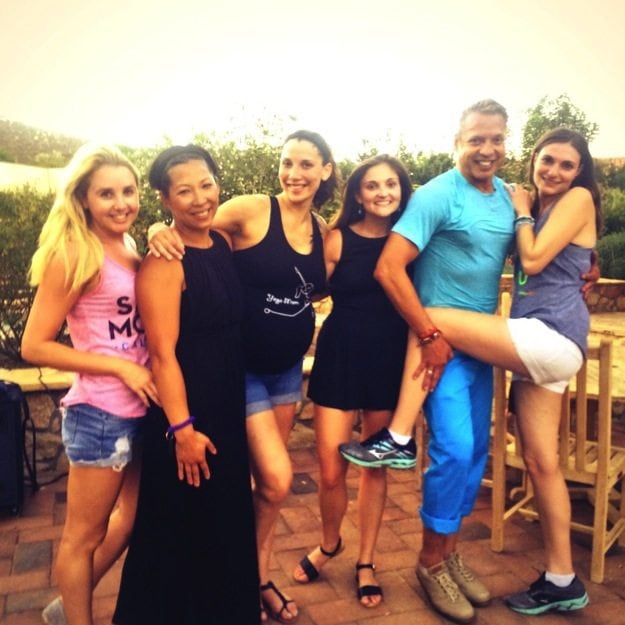 I hope you all enjoyed this food themed Rancho La Puerta recap. I'm hoping to share a few of my favorite recipes from Rancho La Puerta so you all can experience just how amazing the food is too!
If you're interested in me sharing more about my experience at the Ranch, I'm happy to do so. There's plenty more to share, I just don't want to bore you guys! If there's anything in particular you're interested in learning more about, let me know and I'll do another post highlighting those aspects.
Full disclosure – Rancho La Puerta hosted my stay, but as always all opinions are my own.