10K Race Day Warm-Up
9
Published Feb 27, 2017, Updated Mar 20, 2023
Taking a bit of time to warm up on race day will prepare your body for the running work ahead, improve your performance and reduce your risk of injury. This race day warm-up is perfect before a 10K and should only take you about 15-20 minutes.
With the weather getting warming and spring races on the horizon, I've been running more and as I drive around Richmond I've noticed a ton of other people out running as well. Spring is almost here and I'm loving it!
Team EBF aka Maria and I (and perhaps Isaac) will be running the Monument Avenue 10K this year as part of #TeamKroger. We know many of you are running it as well so we thought it would be fun to share a quick warm-up routine that you can do before the race.
For this race day warm-up we have five dynamic stretches that help to elevate the core body temperature while lubricating and preparing the muscles to fire properly during the race. You'll notice that there are no static stretches (where you hold a muscle in a stretched position for 30 seconds or more) in this routine and that's because research has proven that static stretching can actually decrease workout performance, whereas dynamic moves (active movements that bring forth a stretch but aren't held) are better as they improve range of motion, bring oxygen to the muscles and prepare them for the workout ahead. Static stretches are still great, just save them until after your race or workout!
With that said, here's my personal race day routine. Use this as a guide and come up with a routine that works for you!
Race Day Warm-Up for a 10K
Shakeout Run — 10-15 minutes of easy running/walking is a great way to prepare your body for the race as your legs will be warm and ready to work as soon as you cross the starting line. For most races you'll have to park your car at least a mile or so from the starting line so it's easy to get in a quick jog/walk as you head over. And yes I know it seems counterintuitive to run before a race, but trust me shakeout runs are helpful — just be sure it's not too intense.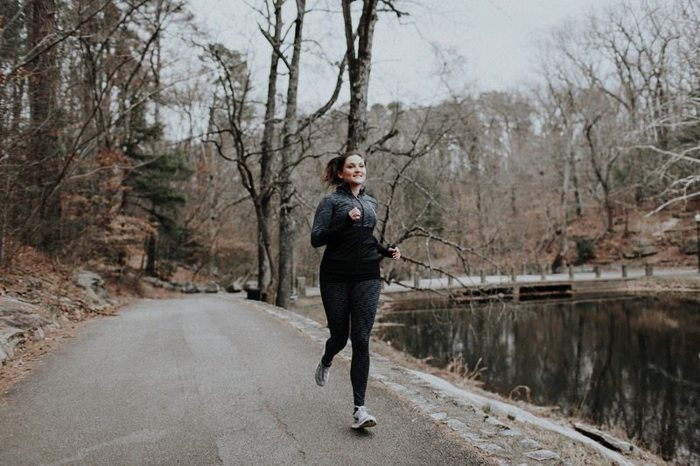 Walking Lunges — Keep your back straight as you lunge forward with one leg. Alternate legs for a total of 8-10 steps. Lunges will help emphasize the forward motion of running, stretch the hips and help increase your stride length.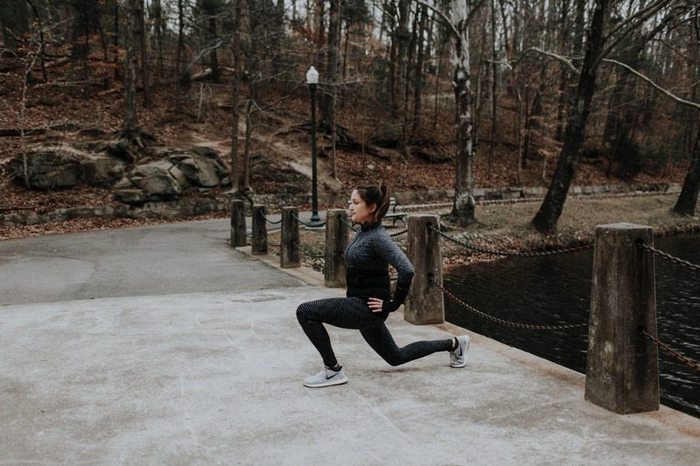 Leg Swings — Hold on to something (or someone) for balance, swing one leg out in front of you and then back behind you. Just go as far as comfortable so you don't over-strain the hips. Do 8-10 swings on each leg. If you have time add in some lateral swings as well. Leg swings help warm up and stretch the hips.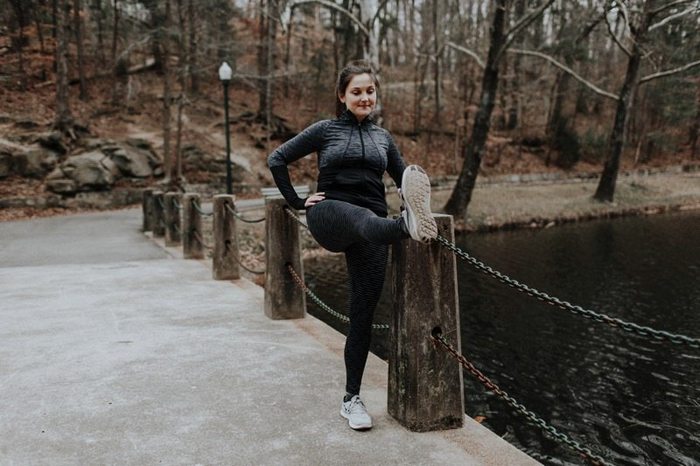 Butt Kicks — Stand as if you were going to run in place. Lift your knees and try to bring your heels to your butt. Alternate legs quickly for a total of 30 seconds. This move will engage the hamstrings and loosen the quads.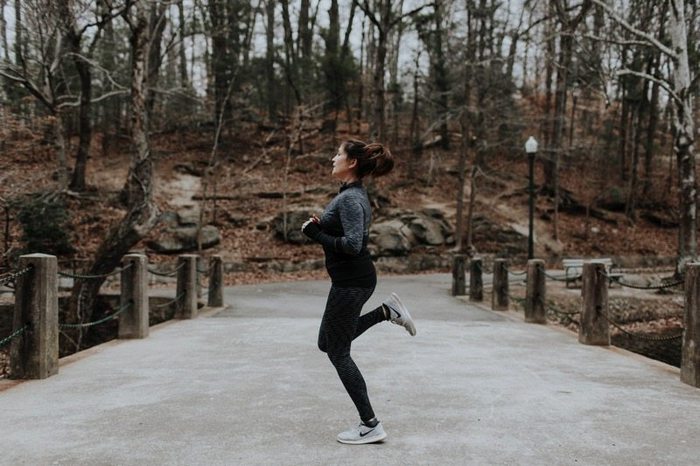 High Knees — Stand as if you were going to run in place but with hands out in front of you. Lift your knees to waist level (or as high as possible) while landing lightly on the ball of your feet. Do the move as quickly as possible for 15 seconds. Take a break and do 15 seconds more. This move should elevate your heart rate and get your legs ready to run.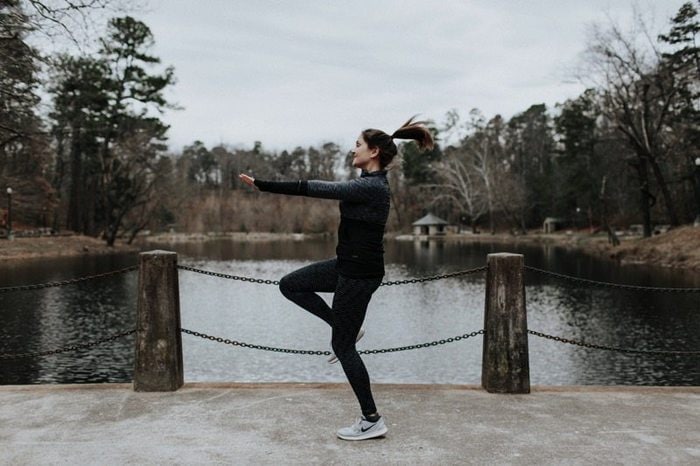 Last but not least, don't forget to hydrate before the race!! Runner's World recommends drinking eight to 16 ounces of water one to two hours before a run. Coconut water is a great option too.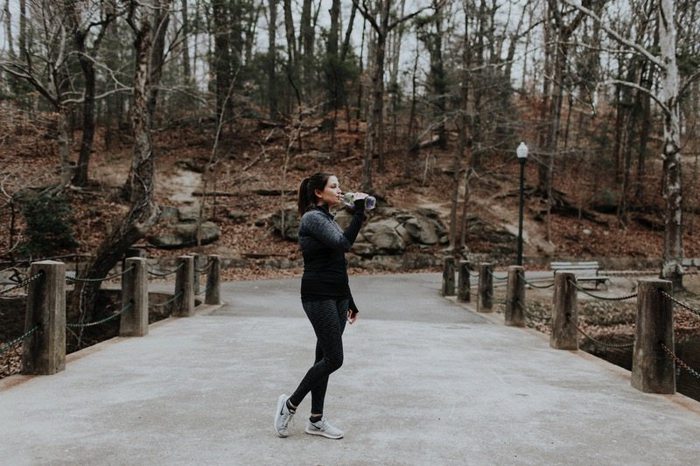 I've actually been loving the Simple Truth artesian water from Kroger. It's naturally balanced with a pH level of 7.6 and tastes great.
Also, did you know that Kroger Marketplace stores carry workout gear? Yup! Everything from running shorts, tights and tanks to sports bars and socks? I had no idea and was so surprised that I was able to pick up this cute running outfit while grabbing chia seeds and protein powder for these oatmeal raisin protein bars. So convenient!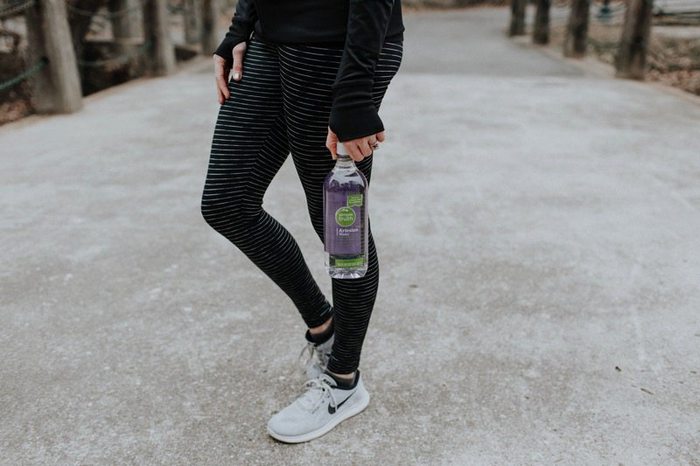 I hope this simple race day warm-up is helpful as you prepare for upcoming races! And let me know what you think of the running outfit I got from Kroger. I'm pretty pumped about it! Literally everything I'm wearing in these photos (besides my running shoes) is from Kroger. I got the striped running tights, the jacket, a sports bra and activewear socks for about $50 because it was all on sale! Such a steal. <— Everything is Jockey brand except for the socks.
Are you signed up for any races this spring?
This is a sponsored conversation written by me on behalf of Kroger. The opinions and text are all mine.