Tonight I have the special honor of featuring a new book from one of my blog friends, Meghan Telpner. I've been a fan of her work since her blog was named, "Making Love in the Kitchen" so when she emailed and asked if I would be part of her UnDiet virtual book tour, I happily agreed! It's always super exciting when fellow bloggers have the opportunity to write a book and I must admit, this one is particularly awesome.
You all know that I'm all about making healthy lifestyle choices rather than switching from one diet to the next and Meghan thinks the same way, hence the title of her book, UnDiet: Eat Your Way to Vibrant Health. Love it!
First, here's Meghan:
And here's her new book: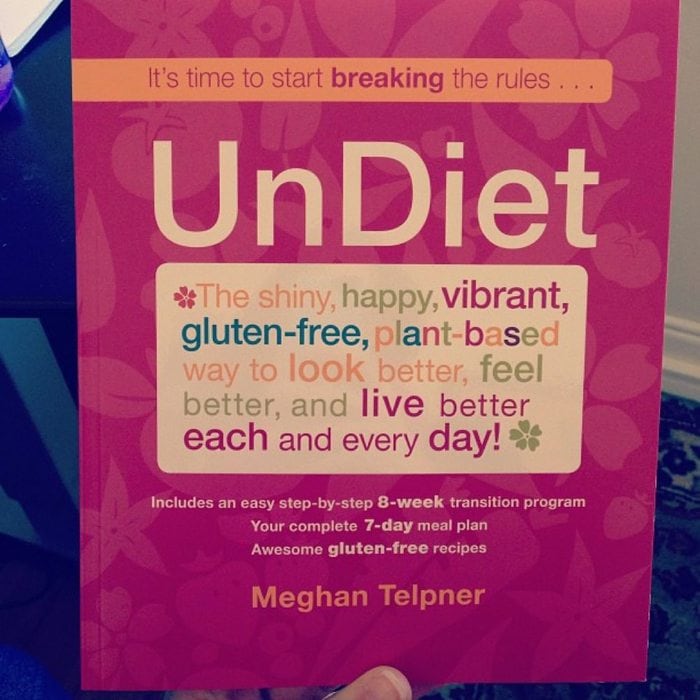 The book hasn't even hit the store shelves yet (it will be available next week on April 2), but I received a copy for review this week and I've been reading through the pages each night before bed and bookmarking tips that resonate with me and recipes I want to try.
So, what is this UnDiet book all about anyway?
UnDiet is a practical, and modern guide to true health. Without ever using the word "diet," Meghan encourages major life changes small step by small step with help from the latest nutritional science, a fun and encouraging voice. This book is ideal for those seeking a plant-based, health promoting way of living.
It answers the question many people have when they realize it's time for a change in their diets, a change in their health, and a change in their lives: Where do I start? UnDiet offers a simple, attainable, and most importantly, maintainable approach to living life well. Meghan shares her background, the health issues she experienced and how she made healthy lifestyle changes to heal herself from Chron's Disease.
What I love about the book is that it's not just another diet book with rules of what to eat, when to eat, what not to eat, etc. It's includes a wealth of information on transforming your life —  what to eat and drink, but also how to end your cravings, deal with your emotions and change your attitude. There are also chapters on changing what you put on your body (if it doesn't belong inside, it's not being smeared on the outside) and how to minimize food waste.
The book includes an easy to follow 8-week transformation (with three to five tasks to focus on each week) and a seven day UnDiet meal plan with recipes. I haven't had a chance to make any of the recipes yet, but I've made recipes from Meghan's blog before (her kale chips are ahh-mah-zing) and know they're going to be spectacular! Want to try some of her recipes right away? Check out her Berry Season Smoothie (recipe below) or her Thai Green Curry with Sprouted Tofu.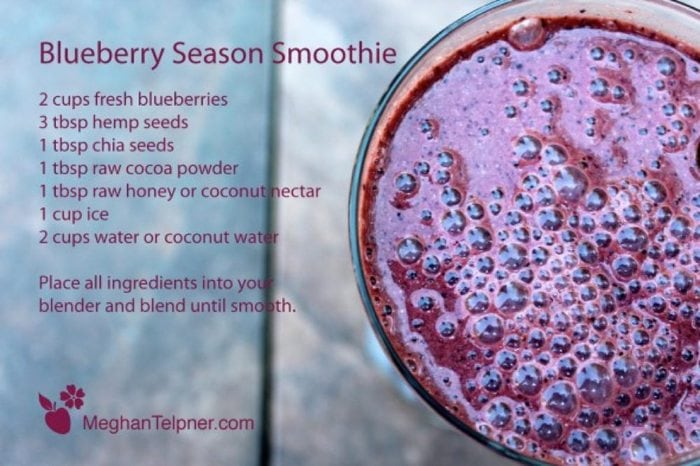 If the book sounds interesting to you and you'd like to learn more about it, you can download Meghan's free UnDiet Test Drive with a 3-day, 5-challenge program as well as a few recipes. It will give a small sneak peek of all the amazingness that you'll find in the full book.
Giveaway
The best part about being part of the UnDiet virtual book tour (besides getting to preview the book) is that I get to giveaway a copy of UnDiet to one lucky EBF reader. Yay. I LOVE getting to share cool goodies with you guys!
To enter the giveaway, simply leave me a comment letting me know what part of the UnDiet book seems most interesting to you. The giveaway will end Sunday at 11:59PM EST and I'll announce the winner early next week.
Oh and if you're interested in ordering UnDiet right away, you can pre-order it here! 🙂
Full disclosure: I was offered two free books for this review and the link provided is an affiliate link. My opinions are my own and as always, I only accept product reviews for items I would actually spend my own money on. 
Edited to add: This giveaway has ended. The winner is Christine Price! Congrats Christine.