Hi friends, I'm glad you liked the tips on healthy eating during the holidays. I enjoyed reading everyone's tips in the comment section.
Speaking of eating healthy, a little while ago I received Quinoa 365: The Everyday Superfood
by Patricia Green and Carolyn Hemming to review. Being semi obsessed with all things quinoa, I was incredibly excited to see an entire cookbook dedicated to the tiny, protein packed pseudograin. I bookmarked several recipes and finally got around to making one of them this week – Quinoa, Leek, and Corn Chowder!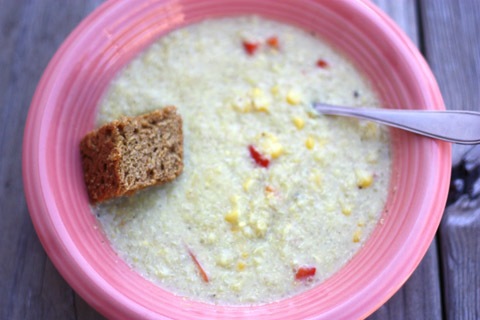 I'd never had quinoa in a soup before and let's just say it's nothing short of amazing. The blended quinoa made this broth based chowder both creamy and thick without a drop of dairy. Needless to say, I was impressed!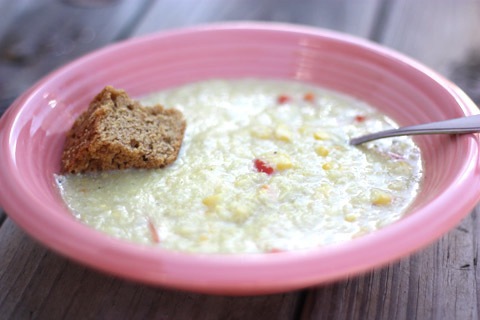 Since the chowder had 3 cups of corn, I thought it would be perfect served with pumpkin cornbread. I like corn with my corn. 🙂 No really, as a child, corn was my favorite food – other kids were in love with pizza, for me it was corn. Although, it's not my favorite anymore – I still like it. 😉
Back to the cookbook at hand- I'm really enjoying it thus far. It has over 170 recipes that incorporate quinoa, quinoa flour, or quinoa flakes and it's divided into several sections including Super Starts (breakfast), Staples (apps, sides, snacks & salads), Soups & Stews, Entrées, Treats (cookies, muffins & more), Desserts and Baby Food with Quinoa. Although I don't have any babies to make food for, I thought this section was particularly cool – if I had a child I would totally make them some Blueberry Banana Mash with quinoa (who knows I may end up making it for myself).
I also love all the beautiful pictures (cookbooks without photos bore me).
I received permission to share a recipe from the cookbook and since the chowder turned out so well, I thought it would be perfect to share.
[print_this]
Quinoa, Leek, and Corn Chowder
Ingredients
1 tbsp butter
1 cup chopped onion
1 cup sliced leek (white part only)
1/2 cup qunioa
3 cups frozen corn
2 cups vegetable broth
1 red bell pepper, chopped
1/4 tsp salt
pinch of ground pepper
1/4 tsp cayenne pepper
5 saffron threads
Prep
In a large saucepan, melt the butter and sauté the onion and leek until the onion is tender and opaque, about 7 minutes. Add the quinoa and 2 cups of the corn; set aside the remaining corn to thaw. Cook for an additional 5 minutes, until the corn partially thaws. Add a few drops of the broth to keep it from sticking to the saucepan, if necessary.
Add the broth and bring to a boil. Reduce the heat, cover and simmer for 15 minutes or until the quinoa is completely cooked. Remove from the heat. Puree the cooked mixture with a hand blender or cool slightly and puree in 2 batches in a blender or food processor. Return the mixture to low heat. Add the remaining 1 cup of corn and the red pepper, black pepper, cayenne, saffron and salt. Reheat and stir. Serve immediately. The soup can be stored in a seal container in the refrigerator for 2 days.
[/print_this]
**I followed the recipe with only a few changes – earth balance instead of regular butter and turmeric instead of saffron. I will also note that the chowder turned out really thick for me so I added quite a bit of water to make it the consistency more soup like.
You may also be interested in a few other recipes from the cookbook, which are posted on the Quinoa 365 website: Healthy Carrot Spiced Muffins, Pepper Shrimp Quinoa, Quinoa Jalapeno Cornbread and Fresh Cucumber & Dill Toasted Almond Salad.
A few days ago I hinted at the fact that I made Ashley's Pumpkin Spice Almond Butter.
Indeed, I did! And, indeed it is delicious. I've been topping all my oats with a dollop and praying that I never run out. 😉
If you're like me and have never made your own almond butter before, you may want to try your hand at it with this recipe. You won't be disappointed!
FRIDAY FUN LINKS & FACTS:
Quinoa is pronounced Keen-Wa.
Never heard of Quinoa before – find out what it's all about.
Recipes to share:
Cheddar Cheese Straws and Thai Red Curry Squash Soup (both recipes were from the Whole Foods cooking demo)
Bobby Flay's Brussels Sprouts with Pomegranates and Vanilla-Pecan Butter from his Thanksgiving THROWDOWN with The Pioneer Woman.
Other fun (local RVA) news:
The Gap at Short Pump Mall is having it's Grand Opening this Saturday, November 20, 2010. They're hosting a party with light snacks, facepainting and balloon animals for the kids. Raffles and Door Prizes throughout the day from 10:00am-9:00pm. Also, 40% off all day.
Happy weekend friends!!