Hi friends. I hope you're having a fabulous weekend! The weather today is chilly and overcast here in VA but luckily, that hasn't put a damper on my weekend.
This morning's breakfast was fabulous! I've been a big fan of quinoa flakes (and quinoa) for quite some time now so when I saw this Quinoa Flake Bake recipe on FitSugar I knew I needed to try it.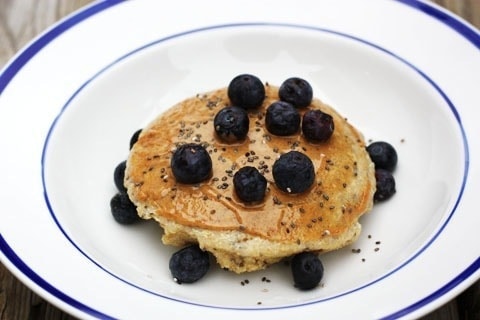 The recipe was posted by Leanne of Healthful Pursuit and if you haven't had a chance to check out her blog, I'd highly recommend it. She has some amazing recipes and beautiful photos.
After I spotted this recipe I realized I didn't have any apple sauce on hand. No problemo! I just changed things up a bit and made a banana quinoa flake bake with a few different ingredients.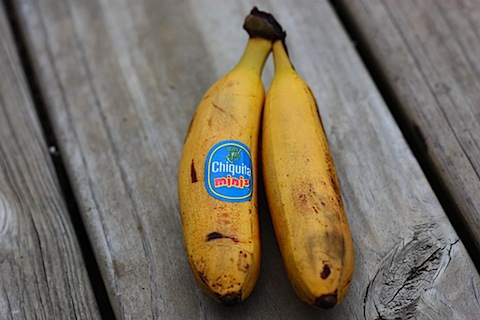 PS – How cute are this mini bananas? Random fact – I'm a sucker for all things miniature.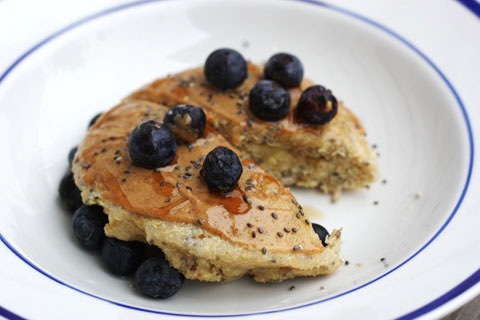 Banana Quinoa Flake Bake
Inspired by the Healthful Pursuit's 5 Minute Apple Quinoa Flake Bake
Ingredients:
1/2 cup quinoa flakes (I used Ancient Harvest)
1/2 banana, sliced (or 1 mini banana)
1/2 cup unsweetened vanilla almond milk

1 T plain Greek Yogurt

1/2 T of chia seeds
1 tsp ground cinnamon
4 drops of liquid stevia
Preparation:
Combine all ingredients in a small bowl and stir until everything is well incorporated.
Prepare a microwave safe bowl with non-stick spray (or use coconut oil to coat the bowl).
Place the mixture into the prepared bowl and use a spoon to even out the top.
Put the dish in the microwave and cook for about 3 1/2 minutes. It's done once it rises and starts to pull away from the sides of the bowl.
Eat it straight from the bowl or let it rest for 1 minute before turning it over on to serving bowl or plate.
Top with your favorite toppings and enjoy!
I spread on some almond butter and sprinkled chia seeds and blueberries on top. Then I added a splash of maple syrup, which was a great addition. The whole time I felt like I was a eating a thick and fluffy pancake!
Overall, I think the quinoa flake bake is a a great breakfast option – it's quick, packed with protein and easy to change up the flavors and toppings so you won't get bored. The real testament – it kept me full for over 4 hours!
---
In other news, last night was a blast. Isaac was out of town (picking up his new car!!) so Olive and I had girl's night.
A friend of mine brought over Bear, who looks like she could be Olive's sister. <– Especially if Olive hadn't got her hair cut this week!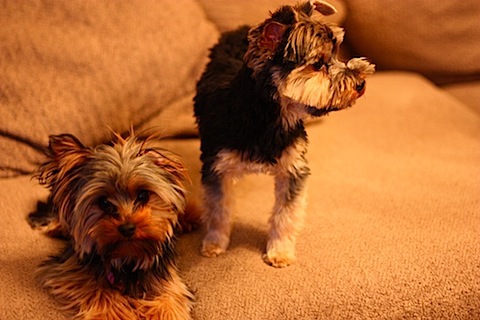 They had an amazing time playing together while Elle and I whipped up an easy dinner.
On the menu: baked halibut marinated in a local mango keylime sauce and topped with fresh mango and cilantro along with a side of brown rice and broccoli. Yum!
Wa ate, chatted, laughed at Mod Fam and Youtube videos while the dogs romped around and played tug-a-war.
Once we got bored with that we went and got Sweet Frog. I'm telling you, living 1 block from a fro yo place is dangerous. 🙂 T'was a grand Friday evening!
Now it's time to check out Isaac's new ride and get ready for dinner.