Quinoa is one of my favorite grains! Not only is it high in protein, but the protein that it supplies is complete, meaning it includes all nine essential amino acids. Plus, it's gluten free, which is always helpful for those avoiding wheat/ gluten products. I love adding quinoa to salads or having it as a side for dinner but I've experimented with having it for breakfast as well. I've made hot quinoa flakes, overnight quinoa, quinoa flake bakes and quinoa parfaits in the past and more recently I've been trying my hand at cold quinoa cereals.
I started off with a quinoa berry cereal with cooked and chilled quinoa. This recipe works out great for me because I usually make a big batch of quiona every Sunday and keep it in the fridge for meals during the week. You could make the quinoa in the morning and serve it warm as well, but it's more like cereal if it's cooked ahead of time and stored in the fridge.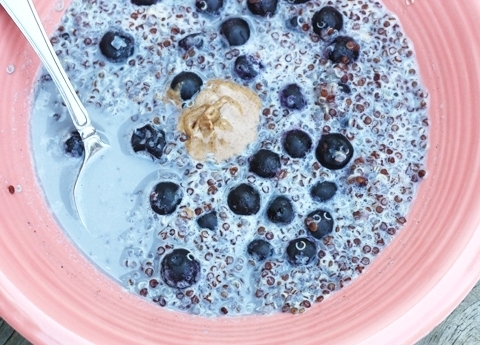 Cold Quinoa Berry Cereal
I used a mix of red and white quinoa for the bowl in the photo, but feel free to use any variety of quinoa you like. And you'll notice the blueberries turned my almond milk blue – quite a patriotic breakfast.
Ingredients
1/2 quinoa, cooked and chilled **
1/2 cup blueberries (or berries of choice)
1-1/2 cup unsweetened vanilla almond milk (or milk of choice)
1/2-1 Tablespoon nut butter of choice
Preparation
Place quinoa and blueberries in a bowl, cover with almond milk and top with nut butter. Enjoy!
This cereal is really good but sometimes I want the crunch factor of regular cereal. This lead me to experiment with making a toasted quinoa cereal last weekend. I used Kath's recipe for Crunchy Buckwheat Granola as a guide but added a little quinoa to the mix and changed some of the measurements.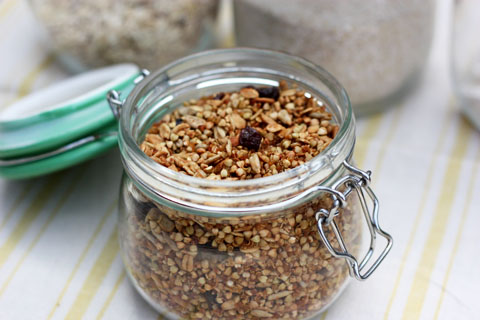 Quinoa Buckwheat Cereal
Adapted from Kath's Crunchy BuckWheat Granola
This toasted cereal is not overly sweet but extra crunchy from the buckwheat and quinoa. You can use it as you would any cereal and eat it by the handful (my favorite method), serve it plain with milk or use it as a topping for things like oatmeal, yogurt, etc.
Ingredients
1 cup raw buckwheat (buckwheat groats)
1 cup quinoa, cooked **
1/2 cup old fashioned oats
3 Tablespoons maple syrup
3 Tablespoons coconut oil, liquid (or other oil)
1 teaspoon vanilla
1/2 teaspoon cinnamon
1/2 cup raisins
Preparation
Preheat oven to 325°.
In a large bowl combine buckwheat, quinoa and oats.
In a small bowl combine maple syrup, oil, vanilla and cinnamon.
Pour maple syrup/oil mixture over the grain mixture and stir well, making sure all pieces are covered.
Spread cereal mixture onto a baking sheet lined with parchment paper (for easy clean up).
Bake for 40-45 minutes. Color should be golden brown.
Remove from oven and stir in raisins.
Let cereal cool before placing into a covered container for storage.
** Since both of these recipes call for cooked quinoa, I'll share how to cook it as well. See below.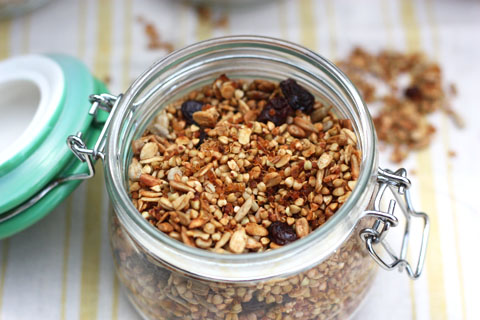 How to Cook Quinoa
There are many different methods, but this is the one I like best.
Rinse and drain quinoa before cooking if your quinoa hasn't been pre-rinsed. (It will say pre-rinsed on the package if it has been.)
Place 1 part quinoa to 2 parts water into a saucepan. For instance 1/2 cup quinoa would require 1 cup of water.
Bring quinoa and water to a boil, cover, reduce to simmer and cook for 10 minutes.
Turn off the heat, keeping the saucepan covered and on the burner for another 4 to 7 minutes.
Fluff quinoa gently with a fork and serve (or store for later use).
I hope these recipes give you some ideas for including quinoa into your morning routine. Let me know what you think if you try either of them. 🙂 Have a lovely Thursday. Woo-hoo – it's almost the weekend.
Other things to check out:
Why Blog Friends Rule – This post does a really nice job of explaining why blogging and the friends you make through it are amazing. <3 Tina.