So far this week has been, well, interesting…
Basically I've been drinking my weight in Gypsy Cold Care and Throat Coat, sucking on way too many cough drops, sneezing and sulking lounging around the house because my leg now hurts to even walk. I think I'm making it sound worse than it is, but honestly it hasn't been very fun. Who gets a sore throat and cold in the summertime – I mean really?!?
On the sunnier side of things, I was able to attend the monthly Whole Foods Cooking Demo with the renowned Chef Jesse on Monday night. He always has a delicious menu planned and this month was no different with a caprese pasta salad, Seafood Stew, Grayson Grilled Cheese, Braised Chuck Roast (no pict. b/c I didn't eat any), and Grilled Nectarines with Crème Fraiche.
The night's theme was local! Whole Foods deems items local if they are produced within a 200 mile radius from the store so not everything featured was from VA, but was still from somewhere nearby.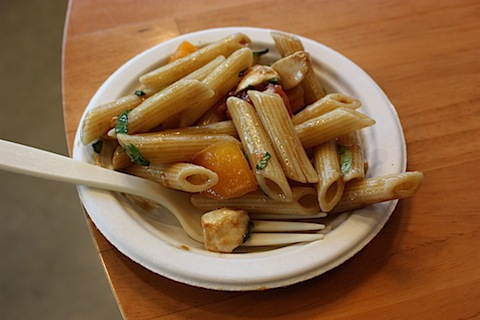 I really like caprese salad so the pasta dish was right up my alley. Plus, it is really easy to toss together – basically just a mixture of pasta noodles, tomatoes, mozzarella, basil, evoo, balsamic and S&P. The heirloom tomatoes were not only gorgeous to look at, but so flavorful as well. Better get my fill of yummy summer tomatoes now because it seems the cool weather is already settling in.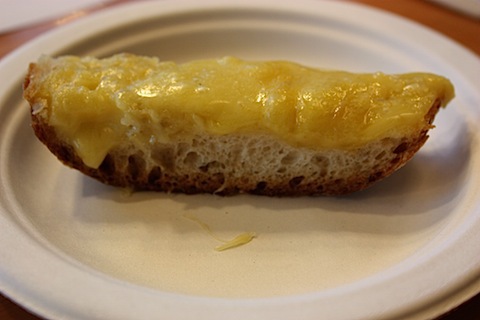 The grilled cheese was made on Billy Bread and the Grayson cheese was pretty stinky, but I loved dipping the "sandwich" into the seafood stew.
My favorite dish of the night! Although, I'm now certain I don't like clams. I've given them a fair chance- I really have. Jesse tends to make them a lot in his classes and I've tried them several times, however they're just too chewy.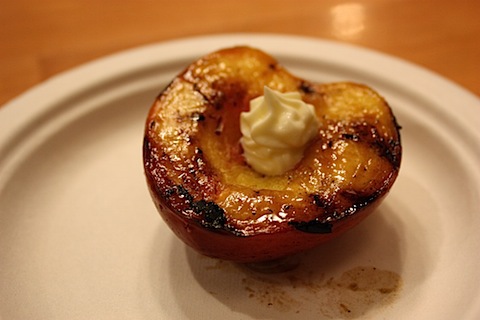 Last but not least, the grilled nectarines were heavenly. Not too soft, but not hard and perfectly sweet.
Overall, it was another fun night of cooking! Besides meeting up with the always fab, Stephanie, I was also able to chat with a couple other ladies. They even told me about a dance studio that offers pole dancing classes. hmm.. might have to check that out. 🙂
After the demo I found a little treat that brighten up my day: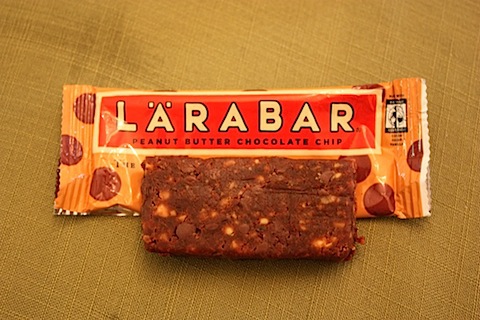 I still haven't found all the new Larabar flavors, but I'm half way there now. I ended up having this one as a snack on Tuesday afternoon. The Peanut Butter Chocolate Chip was good but tasted just like the Peanut Butter Cookie flavor with a few chocolate chunks mixed in. Not as out of this world, new and amazing, as I expected.
On the other hand, dinner last night turned out to be quite the winner.
Basically just a quick quinoa salad I threw together while chatting on the phone…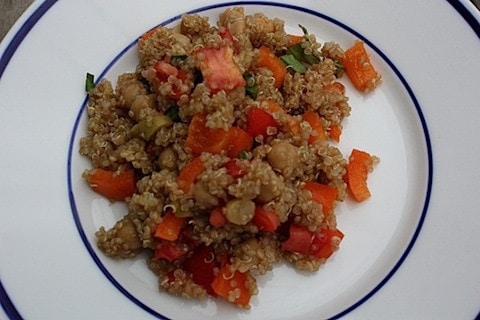 Quinoa is perfect for a week night dinner because it cooks so quickly and can easily be paired with a variety of different foods. This particular dish could be served as a side but I ate it as a meal.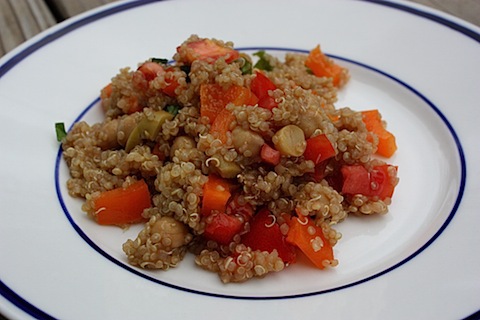 [print_this]
Quick Quinoa Salad (serves 2-3)
1 1/4 cup vegetable broth or water

1 cup dry quinoa, rinsed and drained

2 T olive oil

1 T balsamic vinegar (I used a blackberry, pear balsamic)

1 clove garlic, minced

1 orange bell pepper, chopped

1 cup chickpeas

1 medium tomato, chopped

6 picholine olives, pitted and chopped into small pieces (you can use any type of olive, it's just want I had on hand)

5-6 leaves fresh basil, chopped

Fresh ground black pepper, to taste
Prep:
1.) Place the vegetable broth in a pot and bring it to a boil; add the quinoa and simmer until the liquid has absorbed and the quinoa is tender, about 12 minutes.
2.) In a large bowl stir together the oil, balsamic and garlic. Add a dash of pepper.
3.) Add the cooked quinoa, bell pepper, chickpeas, tomato, olives and basil to the bowl and gently mix. Serve immediately.
*A couple things to note, it does have fresh garlic, which is pungent and might not be to everyone tastes. You could use a bit of red onion in place of the garlic or simply leave it out. I didn't mind my breath being super garlicky because Isaac was out of town last night. 🙂 Also, I ended up having the leftovers for dinner tonight and it was just as tasty straight from the fridge. You seriously can't go wrong with quinoa. It's great cold or hot, for dinner or for breakfast – remember my quinoa parfaits? If you haven't tried this little pseudo grain yet, you surely should. It's one of my favorite foods.[/print_this]
And, for tonight's dinner I paired some of the leftover quinoa with one of my favorite foods – butternut squash fries. The cooler temperatures we've been experiencing have me craving a bunch of fall foods (i.e. pumpkin, sweet potatoes and b-nut squash). Luckily we had a nice baby butternut from Isaac's parents' garden sitting in the pantry this evening.
Yes, I know it looks like 1/4 of my plate is covered in ketchup and while I do love ketchup, I don't typically use this much. I found out the hard way that my new bottle of Montebello Kitchens chipotle ketchup pours really fast. It's spicy and delicious though – I'm a fan.
For now, I'm off to get comfy and hang out with Isaac – he's finally back in town after being gone since last Friday. Enjoy your Wednesday evening.
Wouldn't it be so much greater if Modern Family had a new episode tonight? I can't wait for the new fall season to start!!!
What types of fall things are you most excited about?

-Brittany