Last weekend Isaac totally caught me off guard by giving me Shaun T's Focus T25 DVD kit as one of my Chanukah gifts. T25 was on my holiday wish list, but for some reason I didn't think that I was going to get it. Surprise, surprise–Isaac's sneakier than I thought!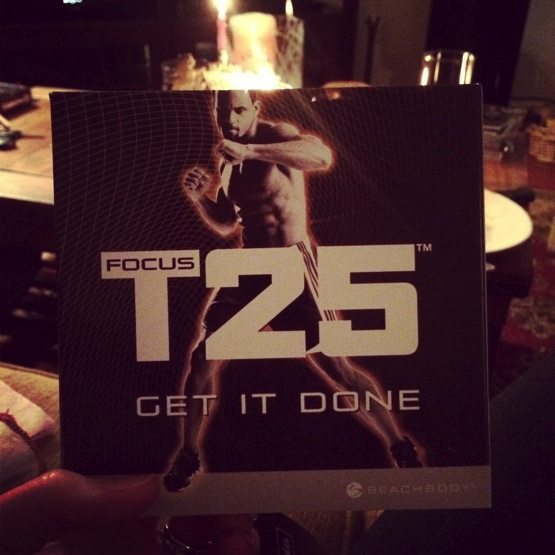 Even though it's the holiday season and I could have waited until January to start the T25 challenge, I figured I should go ahead and get started. Why wait? Plus the workouts are only 25 minutes a day, which is actually perfect since December is so busy. I started the Alpha phase, which is initial 5 week foundation phase, on Monday so I'm three days in and LOVING it so far. The workouts leave me sweaty and tired but they're still manageable, which is encouraging.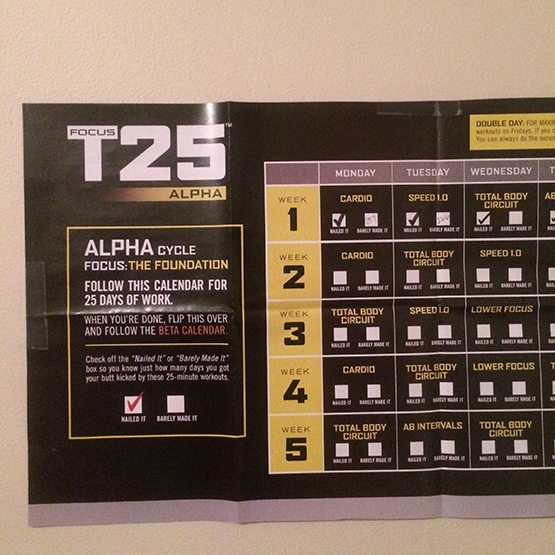 I have the calendar up in my office so I can check off my workouts each day and everything. Exciting!
I've also been following the little nutrition guide this week. It's pretty similar to how I normally eat–all real foods, 3 meals and 2 snacks a day and watching portion sizes, drinking lots of water, etc. Nothing too different than a normal clean eating plan but I think it's helped me shake up my routine with a few quick and easy meal ideas, especially for lunches and dinners.
I've found that while I like to cook and bake, when it comes time to make dinner I'm usually starving and I like something super quick that I can throw together in less than 20 minutes. One of the meals that I was inspired to make from the T25 plan called for cooked lentils and cooked brown rice. I prepped ahead and made a big batch of both on Sunday and have had a brown rice and lentil bowl for dinner two nights this week. So easy!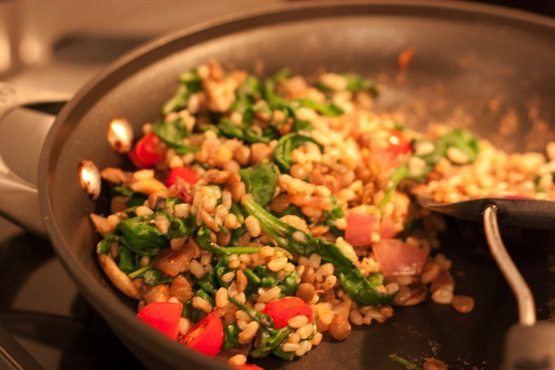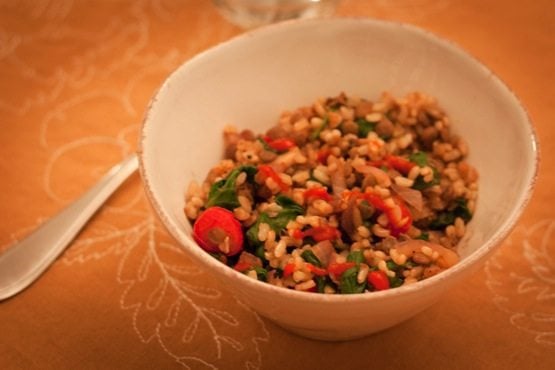 I modified the recipe a bit based on what ingredients I have on hand and was pretty happy with the outcome = natural flavors from the lentils and brown rice combined with fresh veggies and a little citrus. Pretty simple ingredients but still flavorful and satisfying.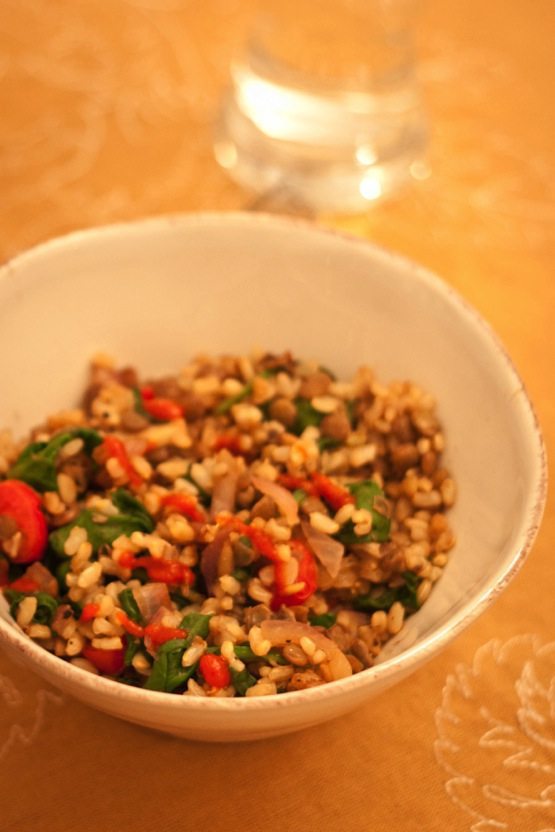 I just realized the colors are kind of Christmasy–how appropriate. 🙂
Brown Rice & Lentil Bowl with a Citrus Vinaigrette
2
adjust servings
Ingredients
1

cup cooked brown rice

1/2

cup cooked lentils

1/4

cup red onion, chopped

4

mushrooms, chopped

3-4

cups raw baby spinach

1/2

cup grape tomatoes, chopped

2

Tablespoons walnuts, chopped, divided

4

Tablespoons homemade citrus vinaigrette, divided (recipe below)

ground pepper and sriracha, to taste
Homemade Citrus Vinaigrette
3

Tablespoons fresh grapefruit juice

2

Tablespoons fresh lemon juice

1/2

teaspoon raw honey

2

teaspoon dijon mustard

2

Tablespoons extra-virgin olive oil

sea salt and ground pepper, to taste
Instructions
Make homemade vinaigrette by combining grapefruit juice, lemon juice and honey in a medium bowl; whisking until blended. Stir in mustard, mix well and then slowly add oil while whisking. Add salt and pepper to taste. Set aside. Store any leftover dressing in a covered container in the fridge.
Spray non-stick skillet with cooking spray and sauté red onion and mushrooms on medium heat until soft and fragrant, about 5-6 minutes.
Add spinach, brown rice and lentils into the skillet. Cook, stirring continuously and adding a little water if the pan gets too dry and the mixture starts to stick. Cook for 3-4 minutes or until the brown rice and lentils are heated through and the spinach has wilted. Stir in chopped tomatoes right before removing the mixture from the skillet.
Place brown rice mixture into two serving bowls, add 1 tablespoon of walnuts and 2 Tablespoons of dressing to each bowl, mixture together. Top with fresh ground pepper and sriracha (if you like things spicy) and enjoy.
PS- Have you seen this tea from Trader Joe's? I found out about it last year and fell in love. It's the best and I highly recommend picking a package if you like peppermint.