How is it already Sunday? I hate that weekends go by so fast. Time does fly when you're having fun…
Last night we went to James River Cellars Winery for a benefit event put on by Richmond Hope Foundation.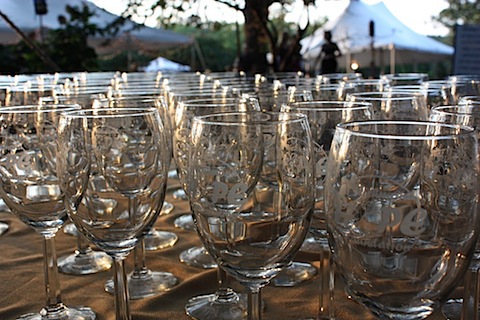 Despite the fact that the winery is nestled right outside of Richmond, neither Isaac nor I had ever been there before.

T'was the perfect night for an outdoor event and it turned out to be a fun evening with wine, dinner, live music and a silent auction.

I tried all the wines and choose my two favorites to have full glasses of – the Stainless Steal Chardonnay and the Rad Red. Both were easy drinking wines – nice and light, which was lovely for a humid evening like last night.

I also tasted their special Wine Frappe.

It was so icy and delicious, I wanted a huge mug of it!! They even sell the d'marie frappe vino mix so you can make frappes at home. Very cool!

The food was tasty as well – particularly the baked brie, which tasted like heaven.

There were so many items I wanted to bid on at the silent auction, but as it turns out Isaac and I both won products/hair cuts from 2 different AVEDA salons. Isaac, who is an AVEDA lover, turned me on to AVEDA and I've been going to an AVEDA salon and using their products for about 5 years now. My appointment will be a Red Salon Organics, which was recently featured in Elle Magazine as one of the top 100 salons in the country. Needless to say, I'm excited about my upcoming hair cut!
To celebrate our winnings, I had another glass of wine. Which, in retrospect, wasn't such a grand idea as I woke up feeling less than stellar this morning. :/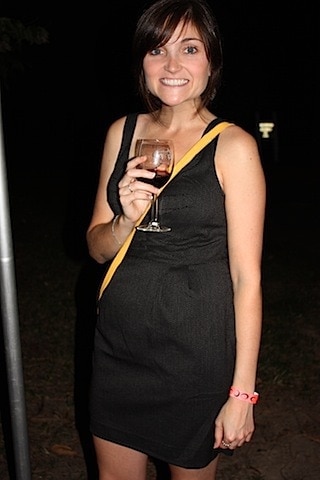 All smiles!
Since I'm still detoxing my body from all the lovely VA wine I consumed last night, today has been spent lounging around. I did some laundry and a tiny bit of cleaning, then put some kale chips in the dehydrator and made some GRANOLA!
Homemade granola = best idea ever. How did I not realize that granola was so easy?!?

I found this recipe for Mom's Nutty Granola on FOOD & WINE and decided to create my own variation with a hint of pumpkin. Can you tell I've been loving pumpkin lately? Pumpkin Pie Overnight Oats, Pumpkin Granola… I can only imagine what will be next.
Pumpkin Spice Nutty Granola
Ingredients
3

cups old-fashioned rolled oats

1/2

cup unsalted roasted sliced almonds

1/2

cup salted roasted pumpkin seeds

1/2

cup unsalted roasted sunflower seeds

1/4

cup coconut flakes

1/4

cup wheat germ

1/4

cup pumpkin

1/2

teaspoon vanilla

1/2

t pumpkin pie spice

1/4

cup honey

1/4

cup agave nectar

1/3

cup coconut oil

1/2

cup raisins
Instructions
Preheat the oven to 325°. In a bowl, toss the oats, nuts, seeds and wheat germ. In a small bowl mix the pumpkin, spice, vanilla, honey, agave, and oil. Stir the liquid into the oat/nut mix to coat thoroughly, then spread on a large rimmed baking sheet.
Bake the granola in the center of the oven for 40 minutes, stirring every 10 minutes, until nearly dry. Let the granola cool and then toss with the raisins; store in an airtight container for up to 3 weeks.
Of course, I've already tried a few handfuls of it and it's quite amazing. I like that it's crunchy and not sticky or overly sweet, plus the pumpkin flavor is there, but isn't overpowering! I can definitely see myself becoming addicted to making homemade granola. It's so easy and the possible combinations are pretty much endless.