Where has the week gone? Seriously, how is it Thursday night already!?! I'm not sure, but that doesn't mean I'm not super excited that tomorrow is Friday!
Enough about the future, lets talk about the past! This morning started out wonderfully. Well kind of – Isaac and I overslept so we missed the 6:00am spin class we had plan to attend, but it ended up being okay because I went to the gym and ran 3 miles instead. Then I came home and made one of the most delicious smoothies ever! Seriously, so, so good!!!

Pumpkin Pie Smoothie
(Serves 1, Approx. 270 calories)
1/2 cup canned pumpkin
1/2 frozen banana
3/4 cup unsweetened vanilla almond milk
1/4 cup water
2 tablespoons vanilla brown rice protein powder
1/2 teaspoon pumpkin pie spice
1/2 tablespoon coconut oil (optional)
1 teaspoon chia seeds
2 drops of liquid stevia
2 ice cubes (optional)
Blend until smooth and enjoy.

I took this cup of deliciousness and headed to work.
And after sitting at the computer for a few hours doing what marketers do I headed home for lunch.

Toasted egg salad sandwich with some carrots sticks. I used a local egg and mixed in a little greek yogurt, spicy apple mustard, and curry powder. YUM! I had forgotten how good egg salad sandwiches are. I need to boil eggs more often.
The egg salad sammie was good, but dessert was definitely the highlight of my lunch break.

Don't let the photo fool you, it's not a KitKat Bar! It's something much better – a Righteously Raw Maca Cacao Bar.

They were sampling this raw chocolate at my local market a few weeks ago (before V-day) and I feel in love. It combines a velvety chocolate flavor with hints of both maca and mesquite to make quite the treat.
Other nice to know information about these bars from the Righteously Raw Website: All our chocolate bars are certified to be Organic, Kosher, Vegan, and Gluten Free. They are made entirely from raw, high frequency foods and retain their raw state throughout the entire process from raw ingredients to finished product. No refined sugars are used and everything is processed in a nut free facility.

This bar makes getting antioxidants so fun. 😉 The best part is that they have 3 other flavors: Acai, Caramel, and Goji. I can't wait to try them all!!
Back at work I had a grand idea to help make certain I drink more water. On the Mac there's an application called Stickies (which I keep my to-do list on). I created a new Stickie that stays on top of everything else at all times: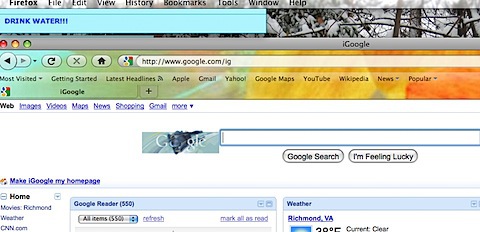 It sometimes got in my way when trying to do read or do stuff, but that was actually a good thing because it really made me remember to drink more aqua.
Do you drink enough water throughout the day? How do you make certain that you do?
Despite upping my water consumption, the hunger set in mid-afternoon and I fixed up a little plain Greek yogurt with some Raisin Cinnamon buckwheat granola and a few drops of stevia.

Twas yummy! Greek yogurt is always the perfect mid-afternoon snack as it keeps me full until dinner time. Gotta love that.
Speaking of dinner I came home and took miss Olive on a walk while roasting a few chunks of butternut squash. I put the perfectly roasted b-nut atop some romaine with chickpeas, carrots, onion, and some Annie's Honey Mustard dressing.

I simply love roasted veggies on salads. Perfection on a plate.
Thoughts of perfection lead me to this combination: Katharina's Banana-Raisin Pumpkin Seed Butter Muffins topped with Coconut Butter.
She gave me two of her homemade muffins when we met up last Friday and I enjoyed both of them immensely. Thanks again lady!
Happy almost Friday folks, I'm off to bed.
-Brittany
PS: If you live in MD, VA, D.C. PA, NJ, OH, or KY and you like Kombucha you must know that Whole Food's will have GT's & SYNERGY Kombucha– Buy One, Get One Free all day tomorrow Friday, February 19th!! I don't work nearby Whole Foods, but this is such a great deal that I'm going to get Isaac to stop by and snag me some on his way from work. 🙂