I'm a carb lover and sometimes my protein intake tends to slip away from me without me even noticing. Lately, I've been trying to focus on getting a serving of protein (preferably a complete source) in a every meal.
Hard-boiled eggs have been a big help: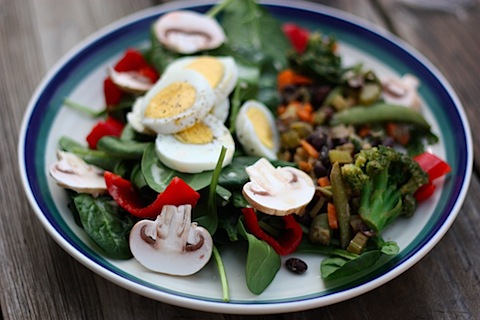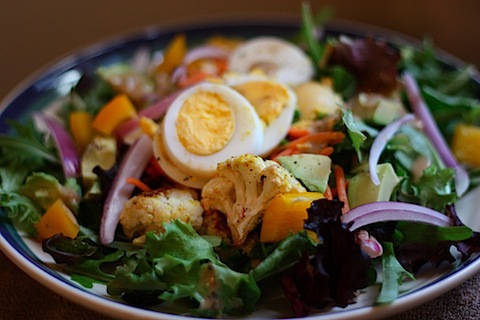 Local herbed tofu does the trick.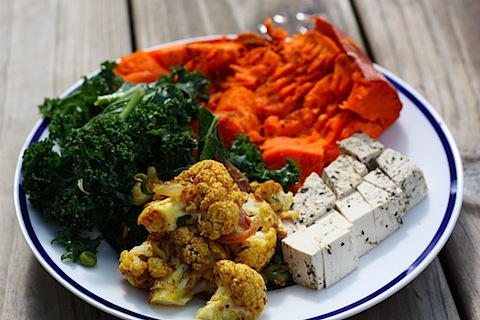 Plain chunks paired with veggies – 1/2 baked sweet potato, garlicky kale, and cracklin' cauliflower.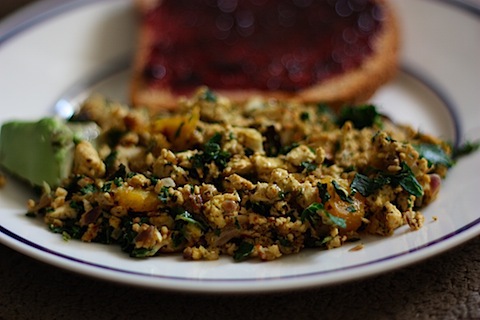 Or scrambled with lots of veggies. (Tofu Scramble recipe coming soon!)
And, greek yogurt works wonders as a mid-afternoon snack!
Speaking of which, have you tried the new Chobani flavors yet?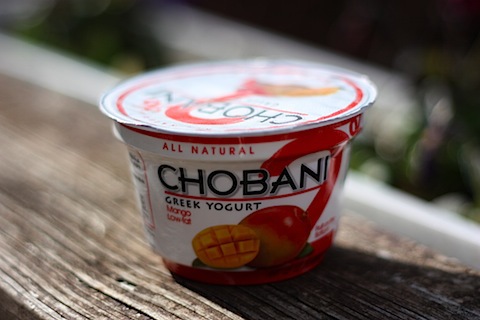 They just released the Mango, Black Cherry and Lemon flavors, as well as a new line of greek yogurt for kids called Chobani Champions. The kind folks over at Chobani offered to send me some of new flavors so I've had a chance to try the Low Fat Mango, Non Fat Lemon and the Champions Honey-Nana and VerryBerry.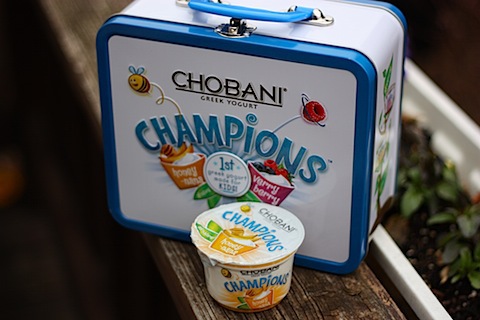 How cute is the little lunch box? Since we don't have an whipper-snappers running around I sent this to school with Isaac. He said it went to a good home. 🙂
My thoughts: All the new Chobani flavors are quite delicious but I think the honey-nana and lemon are my favorites. I really wanted to LOVE the mango (like I do the pineapple and pomegranate flavors) and while I do like the flavor of the yogurt, the chunks of mango taste a little off to me. I don't know what it is but they don't taste like fresh mango – more like gummy mango?
As for the honey-bana, it's amazingly delicious to the point of being dessert worthy. And the lemon was a favorite because of it's ability to become lemon frozen yogurt! I froze 1 container overnight and took it out of the freezer the next morning. By lunch time it had thawed out a bit but still had the frozen texture. Soooo good!! I still have yet to find the black cherry, I can't wait to try that one.
Besides all the yumminess above, I've also been incorporating some other sources of protein:
beans (chickpeas, black beans, lentils)
fish and seafood (I love salmon and shrimp!)
raw nuts and nut butters, which also count has healthy fats
protein powder (I've been using Sun Warrior Vanilla Protein Powder)
Eggs/egg whites
I think incorporating a protein with each meal has helped me cut back on packaged foods and carb heavy meals and also kept me feeling full. Although, I have noticed that a combination of protein, carbs and healthy fats is what really works for me. If I skimp on the fat, it makes me hungry all day so I always try to remember to add in some healthy fats with each meal.
What are your favorite types of protein? Do you worry about getting some at every meal?
I'm off to do some packing and perhaps go shopping for some sneakers and maybe even get a pedicure. 🙂 Have a lovely Saturday friends. If I don't pop back in tomorrow morning then I'll see you from San Diego!