Looking for protein salads that will actually fill you up? Here I'm sharing over 43 salad recipes featuring a variety of protein sources.
When people think of salads they often envision a simple bowl of greens or vegetables, a side dish or an appetizer, but salads can totally be filling (and satisfying) enough to be served as a meal!
That said, the key to this is making sure your salad has a good source of protein. Without adding some sort of protein, salads aren't as filling so you'll likely to eat a salad and be hungry 20 minutes later. Not great, especially if you're trying to eat more salads for weight loss.
Not with the salad recipes I'm sharing today… every one of them is packed with protein. And with over 40 high protein salad recipes and a ton of different protein options, there's bound to be a couple that you'll enjoy no matter your dietary preferences.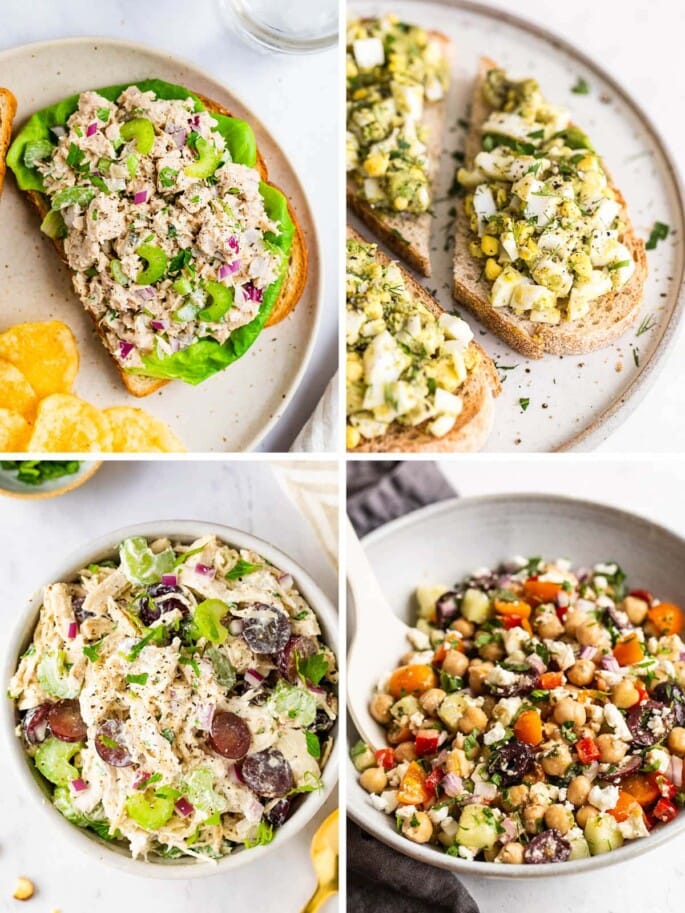 I'm super passionate about salads and have a ton of salad resources here on EBF. After you look through this collection of protein salads, but sure to check out my article about how to build a meal-sized salad and my full collection of dinner salads (aka salads you can serve as a meal).
Tuna Salads
Tuna is such an easy way to add a ton of protein to a salad and you probably have a can sitting in your pantry right now! From a classic tuna salad to a tuna salad with lentils or hard boiled eggs, there are so many fun ways to make a tasty salad with tuna. Plus, it's loaded with protein… 1 cup of canned tuna has about 40 grams of protein.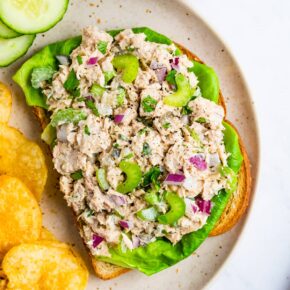 Tuna Salad
The best healthy tuna salad recipe made with canned tuna, red onion, celery, chopped pickles and Greek yogurt. Perfect as a snack with crackers or on a sandwich.
View Recipe
Egg Salads
Hard boiled eggs make a great protein addition to salads whether you're making a full on egg salad (like the recipes listed here) or a Cobb salad. 1 large hard boiled egg has 6 grams of protein.
Chicken Salads
Of course, chicken is a go-to protein source for salads and there are so many ways to incorporate it. I love a good chicken salad and have lots of healthier options that are just as tasty as the classic, mayo-based chicken salads. Grilled chicken also makes a great protein packed topping for any salad. 1 cup of cooked chicken has a whopping 38 grams of protein!
Vegan Salads
When it comes to making a protein packed plant-based salad, there are so many protein options you can incorporate including crispy tofu, tempeh, edamame and beans. When it comes to bean salads, I love using chickpeas, white beans and lentils.
Shrimp Salads
Because shrimp cooks so quickly, it makes for an easy protein addition to salads. 12 shrimp have about 20 grams of protein.
Salmon Salads
Salmon is one of my favorite ways to boost the protein content of my salads. It's so delicious and the combo of protein and fat really makes it really satisfying. A 6 oz filet of salmon has 32 grams of protein.
Turkey Salads
Turkey seems to be less popular as a protein source for salads, but both shredded turkey and ground turkey are great ways to add protein to salads. 1 cup of cooked turkey has 41 grams of protein.
Mason Jar Salads
Mason jar salads are the perfect way to meal prep protein salads and there are so many options to choose from.
More Collections To Check Out
Check out all of the salad recipes here on EBF!