Last night I wanted something sweet after dinner and had all the ingredients on hand to make coconut macaroons. Alas the thought of pulling out my dehydrator and waiting hours to have one didn't seem appealing so I started thinking of other macaroon ideas, including the grand idea of adding protein powder to a macaroon recipe. <– A coconut treat that's packed with protein – yes please!
I knew this was an awesome idea and thought maybe it hadn't been done before. A quick google search told me I was wrong – surprise surprise. The lovely Jamie Eason had already made a low carb coconut macaroon recipe that had protein powder. I should have known as she is the queen of protein filled treats. They looked pretty easy so I adapted it and made something similar and they are amazing!! Seriously, so good, super healthy and so easy to make. I'm in love.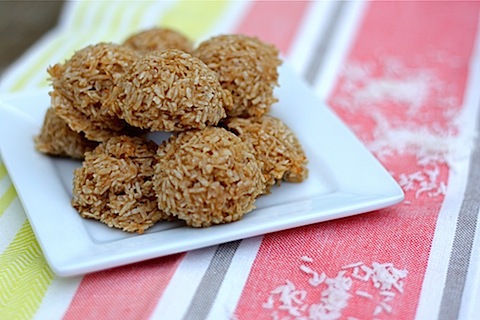 Protein Macaroons
Makes 15.
These little bites are not only moist and delicious, but they are low in sugar and carbs. They're perfect for a snack or even as part of breakfast.
Ingredients
1/3 cup egg whites
1 1/2 Tablespoon maple syrup
10 drops of liquid stevia (I used NuNaturals Vanilla stevia) <– You could also use 1 packet of powdered stevia
1 scoop (20g) vanilla protein powder (I used 1 packet of Perfect Fit vanilla brown rice protein powder)
1 cup dried, unsweetened shredded coconut
pinch of ground cinnamon
Preparation
Preheat oven to 300°.
Whisk together egg whites, stevia, and maple syrup in a medium sized bowl.
Add protein powder and shredded coconut and stir until combined.
Use a Tablespoon to scoop batter onto a cookie sheet lined with parchment paper.
Bake for 22 minutes. Remove from oven and let cool before transferring to a sealed container for storage.

And check out the awesome stats.
Nutrition Facts: 1 Macaroon = Calories: 52 Fat: 3g Carbs: 3g Sugar: 1g Protein: 2g.
If this isn't the perfect Friday treat, I don't know what is! 😉 Enjoy and have a lovely weekend.