Portland Vibes
11
Published Apr 12, 2016, Updated Jun 12, 2019
I spent the weekend in Portland and didn't experience a single rain drop, yet I come home to dreary skies and rain here in Richmond. It's funny how that works!
Anyhow, I want to share a bit about my trip to Portland for those of you interested. I had a couple reasons for going 1. My friend Dana of Minimalist Baker lives there and we've been trying to figure out a way to meet for quite a bit. 2. The Indulge Conference was being held there. The timing of the conference worked out perfectly so I decided to book my tickets and make it happen.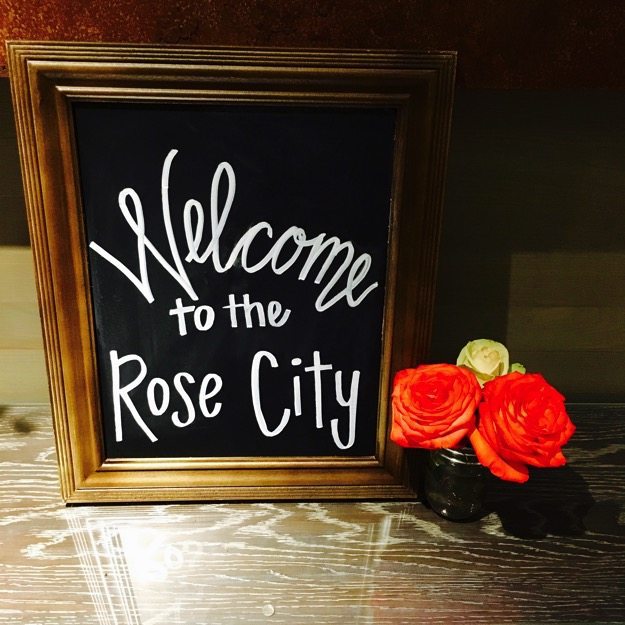 My trip was Friday – Monday. I attended the Indulge conference all day Saturday and spent the rest of the time hanging with Dana, John and some of their friends.
I hadn't been to a blogging conference in ages mainly because they're expensive and most of the time I feel like I don't really learn a ton at the sessions. That said, I do think Indulge had a great line-up of speakers (Andie and Kristen were total rockstars) and in general blogging conferences are awesome for connecting with other bloggers, networking with brands and getting re-energized. It can be tough to keep your motivation levels high as a blogger and being around a bunch of other people who really "get it" makes a world of difference. I always leave conferences inspired and that's exactly what happened at Indulge.
So the conference was fun, but the highlight of my visit was definitely visiting with friends and exploring the city.
Dana and John were the best hosts ever and introduced me to all sorts of Portland gems. We went hiking in the Gorge, did yoga, went to a winery, visited way too many coffee shops and ate copious amounts of delicious food. No Blue Star donuts or Salt & Straw ice cream experiences, but I guess that just means I will have to go back.
Here are a few photos from my trip. I promise I didn't plan it this way, but as expected most of them are of food! 🙂
Por Que No? Taqueria = worth the wait. I devoured this salad!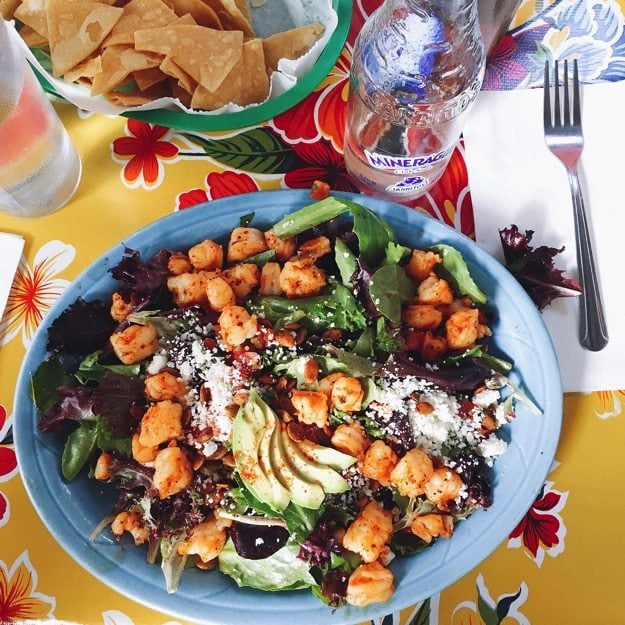 Dinner at Southpark Seafood with an awesome group of bloggers.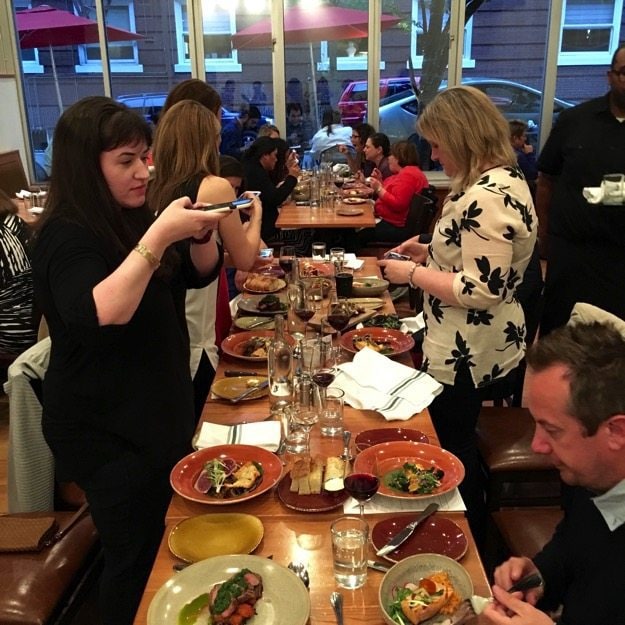 I highly recommend this spot. The chef is creative and found such unique ways to pair pickled and fermented veggies with seafood. I was really impressed with our meal.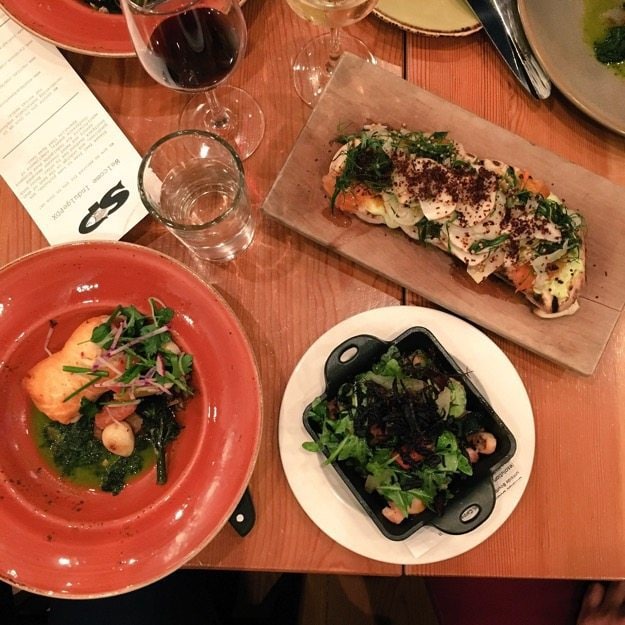 Prasad and Yoga Pearl — We had lunch at the cafe on Friday and then practiced yoga there the morning before my flight. <— Our yoga instructor grew up in Richmond so that was pretty cool!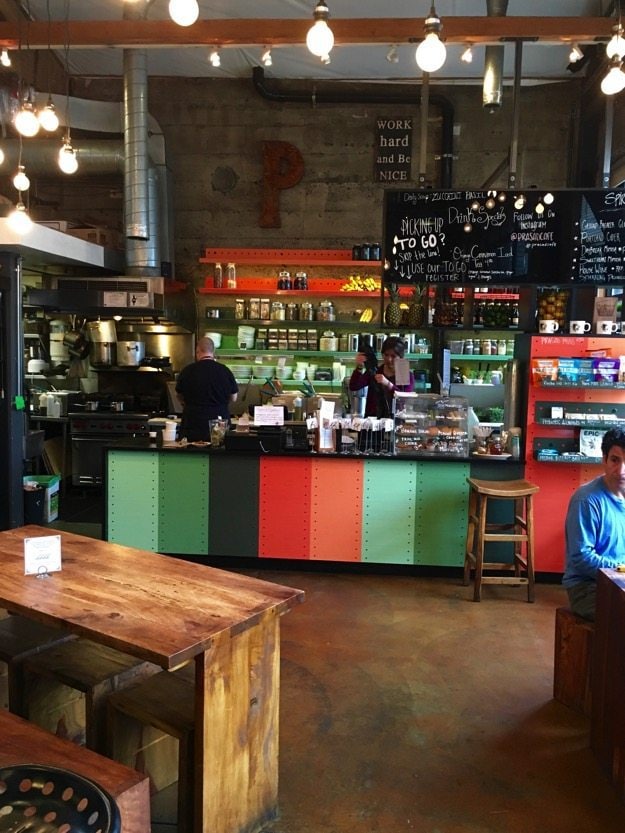 Food wise, Dana and I tried the Harvest Salad and the Utopian Dream Pasta. Both were great choices — light and full of flavor.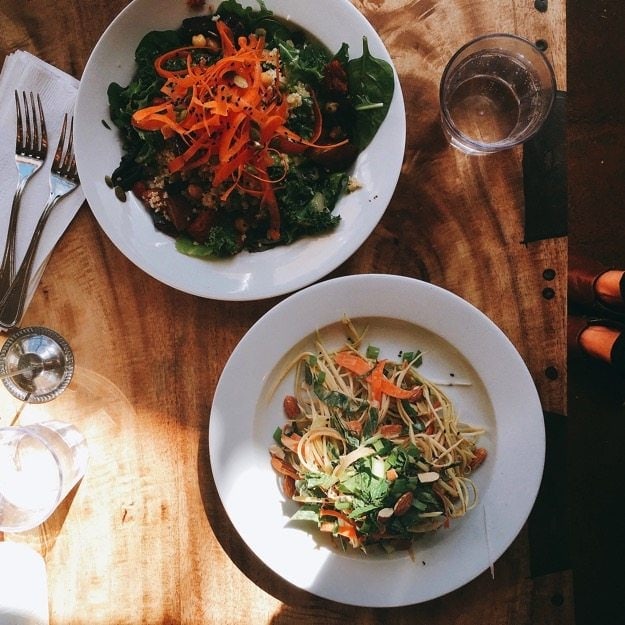 Coffee at Barista with Cara, who I hadn't seen in forever. For any long time blog readers, you may remember her as Cashews and Hummus. 😉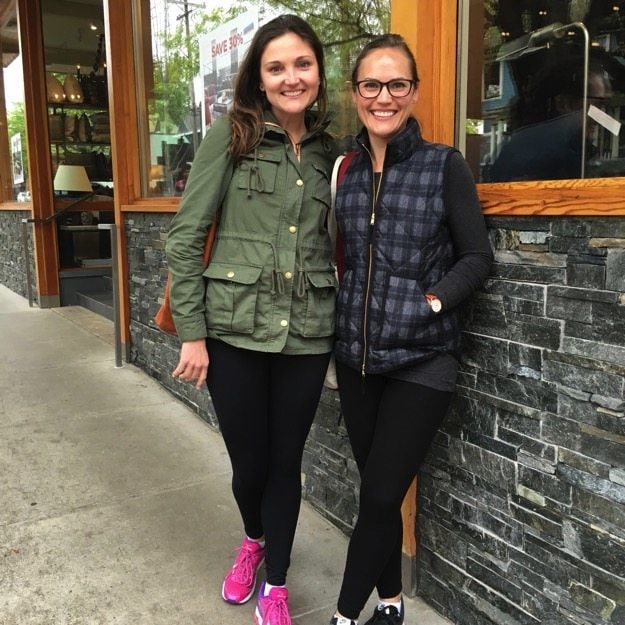 Hiking! If you ever go to Portland you have to spend at least one day doing something outdoorsy. It's mandatory and also helps balance out all the delicious food, beer and wine you'll be consuming.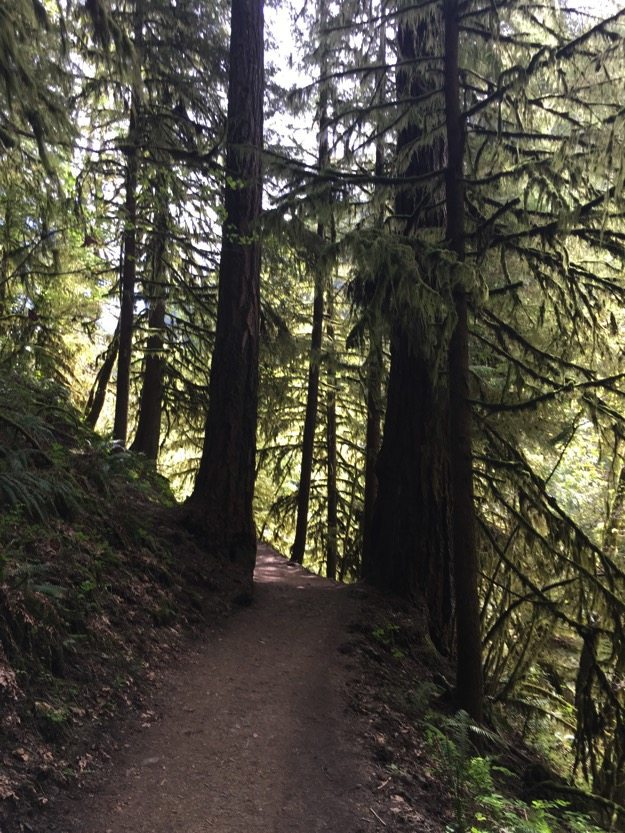 Oh and the scenery is gorgeous!
Our hike led us to Punchbowl Falls.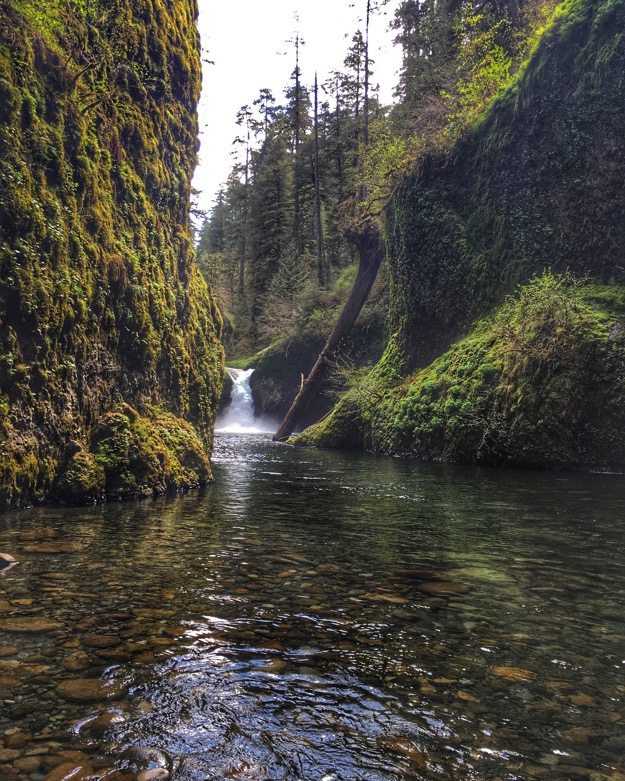 After hiking we made a quick little drive over the river and we were in Washington state at AniChe Cellars.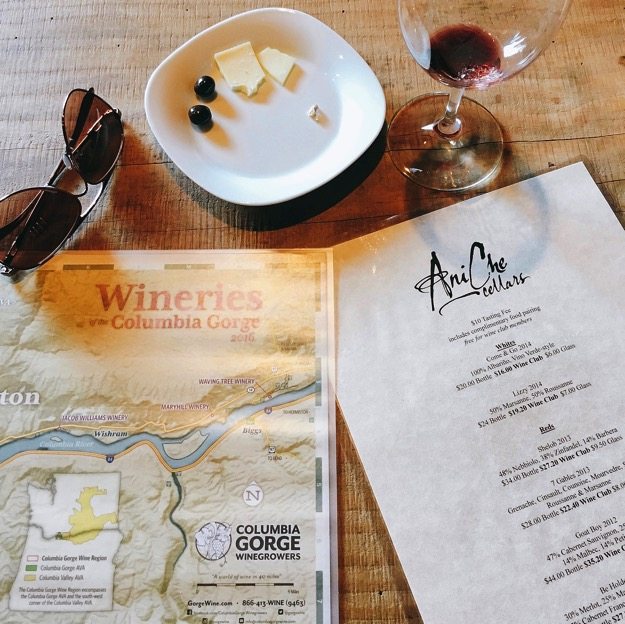 The tasting was extra fun here because they paired each wine with a small bite of food (cheese, dried fruit and/or chocolate). Our favorites = Come & Go for the whites and Be Holden for the reds.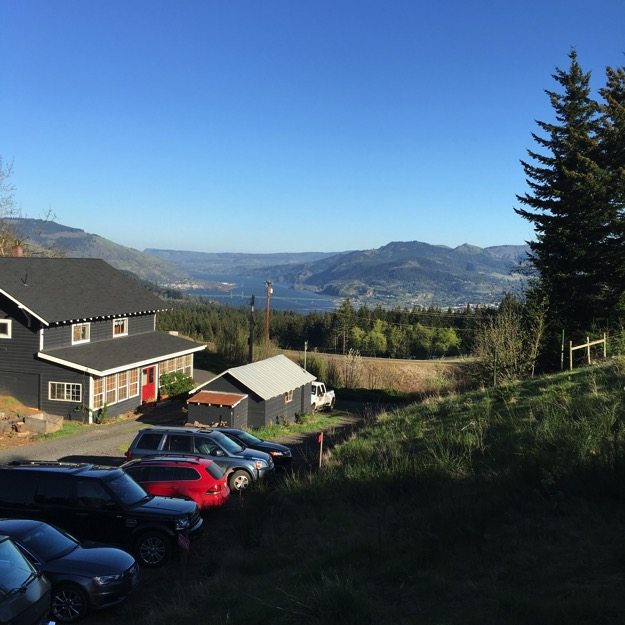 Post-hike lunch at Solstice Pizza in Hood River. They have gluten-free pizza crust, vegan options and fun pizza toppings like butternut squash and cherries.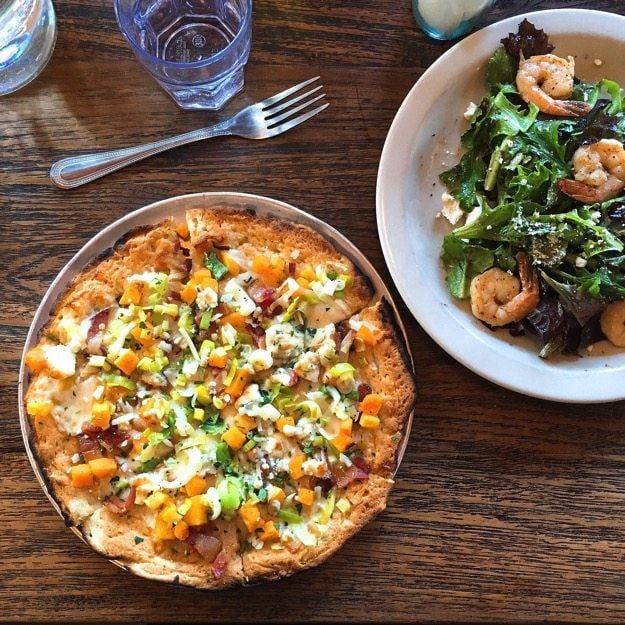 Throughout the weekend we dined out quite a bit, but also ate a few meals at home! For those of you wondering, having Dana cook for you is just as lovely as you'd expect. I'm actually insanely jealous of John who gets to eat her creations every day.
This photo doesn't do them justice, but her vegan + gluten-free mac and cheese and kale salad with chickpea croutons are EPIC. Go make them!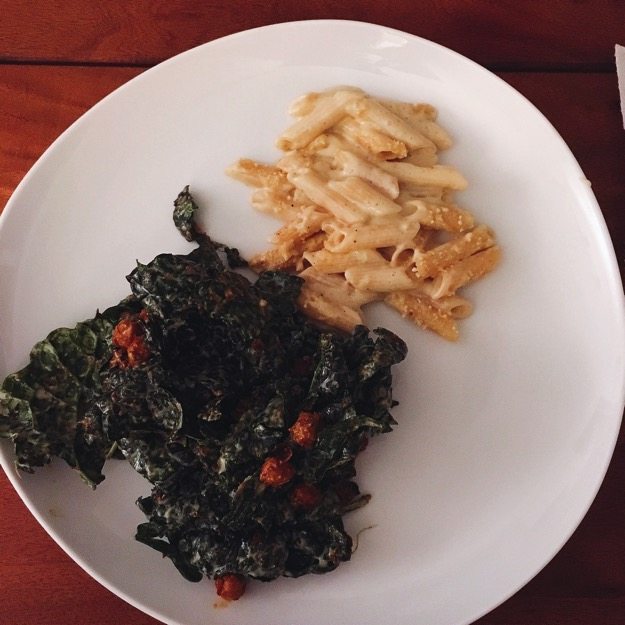 Overall I fell in love with Portland. I know I totally lucked out with the beautiful weather, but even if it had rained all weekend I still think I would have enjoyed my visit. The city is clean and full of vibrant green trees, the people were amazingly friendly, the food scene is outstanding (and very health conscious), there are cute little local boutiques on every corner, coffee shops, breweries and wineries galore and plenty of outdoor adventures to be had. I can't wait to go back sometime with Isaac because i know he'd love it as well.
Have you ever been to Portland? What did you think?