Poop Chocolates
8
Published Jun 01, 2023, Updated Aug 13, 2023
These poop chocolates are so helpful for toddler constipation and made with only two simple ingredients: coconut oil and chocolate chips.
If you have a toddler struggling with constipation, you may want to try this poop chocolate recipe (aka constipation candy).
Our daughter went through a terrible phase of withholding and constipation when we started to potty train and these coconut oil poop chocolates have helped so much.
I do want to give a disclaimer that I'm not a medical professional and the information I'm sharing here shouldn't be taken as medical advice. I am just a mom that is happy to share something that worked for my daughter because I know the struggle of dealing with a little one that can't or doesn't want to poop. It has caused us a lot of sleepless nights and tears!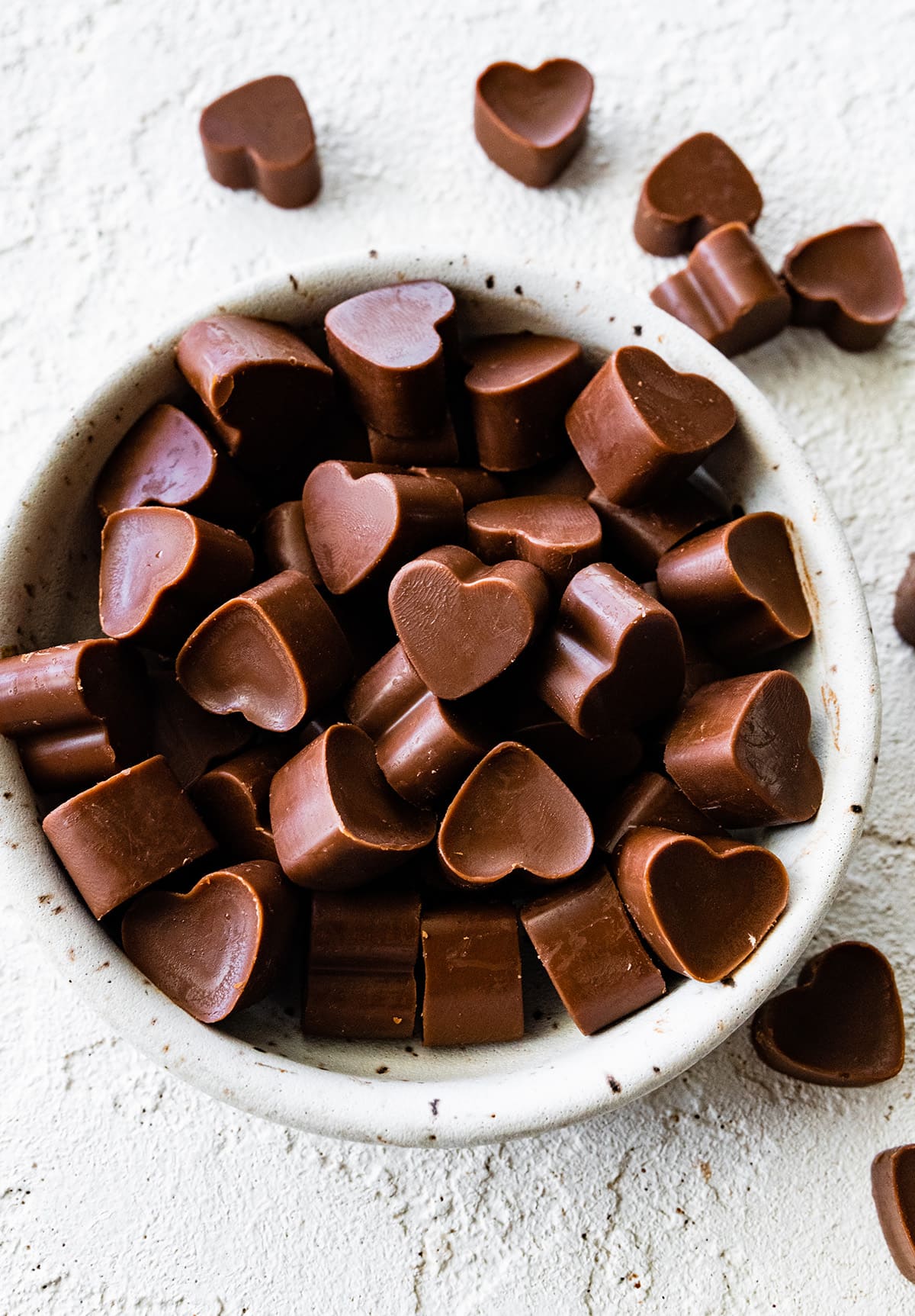 Toddler Constipation
Let me start by saying that if your toddler is struggling with constipation, you're not alone. As I mentioned, my daughter has struggled with it. Toddler constipation is very common and can occur for a variety of reasons. Here are a few contributing factors:
Diet: What your toddler is eating will play a major role in their bowel movements. If their diet is low in fiber and/or fluids, it can lead to constipation. Specific foods can also contribute to constipation including processed snacks (which are typically low in fiber) and dairy products.
Potty training: The pressure and stress of potty training can sometimes create or exasperate constipation and withholding issues in toddlers.
Dehydration: Many toddlers don't consume enough fluids (especially water) and dehydration can make poop harder and more difficult to pass.
Withholding: Some toddlers may withhold their poop because they've had pain during a previous bowel movement or they're anxious about using the potty. Withholding may lead to a buildup of stool, which makes the poop harder, larger and more difficult to pass. The withholding cycle can be so sad to watch because it really is painful for your kiddo to poop once they're withheld.
Lack of physical activity: Toddlers who are sedentary may experience constipation more frequently because regular physical activity helps stimulate bowel movements.
Of course there are other factors that may contribute to constipation including medical conditions so it's always important to talk to your pediatrician if your child is experiencing constipation issues.
How to Relieve Constipation
We tried everything under the sun to help our daughter get over the fear of pooping and manage her constipation. The first step was to talk with our pediatrician and she recommended MiraLAX, as many do. Through research I realized that there can be some adverse side effects with MiraLAX so I ultimately decided to try more natural remedies and I'm so glad I did because I found some things that worked wonders for us.
I'm actually working on another post to share our full experience and all the natural remedies we tried (coming soon), but in the meantime I had to share this easy recipe for poop chocolates that have helped us so much!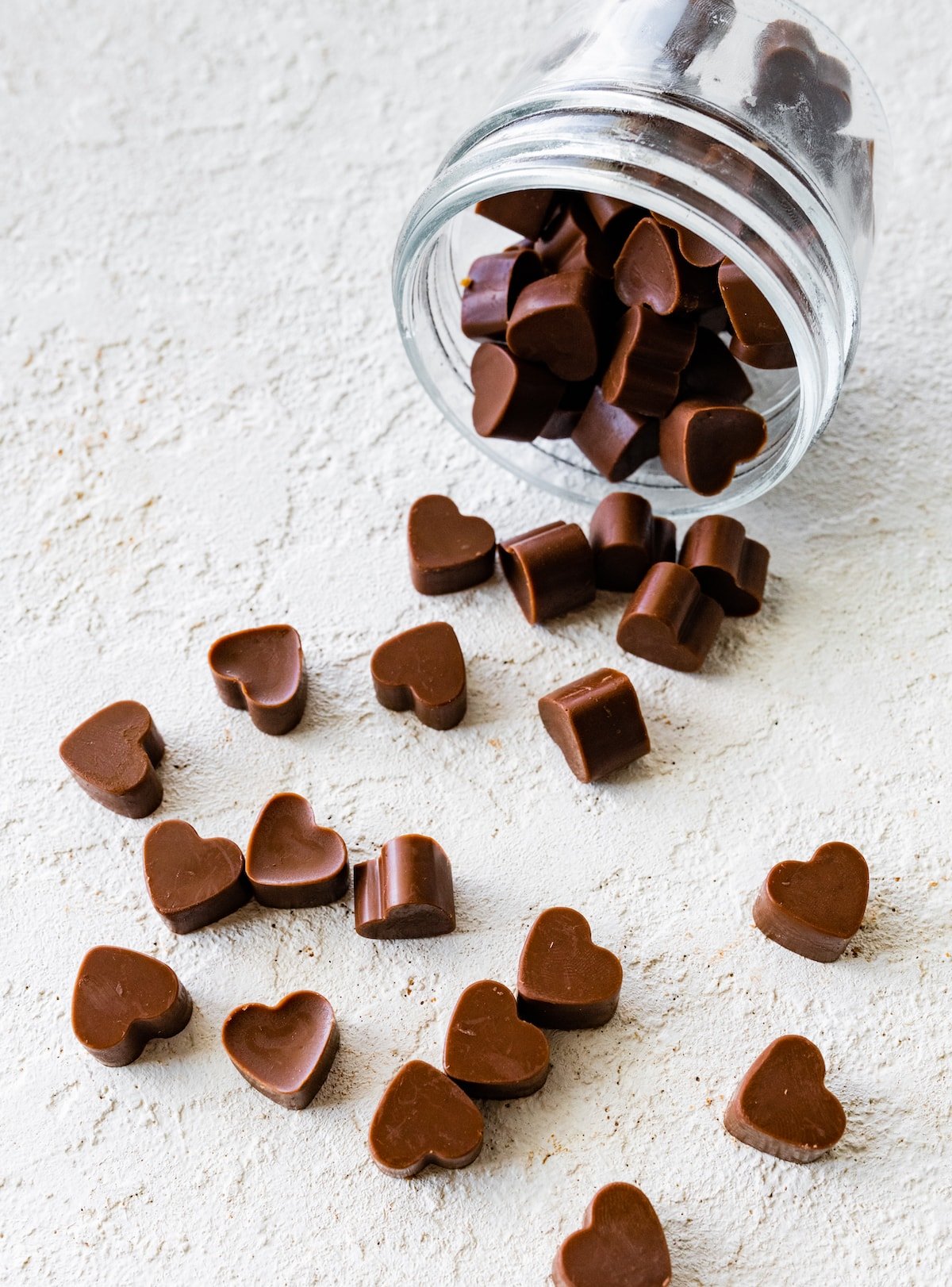 Coconut Oil for Constipation
While there is little scientific research on coconut oil and constipation, many people recommend it including Jamie Glowacki of Oh Crap! Potty training. She talks about the fact that although you might think increasing fiber is the solution for constipation, that's not always the case and increasing healthy fat intake is even more important. The high-fat foods she recommends include coconut milk, coconut oil, avocado, grass-fed butter and olive oil. Added bonus: healthy fats are also great for brain development!
We've always incorporated plenty of healthy fats in Olivia's diet and I have written about the health benefits of coconut oil for over a decade. Still, once I learned about coconut oil for constipation we started giving it to Olivia daily and it has been such a game-changer for her!
While some kiddos might be up for eating coconut oil by the spoonful, many aren't so you have to get creative with ways to incorporate it. I have a ton of coconut oil recipes here on my site, but these poop chocolates have been the easiest option because Olivia loves them and I can make a big batch to have on hand for a few weeks.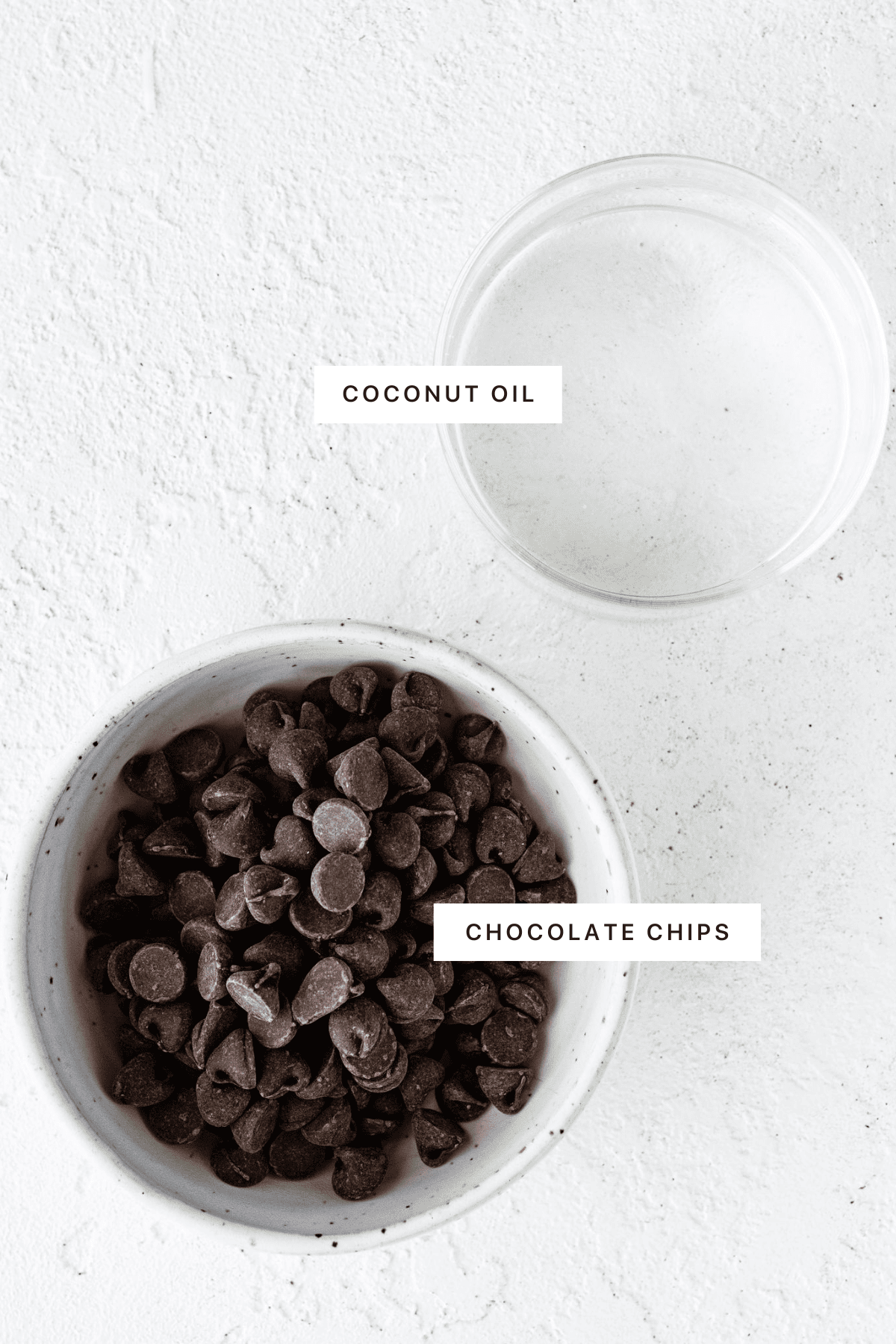 Ingredients Needed
You only need two simple ingredients to make this constipation candy and you probably already have both in your pantry.
Chocolate chips – you can absolutely use whatever chocolate chips you have on hand, but I recommend using a dairy-free option because dairy is one food that can cause constipation. I like Enjoy Life chocolate chips because they don't include any allergens, including dairy.
Coconut oil – I recommend using high-quality, unrefined extra virgin coconut oil.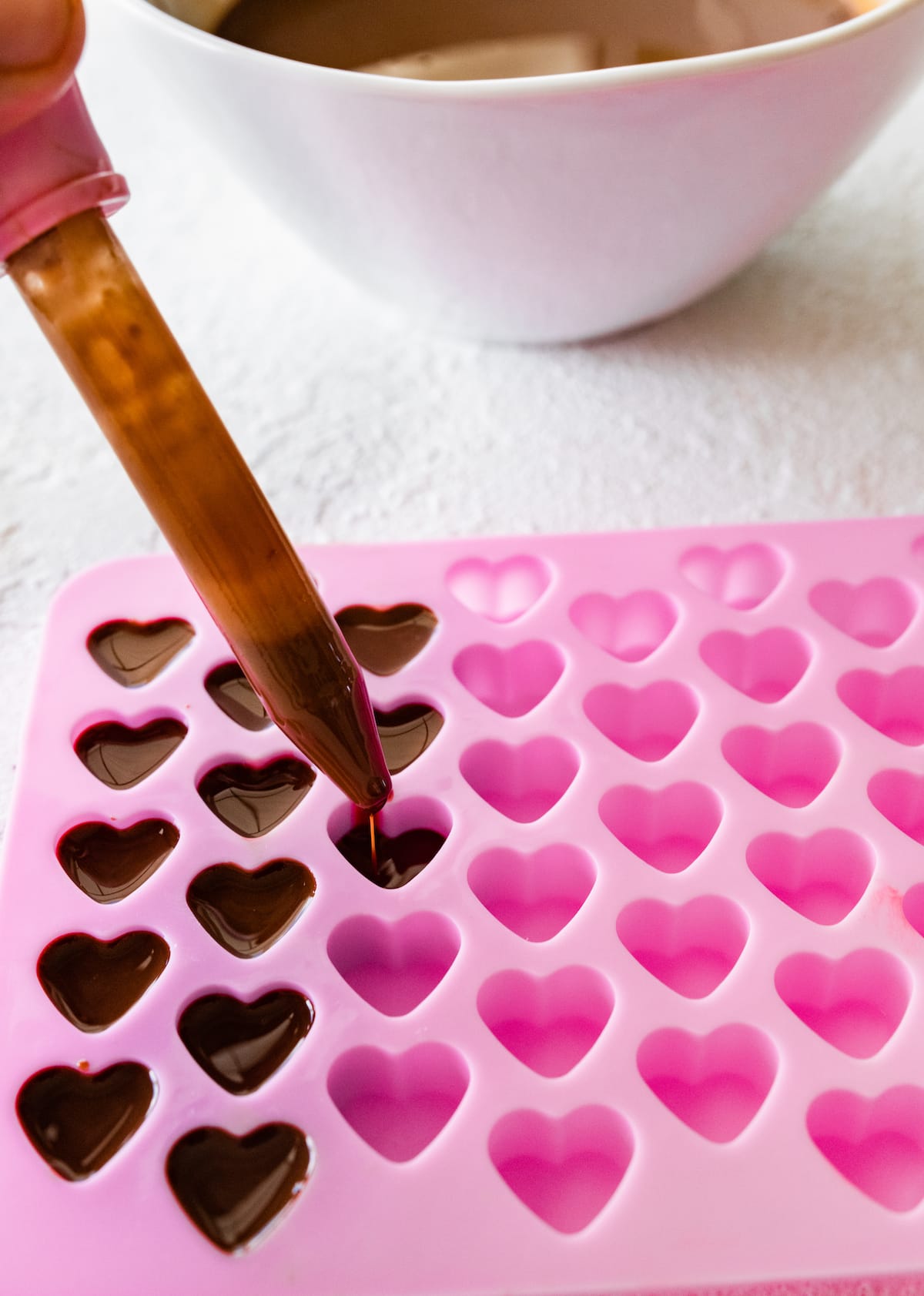 How to Make Poop Chocolates
Making these poop chocolates couldn't be easier. Here's the step-by-step process:
Melt chocolate chips and coconut oil together. You can use a double boiler or the microwave for this.
Pour melted mixture into a candy mold, ice cube tray or spread on a baking sheet to make bark, and then place in the fridge or freezer to set for about 20 minutes. Pop the candy out of the molds and enjoy!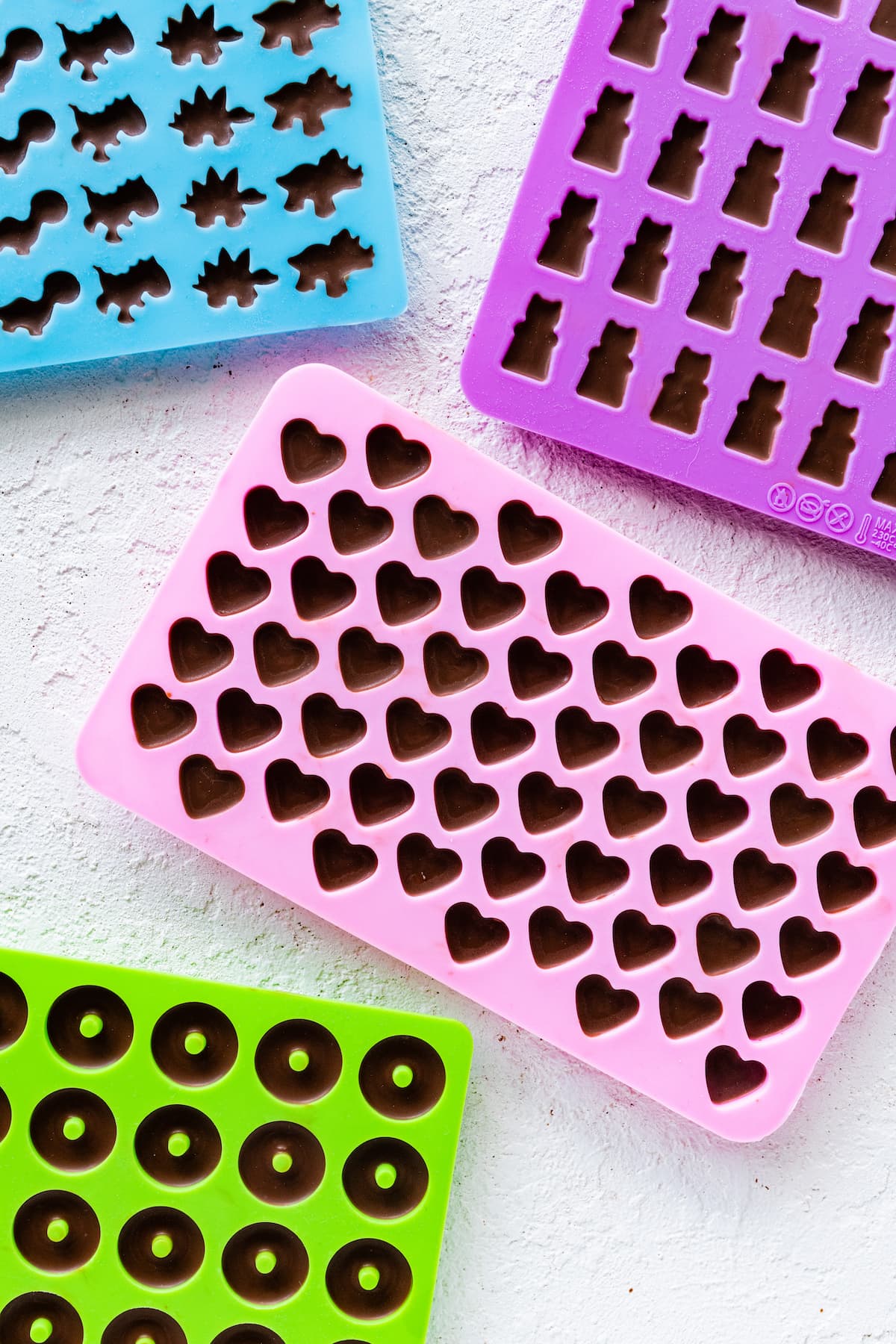 What Mold To Use
I recommend using a silicone mold for small candies. They have a tendency to melt quickly in warm little hands so I like to keep the treats small. I found this pack of candy molds on Amazon and it works great. It comes in four different shapes (donuts, hearts, dinosaurs and gummy bears) and has a little dropper, which makes it easy to transfer the chocolate mixture.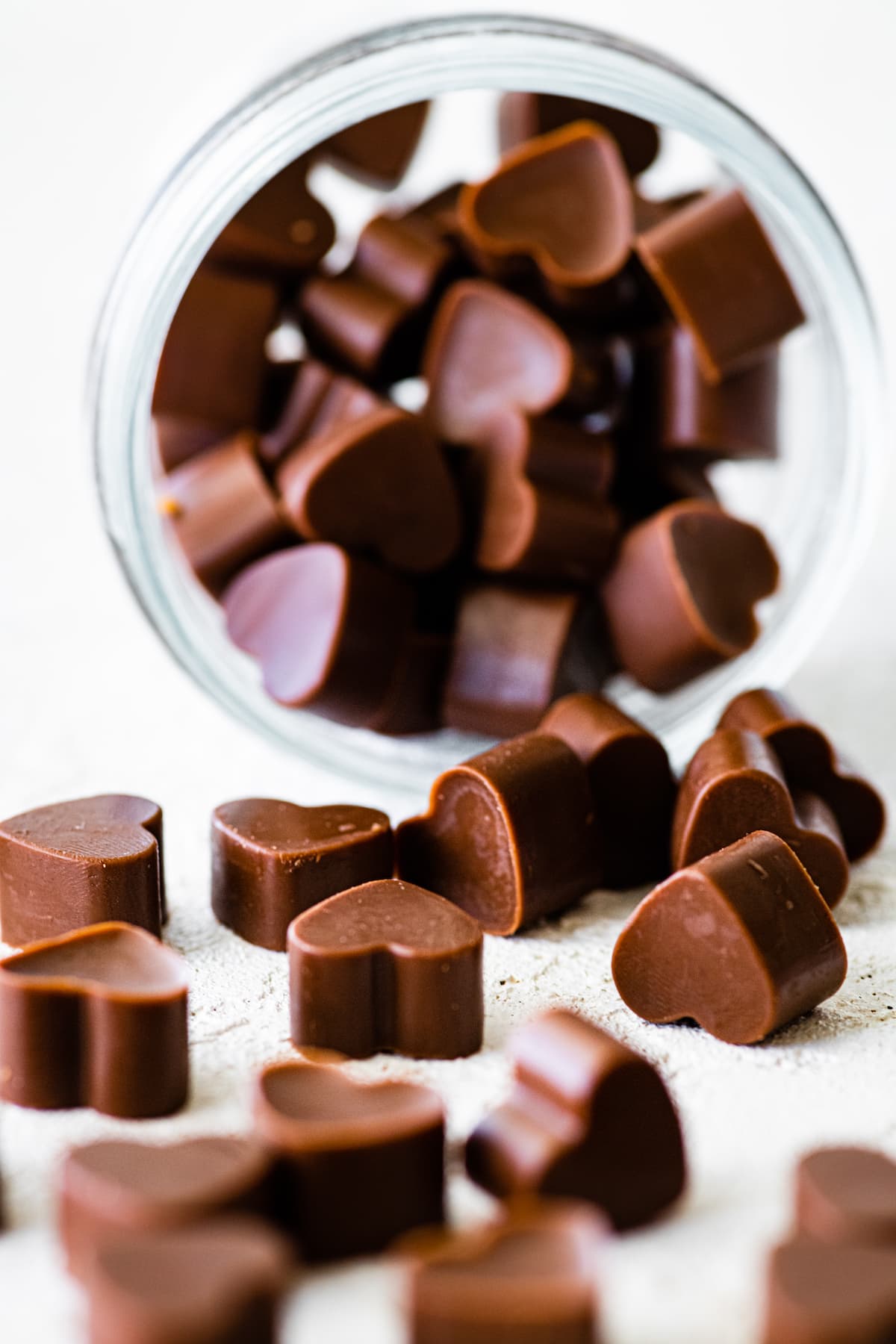 How Many Do I Serve to My Child?
The amount you give your little one will vary based on their needs, but I've found that 1 teaspoon of coconut oil daily does the trick for my daughter.
One batch of the poop chocolates has 24 tsp of coconut oil so you'll want to see how many chocolates your molds make and then divide by 24 to see how many you need to make a teaspoon. If your batch makes 100 chocolates, you'll serve 4 a day, which will equal to 1 teaspoon a day.
When Do I Serve These?
The time of day for serving these candies doesn't really matter. We're still in the phase of giving Olivia a special treat after she poops and these chocolates work great for that. She usually poops in the evening so that's when she gets her poop chocolates.
How to Store
You'll want to store these poop chocolates in your fridge or freezer. You can store them at room temperature, but be aware that they will melt if the temperature in your house is above 75°F. I keep ours in the fridge.
More Toddler Recipes and Resources
More Kid-Friendly Recipes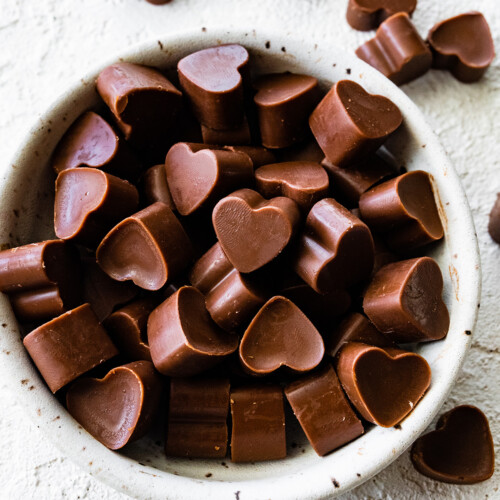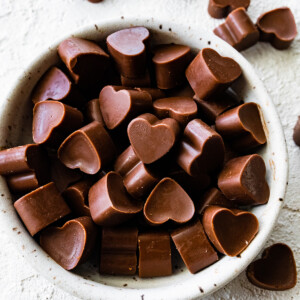 Poop Chocolates
These poop chocolates are so helpful for toddler constipation and made with only two simple ingredients: coconut oil and chocolate chips.
Instructions
Melt the chocolate chips and coconut oil together, in a double boiler or the microwave.

Place mixture into a chocolate mold, ice cube tray or spread on a baking sheet to make bark, place in the fridge or freezer to set and serve.

You'll want to store the chocolates in the fridge because they will melt at room temp.
Notes
For dairy-free chocolate chips I recommend using Enjoy Life chocolate chips. 
Nutrition
Serving:
1
chocolate
|
Calories:
58
kcal
|
Fat:
7
g
|
Saturated Fat:
5
g
|
Potassium:
10
mg
|
Sugar:
1
g
Nutrition information is automatically calculated, so should only be used as an approximation.