Last week Isaac and I were both feeling under the weather. We were craving soup and Isaac suggested that we get pho. I immediately mentioned Phoenix Garden, a vegan Vietnamese restaurant I've wanted to visit for a while now. Isaac said he was up for trying it out and before I knew it, we were walking into the restaurant for dinner.
I was surprised to see that the interior looked a little like a reception hall with only few simple tables setup, but once our summer rolls arrived, the ambiance quickly left my mind. I was too distracted by how delicious they tasted.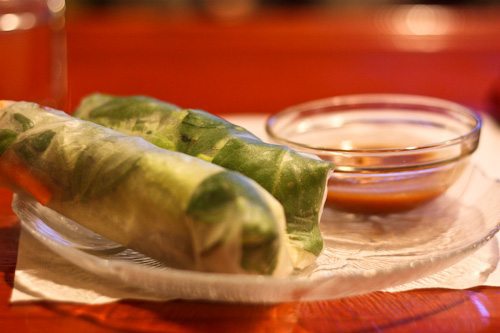 I love summer rolls and order them pretty much every time I have Thai or Vietnamese cuisine. I must say, the rolls at Phoenix Garden are some of the best I've had at a restaurant – they rival with the rolls we had at Elizabeth St. Cafe in Austin. They were packed with fresh mint leaves, lettuce, grilled tofu, cilantro and crushed nuts with a tasty peanut sauce on the side. Most summer rolls are bulked up with flavorless rice noodles but these don't have any, which totally made my day. I'd rather have more veggies over noodles!
The menu didn't offer a ton of entree options, but that didn't bother Isaac and I because we knew we wanted the pho, which ended up being an excellent choice.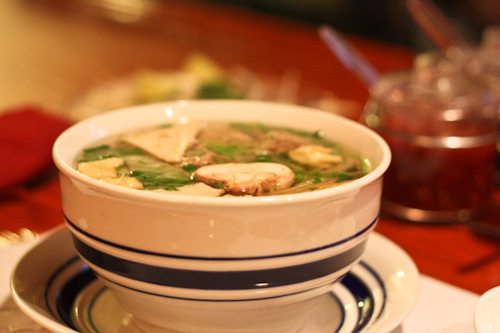 It came out piping hot with mock meat balls, tofu, mushrooms, rice noodles, onions, cilantro, been sprouts, basil and lime. The broth was absolutely amazing – super flavorful but not too salty. The mock meat balls were packed with spices and had a nice texture for faux meat. The grilled tofu bites were delicious as well! I couldn't even finish my whole bowl, but I did sip up all the broth. It was too good leave behind.
During dinner the owner, Phoenix, offered us hot tea and introduced herself. She was the sweetest woman and we quickly started to feel as though we were guests in her home rather than patrons at a restaurant.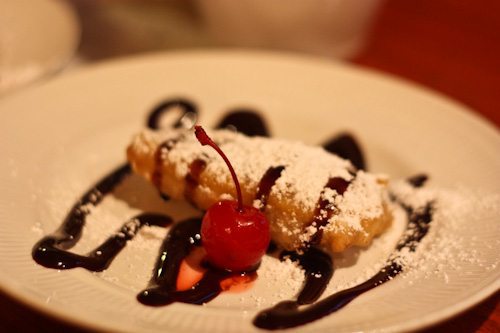 After dinner she brought out complimentary chocolate drizzled fried bananas. I'm not a huge fan of fried things but I did take one small bite to keep from being rude. It was really delicious and not has heavy or greasy as I would have expected, but I still gave it to Isaac to finish off. He loved it! If we go back, I'm really interested to try some of the other desserts. The black eye peas with sweet rice and coconut cream definitely has me intrigued.
Overall, I would highly recommend Phoenix Garden – even if you're not vegan or vegetarian. The prices were reasonable and the food was absolutely delicious. I know we'll be going back!
Do you have any vegan restaurants in your city? As I was writing this post, I was trying to think of other 100% vegan restaurants here in Richmond but I couldn't think of any… maybe Phoenix Garden is the only one?