I'm going to be blunt and say that if you're a Richmonder and you haven't tried Pescados yet, you're missing out! I'm in no way judging because my first visit was just a few months ago when a group of us went to brunch at the China St. location, however, I highly recommend checking it out if you haven't been. The first time I ate there I was super impressed with every dish I tried and totally fell in love with their amazing avocado tart. I've been wanting to visit again for lunch or dinner, but Isaac and I just haven't had the chance.
Last night we finally made our way back to the China St. location for dinner. The food was delicious and the service was great. Because of this, Pescados is quickly becoming one of my favorite restaurants in Richmond! Much thanks goes to our wedding/engagement photographer, Michelle, who recommended going there for dinner last night after our meeting to discuss next week's engagement shoot. Not only was the food amazing, but the company was quite lovely as well. It was great to get to know both Michelle and her boyfriend/assistant, Jon, a little more.
Here's the tasty food we ate.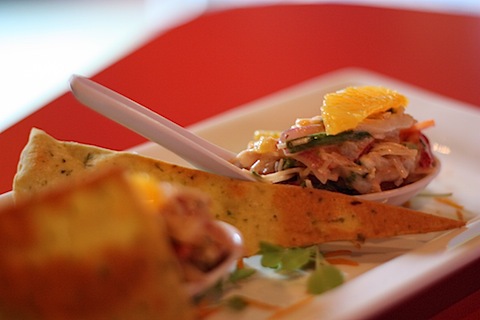 To start: ceviche of the day – lobster with a orange slaw and spicy cilantro crackers.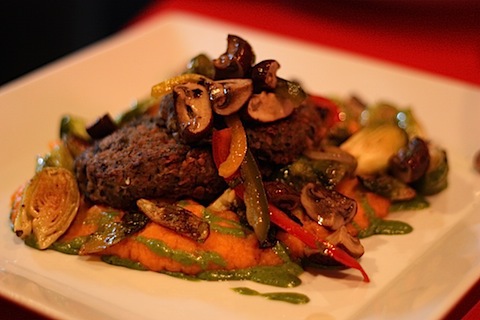 My entree – Carne Veganado: Black bean/quinoa "steak", Caribbean spiced sweet potato muñeta, smoked brussels sprouts, basil jalapeño sauce, local Haas Mushrooms escabeche. This meal was one of the better vegan meals I've had out in a long time. I loved pairing a bite of the savory black bean and quinoa "steak" with the sweetness of the sweet potatoes and brussels sprouts. I seriously couldn't stop eating until every bite on my plate was finished. Definitely a member of the clean plate club on this one!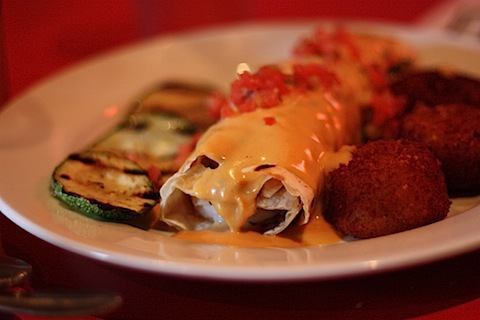 Isaac and Jon got the same thing – Enchilada Acapulco: Cabo crab cake, wild-caught shrimp, caramelized onion, flour tortilla, saffron potato cakes, grilled zucchini, lobster lime cream. Isaac wasn't feeling well so he didn't eat much of his meal, although he said the saffron potato cakes were out of this world. I tried a bit of his enchilada and it was cheesy and delicious.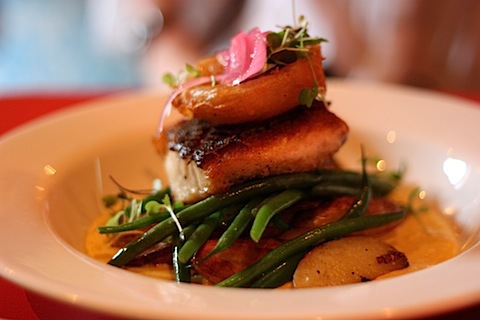 Michelle's entree was the Rockfish special of the night so I don't have all the details. I tried a bite of the fish, sauce and potatoes and it was awesome.
At the end of the meal, we were treated to two decadent desserts. The first one is the famous avocado tart, which has a coconut crust and a smooth and creamy avocado filling. It's seriously to-die-for!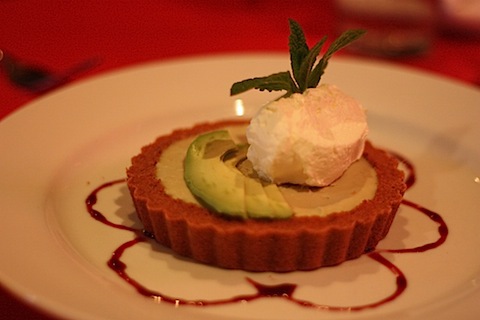 The second was the roasted banana cheesecake, which was also heavenly.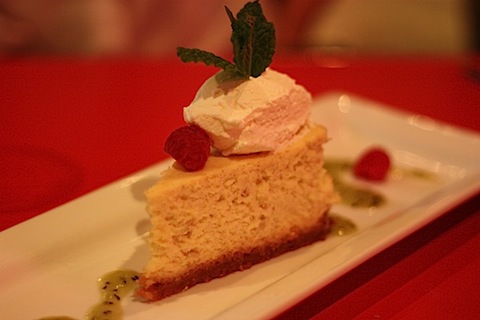 One great thing about dinner last night was the fact that I didn't have to feel awkward about taking photos of our food because Michelle was whipping out her camera as well. I have a feeling her photos are going to be 10x better than mine. I was right, they are. I'm okay with that – for one, she's a professional and two, I want someone better at photography than me taking our wedding photos. 😉
After last night's meeting with Michelle I'm even more excited for next week's engagement session!! Have a lovely Saturday friends. I'm off to workout and then going on a little road trip. I'll be sure to share the details soon.