As I'm sure most of you have probably noticed, I have moved away from posting my daily eats. There are quite a few reasons I stopped. The main reason was that I wanted to focus on quality content with nice photos and I don't have the time to do that every day for every meal. In addition, my meals don't change that often. I think I've eaten oatmeal or a protein pancake for breakfast almost every day this year – exciting, huh? Lunches and dinners are pretty similar as well – unless I'm trying out new recipes… which I usually post if they turn out well.
That said, I do post photos of a lot of my meals on Instagram (which feed over to my Facebook). So if you're interested in seeing my daily eats, be sure to follow me on those.
Lunch is almost always a salad of some sort. I like to fill a bowl with greens (spring mix, romaine, spinach, kale, etc.) and then top it with a protein and some veggies. In the spring and summer, I'm usually fine with completely raw salads but in the winter I like to add some cooked veggies like leftover roasted broccoli, brussels sprouts or baked sweet potato chunks.
For example, the salad below has a bed of spring mix, leftover roasted broccoli, marinated tempeh, baked sweet potato chunks and a dollop of Sabra hummus. Sometimes I'll make a homemade dressing but most of the time I use hummus as a "dressing" or sprinkle the salad with balsamic vinegar. I find that if I have flavorful toppings, I don't need much dressing.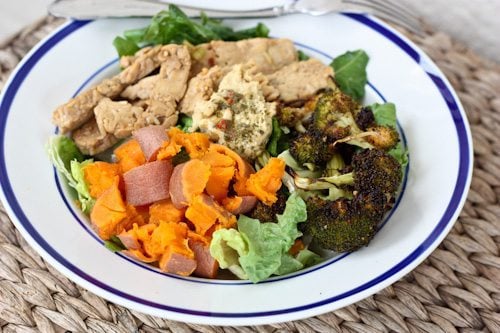 The veggies can be straight from the fridge or served warm. Some days, when it's really chilly out I crave something warm so I'll reheat the roasted veggies in the toaster oven. And of course, I put each topping in it's own little place for the photo but when I eat it, I mix it all together.
As for the sweet potato – it's baked and I have a few different ways of preparing it. The first is to bake it in the oven the day before (this takes an hour or so depending on how big the potato is), let it cool and store it in the fridge until I need it. When I'm pressed for time (or want a warm potato), I just microwave it. I typically only use half the a medium/large potato in one salad so I store the other half in the fridge for the next day.
How to bake a perfect sweet potato:
Scrub the sweet potato thoroughly, then pat dry.
Prick the sweet potato with a fork or knife in two or three places.
lace the sweet potatoes on a rimmed baking sheet lined with foil. (Sometimes it get's bubbly and drips)
Bake at 425 degrees° for 40 to 60 minutes or until tender.
Remove from oven and let cool. Chop into chunks and serve immediately or keep it whole and place in the fridge for later use.
How to microwave a sweet potato:
Scrub the sweet potato thoroughly, then pat dry.
Prick the sweet potato with a fork or knife in two or three places.
Place the sweet potato on a paper towel in the microwave. It's also a good idea to cover the top with a paper towel. <– I've had a sweet potato explode on me and cleaning a sweet potato splattered microwave is not fun – especially at work!
Cook on high for 5 minutes. Turn the sweet potato over, placing the side that had been on the bottom on top.
Cook another 5 minutes. (Microwave strengths definitely vary so just experiment until you get the time right. The potato should be tender enough that a fork goes through easily.
Microwaved sweet potatoes definitely work in a pinch, but oven baked potatoes in the oven are definitely my favorite – the texture is creamier and more delicious. I also like to use leftover butternut squash fries in my salads. These kabocha tots work great as salad croutons too.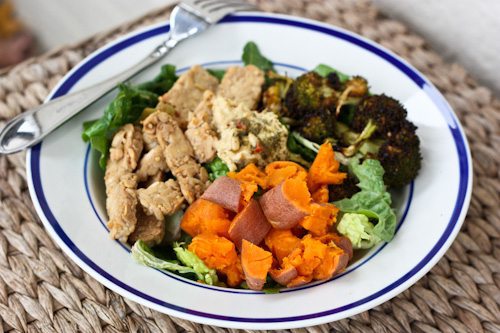 Of course, you could always served your baked sweet potato as a side to your salad as well. I'm a big fan of baked sweet potatoes made even sweeter with coconut butter, cinnamon and sea salt or served savory with cottage cheese and ketchup or salsa. I know the second option sounds weird, but don't knock it til you try it!
Last but not least, I will mention that a few people have expressed interest in seeing what I eat on the daily again… I definitely won't go back to posting what I eat everyday but if you all are interested, I would be willing to do it once a week or so. Maybe I can pose it as "Eating Like a Health Coach" or something like that. Let me know in the comment section and I'll decide based on your input.
Have a lovely day friends! I'm off to do my PT exercises and an arm + abs workout.