This Peanut Noodle Salad is the perfect layered salad to pack for work. It's healthy and nourishing but substantial enough to keep you from making that afternoon run to the vending machine (sayonara, Skittles!).
Hi friends! Today I'm handing the blog over to my friend Ally. We haven't had a chance to meet in person (yet) but she and I connected through our love for salads and decided to team up to do a salad swap. She's here today to share her peanut noodle salad in a jar with us and I'm sharing my black bean fiesta salad in a jar over on Loveleaf Co. Hooray for new salad-in-a-jar ideas. Ally's peanut noodle salad looks amazing. I can't wait to try it!
Okay, I'll let Ally take it away from here.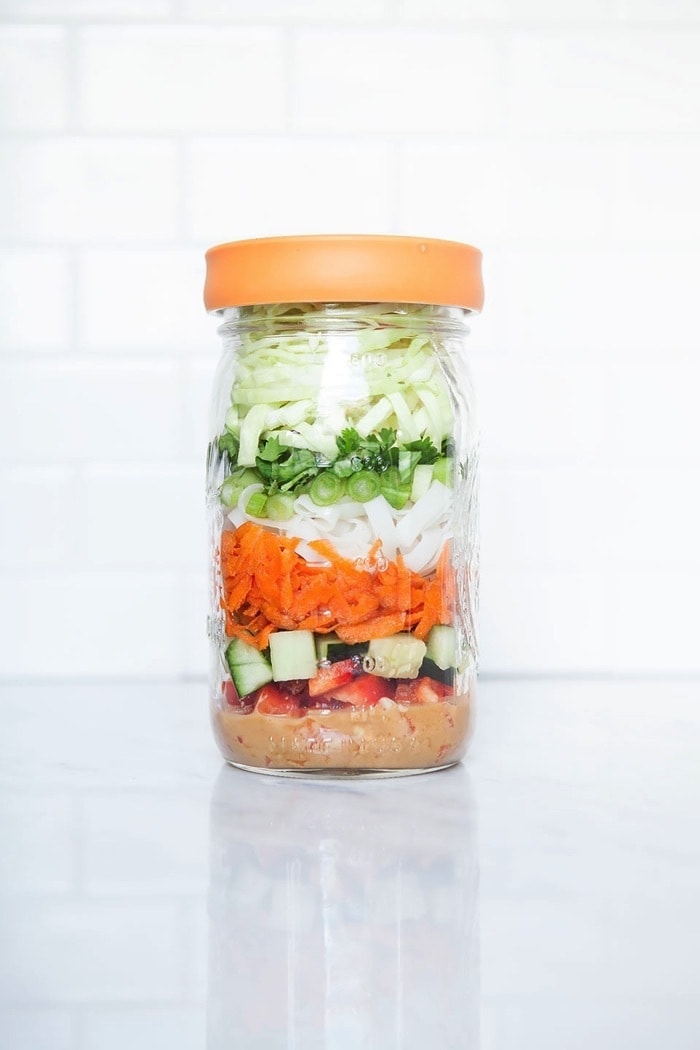 Though we've never met, Brittany and I are kindred spirits; we're both team #saladeveryday. Like Brittany, you can say I'm a bit salad-obsessed (literally: I have a website to prove it). The habit of eating one big salad a day changed my health forever and I'm on a mission to share this with the world. Though salad is usually considered a "light" and "summer-y" food, Brittany and I eat them all year long, changing up the ingredients with the season.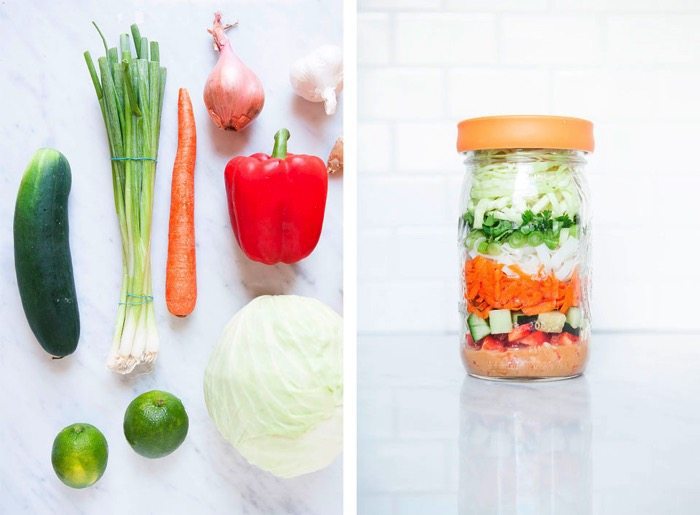 I think salads are the perfect meal to transition between summer and fall. When life gets serious again after the warmer months, salads can strike a balance between light and refreshing (summer) and filling and satisfying (fall). Healthy salads are my go-to work lunches because they are nutrient-dense and, with the right ingredients, give me enough energy to power through my afternoon #likeaboss.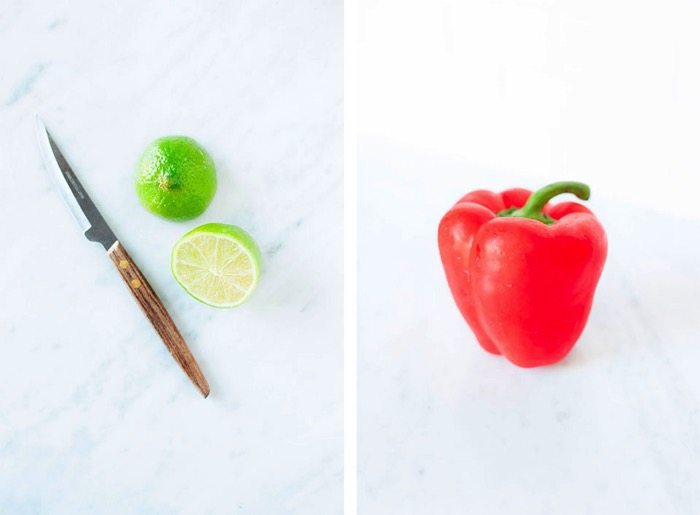 To keep the salad fresh until lunchtime, you're going to need two things: a container for the salad (I use wide-mouth quart size mason jars) and a layering strategy. When it's time to go back to "the real world," here's how to properly layer the ingredients so it stays fresh for lunch. In the meantime, I'll be by the pool with Brittany's frosé, pretending summer lasts forever.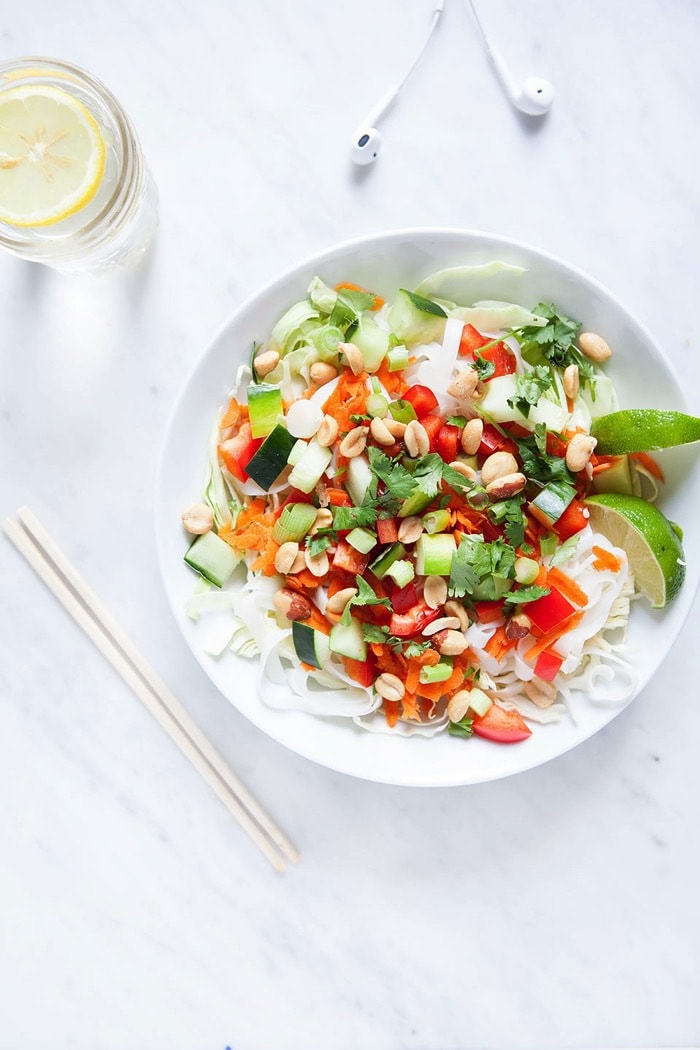 1. Start with the dressing.
Pour ½  of the peanut dressing into the bottom of each jar.
2. Add harder veggies and fruits.
In go the red pepper, cucumber, and carrot; anything that would taste amazing slightly "pickled" from the dressing will work in other salads.
3. Add beans, grains, pasta or noodles.
Here we're using noodles, but you can use grains or beans for other types of salads.
4. Add cooked protein and cheeses, if using.
We didn't add protein to this salad, but feel free! Chicken or tofu would be amazing here. Need salad protein ideas? Look no further.
5. Add salad greens.
We like about 1-2 cups per salad. If you plan to eat the salad straight from the jar (I do it all the time), just leave some room at the top so you can shake up all the ingredients when you're ready to eat it. And make sure your greens are completely dry before packing (hello, salad spinner).
7. Pack and Enjoy!
Pack salads and keep upright on your way to work. Keep in the fridge until lunchtime. Once you're ready to eat, shake the salad out of the jar and onto a plate. Toss lightly toss with a fork. Enjoy!
Print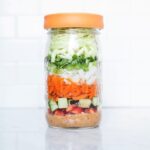 Peanut Noodle Salad in a Jar
Author:

Yield:

2
---
Description
This Peanut Noodle Salad is the perfect layered salad to pack for work. It's healthy and nourishing but substantial enough to keep you from making that afternoon run to the vending machine (sayonara, Skittles!).
---
Ingredients
Peanut Dressing:
1 garlic clove, chopped
1-2 teaspoons freshly grated ginger
2 tablespoons smooth, natural (no sugar added) peanut butter
1 ½ tablespoons lime juice
1 tablespoon low sodium gluten free tamari
1 tablespoon honey (use maple syrup or agave nectar to make vegan)
1-2 tablespoons water + more to taste
drizzle of sesame oil (optional)
Salad:
soba noodles, rice noodles, or gluten-free pasta of choice (about 4 oz dry)
1 large carrot, grated
1 red bell pepper, chopped
4 scallions, light green parts thinly sliced
1/4 small bunch of cilantro, chopped
1 small cucumber, peeled (if desired) and chopped
1/2 small green cabbage, thinly sliced
1/2 lime, for serving (optional)
¼ cup roasted, unsalted peanuts
---
Instructions
Make the noodles: Fill a medium saucepan with water, bring to a boil and then add 4 oz (about 2 servings) of soba or gluten-free noodles of choice. Cook according to package instructions, drain, and set aside to cool.
Make the peanut dressing: Chop the garlic, grate the ginger and then add all ingredients to a mason jar and shake well.
Prep the vegetables: Grate, chop, and slice the vegetables and set aside separately.
Pack the salads: Lay out two quart sized mason jars. Put the following in each jar, bottom to top (this is one serving): ½ of peanut dressing, ½ chopped red pepper, ¼ total chopped cucumber, ½ grated carrot, ½ cooked noodles, ½ chopped cilantro, ½ chopped scallion, 1 cup thinly sliced cabbage (or whatever fits in jar). For each salad, keep 2 tablespoons of roasted peanuts separate. Sprinkle on top when ready to eat. Enjoy!
Salads will stay fresh in the fridge for 3-4 days.
Ally Milligan is a Boston-based multimedia producer and salad-obsessive at Loveleaf Co., a site encouraging health and mindfulness through the simple habit of eating one salad a day. See how easy it is to incorporate this healthy practice into your life by joining Loveleaf Co.'s free 7 Day Salad Reset. You can find her over on Loveleaf Co., or on Instagram, Pinterest, Twitter, and Facebook.