Happy Monday – I hope you had a fabulous weekend! Thankfully we endured the intense heat, crazy thunderstorms and power outages while still making room for some fun. Here are some of the highlights from my iphone.
Patriotic protein pancakes!
It's never too early to celebrate right? To make these, I used my normal protein pancake recipe and topped the finished cake with fresh berries and a blob of PB2.
Patriotic Protein Pancakes
A slimming protein packed breakfast for the 4th or any other day you want to celebrate America! Adapted from the Tone It Up Protein Pancake recipe
Ingredients
1/4 cup liquid egg whites
1 scoop of brown rice protein powder (I used Vanilla Sunwarrior)
1/2 teaspoon chia seeds
1/2 banana, mashed
Toppings (1/8 cup blueberries, 2 chopped strawberries, 1 Tablespoon PB2 or peanut butter)
Directions
In a small bowl mix together the egg whites, protein powder and chia seeds until all the powder is dissolved. I find that a whisk does a great job for mixing in the protein powder.
Stir in the mashed banana.
Spray a medium sized pan with cooking spray and set heat to low-medium (I use the number 3 on my stove). The lower heat is the key to making sure the pancake doesn't burn.
Pour in pancake batter and cook until little bubbles form (about 5 minutes). Make sure the pancake is "set-up" enough before you flip or else you'll end up with a scramble. Carefully flip the pancake over to the other side.
Cook until pancake is done in the middle. It typically takes another 2-3 minutes.
Place pancake on a plate, top with toppings and enjoy!
Friday night we sat out in the 100° heat to watch The Lumineers and Brandi Carlile perform at Groovin' in the Garden. I'm pretty sure I lost at least a few pounds of sweat while sitting there, but it was totally worth it.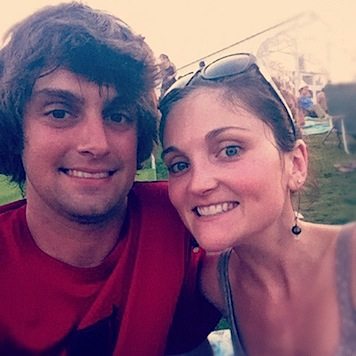 Saturday morning I found my new favorite farmers market vendor – the King of Pops, a small cart serving all natural popscicles in amazing flavors. Kira was eating a Blueberry Lemongrass popscicle and I couldn't resist getting one. I went for the Banana Puddin' flavor and was not disappointed. It had chunks of banana and vanilla wafer mixed into a creamy vanilla base… basically heaven on a stick.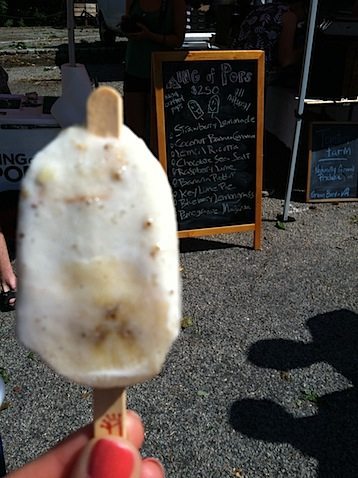 After eating dessert at 10:00AM, I went to my first ever CrossFit class. <– It's all about balance right? I have heard rave reviews about CrossFit (mainly from Tina of Carrots and Cake and other FitFluential ambassadors) so when I saw a LivingSocial deal come through for 12 CrossFit classes at CrossFit Full Circle for $40 bucks I jumped at the chance. I even got Isaac to buy it as well so we could go to the classes together.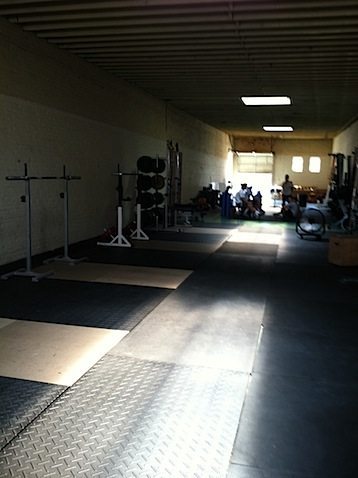 Isaac wasn't able to go this weekend so I ended up going to an Intro Session with my friend Gabby, who writes Gabby's Gluten Free.
We had a small group of three people for the intro/free trial session. It was 1 hour long and involved an introduction to CrossFit from the trainer. He explained the CrossFit philosophy, how the classes work and demonstrated the warm-up routine we'll be doing each time we come to the gym. We finished the session with a 15 minute high intensity workout that involved 8 pushups, 16 kettlebell swings and 250 meters of rowing. We did the three exercises as many rounds as we could in the 15 minutes. I got through four full rounds and was about 100 meters away from finishing my fifth.
It was definitely fast-paced and intense, but I enjoyed it and felt like I got a really good workout in, which is awesome considering we were only working out for 15 minutes. Since this was just an intro class, I don't feel comfortable giving my review of CrossFit just yet. I have two fundamental classes scheduled for next week so I'll be sure to share my thoughts after taking them.
Post workout – you can't really tell from the photo but we were both super sweaty! And just in case you were wondering, we didn't plan the purple and black. 🙂
Time for me to head to work. Have a lovely day.