Do you ever get really happy when a food you love comes back in season? I know I do! Strawberries and tomatoes are two of my favorites, but I also have a thing for summer squash. When I saw zucchini squash at the farmers market this weekend I got super excited. I had only seen baby zucchini and yellow squash on previous visits so even though I didn't really have any thing in particular to make when them, I had to buy a couple.
Instead of just quickly sautéing them as I normally do, I put them to good use tonight with a fun recipe for vegetarian zucchini boats.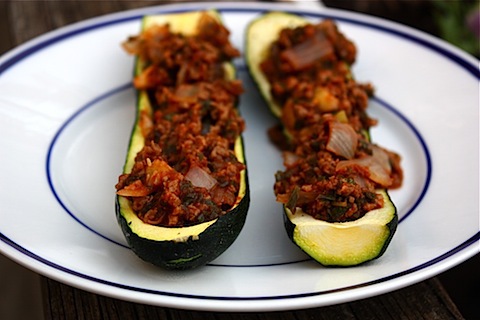 I haven't made these in such a long time, but I'm not sure why. They're so easy to throw together and the filling is delicious and flavorful. I'm always looking for healthy week night meals that don't take a ton of time and effort and this recipe definitely fits the bill.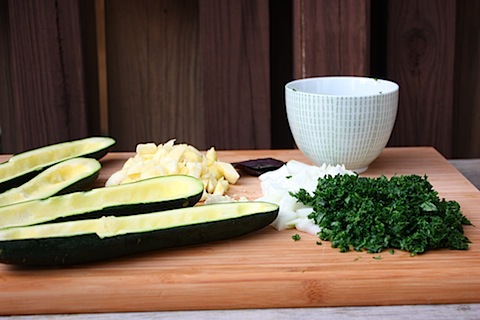 In the boats – garlic, onions, chopped kale, the zucchini innards and fresh, purple basil.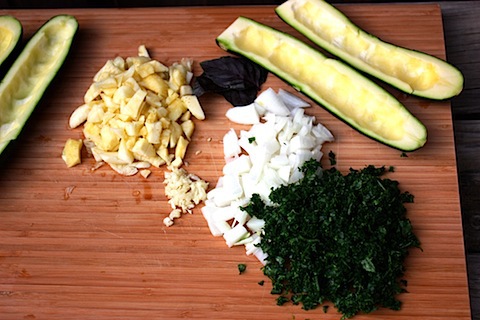 Since I'm on somewhat of a protein kick as of late, I made sure these boats had plenty by using Quorn beef style grounds. They're just like other vegetarian crumbles only soy-free and made with mycoprotein, a protein that comes from a fungi, similar to that of mushrooms. This was my first time trying it and although the flavor and texture seemed really similar to other fake meat products I've tried, I like it a little more because it's soy-free. When trying to increase your protein as a non-meat eater, it's easy to fill up on packaged, soy-based products so it's definitely nice to see some alternatives out there.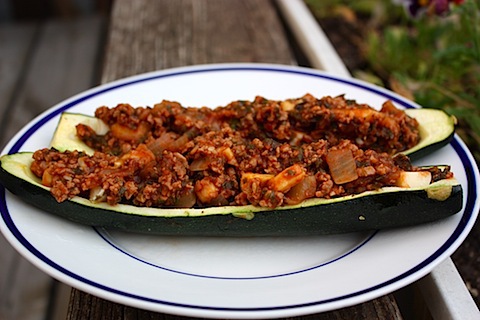 Overstuffed Zucchini Boats
Serves 2 / Print Recipe
Ingredients
2 medium zucchini squash
1/2 medium onion, chopped
1 garlic clove, minced
1 cup chopped kale
1 1/2 cup Quorn grounds or veggie crumbles
1 1/2 cup tomato sauce
4-5 fresh basil leaves
1/2 t dried oregano
sea salt and ground pepper, to taste
Preparation
Pre-heat oven to 350°
Cut off the ends of the zucchini and halve, lengthwise
Scoop out the inside of the zucchini, leaving the outer shell (boat) intact and saving the flesh for later
Spray the four shells with non-stick spray (I use canola oil spray), place cut-side-up on a baking sheet and bake for about 35 minutes or until the zucchini has softened
While the shells are baking, chop the zucchini flesh into small pieces and sauté over medium heat with non-stick spray, onion and garlic until soft and fragrant
Add kale, veggie grounds, tomato sauce, basil and oregano and mix well. Simmer the mixture for 10-12 minutes, season with salt and pepper and keep warm until the shells are done baking
Remove the zucchini shells from the oven when they are ready and fill each with a good portion of the mixture
Serve warm and enjoy
You're likely to have extra of the mixture so you can over-stuff the boats and eat it on the side, save it to have with another meal or let your boyfriend polish it off. 🙂 Can you guess which scenario happened here at Casa de EBF? I'll give you one guess.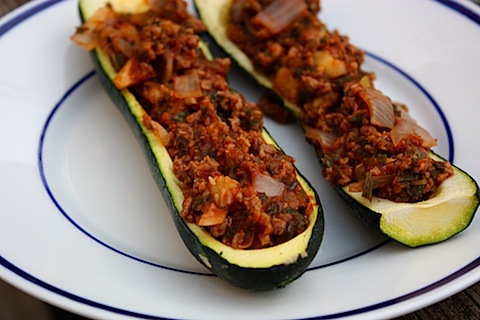 There you have it – an easy, protein filled meal that even a meat eater will love!
Next month when your garden/market/kitchen counter is over flowing with zucchini and you don't know what to do with it, make some boats!