Happy Monday! I hope you had a nice and relaxing weekend. If I could sum up my weekend in a few words it would be the title of this post. There was a ton going on, but the most exciting part parts were the two outdoor yoga events I attended.
I'm a huge fan of outdoor yoga so whenever I hear about local events I try to sign-up. Knowing that both of these events would have tasty food from Whole Foods afterwards was just icing on the cake.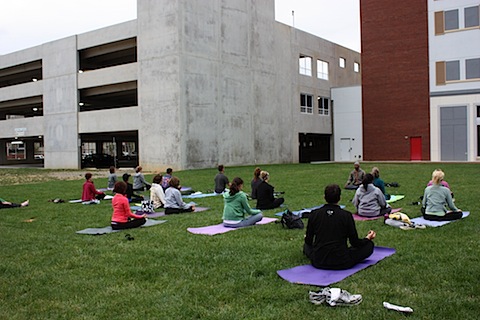 Saturday morning I embarked on a Living Social Yoga by the Riverside Adventure with a local blogger/friend, Lauren.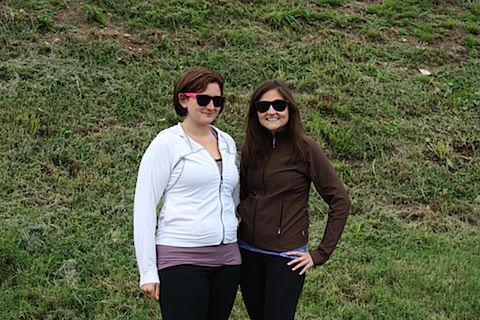 Don't you love the sweet neon sunglasses we're rockin'? They were courtesy of Living Social. 🙂
The yoga class was held in a peaceful spot right on the James River. It was a little on the chilly side, but overall a beautiful morning.
The class was taught by Joanna and was perfect for all levels. I normally go to more advanced classes but I've been really sore from different workouts lately so this stretching was exactly what I needed.
After practicing we enjoyed a little brunch from Whole Foods with veggies, fruit, pita chips, hummus and coffee.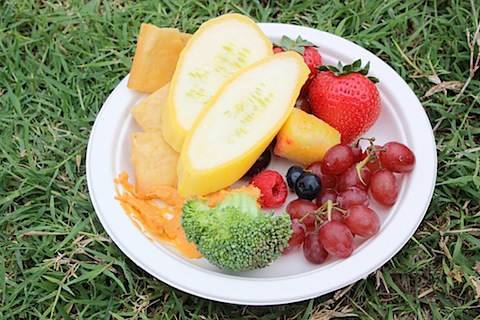 It was a lovely way to start off the weekend.
Sunday's event was in the afternoon on a grassy spot near the Whole Foods store in Short Pump. WF and Om on Yoga sponsored the yoga class and J Miles lead the group through a wonderful, all-levels practice.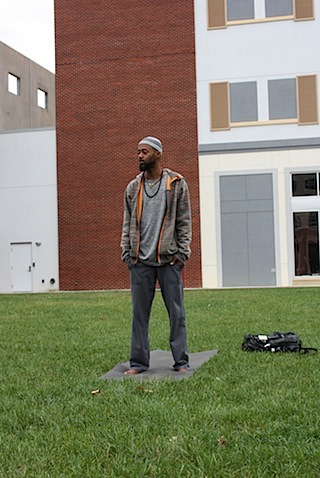 The class was awesome.
Jessica and Stephanie were there as well so I got to hang with them, which is always a blast! And Chef Jesse's food was amazing, per the usual.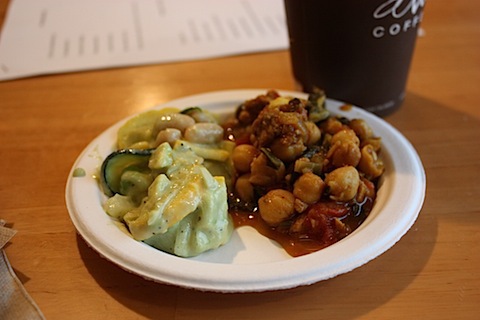 That's a nutty avocado salad on the left, a curried chickpea dish on the right and a kale soup in the cup. Everything was vegan and tasted delicious. My favorite was the avocado salad so I'm pretty sure I'll be recreating it here on the blog soon!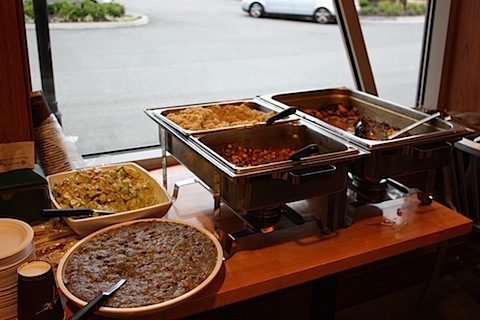 Last but not least, dessert for the evening was a chia pudding! Jesse made it with rice milk and added in raisins, sliced almonds, cinnamon and cardamon. It was so good I wanted to swim in the huge bowl of chia pudding, in other words – I had seconds.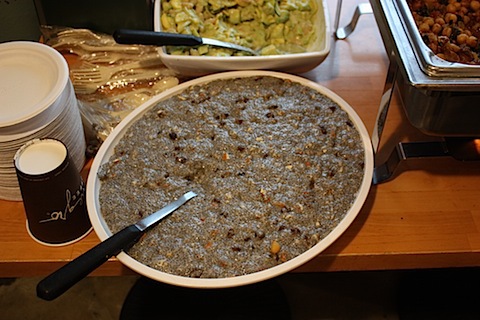 After the class I did a little shopping and realized there are some new things going on at my local WF store.
First off, we have a bulk spices section now!!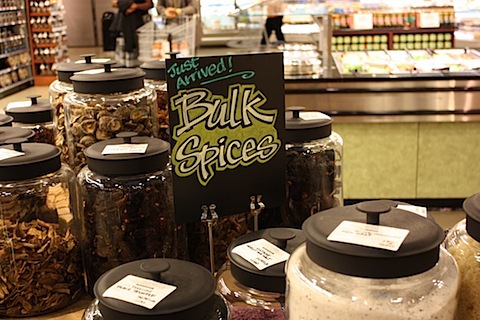 There's a whole end cap full of spices as well as two big sections of dried shrooms and unique sea salts. I'm so pumped about this because I can now buy the exact amount of a particular spice I need and the prices seem much cheaper. And of course, less packaging is always a plus as well!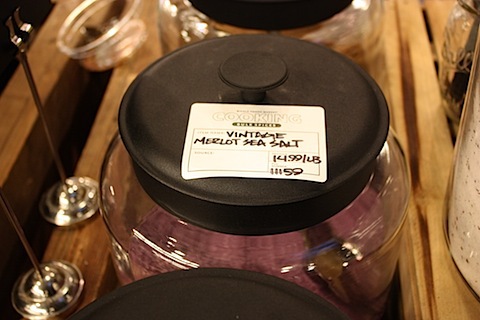 Why hello, mr. merlot sea salt – I don't think I've ever seen you before. 🙂
I've never cooked with dried mushrooms before but apparently I need to buy some and give it a try.
Another thing I recently found out is that that our store now has a little Nutritional Information kiosk where you can type in the names of the items served in the prepared foods section or hot/salad bar and get the nutrition facts and a list of the ingredients.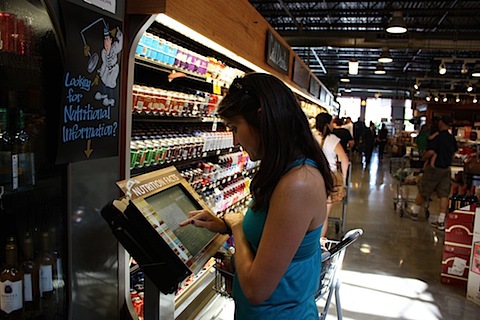 I love knowing what's in the food I'm eating so I thought this was really cool. I'm sure people on special diets or those with allergies will love it as well.
Have you ever done yoga outside? Do you like it? I really enjoy practicing outside. I always feel so grounded, open and more connected with nature after practicing outdoors.
Does your local WF have bulk spices and nutritional information station? I apologize in advance if you don't have a local WF. :/