Stonyfield Organic Cooking Tour + Why Organic Food is Important
2
Published Feb 22, 2018, Updated May 28, 2023
A couple weeks ago I was invited to California by Stonyfield Organic for an organic farm and cooking tour. I've been a huge fan of the Stonyfield Organic brand for years. I've always loved their yogurt and I'm very interested in the organic food movement, so the trip seemed like a great opportunity. Add in the fact that we were going to meet Alice Waters, dine at Chez Panisse, tour and taste at Preston Farm and Organic Winery and meet Doug Lipton of SHED Healdsburg… I knew this trip was a once-in-a-lifetime kind of thing.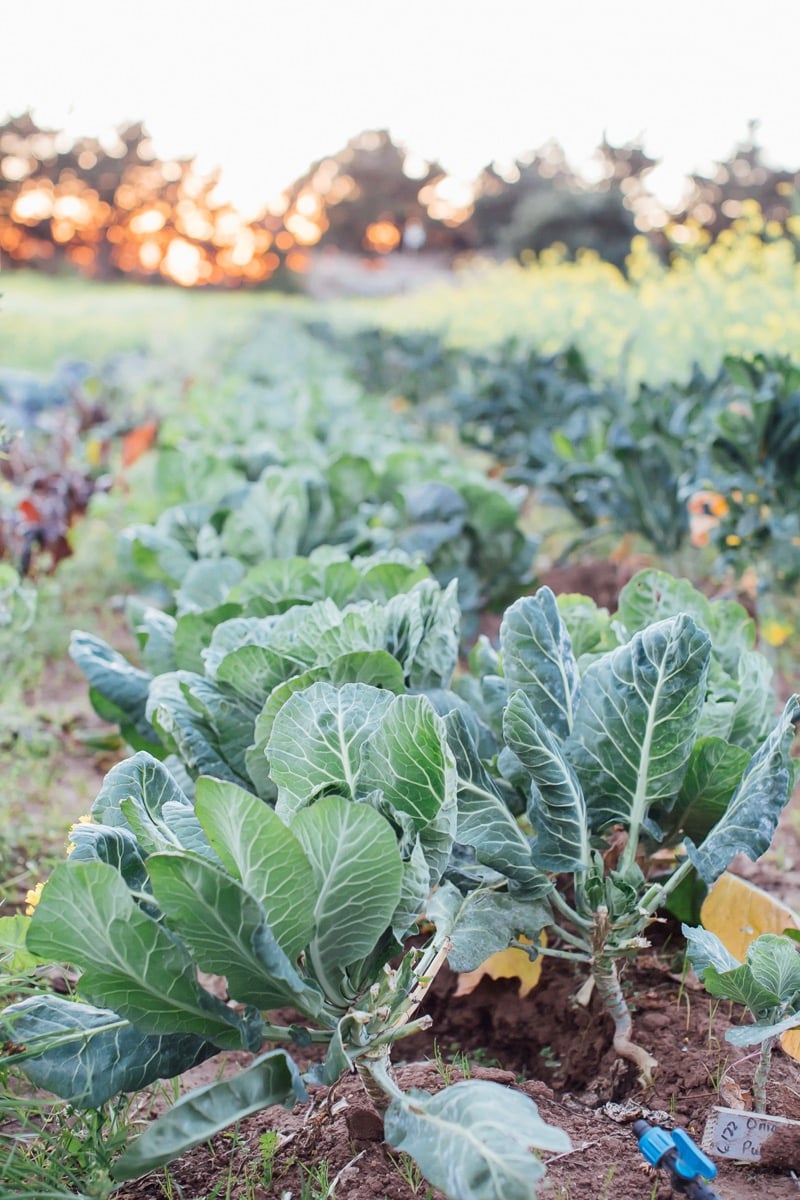 What I didn't realize was how much I would learn about organic farming and how impressed I would be with the mission and people behind Stonyfield Organic. Gary Hirshberg, one of the co-founders, was on the trip with us and wow, he's an amazing wealth of knowledge. You might look at him and think he's just another businessman, but once you hear him talk for a minute you understand that his mission is way beyond selling more yogurt. He comes from an environmental science background, so he truly cares about the environment and chooses to promote organic farming practices because of their benefits for our health and the environmental impact. I learned so much from him just by listening as we rode around on the bus during our tour. PS, if you haven't heard the How I Built This podcast episode with Gary yet, you have to check it out. It's amazing to learn all the behind the scenes of how Stonyfield Organic came to be and the challenges they faced along the way. It's really inspiring!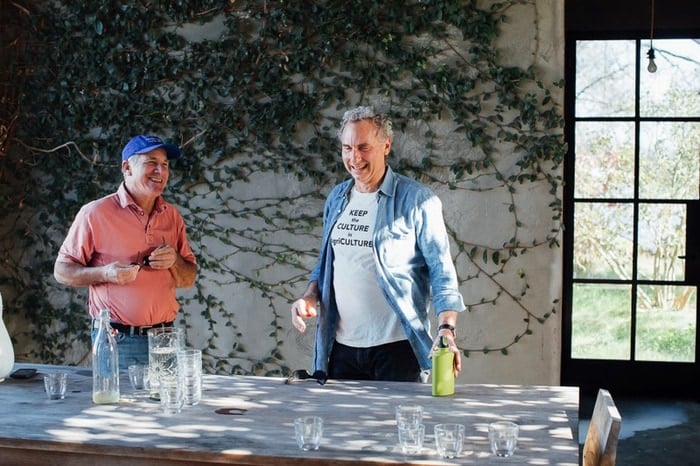 Back to the tour — it started on a Monday morning. We drove from San Fran out to Healdsburg, California, to visit "HomeFarm" — the family farm of Cindy Daniel and Doug Lipton, the owners of SHED, a famous market and cafe focused on local food in downtown Healdsburg.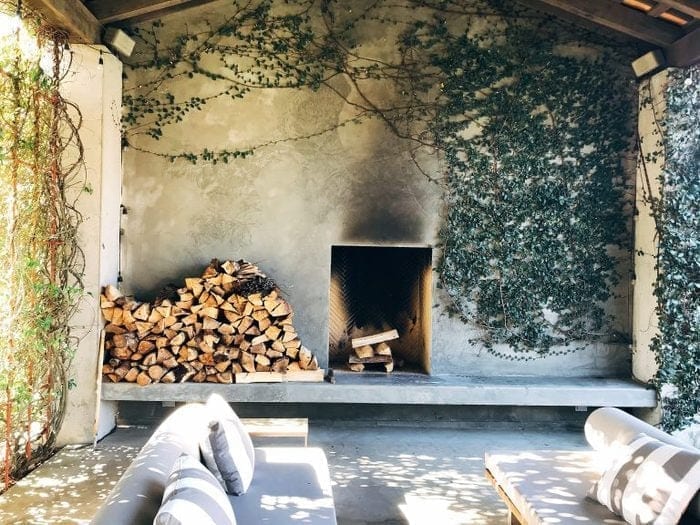 Backyard goals… amirite?
Doug graciously gave us the grand tour and talked about their organic farming practices including crop rotation and composting.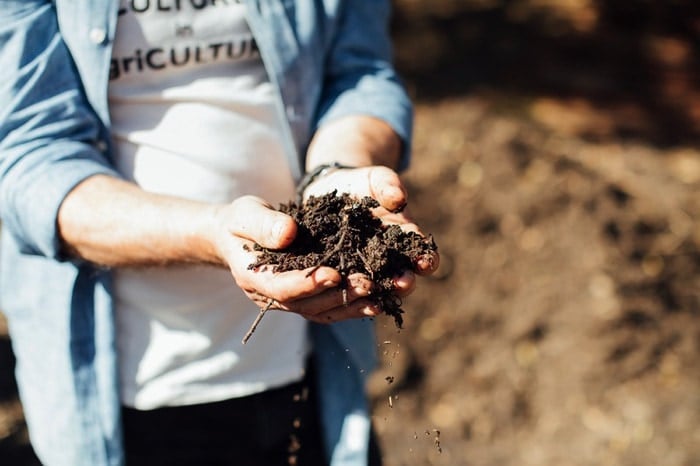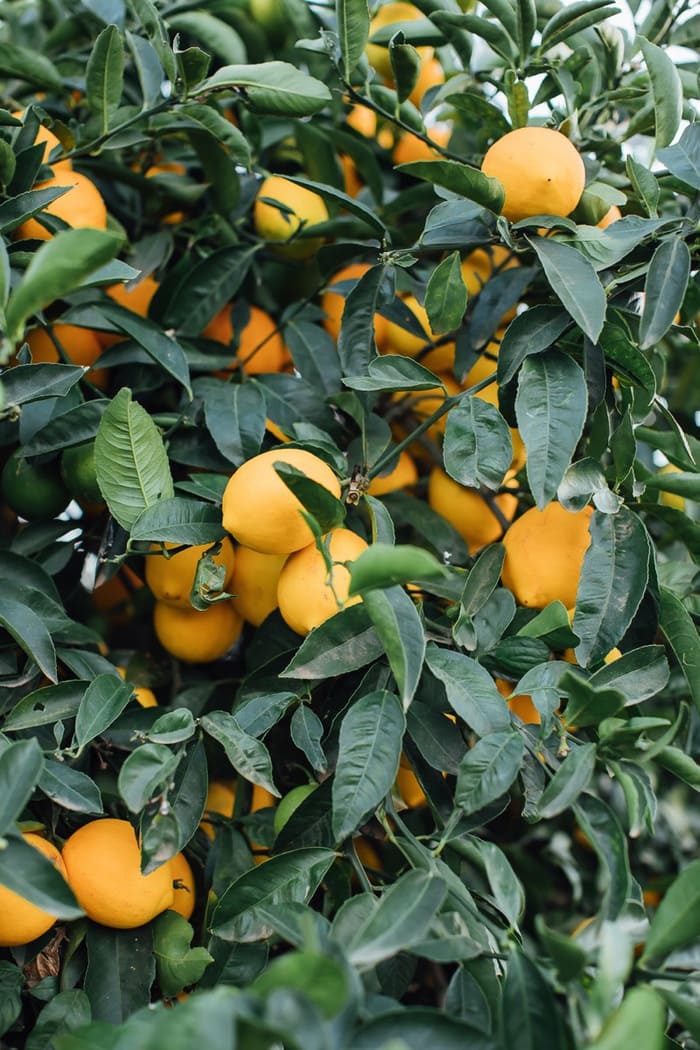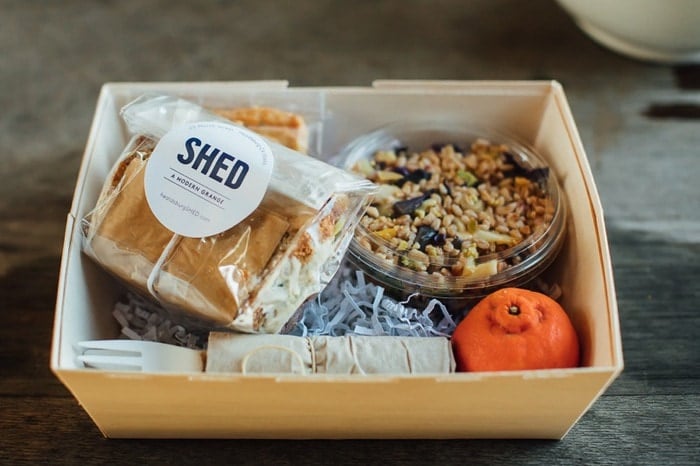 We had a picnic lunch, sipped ginger kefir water (so good!) and then headed off to Preston, a nearby organic farm and winery. Preston makes biodynamic and organic wines, but they also have an organic farm on the vineyard and a wood-fired oven. This means you can sip a glass of wine while enjoying a freshly baked loaf of sourdough, homemade olive oil and pickles… and everything is delicious! If you're interested in learning more about what makes a biodynamic wine, check out this article.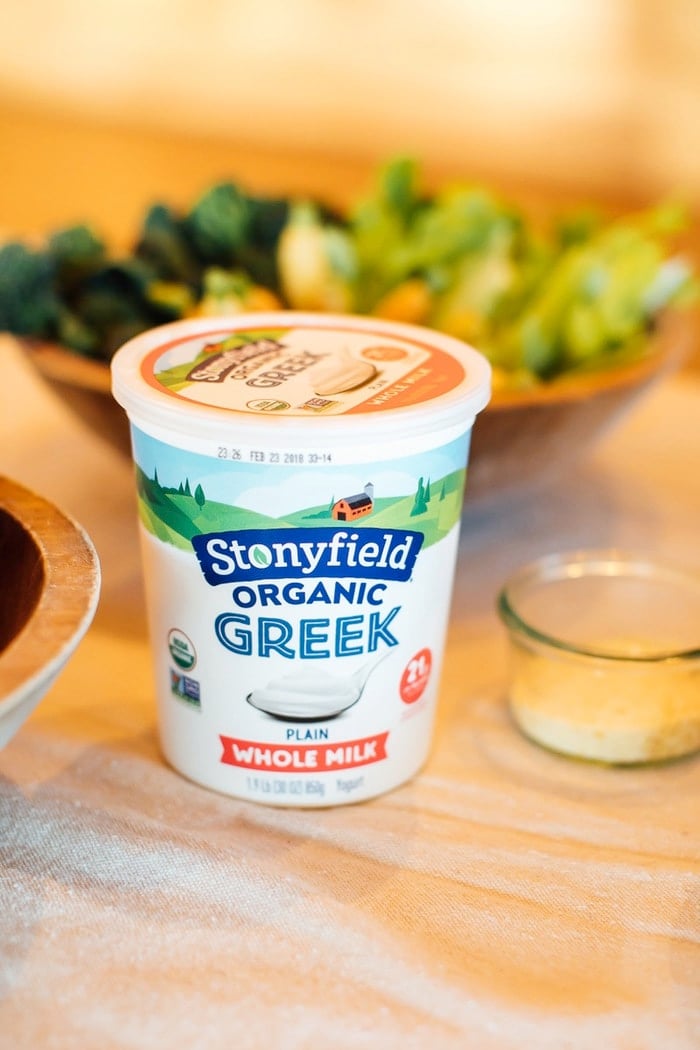 That afternoon we had a "cooking with yogurt" class with the chef of SHED. We made a beet dip that was phenomenal so I definitely want to try to recreate it soon.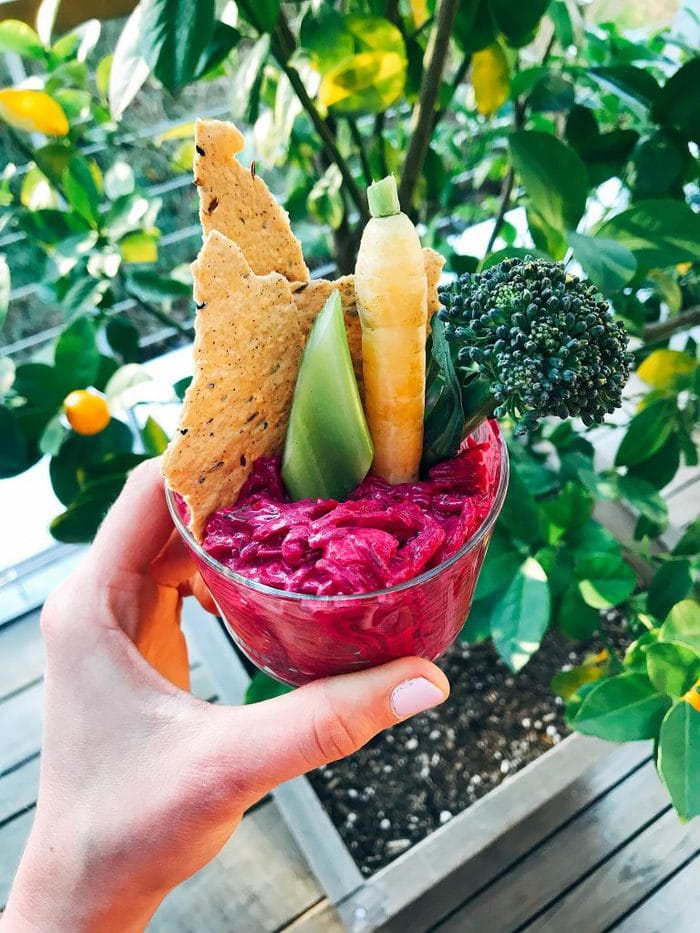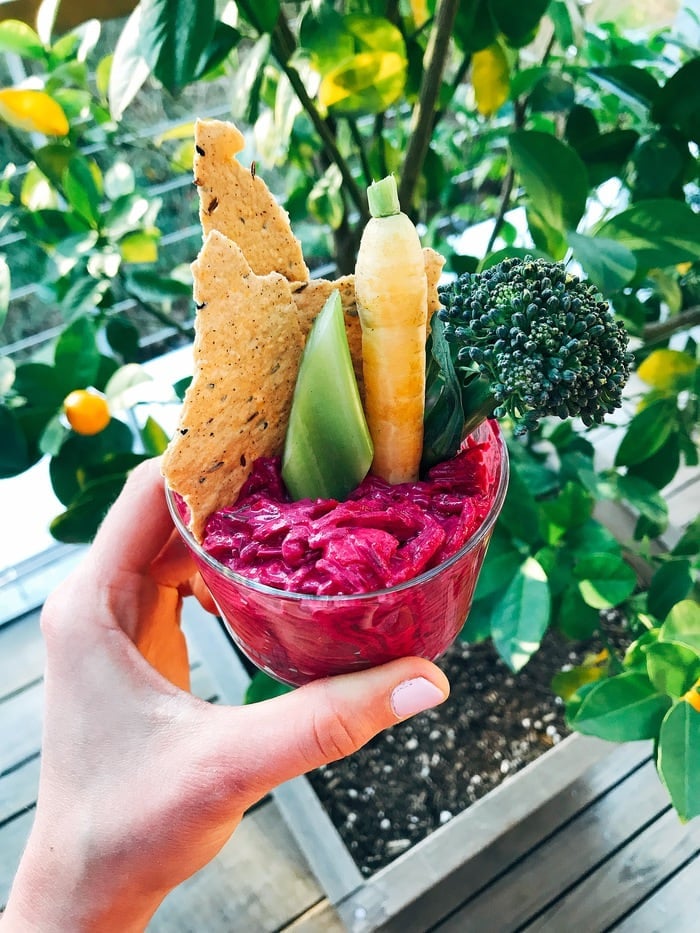 We also made yogurt seaweed face masks, which I tried out that evening at Hotel Les Mars.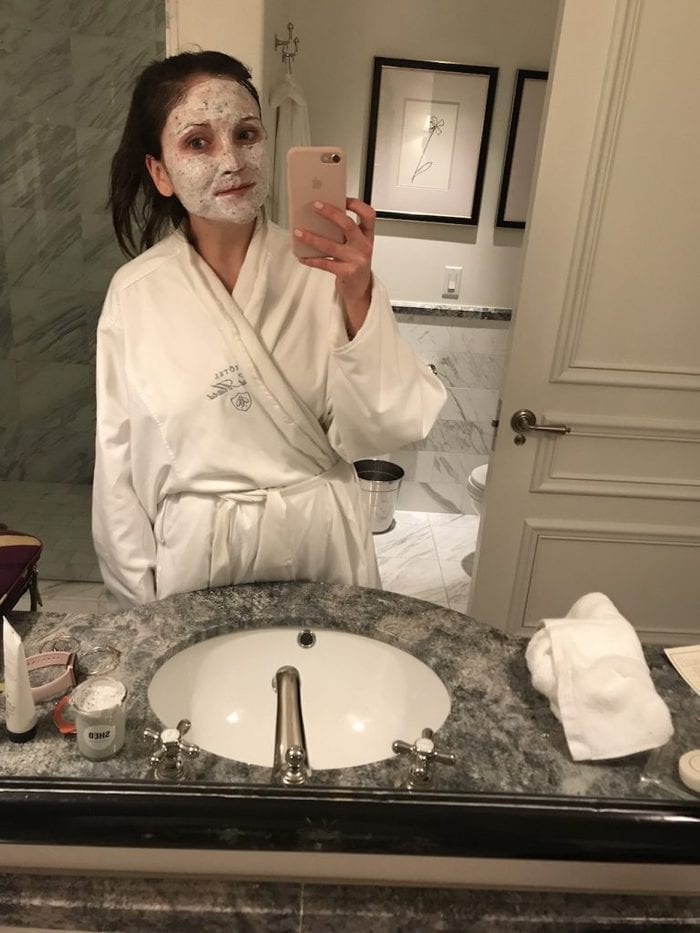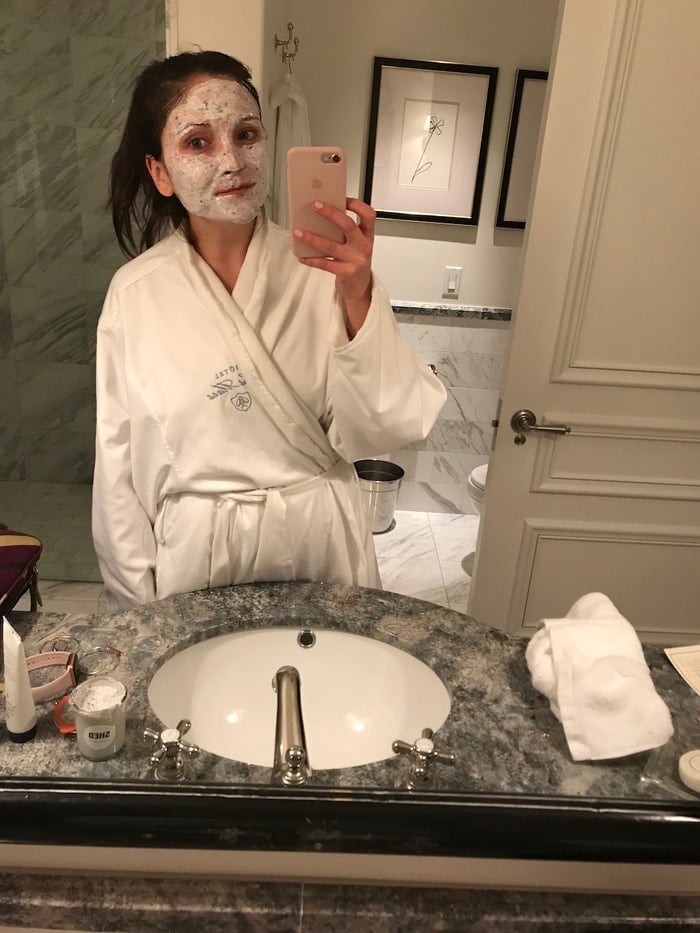 I swear this mask saved my jet-lagged skin.
That evening we had a group dinner at SHED, which was so amazing. Here's one of the stunning salads we had.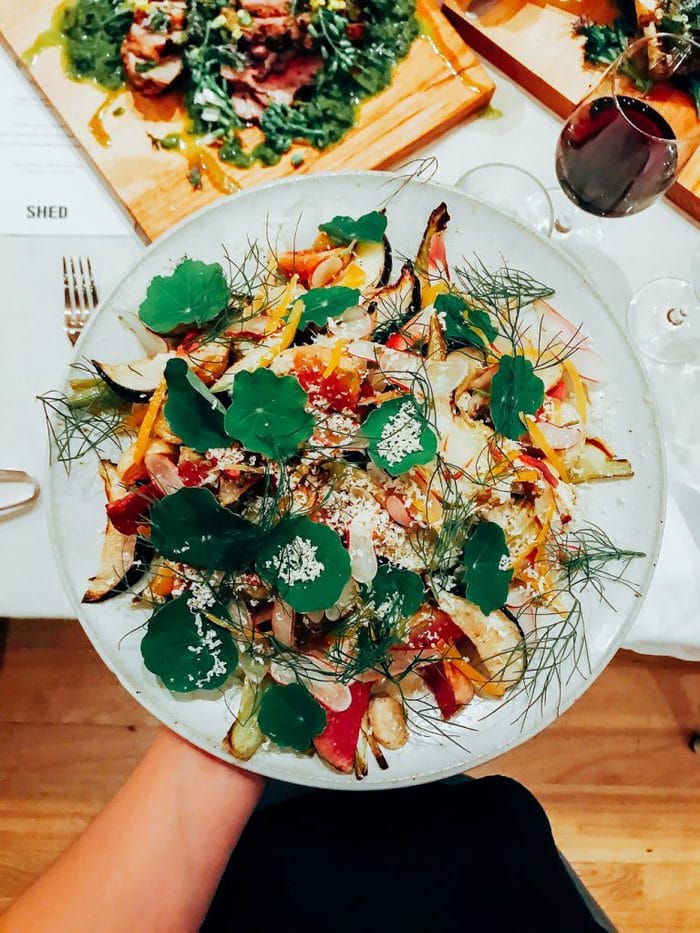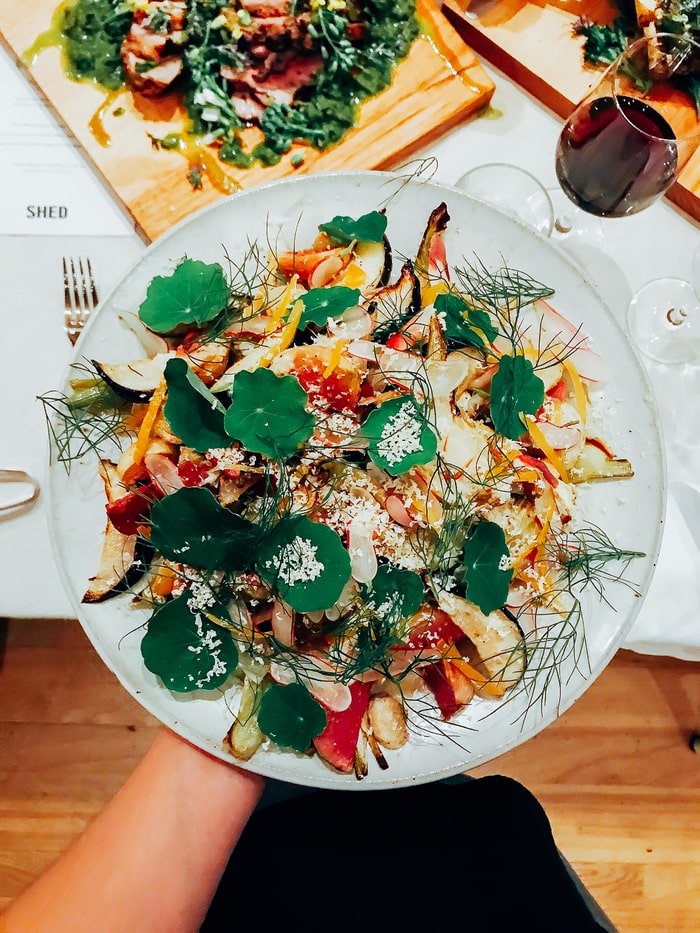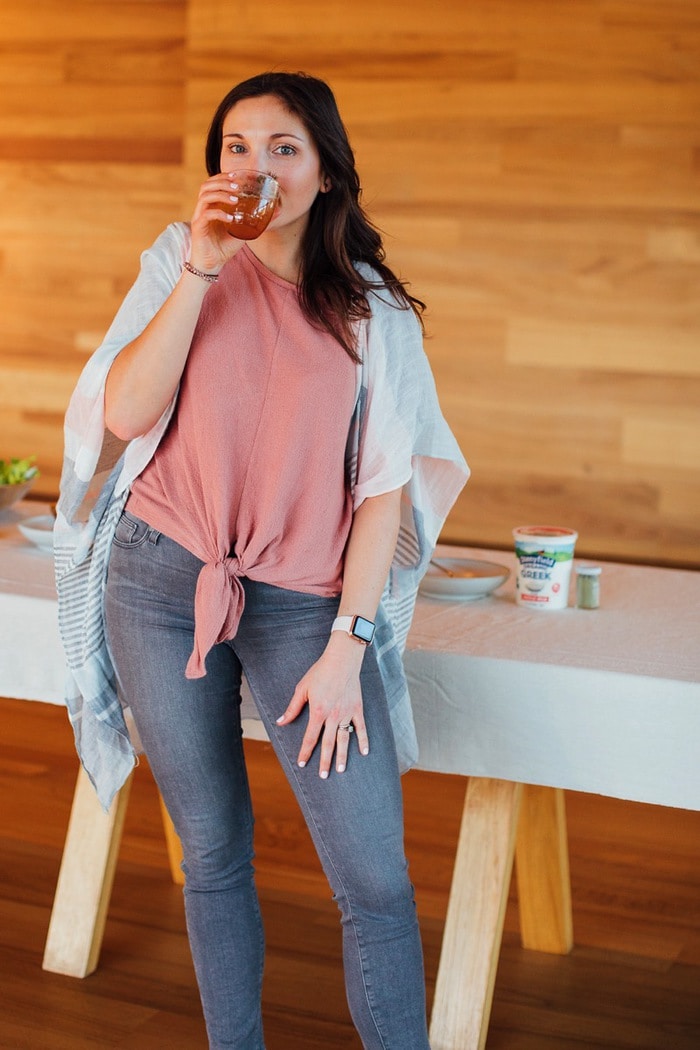 Here I am sipping a pre-dinner apple cider vinegar shrub… as y'all know, I'm always down for a little apple cider vinegar action.
The next day we met Alice Waters at the Edible Schoolyard in Berkeley.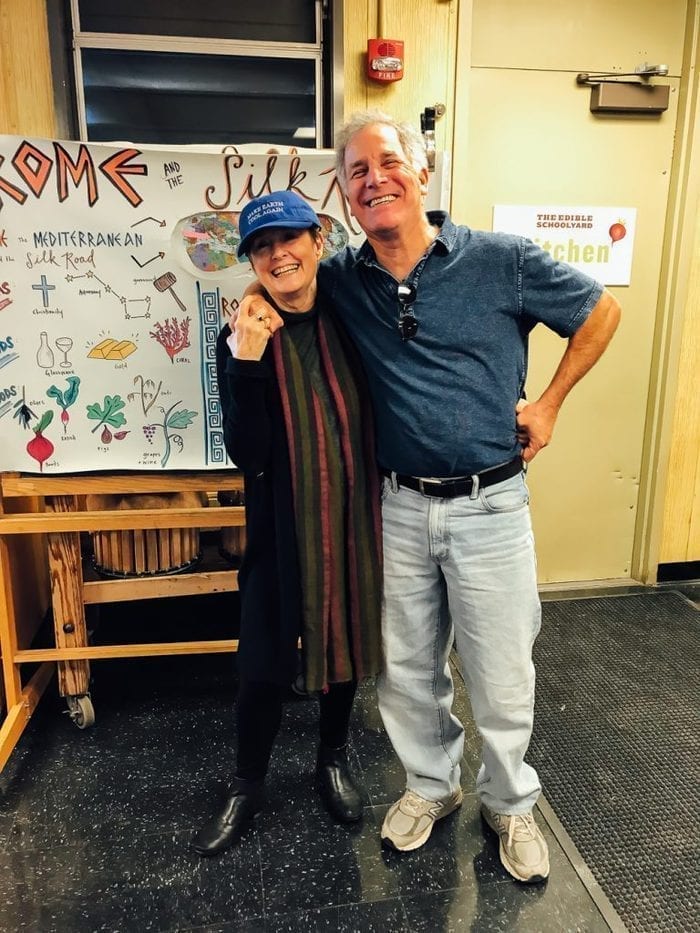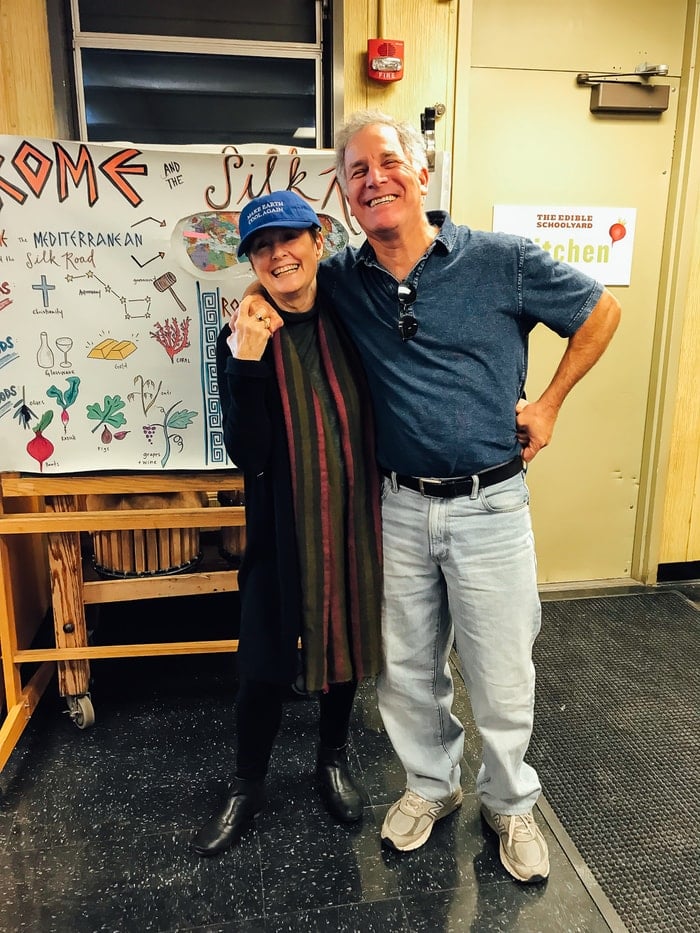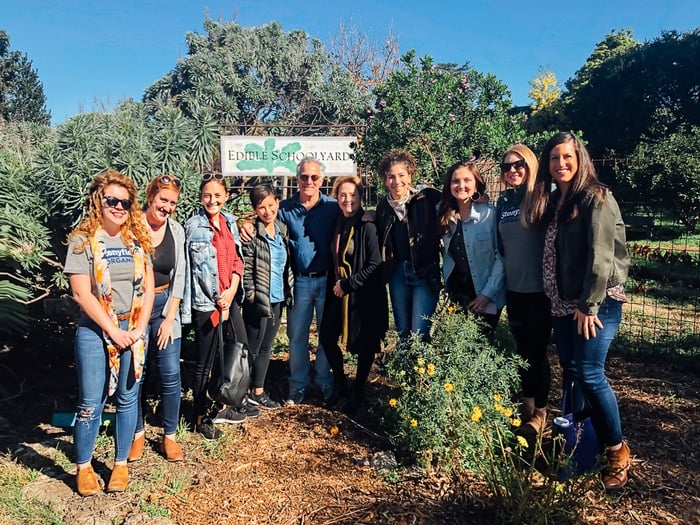 This was SUCH A COOL experience — not only to meet Alice, world renowned chef, restaurateur, activist, author, and the first woman to win the James Beard Award for Outstanding Chef, but also to see the original Edible Schoolyard in action.
For lunch we enjoyed a meal at Alice's restaurant, Chez Panisse, which was just as lovely as you'd imagine it to be.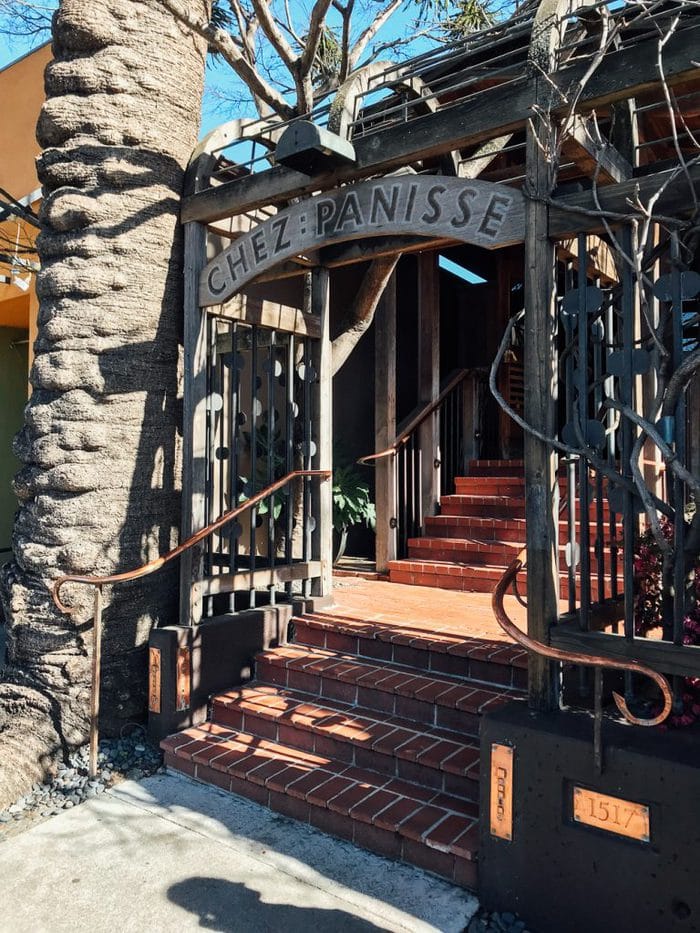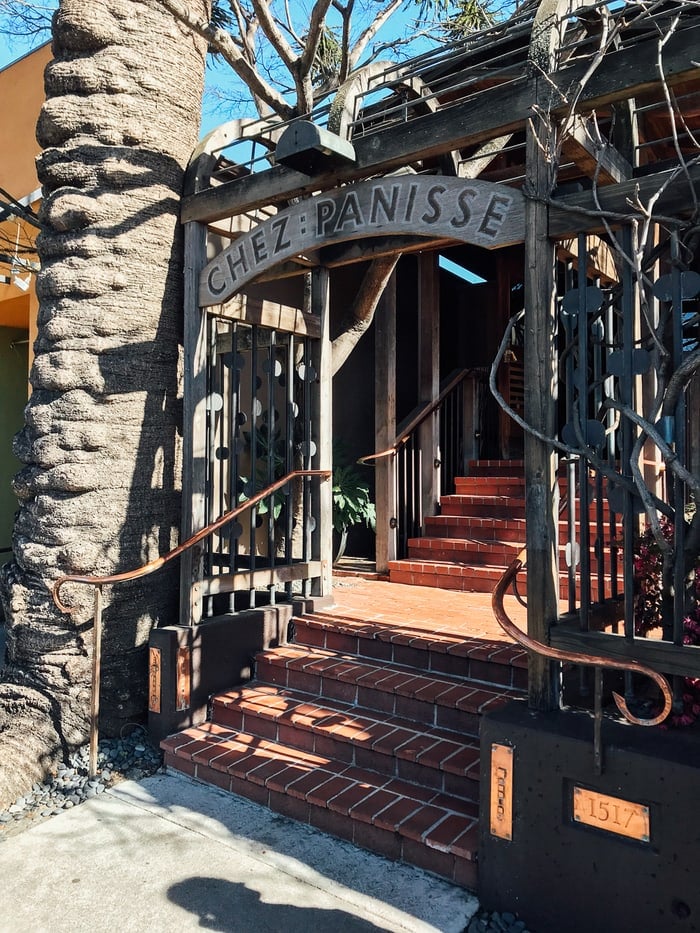 The menu changes twice daily based on what's in season and available at the market and you can taste the freshness with each bite.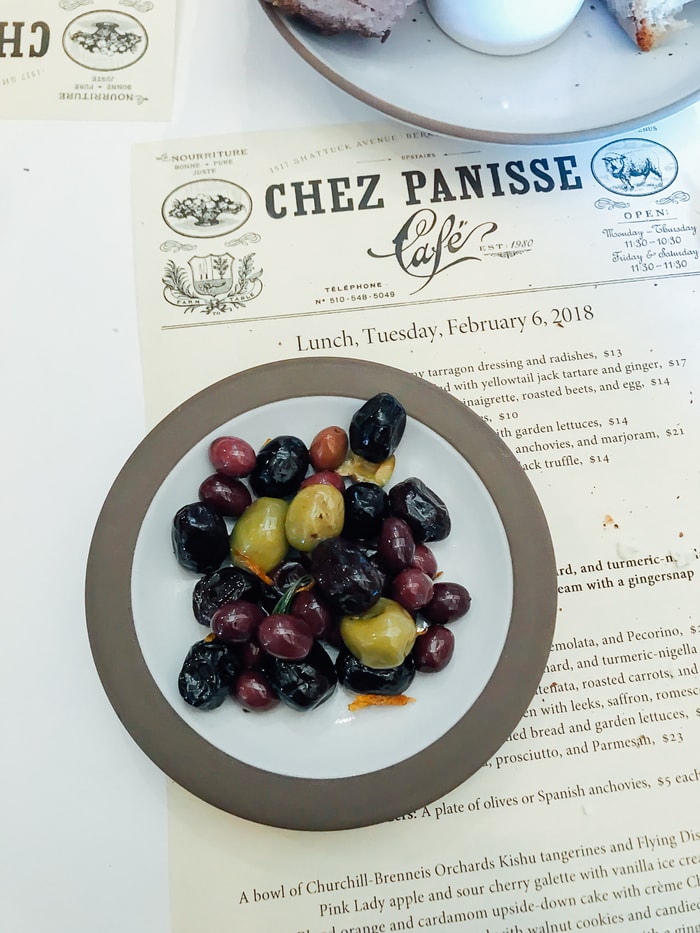 Fresh bread and olives to start.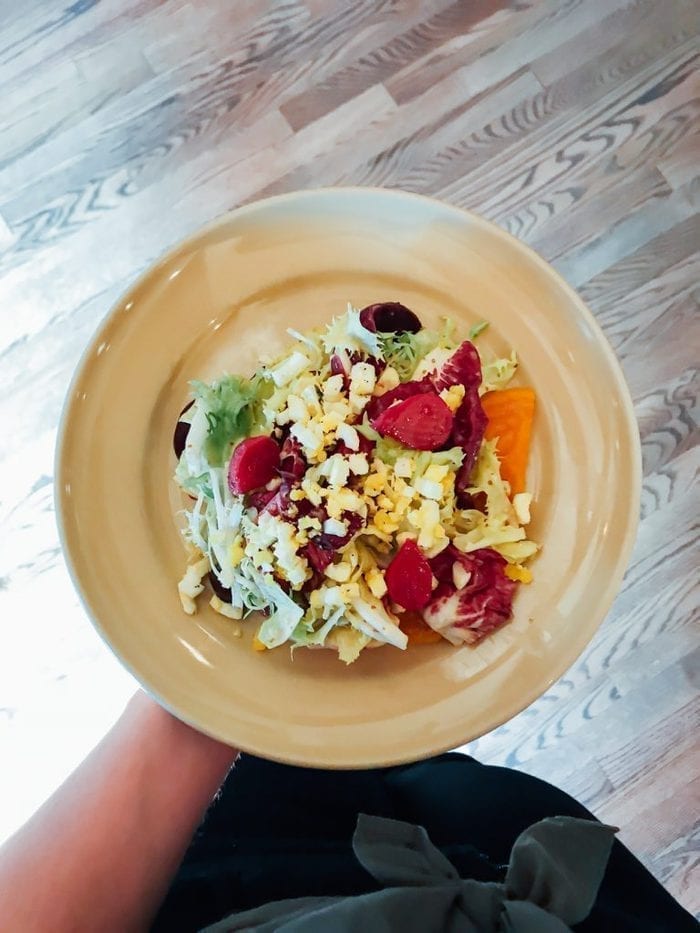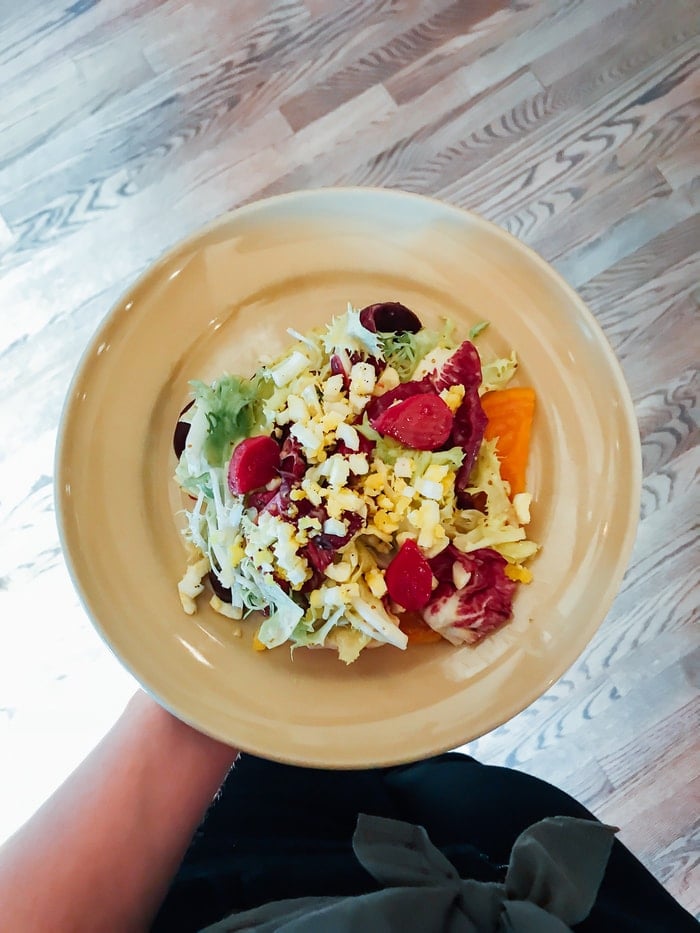 Chicories with mustard vinaigrette, roasted beets and egg.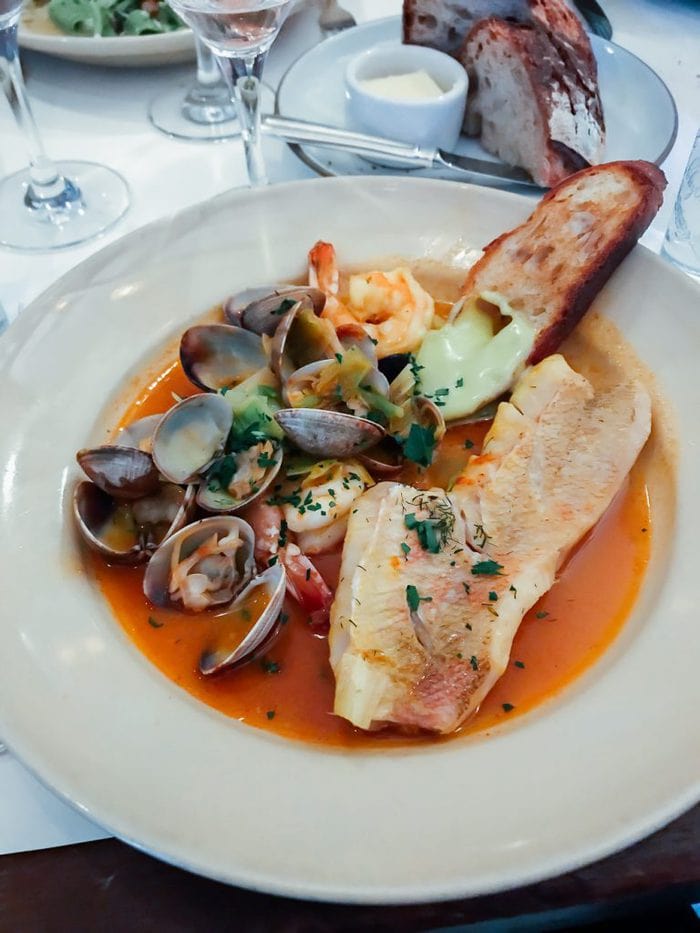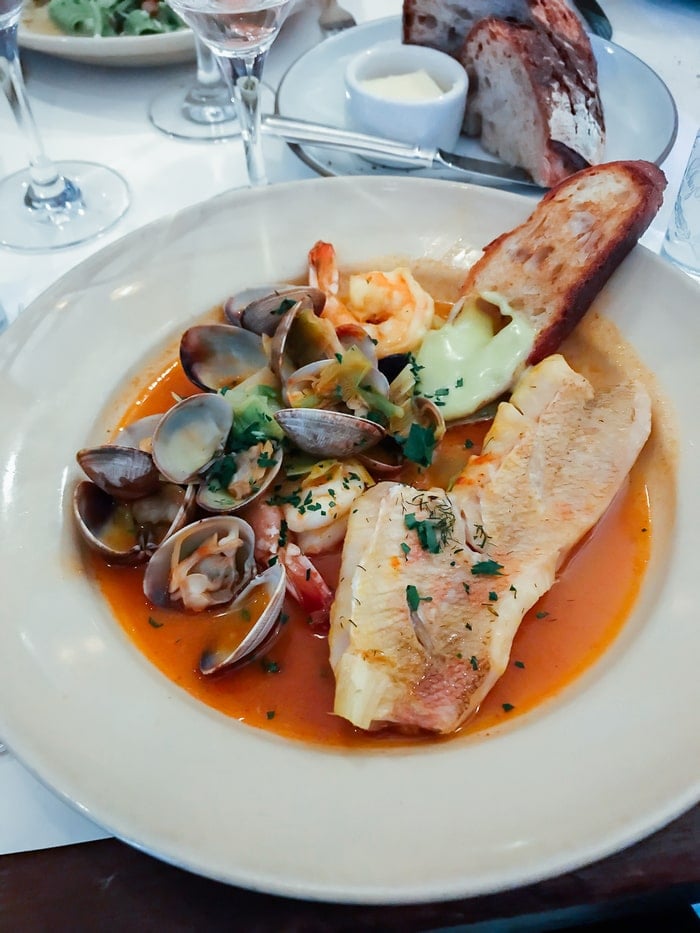 Clams, rockfish and shrimp cooked in the wood oven with leeks, saffron, romesco and allioli.
After lunch we drove up to Santa Cruz to check out the organic farming program at UC Santa Cruz, aka the Center for Agroecology & Sustainable Food Systems. This was a really special experience because this program is geared toward teaching the skills it takes to become an organic farmer. And let's be real — farming is hard work and many people in the younger generation might not be familiar with it. We toured the beautiful campus with green farmland overlooking the Pacific Ocean, heard from two students about their experience with the program and then enjoyed a dinner at the school's Hay Barn.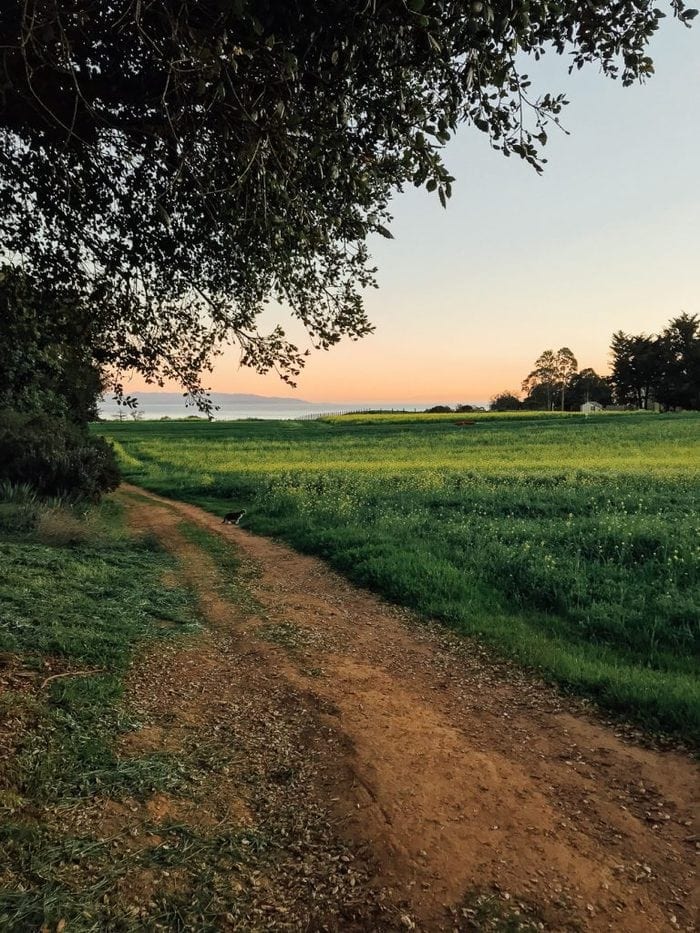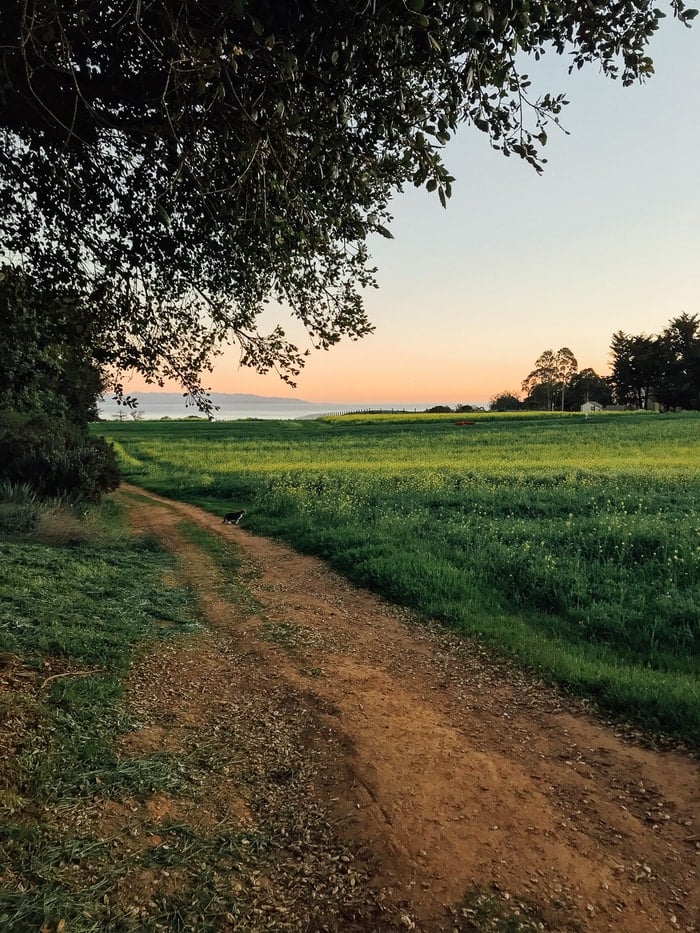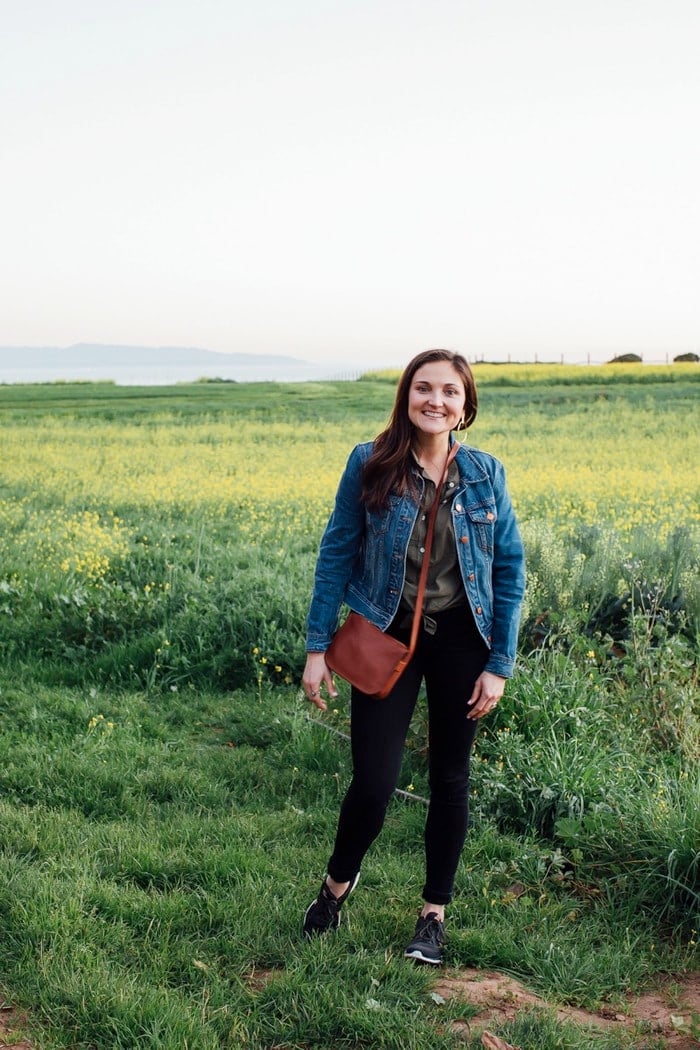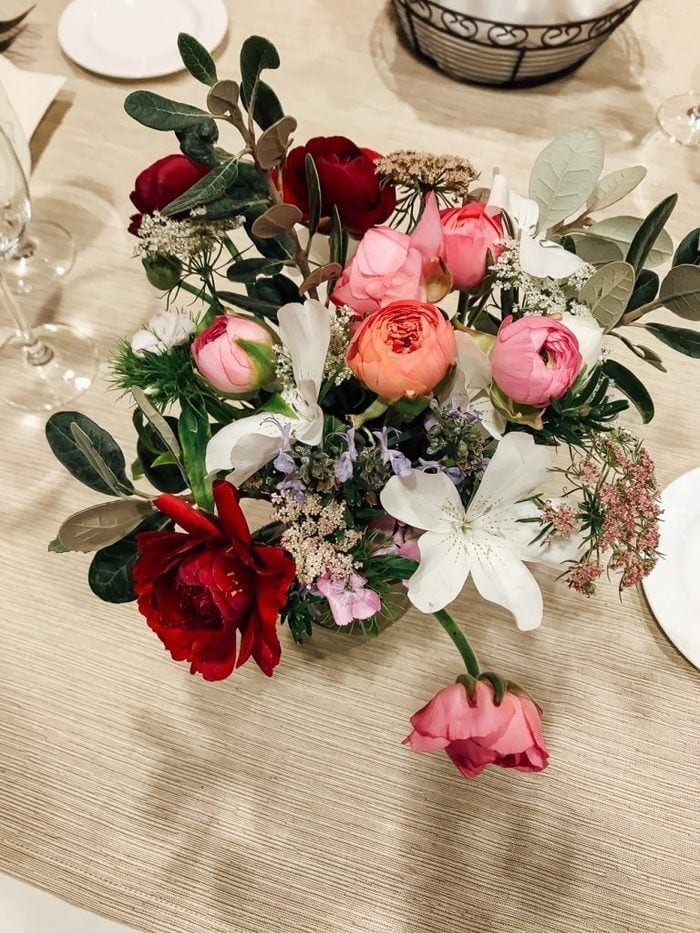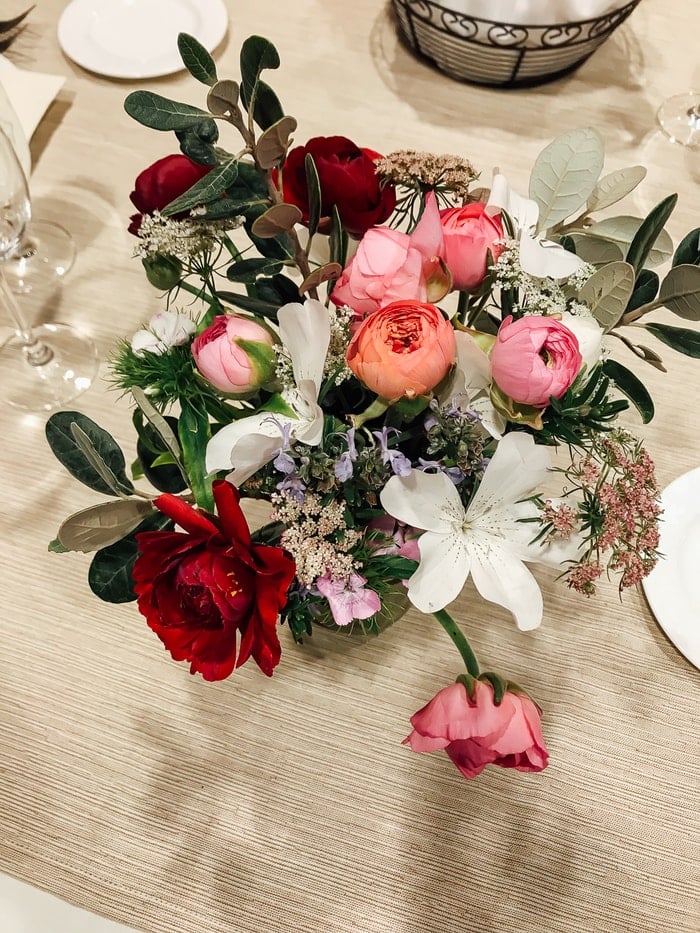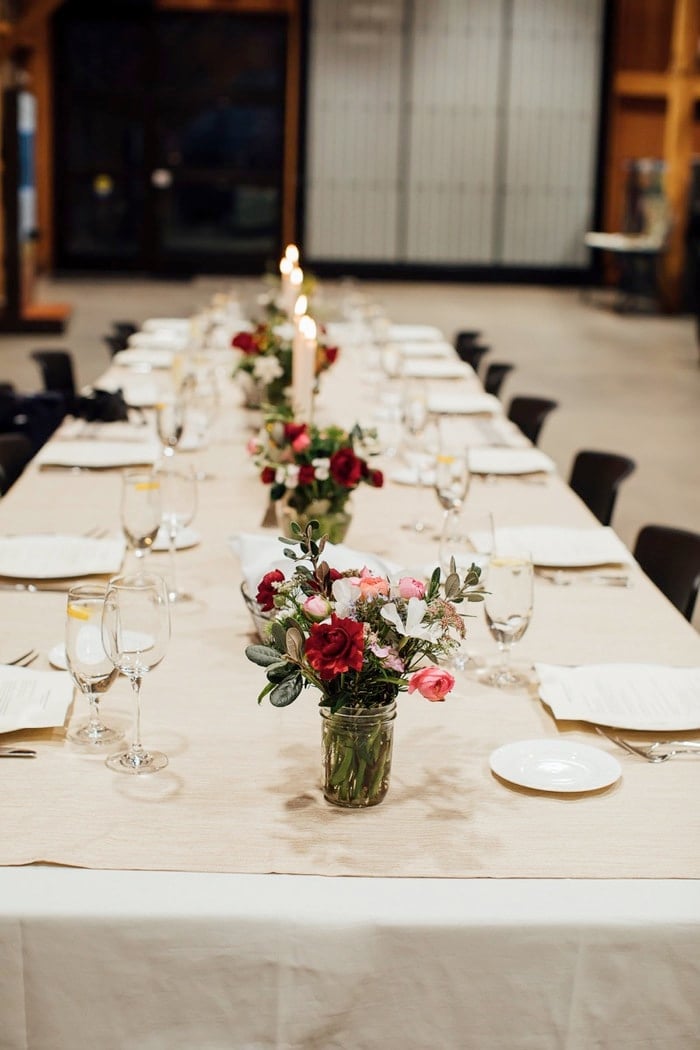 Overall, the trip was such a lovely experience and one of the best blogger trips I've had the chance to be part of. The group was small so we really got the opportunity to connect with each other while learning from Gary and the Stonyfield team.
With that, I just want to share a couple things I learned about organic farming on this trip because I truly believe we should all be buying organic when possible.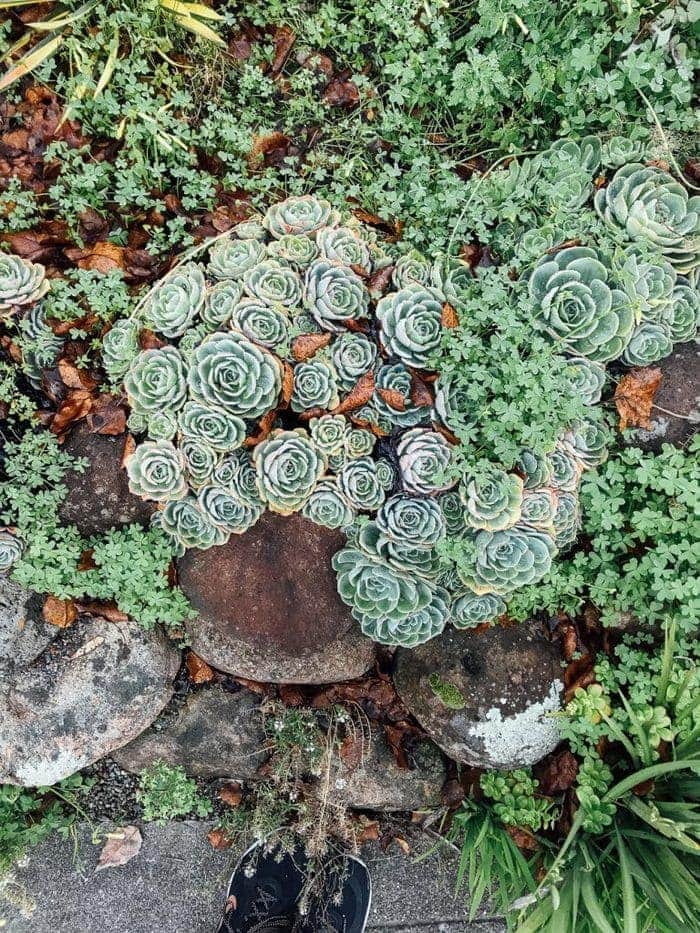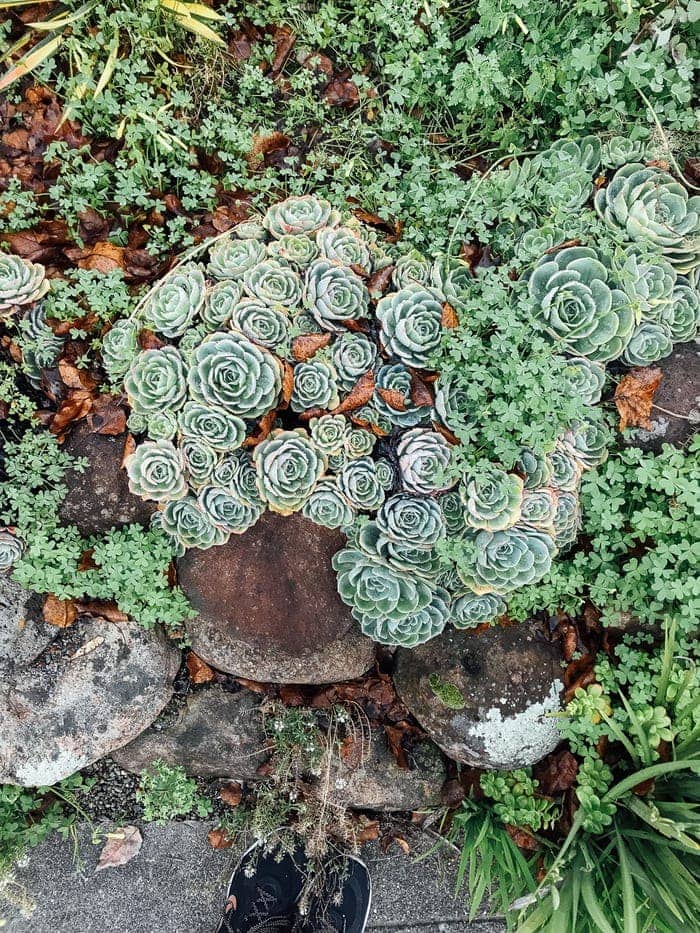 Organic farming (and choosing to buy organic):
1) Helps reduce toxic persistent pesticides. Non-organic farms spray toxic pesticides and herbicides to keep pests at bay, and these chemicals are proving to be hugely harmful to pollinators (bees!) and other wildlife, as well as to human health. They break down very slowly, remaining in our soil, water and air. Some can continue to cause damage for decades after they are first used. Organic farming practices, however, forbid the use of toxic persistent pesticides. This makes for happier bees, livestock and wildlife, and safer, more nutritious food for us.
Organic farmers use techniques like crop rotation, composting, pest-resistant plant varieties and beneficial organisms, like ladybugs, that don't harm the crops while munching away at unwanted critters. If needed organic farmers are also able to use natural substances as pesticides that don't have harmful effects on people or the environment and that don't persist in our soil, water or air. Organic farmers have access to roughly 20 substances, whereas there are 900-plus synthetic active pesticide products registered for use in conventional farming by the EPA.
2.) Helps fight climate change and sequesters more carbon than conventional farming. Agriculture is responsible for roughly 15% of all global greenhouse gas emissions. But it's now been shown that organic soil sequesters 26% more carbon than non-organic soil. In other words, organic agriculture has the potential to be part of the solution to climate change, and that's huge for the future of farming.
Carbon is a necessary component of healthy soil, but years of conventional farming practices have severely depleted carbon levels in US farmlands. New studies show that organic farming methods can restore this element to the soil, where it should be, and remove CO2 from the air, where it is causing rapid climate change. This process is called "soil sequestration" and it is one of the most exciting environmental solutions that organic farming provides.
Additionally, studies show that even when calculated on a per-yield basis, organic farms are still more energy efficient than conventional farms.
3.) Fosters greater biodiversity. Compared to conventional farms, organic farms support a greater diversity of life, including carabid beetles, spiders, earthworms, beneficial parasitoids, vascular plants, bees and other native pollinators, birds, soil microbes and fungi, and small rodents.
And a couple additional notes around organic/non-GMO/pasture-based practices:
All organic products are non-GMO, but not all non-GMO products are organic. Sometimes reading labels can be confusing, so it's nice to know that when you're buying organic items, they are GMO free. Although eating GMO foods may not be directly harmful to our health, the majority of GMO crops used by farmers today require the use of toxic herbicides. The use of glyphosate, which has been categorized as a probable carcinogen by the IARC (International Agency for Research on Cancer), has increased nearly 15-fold since genetically engineered glyphosate-tolerant, or "Roundup Ready," crops were introduced in 1996.
Pasture-raised animals (livestock, chickens, etc.) are much better for us and the environment. Pasture-based farming lets the animals do the work. They harvest and feed themselves and fertilize their pastures, overseen by the farmer in a carefully managed system. This means significantly less fossil fuel consumption, less erosion, less air and water pollution and greater soil fertility. Also, have you ever seen how vibrant an egg yolk from a pastured raised hen looks? This is what a healthy egg is supposed to look like! A Penn State study found that eggs from pasture-raised hens contained higher levels of Vitamins A, D & E, more Omega-3 fatty acids, and up to seven times more beta carotene.
In general, organic crops have been shown to have higher levels of beneficial antioxidants, less pesticide residue and lower levels of cadmium (a toxic metal) versus conventional crops (see studies here and here). And organic milk has higher levels of omega-3 fatty acids versus omega-6 fatty acids. Studies continue to show that eating organically is more nutritious and I personally find that organic food tastes better too!
Want to learn even more? Check out my post about when and why to buy organic food, as well as this post about how to shop for organic products on a budget. This post is in partnership with Stonyfield Organic, but as always opinions are my own.