If you follow me on Instagram you'll know that I was in Washington, D.C. for a bit last week. Isaac and I aren't strangers to the city. We went to school at GMU, right outside of DC in Fairfax, Virginia, we still have lots of friends in the area and Richmond is only about 2 hours away (on a good traffic day).
This particular visit was scheduled after receiving an invitation to try the new summer menu at Jardenea, a farm to fork restaurant inside The Melrose Georgetown Hotel.
We ended up making a fun little trip out of it and stayed the night at The Melrose Georgetown on Wednesday. We're used to staying with friends when we visit so having our own spacious hotel room gave us a lot of room to spread out and the location made for great exploring on Thursday morning before we headed back to Richmond.
Here are a few pictures of the suite. I had the fixed 50mm lens on my camera so it was hard to get good pictures of everything but we had a private bedroom with a king bed, bathroom as well as a nice living space with a desk, dining table for four, large sofa and flat screen TV. Like I said, very spacious!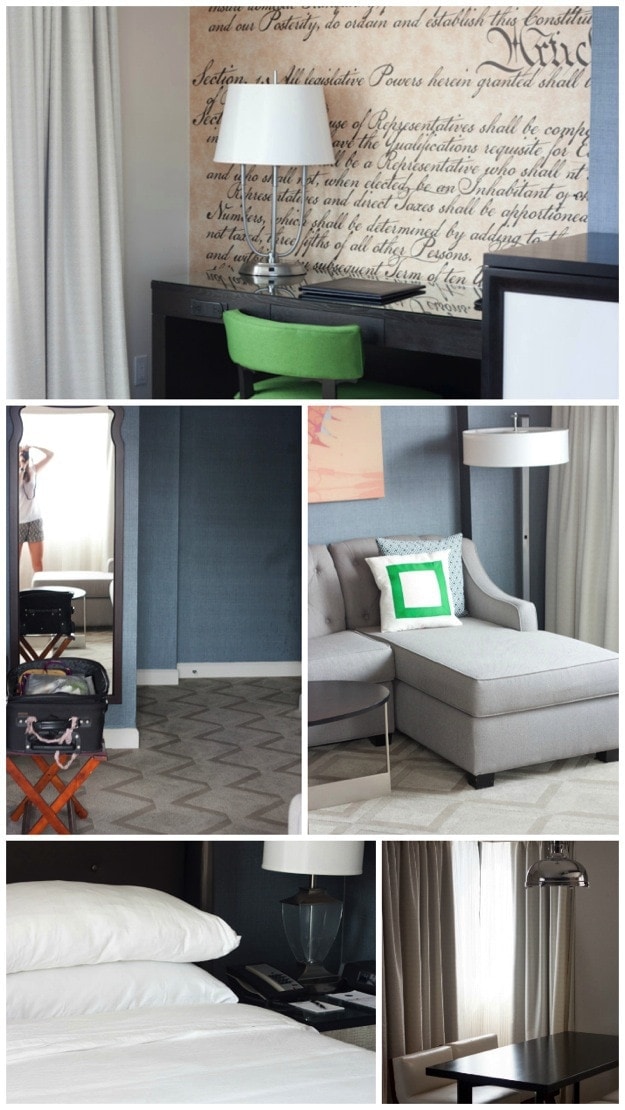 The bed, which is one of the big things I always base my review of a hotel on, was amazingly comfortable. I just looked it up and apparently it's a Serta pillow top mattress. Making a mental note to myself so I'll remember next time we're on the market for a new mattress. 🙂
The hotel was built in 1940, but it was recently renovated and has a very clean, posh feel to it. I'd describe the decor as classy modern with a bit of historical flair.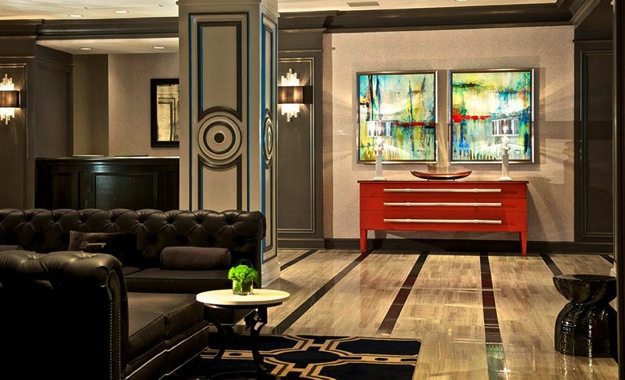 After settling in on Wednesday, we grabbed a cocktail at the hotel bar. They had a great selection of martinis so I went with a vodka cucumber martini and Isaac had a blood orange old-fashioned martini.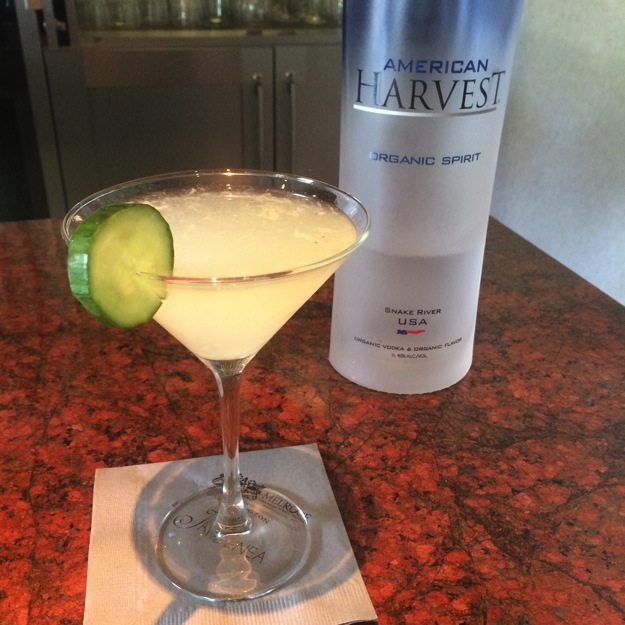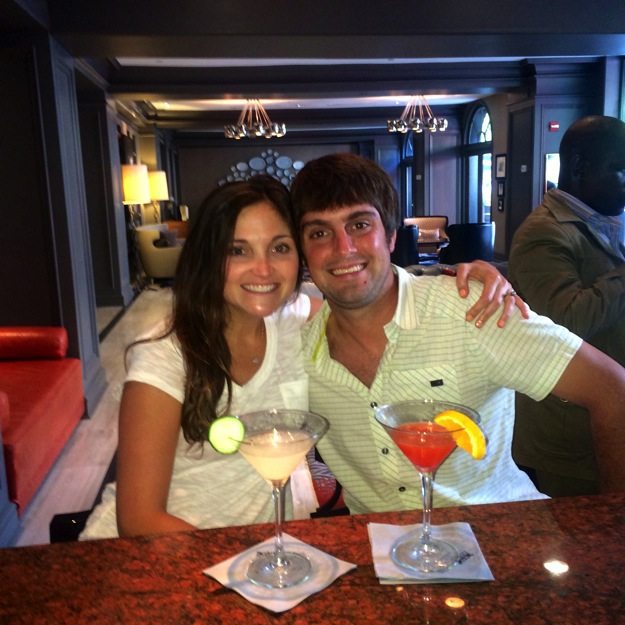 After drinks we changed and headed to Jardenea for dinner. The dining area is beautiful but the weather was so nice that we couldn't resist sitting outside.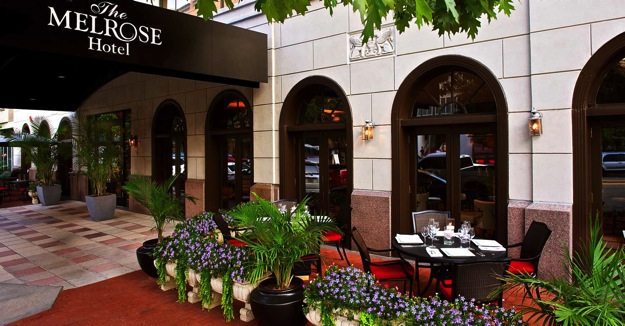 As I mentioned Jardenea is a farm-to-fork restaurant that offers unique dishes with a high importance placed upon sustainability. The Executive Chef, Nate Lindsay worked previously at Azurea, a sister restaurant to Jardenea located inside the One Ocean Resort in Atlantic Beach, Florida. It's not often that you see a hotel focused on sustainability and embracing the farm to table concept so it's really cool to see The Melrose Hotel doing both.
The restaurant obtains as much food as possible from local farms, purveyors and artisans and most of the menu items mention the origin of the items so you know exactly where the food you're eating came from. They also make everything from scratch in-house including the hand rolled pappardelle.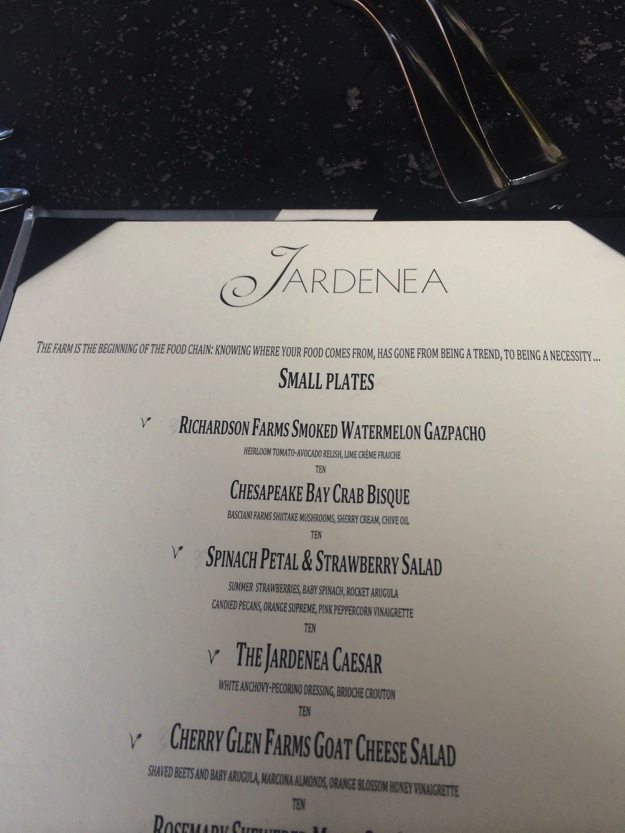 Loved seeing this quote at the top of the menu — The farm is the beginning of the food chain: knowing where your food comes from, has gone from being a trend to being a necessity…
We were able to meet Chef Nate, hear all about the restaurant's philosophy and his passion for serving only the freshest, local food. We also got the inside scoop on his favorite menu items. After hearing that his specialities were the filet and the sea bass, which is fresh caught in Hawaii only 18 hours before arriving at Jardenea, we had to order both. The filet for Isaac and the sea bass for me.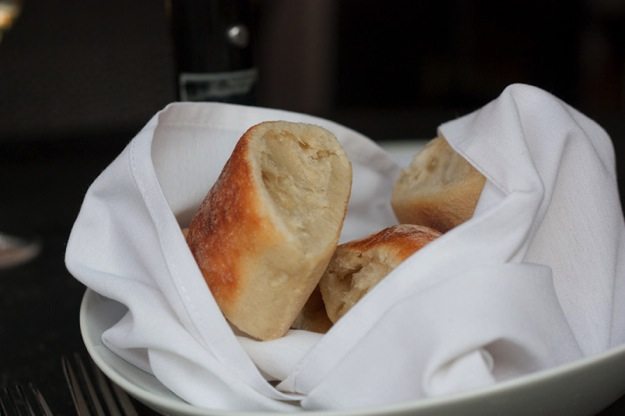 We also started with a few small plates to share.
Richardson Farms Smoked Watermelon Gazpacho.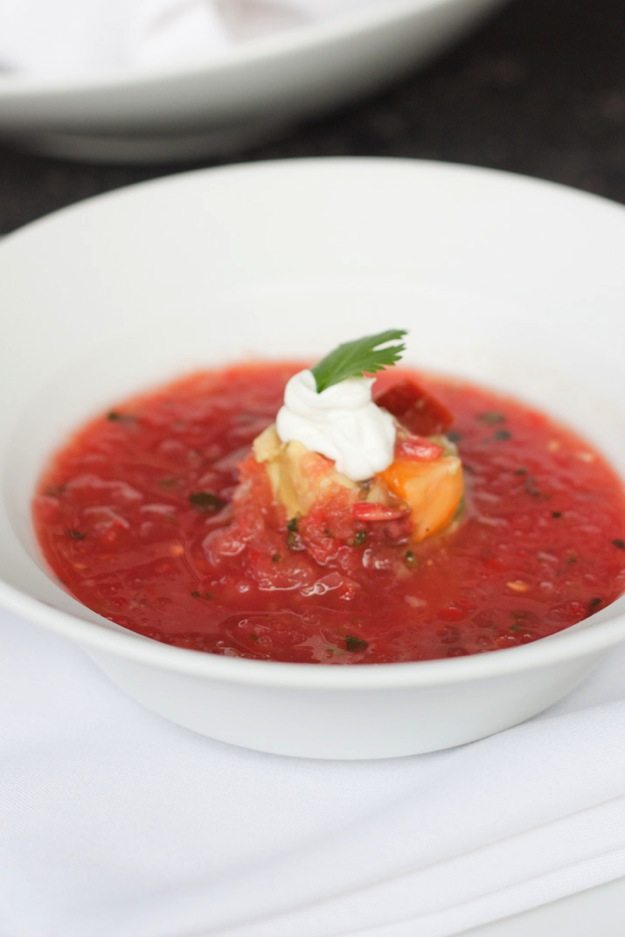 Cool and refreshing with a warm smoky flavor as well as a bit of creaminess from the avocado relish and lime crème fraiche.
Cherry Glen Farms Goat Cheese Salad.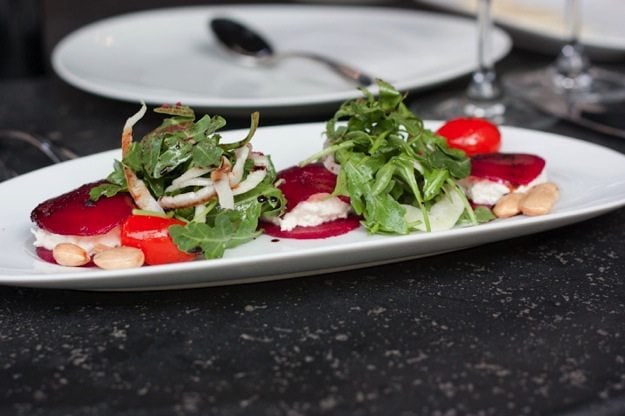 My favorite small plate was the evening. The goat cheese was creamy, rich and had a flavor that paired perfectly with the lightly cooked shaved beets. The complementary arugula salad was dressed with a sweet orange blossom honey vinaigrette that went quite nicely with the peppery flavor of the arugula. The Marcona almonds added a touch of nuttiness and a great crunch.
Lump Crab and Avocado Tian.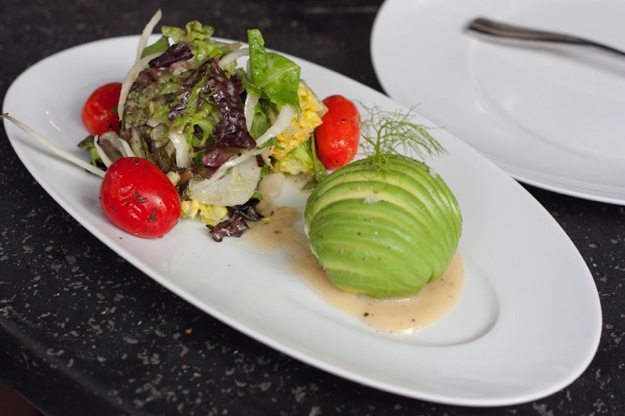 We loved the beautiful presentation of this dish and enjoyed each bite of the lump crab paired with the creamy avocado and white truffle vinaigrette.
For dinner:
Coriander Dusted Hawaiian Sea Bass.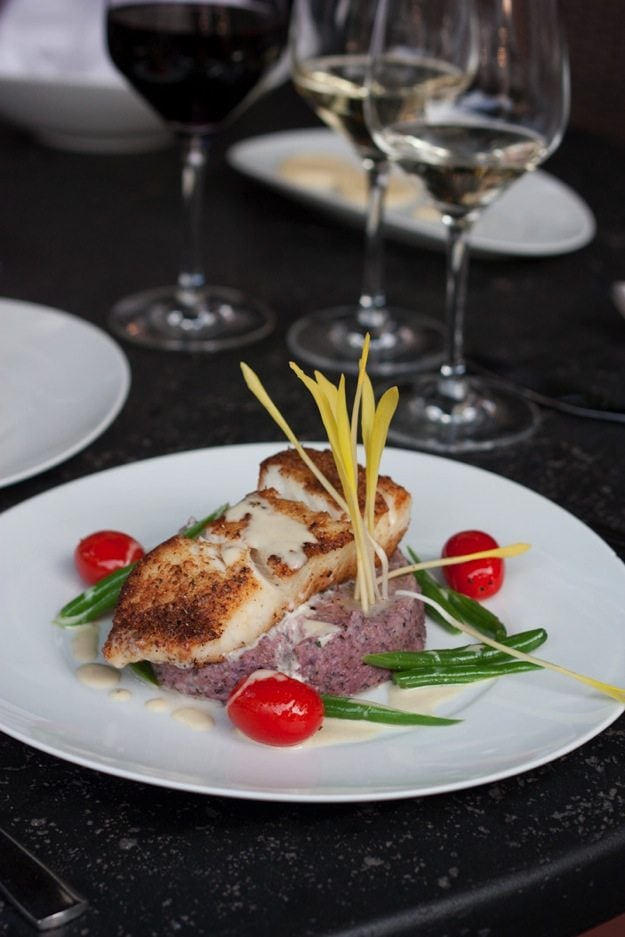 This was some of the best fish I've had out a restaurant in a long time. The spice mixture was flavorful without overpowering the perfectly cooked, flakey and moist sea bass. I also loved the blue corn grits. And those little shoots coming up from the grits, those are corn shoots —they're meant to be a garnish but we couldn't resist trying them. They go from tasting sweet to tasting like grass to tasting like fresh, raw corn. Pretty cool.
Grass Fed Filet of Beef.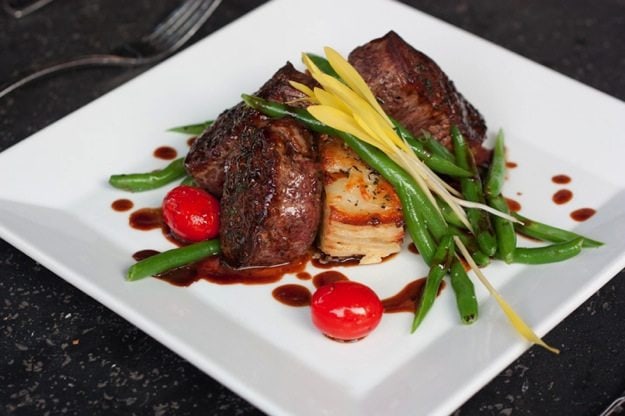 Isaac's said the filet was amazing — perfectly cooked and tender, which I know is sometimes a challenge when preparing grass fed beef. Obviously not for Chef Nate. The white truffle Dauphinoise potatoes were layered and baked. Isaac loved these as well.
Early Harvest Vegetable Terrine.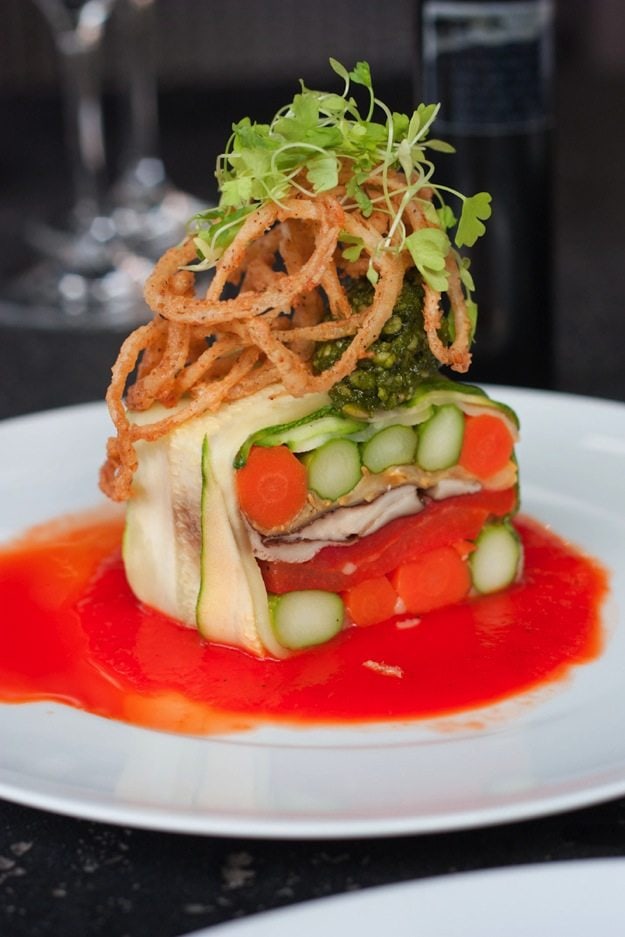 I was debating between a vegetarian option and the sea bass so we ordered this dish as a side. It was probably unnecessary because we had a ton of food to eat already but I'm glad I tried it. The presentation was beautiful and I loved having some additional fresh veggies with the meal.
We were pretty full from the delicious dinner and wine (the in-house Sommelier paired each course with a glass of wine) but we decided to check out the dessert menu "just for fun." After looking we couldn't resist ordering something. Luckily I invited one of my friends from the area to join us and she helped us polish off the desserts. Thanks Leah!
Warm Dark Chocolate Lava Cake.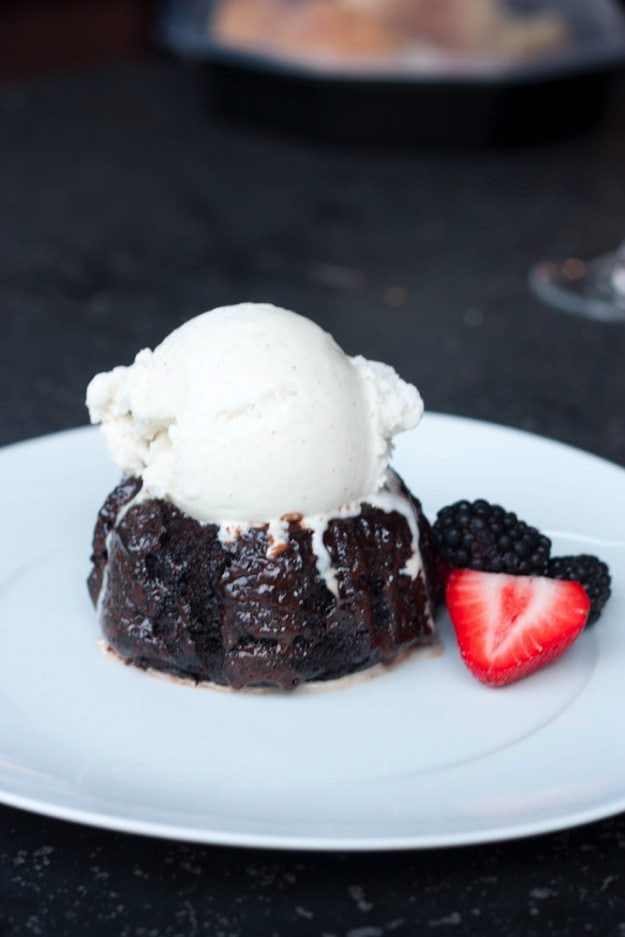 This was Isaac's order and I must say, it was a good pick. I'm a sucker for anything warm and chocolately paired with ice cream but this lava cake was amazing.
Jardenea's Toasted S'mores.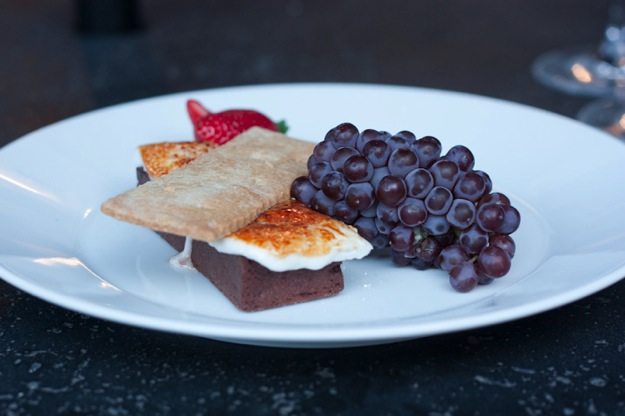 This gourmet take on s'mores was so fun. The toast, homemade marshmallow and ginger graham cracker won us over.
Overall, our dinner was phenomenal and we'd definitely visit Jardenea again for a special occasion. I love the conscientious concepts behind the restaurant and Chef Nate's passion shines through in everything they serve, from the cocktails to the main entrées.
After dinner we went to check out Sauf Haus Bier Hall, a new spot in Dupont with a rooftop bar and a ton of German beers on tap and then headed back to the hotel.
The next morning we took a short walk over to Georgetown to check out Baked and Wired. Sadly, it was bit to early for cupcakes but we did get to try the the hippie crack granola and their iced coffee.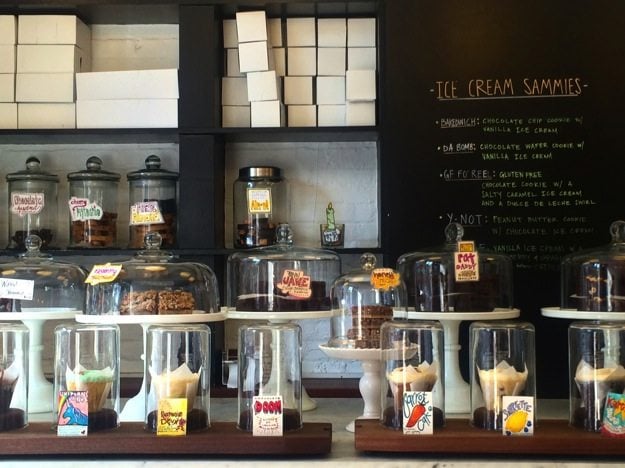 We also checked out the Exorcist Stairs.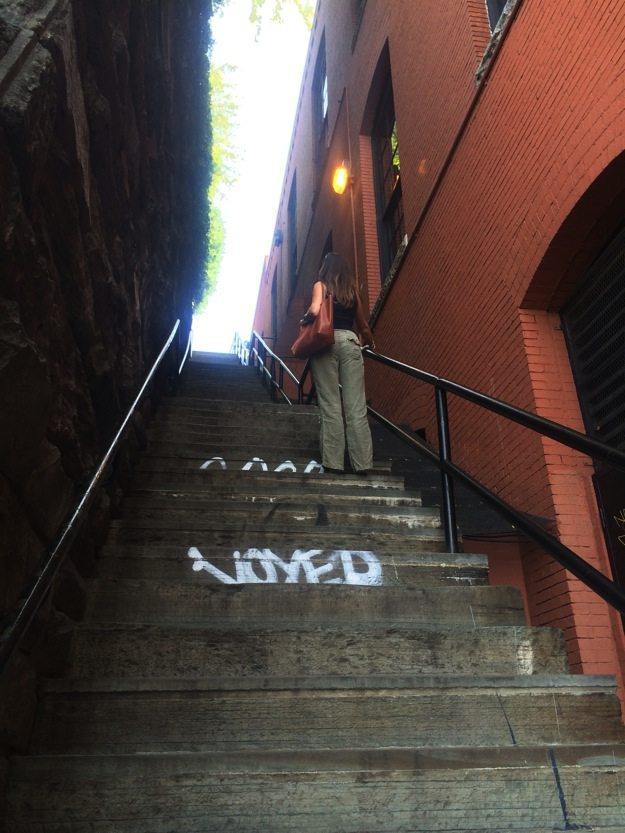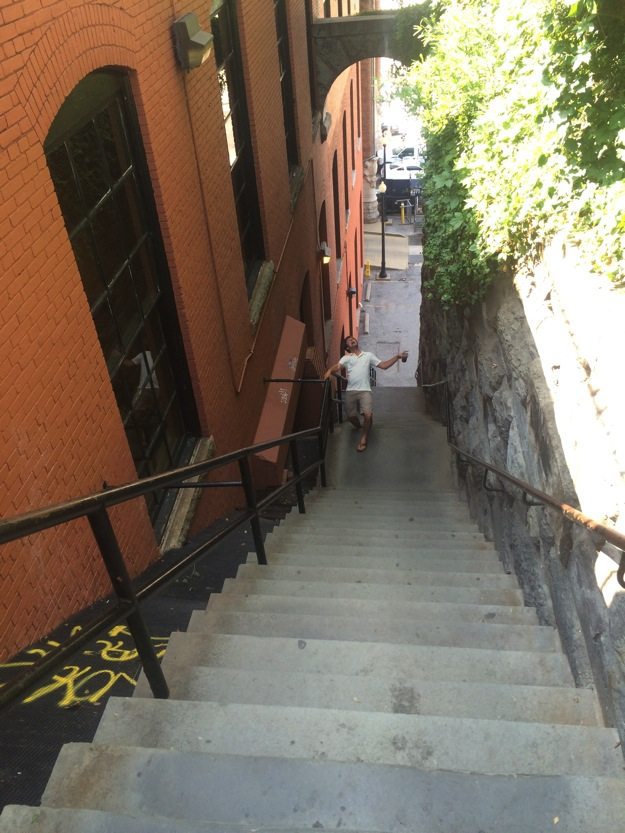 Going up and down these crazy steps for pics was quite the workout but I still ended up hitting up the hotel gym (which was really nice, btw) for a quick circuit workout before we headed over to Sweetgreen for salads and made our way back to Richmond.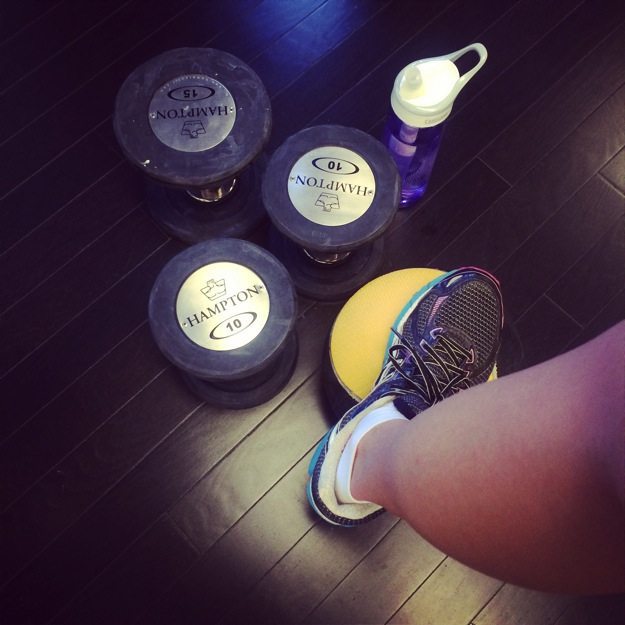 Here's the workout:
5 minutes on the elliptical
50 medicine ball Russian twists
15 tricep pushbacks
12 dumbbell rows
12 jump squats
Repeat the circuit as many times as possible in 30 minutes, resting whenever needed. It was a perfect hotel gym workout — easy, quick and sweaty!
I really wanted to check out the new SoulCycle location in DC (it's only a six minute walk from the hotel), but we were a week early — the studio doesn't open until this week. :/ I guess that means we'll have to make another trip up to D.C. in the near future. Not a bad thing as well considering D.C. is always a fun place to visit and there's so much to see and do. Maybe next time we'll stay the weekend and get to do even more exploring.
Disclosure – The Melrose Georgetown hosted our stay, but as always all opinions are my own.