Move over oats, protein pancakes are here. <– I never thought I would say it, but this is quickly becoming my new motto. While I do still love my stovetop and overnight oats, I've fallen in love with protein pancakes and eat them for breakfast almost daily now.
I have the Tone It Up nutrition plan to thank for this little obsession. I'd seen protein pancakes on blogs a million times before but never really thought they'd be my thing because I'm not really a pancake girl. I'm not sure why, but I think it stems from the fact that I grew up eating biscuits and gravy or biscuits and chocolate jam with "big breakfasts" – we never really did the pancake and waffle thing. Although, I don't eat biscuits now so that's probably not the best explanation.. I digress.
Anyhow, after I purchased the Tone It Up plan last year I became increasingly intrigued by all their recipes for protein pancakes (they have a ton!) and started experimenting. Soon thereafter I became addicted. The pancakes were a sweet and filling breakfast option that kept me feeling just as full as oats did but with more protein and less carbs.
Over the last few months I've tried a bunch of different variations – some I made up and others were recipes that I found online. When I first started making them I had a couple failed attempts – I basically ended up with protein pancake scrambles. They tasted good but didn't look so hot. Now I've perfected my technique! So much so that last time I was cooking one Isaac commented that I was quite the pro at making them. <– Now that I think about it, this may have been a ploy to get me to make him pancakes last weekend.
Since I've been enjoying them so much I decided to do a full post with the different protein pancakes I've made. Maybe it will convince those of you who haven't tried protein pancakes yet to try them!
First up, the original TIU Protein Pancake that got me hooked.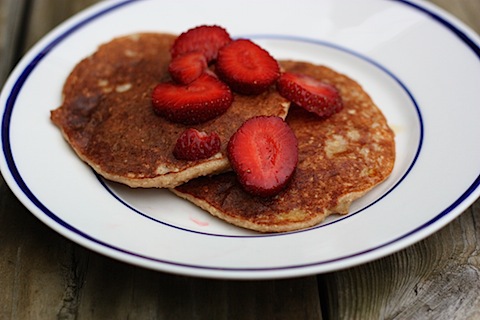 Different toppings to spice things up!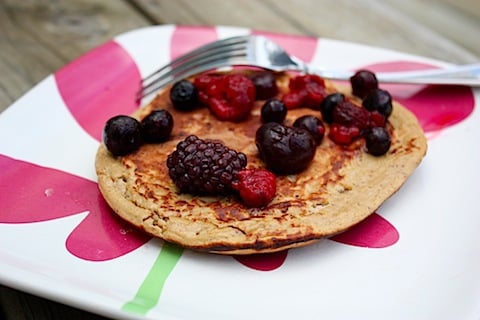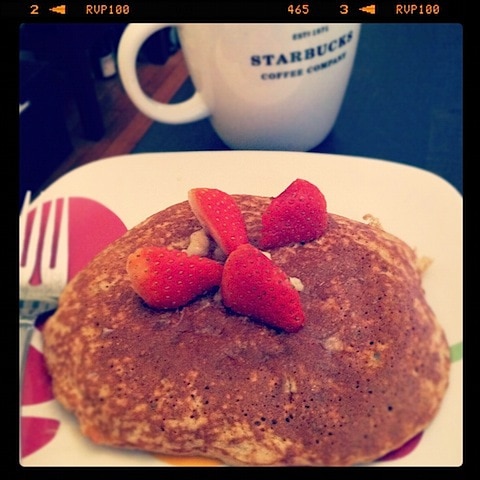 I made those for a while and then started making my own creations like the Protein Pancake with Fresh Figs, Pumpkin Oatmeal Protein Pancake with "banana syrup" and a Pumpkin Apple Protein Pancake.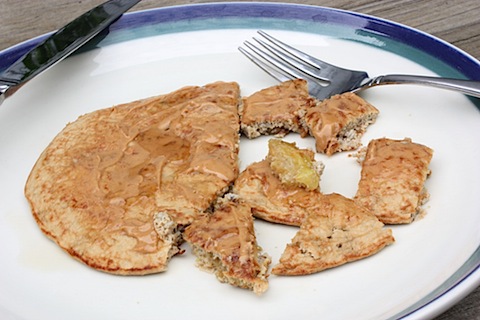 Just recently I tried Julie's (Peanut Butter Fingers) Banana Bread Protein Pancakes.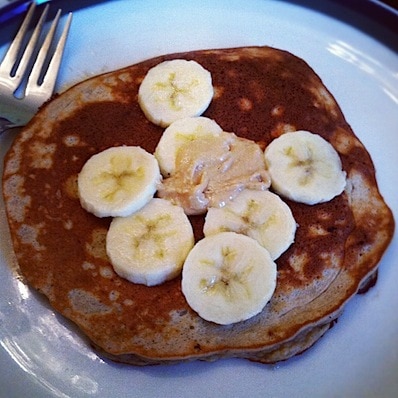 My version of Julie's recipe included:
1/3 cup oats
1/2 banana
1/4 cup low sodium cottage cheese
3 T egg whites
cinnamon
Overall, I love this protein pancake – for one, it skips the protein powder and uses cottage cheese instead – which is great if you don't have protein powder on hand. The other difference is that you blend up all the ingredients with an immersion blender before cooking so the pancakes are dense, chewy and delicious. I'm a huge fan!
And last but not least, here is my go-to recipe/technique as of late: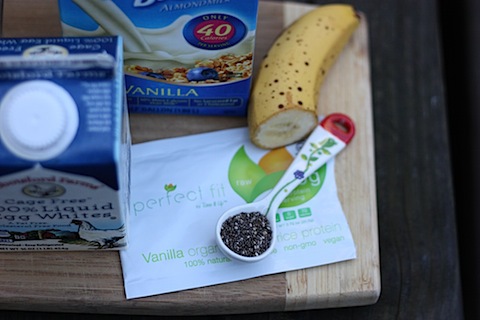 This recipe is pretty much the same as the original TIU version but I use chia seeds in place of the flax. I also wanted to share my technique for getting the pancake to come out. My two favorite protein powders to use are Sunwarrior and Perfect Fit. Vanilla Sunwarrior has always been my go-to brown rice protein powder and Perfect Fit is a new line of vanilla brown rice protein powder from the Tone It Up ladies. I really like Sunwarrior's new Warrior Blend, but I honestly think Perfect Fit makes the most amazing protein pancakes! They're so good!!
Print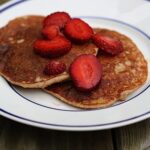 Healthy Protein Pancake
Author:

Cook Time:

6 mins

Total Time:

6 mins

Yield:

1
---
Ingredients
1/4 cup egg whites
1 scoop of brown rice protein powder
1-2 Tablespoons unsweetened vanilla almond milk
1 teaspoon chia seeds
1/2 banana, mashed
Toppings of choice (I like blueberries, strawberry chia seed jam, nut butters, PB2 or even a bit of maple syrup)
---
Instructions
In a small bowl mix together the egg whites, protein powder, almond milk, and chia seeds until all the powder is dissolved. I find that a whisk does a great job for mixing in the protein powder.
Stir in the mashed banana.
Spray a medium sized pan with cooking spray and set heat to low-medium (I use the number 3 on my stove). The lower heat is the key to making sure the pancake doesn't burn.
Pour in pancake batter and cook until little bubbles form (about 5 minutes). Make sure the pancake is "set-up" enough before you flip or else you'll end up with a scramble. Carefully flip the pancake over to the other side.
Cook until pancake is done in the middle. It typically takes another 2-3 minutes.
Place pancake on a plate, top with toppings and enjoy!
Here are a few other pancake recipes you might want to try:
With that I think it's time I go make myself a protein pancake for breakfast! After work today we're headed to the Outer Banks with our friends for the weekend. I couldn't be more excited to sit on the beach and relax. Do you have any fun Memorial Day plans?