Hi there – is anyone else having as crazy of a day as I am? Today has just been go go go… never a dull moment!
Anyway, since I was so busy it was nice to have a breakfast that held me over well.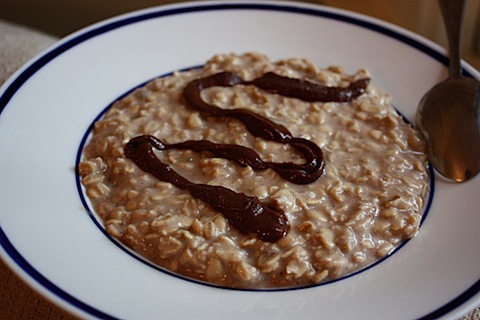 Overnight Oats strike again! This time topped with Justin's Chocolate Hazelnut Butter. <– Where has this nut butter been all my life? Holy Yum!
My fave overnight oat variation right now is one with 1/2 of a banana smashed in. If you still haven't tried overnight oats – give this recipe a try. I promise you won't be disappointed (as long as you like bananas).
Creamy Banana Overnight Oats
1/2 cup oatmeal (old fashioned oats)
1/2 smashed banana
1/2 cup unsweetened vanilla almond milk
1 tablespoon plain yogurt
1/2 tsp vanilla extract
1/2 tsp cinnamon
Put the above ingredients into a tupperware container, mix them all together and put the container in the fridge overnight. Once morning rolls around take the container out of the fridge, give the oats a stir and enjoy!
In terms of eating, I've also been munching on big salads with lots of tomatoes.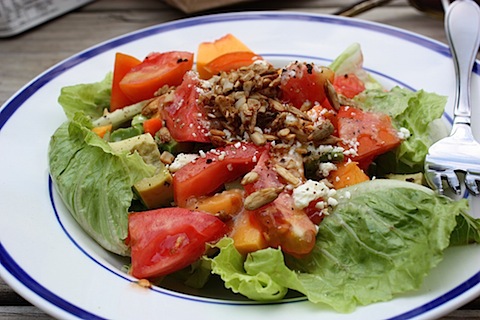 We're in tomato heaven now that we finally got rain!!
And enjoying dinner out with sir Isaac and friends. Last night we went back to Stuzzi for a second visit. Most Richmonders will be happy to know that they have a new AC system and it's much cooler inside.
Isaac and I ordered 2 appetizers to share while waiting on our friends – the marinated zucchini and oven roasted olives.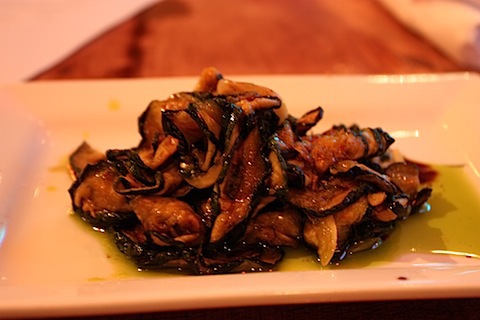 According to the owner of Stuzzi the zucchini is lightly cooked and then marinated in olive oil, oregano, red pepper, garlic, and mint. I love zucchini prepared all different ways, but this dish was beyond delicious. Basically, I NEED this recipe!
We also ordered olives, but after tasting the zucchini I told Isaac he could have the olives. haha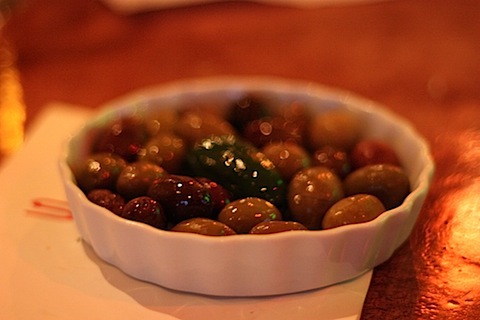 I still ate a few.
Then it was pizza time. I stuck with what I like and ordered the veggie pizza, which has tomato sauce, mozzarella, mushrooms, zucchini, eggplant, artichoke and evoo.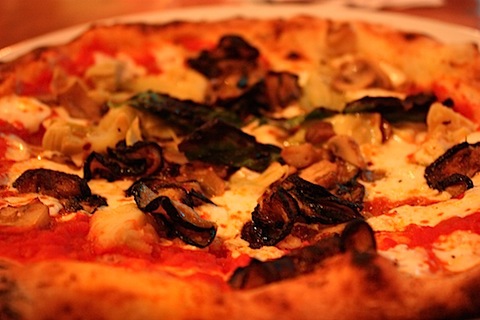 Turns out the zucchini on the pizza was same marinated zucchini I had as an appetizer. This made me very very happy. 🙂 The pizza was delicious and I throughly enjoyed my two slices – both last night and tonight! The leftovers were just as tasty.
Isaac ordered the margherita, which has tomato sauce, mozzarella, basil and evoo.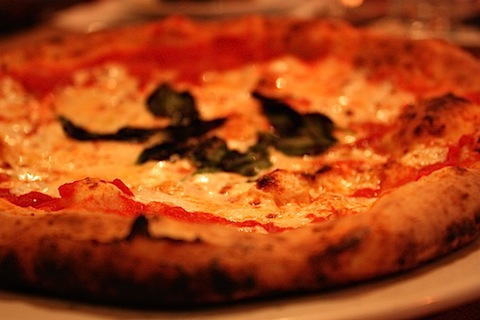 I tired a bite and wasn't too excited. I like more toppings on my pizza as I've never been a plain cheese type of girl. But Isaac loved it and polished off the whole pizza to himself.
Overall, it was a tasty night out. And although I wouldn't say it's the healthiest fare out there, at least we walked to and from the restaurant.
Speaking of being healthy, I'm going to sign off and head to yoga class. Hopefully my tingly leg holds up okay. :/
–Brittany
PS – This just in- Activia has released new Dessert Yogurts with flavors like Strawberry Cheesecake and Peach Cobbler. If you're interested they are giving away $1.00 off coupons on their website!