In a nutshell – this weekend was the perfect birthday weekend! This was one of the warmer weekends New York has experienced in a while, shop windows were covered with hearts, chocolate and all things Valentine's Day and both Isaac and I got to visit with good friends. Couldn't have asked for anything better.
Here's a recap of what went down:
Friday morning we woke up in NJ at Isaac's bro's place and ended up in NYC just in time for lunch…
Isaac dropped me off in Chelsea to spend the day with Bean, my hostess with the mostess. We were both hungry by the time I arrived so she took me to a cute little vegan place nearby her apartment, Blossom Du Jour.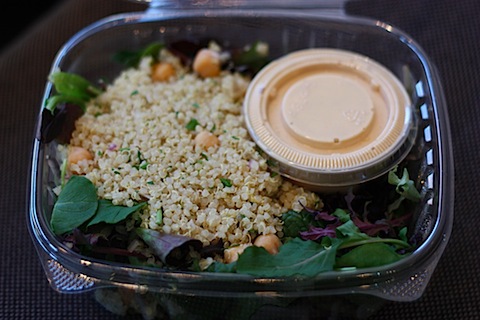 The Chickpea Quinoa Salad with tahini dressing hit the spot. I loved the rich, creamy and sweet tahini dressing!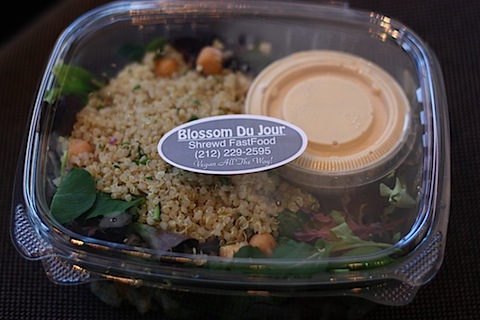 After fueling up we headed out on the High Line to do some exploring. I've been to NYC before a couple times so I wasn't really interested in doing all the super touristy things so we kept it low key and just walked around and stopped when we saw something interesting.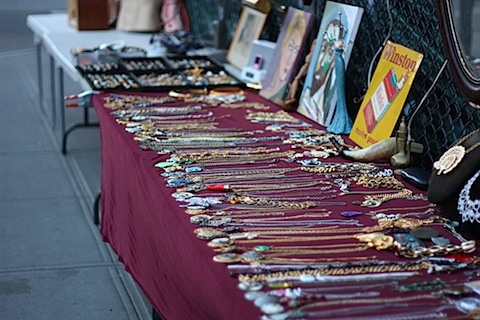 I'm not sure hoooww it happened but we ended up in a shopping district and spend quite a bit of time trying on clothes. As it turns out shopping with a friend is so much better than shopping alone because you have someone to help you decided whether you really need something or not. I was good and only ended up buying 1 pair of skinny jeans from Zara! They were cute and only $40. Definitely worth it.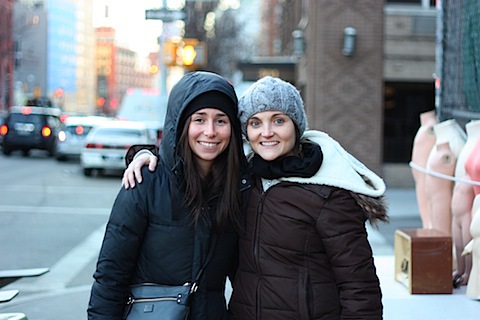 While exploring, I spotted a Whole Foods and made Bean go in. It's probably odd to the average person but I love to visit different Whole Foods in cities I visit because the store layouts are never the same and there's always area-specific items. This location was really nice and had a HUGE cooking demo area with a full kitchen. Annnnd I thought our cooking demos were nice…
We also ran across the Peanut Butter & Co. Sandwich Shop. It was mid-afternoon so we refrained from enjoying one of their amazing sounding pb sandwiches but we had to go in to check it out. Although smaller than I had imagined, the store was quaint and cute and there were more than just peanut butter sandwiches on the menu. The perfect spot for a quick lunch or place to swing by if you're in need some of gourmet peanut butter, pb filled pretzels or a grow your own peanut tree kit. 🙂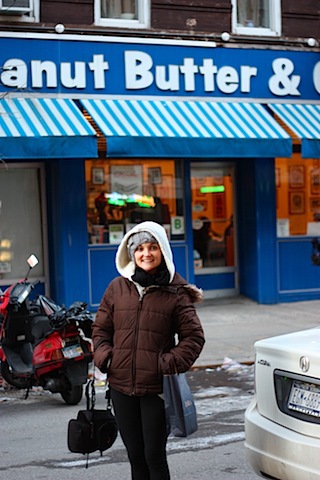 After several hours of exploring the sun was going down and the city was getting cold so we made a last stop by Dean & Deluca and headed home to relax before dinner.
I loved Dean & Deluca. There were just so many new-to me produce items and gourmet foods to look at…. foodie heaven!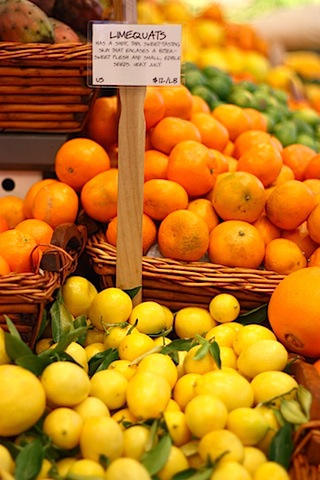 I saw these limequats and couldn't resist getting a few. I've heard of limes, I've heard of kamquats but limequats that look like mini lemons, nope! It was nice because the obscure produce items had signs with descriptions. Apparently a limequat is a cross between a key lime and a kamquat, can be eaten whole and has a sweet tasting skin and a bitter sweet pulp that tastes similar to limes.
Bean and I knew exactly how to use them…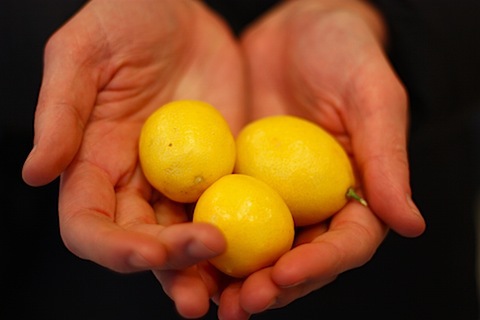 Vodka, tonic, limequat = delish!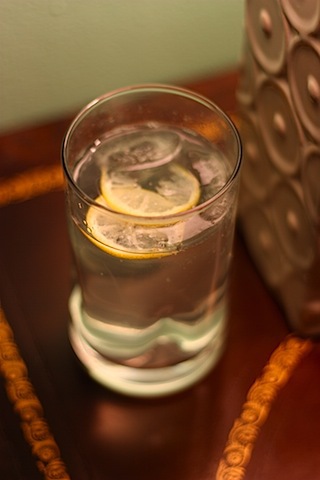 Friday evening we went out to dinner a Galanga Garden for Thai food. It was a dimly lit spot with authentic and delicious Thai food, but not great for photo taking so I'll spare you the photos of our shared order of fresh spring rolls and my chinese brocolli, shrooms and brown rice. I did try Bean's entree, massaman curry (with coconut milk, peanuts, potatoes, bay leaf, cardamom and cinnamon) for the first time and it was amazing. I think it's now official, I really need to start ordering Thai curry more often.
After going to bed pretty early, we woke up on Saturday, lounged around awhile, got in a workout and headed to Chelsea Market for some lunch. The market was amazing and full of food. It was seriously so hard to choose where to eat. I kept it simple and went with soup and a wrap from Hale and Hearty.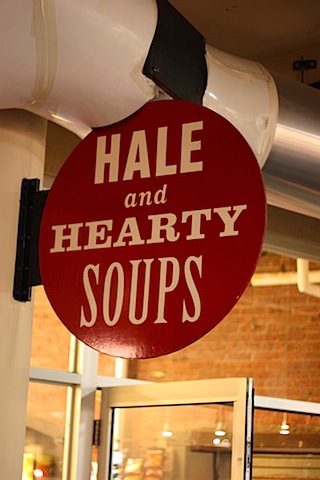 10 Vegetable soup and Roasted Red Pepper, Avocado and Goat Cheese Wrap – yes please!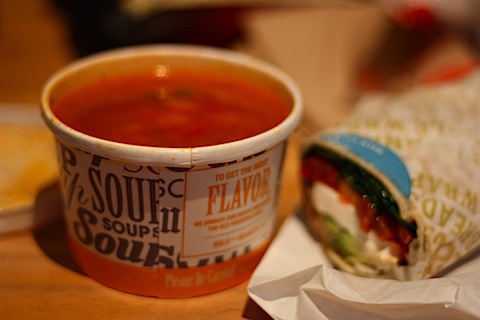 We sat right next to One Lucky Duck so to finish off lunch Isaac went and ordered a Green Spice juice (greens, lemon and ginger) for us to share.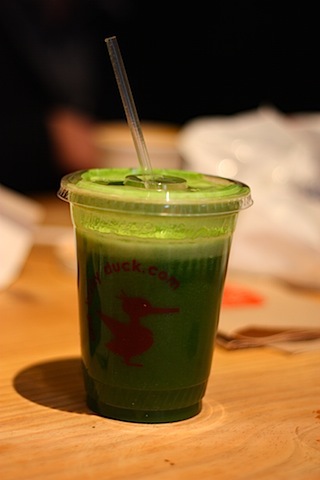 At first I was a little disappointed it didn't have any sweet fruit in it because I was craving something sweet after lunch but it ended up being really good. And, not to worry, I made up for the lack of sweetness by checking out the chocolate shops and grabbing a Breezy Hill Orchard Carrot Raisin Cookie from the Union Square farmers market.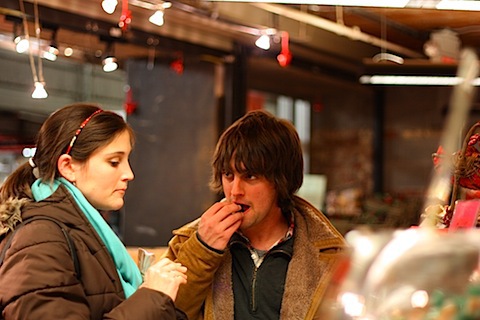 This cookie was as big as my head but it was so amazing – I couldn't stop eating it until it was gone. Oops.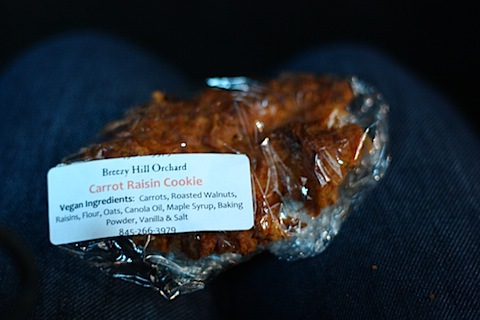 And look who I was able to meet up with for a bit? The lovely Amie from The Healthy Apple.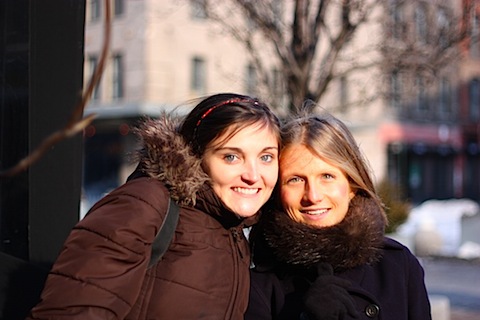 She and I have been discussing my visiting NY for over a year so I was thrilled when she offered to travel over an hour to come meet up with us at the market. After we'd all had enough walking and shopping for the day we headed back to get ready for dinner at Josie's.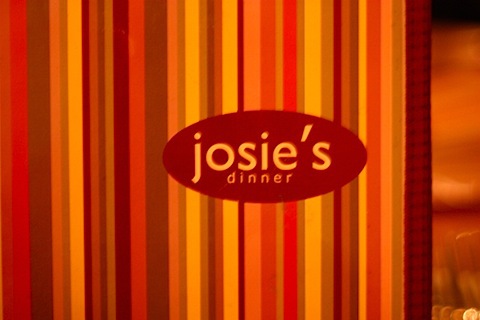 As an recommendation from the b-day girl, don't wait until the day off to make dinner reservations at nice restaurants in NYC. Pretty much all the restaurants that were recommended to me were full for dinner on Saturday but luckily Josie's on the East side was able to accommodate the 5 of us. Although it wasn't my first choice, I was excited because the menu was vegetarian friendly but also had plenty of organic meat options for the guys.
I made sure to get a photo of everyone and their dish.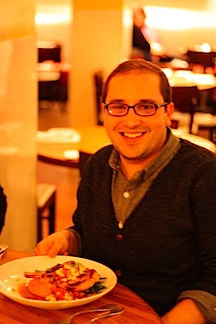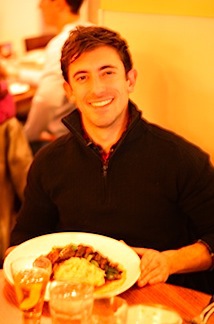 Grilled Pomegranate Pork Chop for Adam. Filet Mingon for Tav.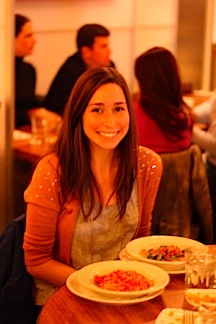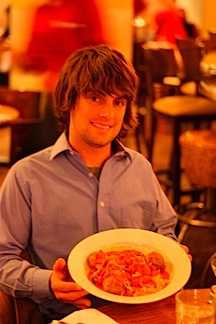 Bean ordered half of two pasta dishes, the pumpkin ravioli being her fave. And Isaac got the angle hair pasta with turkey meatballs.
And I ordered the vegetable plate deluxe.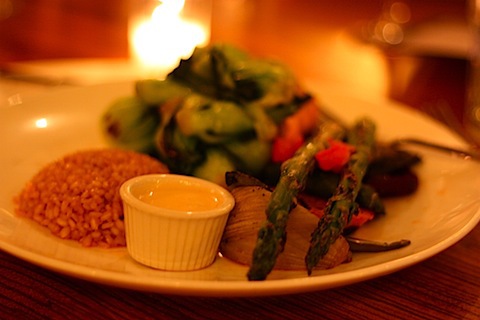 It included roasted bok choy, acorn squash, artichoke, asparagus, peppers, carrots, beets with brown rice and a tahini sauce. I looooved it.
Luckily we skipped dessert at Josie's because the Valentine's Day party we ended up at had lots of treats. Sugar cookies, peanut butter and jam cookie sandwiches, strawberries, m&m's and eclairs!!!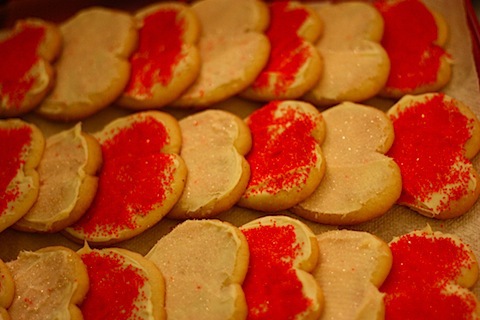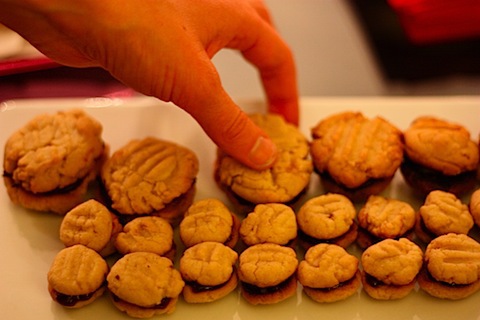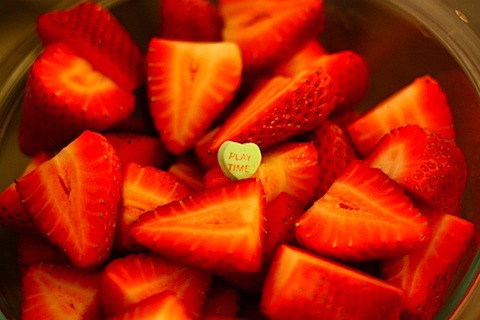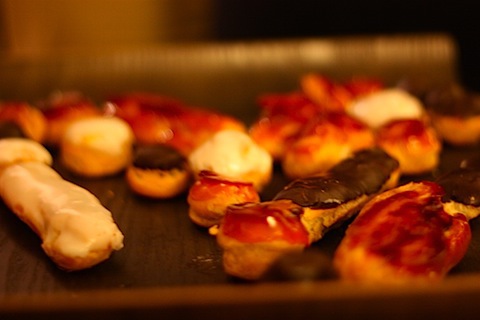 We hang out the party for quite a while and then decided to go out dancing. When Bean and I get together there's bound to be some dancing.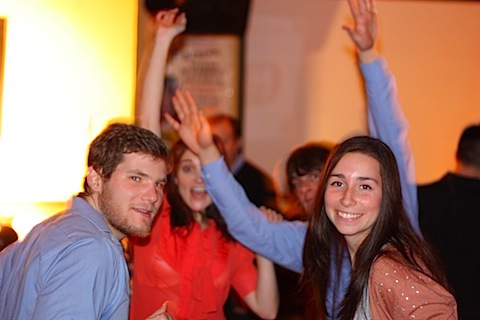 I don't even know the name of the place we ended up but they played all the trendy pop songs along with some old faves so we had a ball. T'was a fun evening full of shenanigans that lasted until the early morning hours and somehow resulted in me bringing home the grossest cookbook I've ever seen.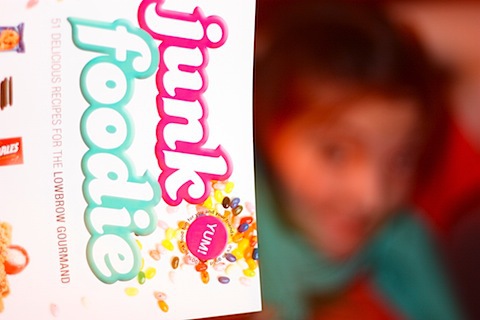 It's recipes definitely rival those found in A Man, A Can, A Plan although I think they might be worse.
And this morning we went to brunch, stopped by Whole Foods for driving snacks. Then, unfortunately, it was time to say bye…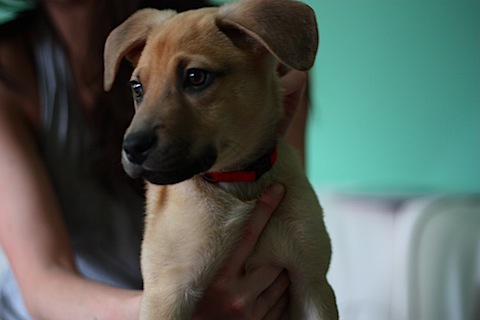 Of course we were sad to leave but I think Bean's new puppy, Colonel Mustard was happy to have his mom back to himself…
After such a fabulous weekend, I'll be perfectly content laying low on my actual birthday tomorrow. Isaac's supposed to be making dinner for the two of us so I'll just have to wait and see what he has up his sleeve. 😉
Happy almost Valentine's Day. <3